Cookies have become an integral part of our online browsing activities. Whether for storing our login information or helping the trackers, their job is spread across a large field of view.
When you were searching for a product, the cookies were busy tracking your activities. They then interacted with the social media cookies and passed on the information related to your recent query. As a result, the latter set of cookies knew precisely what type of targeted ads they needed to display. The benefits?
Well, it leads to a higher probability of your interaction with these ads than any random ads that Instagram might have shown. So what can be done to stop this from happening?
The first idea that might come to your mind is to block all the trackers. While Firefox provides the option to disable JavaScript, it might also, in some instances, have a few downsides. For example, since most trackers are JavaScript-based, the browser will tend to disable all these scripts.
Unfortunately, a large chunk of websites is also dependent on these JavaScripts for their normal functioning. So blocking these scripts might have adverse consequences on that site. Furthermore, blocking cookies would also log you from all the sites since they are responsible for storing this login information.
To overcome all these issues, you shouldn't look any further than Firefox Containers.
What is Firefox Container?
Firefox Containers are used to create segregated cookies belonging to different domains. For example, there will be a standalone jar just for social media cookies, the next for shopping, another for banking, and so on. These cookies remain confined to their "jars" and can't interact with cookies belonging to other domains.
As a result, the trackers part of the Google search couldn't pass on this information to the social media trackers;,; hence, you wouldn't be bombarded with so-called curated ads on your Facebook profile.

Furthermore, suppose you are signed in to Firefox with multiple accounts. In that case, you could use this feature to segregate your work account activities from personal ones by storing them under separate containers.
Overall, it minimizes tracking your browsing activities, enhancing online privacy.
Install Firefox Containers
Apart from the Firefox container, the browser also has a separate Facebook Container. So what's the difference between the two? The former has a much broader field and deals with trackers across all the sites. However, if your primary concern is just related to Facebook, then you could also try out the Facebook Container.
Facebook Containers functionality and the installation steps stay the same. It's just that it is limited to this social media giant and some of its sites, such as Messenger and Instagram.
Here are the steps to install the Firefox container:
Open the Mozilla Firefox browser.
Head over to the Multi-Account Containers add-on page.
Click on the

button.
You will now get a confirmation prompt, click

.
That's it. The add-on is now successfully downloaded and installed on Firefox. You can check a new containers icon appearing in the toolbar menu.
Use Firefox Containers
Now that we have installed the Firefox Multi-account container add-on let's learn how to use it.
Click on the Multi-Account Container icon at the extreme right of the taskbar.
Hit on
Go through the onscreen instructions.
followed by the Next button.
Likewise, let the browser know if you wish to sync these containers.

By default, you shall now be presented with four containers: Personal, Work, Banking, and Shopping.

Select the desired one from the list, and Firefox will open a new tab confined to that container. Now open the site of your choice, and all its associated cookies will be stored in this container.
Furthermore, to make Firefox permanently assign this container to this website, click on Multi-Account Container > Always open this site and select the Desired Container from the list.

Create a New Container
By default, you get the Personal, Work, Banking, and Shopping containers. If you wish to create a new one, then here's what needs to be done:
Click on the Multi-Account Container icon.
Hit on the

button situated at the bottom.
Click on New Container to create and customize the container per the requirement.
For example, you could give it a title, change its color, and even its logo.

Hit on the
button to save the container to the list.
The newly created container will be added to the existing list of Firefox Containers.
Delete a Firefox Container
If, at any point in time, you wish to delete any of your created containers, select the container from the Containers icon, and hit the Delete this Container button.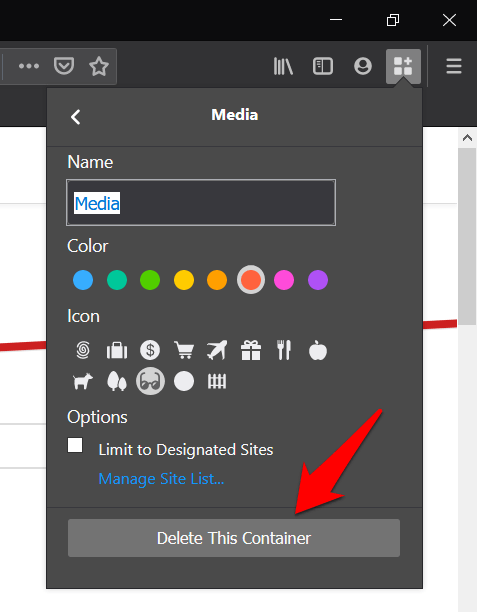 Bottom Line
So this was all from this guide on the Firefox Containers. The fact that it leads to minimal interaction between cookies of two domains scores high from the privacy perspective.
As mentioned, you can also use the Facebook Container add-on specifically designed for Facebook and its subsidiaries.
Surprisingly, this feature is still an additional extension and has not yet been baked into the browser. What are your views on this functionality?
Do you find it helpful, or do you prefer to browse in a more secure environment by disabling the trackers altogether? Let us know your opinions about the same in the comments section below.
Lastly, if you've any thoughts or feedback on What is Firefox Containers and How to Use it, then feel free to drop in below comment box. You can also report the outdated information.