Mozilla Firefox app on the Android phone has the feature to load the desktop site view on a small screen. The webpage will automatically switch to a desktop look; you can interact with it as you do on your computer browser.
To switch and view the desktop site on the phone:
1. Open the web page in your Firefox app.
2. Tap on the Menu (3-dot) and enable the toggle switch for the Desktop Site option.
3. The page will reload in the desktop site view on your Android phone.
If you wish to return to the original mobile site view, then you can use the same toggle switch to turn off the desktop site feature.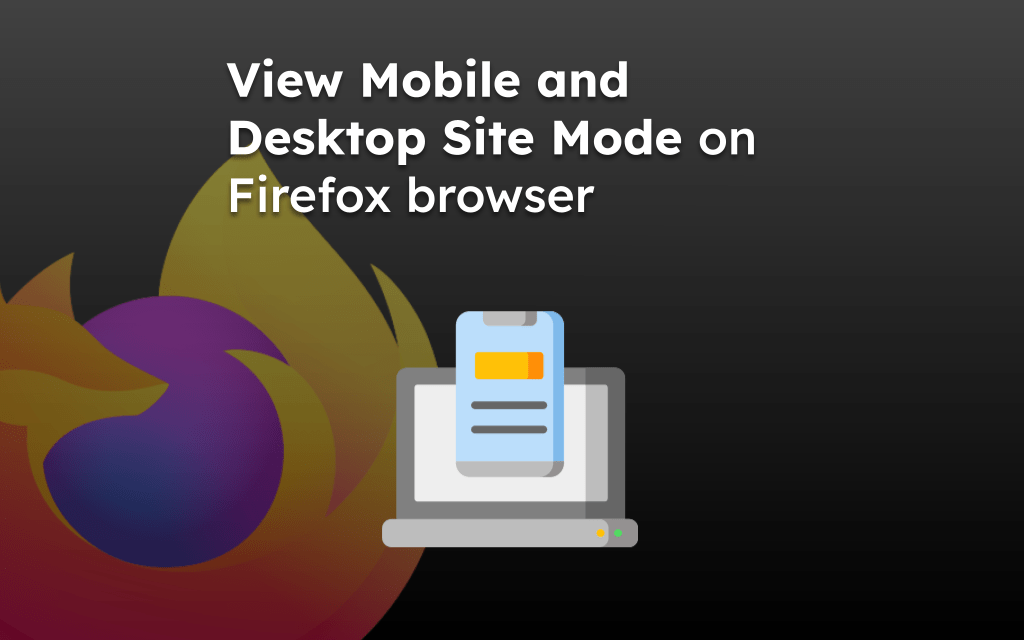 In this guide, you will learn how to enable the desktop site option to view the website or webpage in desktop mode in Firefox browser on your Android smartphone.
Note: The content on the page, when viewed in Desktop mode, might not be optimized for small screens. Hence, you may notice improper page elements and font sizes.
On this page, you can find and jump to:
Enable Desktop Site in the Firefox app
Follow these steps to enable desktop layout mode:
Open the Firefox app on your Android device.
Access any website on the browser.
Tap the More menu and toggle the switch to turn on the Desktop Site option.
It will enable the desktop site layout on your phone browser.
Now, the desktop site will be enabled. The content will appear as if you are browsing on Firefox using a computer. The content on the screen will be small in size; you can pinch zoom to enlarge.
Limitations of Desktop Site feature
The Desktop site toggle switch is not permanent.
If you close and relaunch a browser tab on Firefox while viewing it on the desktop site, the tab will load in mobile view. To switch the viewing mode, you have to re-enable the toggle switch manually.
Secondly, when you close the Firefox app from Recent Apps/App Manager and relaunch it, even though the tab will be active, it will load in mobile view.
Conclusion
The desktop site feature is helpful when viewing the full page experience on a small screen. You can use the Desktop site option in the Firefox app under the menu options.
You can find a similar feature to switch to a mobile layout on the computer in the Firefox browser. It will use the developer mode to load the phone mode.
Lastly, if you've any thoughts or feedback, then feel free to drop in below comment box. You can also report the outdated information.