The reader mode is a simplified version of a website that typically contains textual information and images. It blocks all other layouts and ads that distract one from reading the main article. Hence, it makes the reading experience better.
The Safari browser has a built-in option to enable the Safari reader view. You can also customize the look and feel of the reader's view to make it less strainful to your eyes. We can increase the font size, change the background color, and even the font family.
Enable Reader Mode
With excessive website reading these days, it is essential that it is convenient for us and requires minimum effort. Distracting images or ads can cause discomfort while reading. The only solution is to enable the safari reader view.
Here are the steps to enable the simplified reader:
Launch the Safari browser app on a Mac computer.
Select Safari from the Menubar options.
Choose the Preferences… option under the Safari menu.
Switch to the Websites tab within the Preferences popup window.
Click and open Reader options.
At the bottom, select the Turn ON readers mode by default.

This will enable the reader's view most of the blog post or news article websites in the apple safari browser on a Mac machine.
You can enable or disable the automatic reader's view of individual websites in the same window under currently open websites.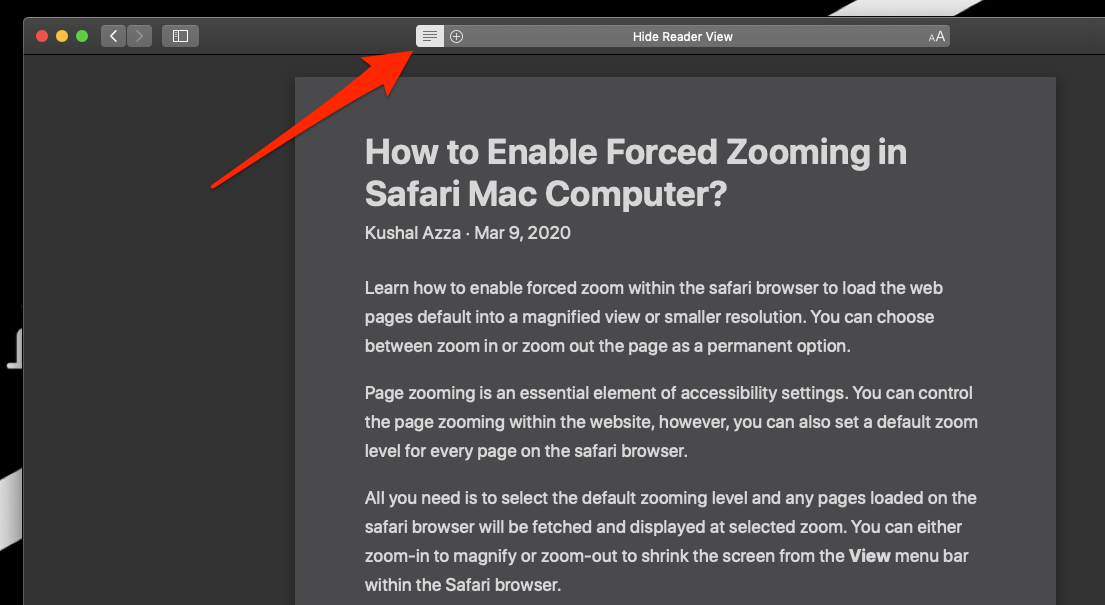 You can also click the Reader icon within the URL bar to show or hide reader views on any blog or news page.
Bottom Line
Having a friendly interface while browsing websites and reading through them has become essential. With advancing technology, people prefer reading online to reading physical books.
Similarly, you can also enable reader view in the Safari iPhone browser. This will help in saving the web page for offline reading.
It is a crucial Mac feature, but people often fail to use it properly. After reading this article, I hope you can use it in your work, studies, etc.
Lastly, if you've any thoughts or feedback on How to Enable Safari Reader Mode in Mac Computer, then feel free to drop in below comment box. You can also report the outdated information.