Most news websites are bombarding us with ads and sponsored links. We cannot differentiate between the actual website and sponsored content, making it difficult to digest the new articles.
Hence, to resolve this stupidity and make the content readable without distraction, the Safari browser has a feature known as Reader Mode. It looks similar to the Amazon Kindle book and feels like we are reading a novel.
All we need is to enable the Reader View safari wherever applicable, and the website will be automatically loaded in plain text format without intrusive ads.
Reader View also offers customization, like changing the background color and choosing the different font types and sizes.
Enable the Reader Mode
You can easily enable the reader simplified view in the Safari browser on iPhone or iPad with a single tap on the Show Reader View within the URL bar. Here are the steps to enable the readers:
Launch the Safari app on iPhone or iPad.
Open the website URL that you want to request to show the reader view
Tap on the AA icon within the URL bar.
From the available list, select the Show Reader View option.

This will enable the readers to view any textual content or blog post within the Safari browser, including news websites.
For better readability, you can customize the display text size, font type, and background color.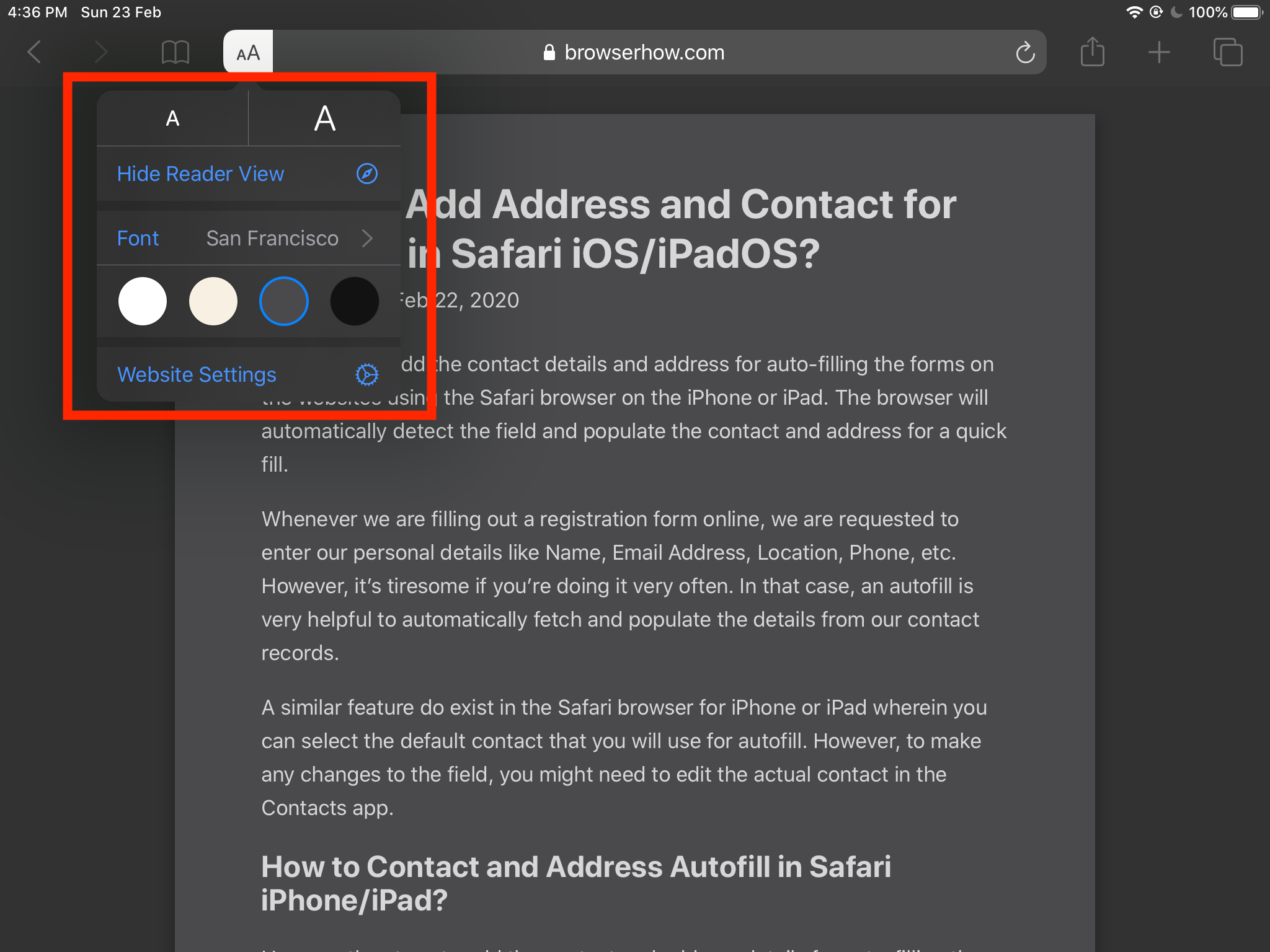 You can quickly turn off the reader's view from the same option where you've enabled it. This will switch back to normal website mode.
Bottom Line
The Safari browser on the iPhone and iPad offers readers a view of Safari with great customization per your needs. We can change the background color and fonts and adjust the font size. It also removes the ads and other design customization, making it clean and straightforward to read.
Similarly, you can enable the reader mode on a Safari Mac computer. Like Safari on iPhone, Safari on Mac offers the option to change the background color, font, and text size in reader mode.
Let us know what you think of having a reader mode within the Safari browser. And what website do you generally use for the reader's view?
Lastly, if you've any thoughts or feedback on How to Enable Reader Mode in Safari iPhone/iPad, then feel free to drop in below comment box. You can also report the outdated information.