Do you want to load the desktop site in a mobile view on your Safari browser on a macOS computer? We got you covered. The following are the detailed steps to enable the mobile site view option on Safari.
Web developers and designers generally use this option when they want to validate the look and feel of a new site on different screen sizes. When you load the website on the Safari desktop browser, the full desktop experience will be loaded. However, to switch to the mobile site, you can either reduce the screen size or enable the responsive design mode.
As mentioned earlier, the mobile view in Safari will help cross-check the website experience without using Safari on the iPhone. Just enable the develop menu and start the responsive design mode.
Enable Develop Menu
We need to enable the Develop menu to view the responsive site option. The developed menu is hidden by default, but you can easily enable it. Here are the steps to enable the Develop menubar:
Launch the Safari app on Mac.
Click on the Safari menu option.
Choose Preference from the list to open the dialog window.
 Switch to the Advanced menu option.
Enable the checkbox against the — Show Develop menu in the menu bar.

It will enable the Develop menu in the Safari browser menu bar list.
View Mobile Responsive Site
No standalone option can help us reach the mobile responsive web design. However, the option is hidden under the Develop menu. It will help you display the mobile view in the Safari browser on Mac. Here are the steps to view mobile responsive web design:
Launch the Safari browser on a Mac.
Open the website that you want in the mobile site view.
Click on the Develop menu for options.
Select the Enter Responsive Design Mode option from the drop-down.

This will reload the website and enter into responsive design mode. Here you can select the different device types and screen resolutions based on your needs.
Simply switch between the iPhone or iPad models listed on the page to view the mobile site on the Safari computer browser.
Bottom Line
This will enable us to view the mobile responsive site on the Safari browser on the macOS computer. The mobile site will be based on the model selected in the responsive design mode.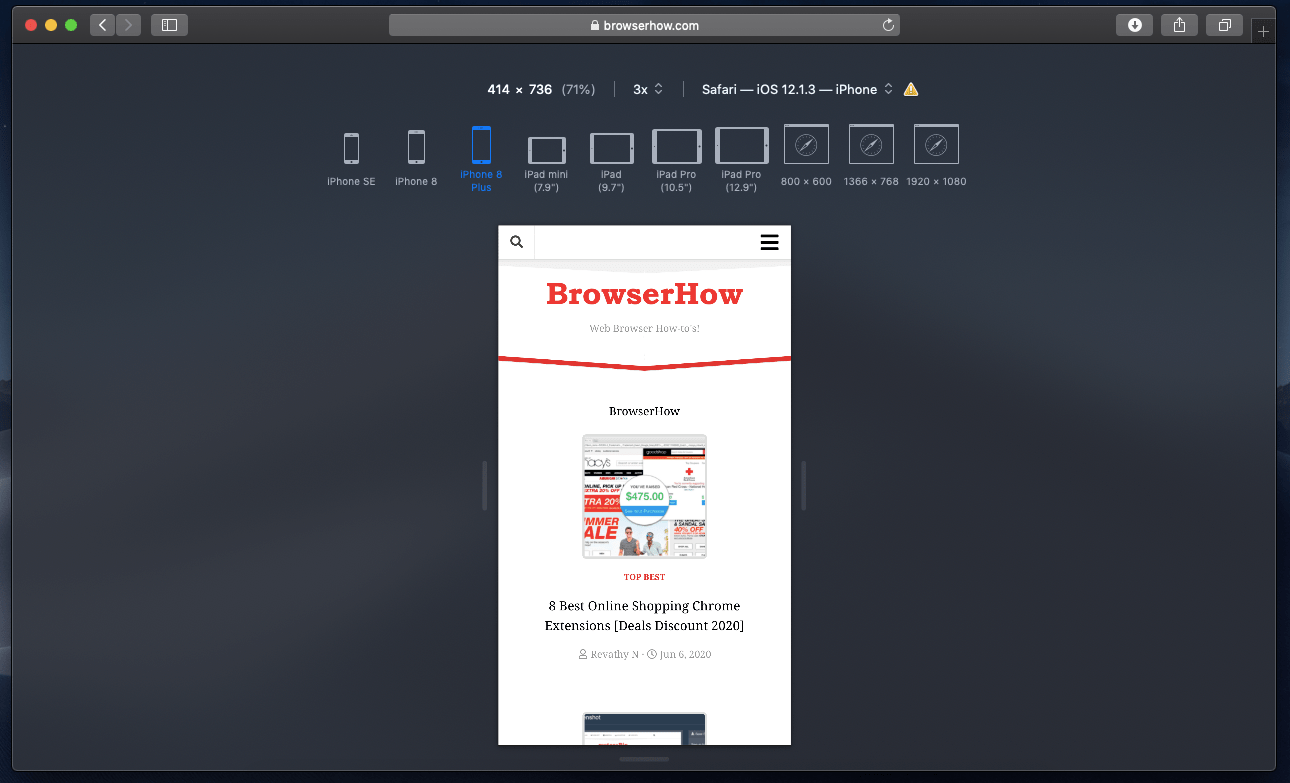 Similarly, you can also enable the desktop site view on an iPhone or iPad device. This will help in retrieving the full desktop experience on a small-screen device.
Have you ever tried using the developer mode in Safari? What are your thoughts on this feature?
Lastly, if you've any thoughts or feedback on How to View Mobile Site in Safari on Mac Computer, then feel free to drop in below comment box. You can also report the outdated information.