The Brave browser doesn't have the built-in video downloader feature, and most extensions do not support video downloading due to piracy and copyrights. Hence the only option we have is to use third-party apps or online websites. We have mentioned one app you can consider using at your own risk.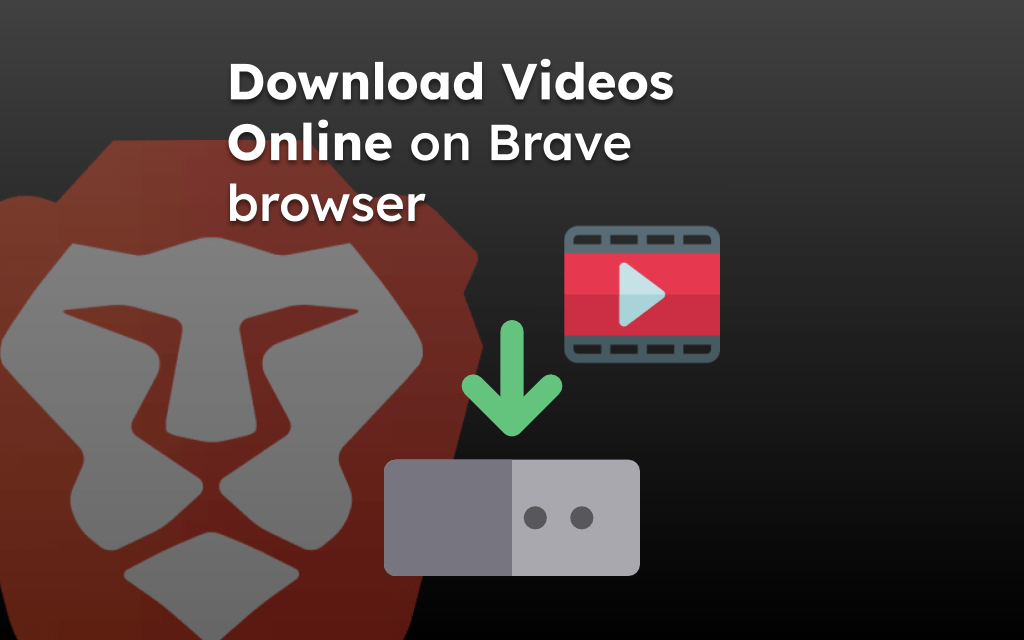 Note: We do not recommend downloading the media content and copyrighted videos. The following steps in this article are for informational purposes only.
Video hosting and sharing platforms have become wildly popular. Thanks to their extensive content collection, YT, Vimeo, and other platforms attract viewers.
From cat videos to cooking videos, you can find everything online. And if you need help with your homework, then there's a chance that some video online may have the answer to your problem!
I like to download videos that I want to watch over and over again. But downloading video from streaming sites like YT is not as straightforward as it seems. Workarounds help, and I use a download manager to download the videos.
Download managers helped when I was using other browsers. Then, I switched to the Brave browser. I encountered a problem when I couldn't find a good download manager for Brave. I tried some extensions, but all of them had some limitations.
In this post, I will discuss Download Manager, where you can download videos on the Brave browser without hassle.
On this page, you can find and jump to:
Using a Download Manager
Downloading videos from any website is impossible without any tool or browser extension. Finding the right tool that supports many websites is essential.
I found the 4K Video Downloader, which has some good features. With its help, you can download videos from YT, Dailymotion, Vimeo, TikTok, Google Video, and so many websites. It is an excellent program that can save videos for you. You can even download complete YT playlists through this tool.
The 4K Video Downloader works well with most browsers, including Brave browsers. The tool supports extracting subtitles from videos in SRT format.
Additionally, downloading 3D and 360-degree videos is also allowed. It has an in-app proxy setup for easy downloading of videos. But, the Smart Mode feature is the best feature of this tool. With it, you can streamline the download process to save time.
Note: the 4K Video Downloader is supported on Windows, Mac, and Linux OSes
Download Manager for Brave
To download videos on the Brave browser, you first need to download and install a downloading tool like the 4K Video Downloader. Here are the steps to install the Download Manager:
Launch Brave browser on the computer.
Visit the official website for the 4K Video Downloader.
Click on the link to save and download the Video Downloader.
The file will begin downloading.
Double-click on the setup files and click on the
The setup process will begin.
command.
Follow the on-screen instruction and allow the program to be installed on your device.

4K Video Downloader will be installed and available on the computer.
Download Videos on Brave
Once the Download Manager(DM) is installed and set up, you need to copy and paste the video URL from the Brave browser. There is no direct connection between Brave and DM; you can use any browser to download videos.
Launch the Brave browser on the computer.
Open the website from which you want to download the video and copy the URL.

Launch the 4K Video Downloader and click on the button at the top left.
The downloader will start processing the video, and the dialog box for downloading it will be displayed.
Select a resolution, choose subtitles, and choose video format type.

Click on the

command.
The video will be processed and downloaded, ready to be viewed on your computer.
Bottom Line
Videos have bombarded the internet. This is because people prefer videos over other forms of content. This was bound to happen, though, because of the easy accessibility of the internet and the rise of apps like YT, Vimeo, and Dailymotion. Moreover, who doesn't like watching videos? I certainly do!
Sometimes, you come across a video that you have to save! If the website has a download link, you must click on it to save it. But, if the video you want to download is unavailable, you must look for tools to save it on your device.
Try the 4K Video Downloader for yourself, and you will never have to worry about downloading videos from any website again!
Lastly, if you've any thoughts or feedback, then feel free to drop in below comment box. You can also report the outdated information.