Around September 2020, YouTube launched a feature in its app known as YouTube Shorts which is 1 min short video similar to TikTok and IG Reels. Some people do enjoy watching YouTube shorts, while others dislike them.
In recent months, many people have posted in different forums about getting rid of or hiding the YouTube Short Videos section on their browsers like Google Chrome, Microsoft Edge, etc, where they access YouTube.
You are at the right place if you are also wondering the same thing and cannot figure out a solution to block YouTube Shorts. In this guide, we have listed a few possible ways by which you can hide or turn off YouTube shorts on Google Chrome.
Editor's Note: YouTube may periodically change its layout and algorithms to improve user interface or design. Additionally, extensions to modify YouTube's functionality may be against YouTube's terms of service depending on your country of origin, so proceed at your discretion.
Hide Youtube Shorts
This is one of the easiest ways to disable or hide Youtube shorts on a Web browser.
Youtube allows you to hide the shorts when you browse via your desktop or laptop. All you need to do is press the X (Not Interested) button present at the top of this section.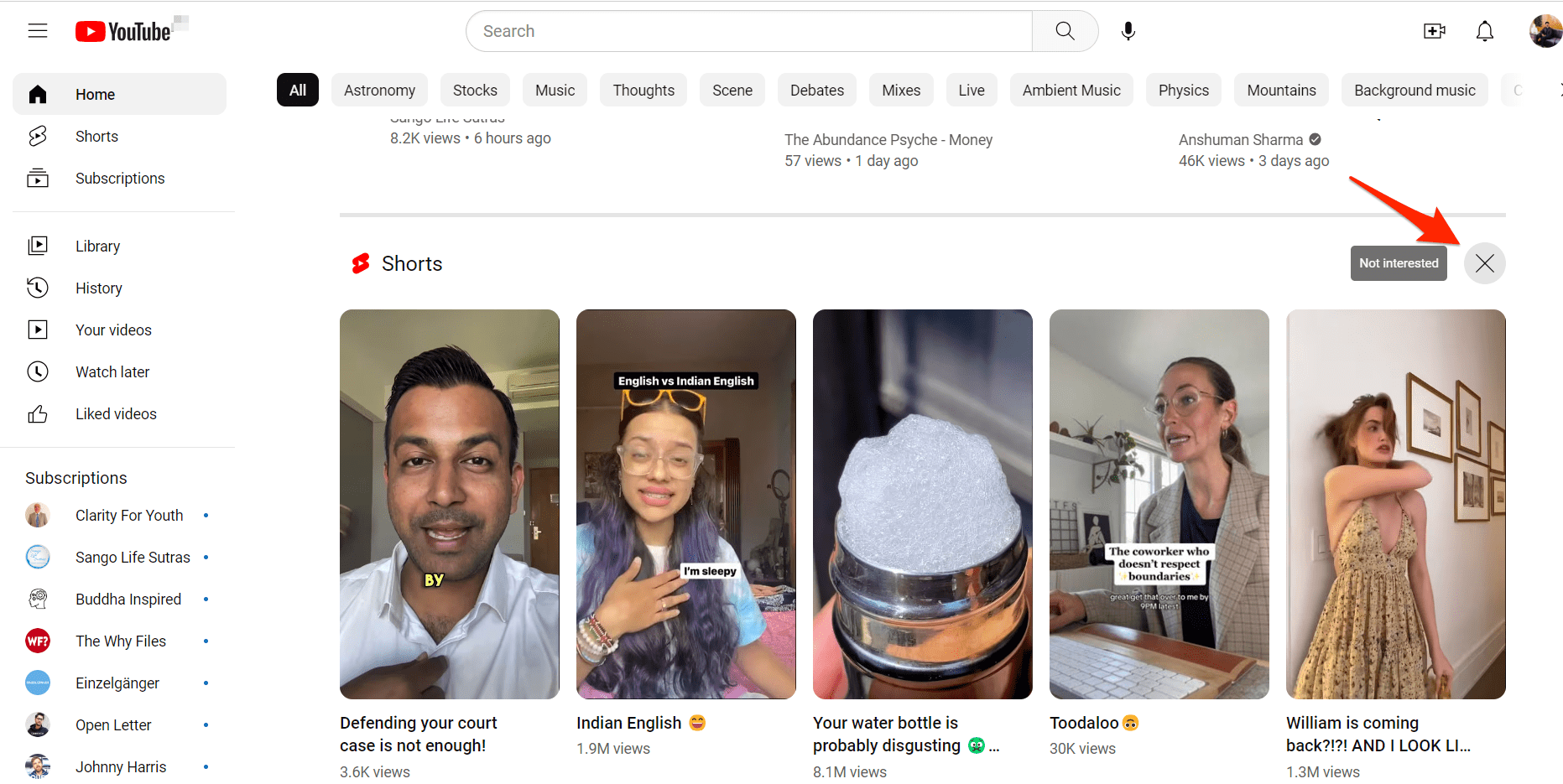 After tapping on the X button, reload the YouTube page, and you won't see the Shorts section on your homepage anymore. However, there's a catch!
The above method will only disable the YouTube shorts temporarily for 30 days. After 30 days, the shorts will return, and you must press the Not interested button again. So it's a suitable method temporarily, but if you are looking for a better way, you might need to use the browser extension.
Use a Browser Extension
Browser extensions are beneficial in day-to-day life. If you are a tech geek, you might know that many browser extensions make our day-to-day lives easier, like an ad blocker or some productivity add-on that integrates into the browser.
You can use the ShortsBlocker extension on Chrome browser to remove the YouTube Shorts.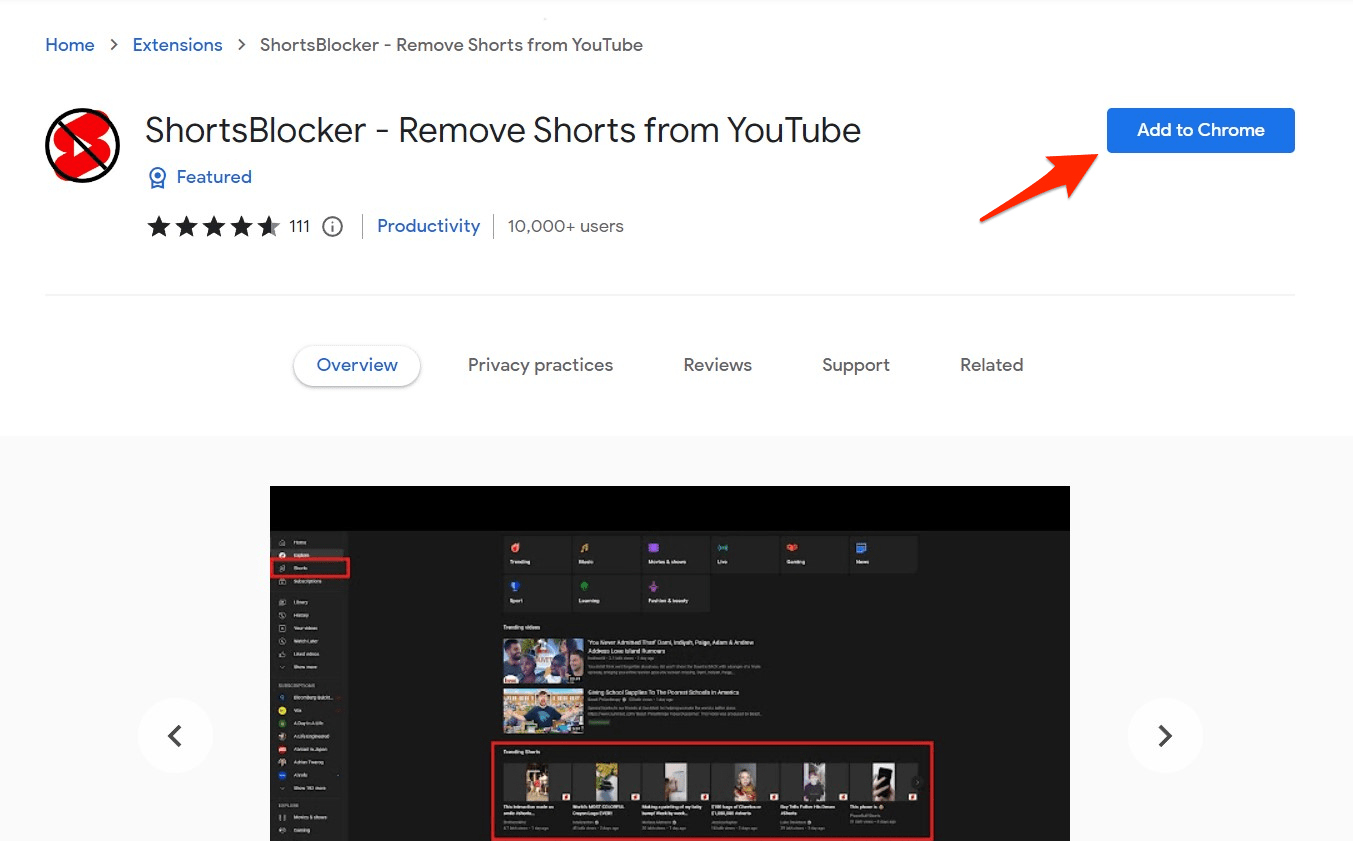 ShortsBlocker identifies short videos in your YouTube feed and hides them automatically. This extension is available for popular browsers like Google Chrome, Microsoft Edge, and Firefox.
Below is the Chrome WebStore page for ShortBlocker.
Refresh the YouTube Homepage feed after adding the extension to your Chrome browser. The YouTube Shorts will be disabled and no longer display for recommendation.
Bottom Line
In conclusion, if you wish to hide Youtube shorts on your web browser, you may use the default options on the website. However, that's a temporary solution, so using any third-party extension that can actively block or hide Youtube Shorts on the platform is better.
Multiple extensions available for free on the Chrome Web Store can help you eliminate YouTube Shorts, like Youtube-shorts block, ShortsBlocker, No YouTube Shorts, etc. We have personally tested the ShortsBlocker, and it works.
If you're a developer, you can even do manual customization using Developer Tools to hide or turn off YouTube Shorts.
Unfortunately, there is no option to hide the Shorts on YouTube App on phone devices.
Lastly, if you've any thoughts or feedback on How to Hide YouTube Shorts on Google Chrome, then feel free to drop in below comment box. You can also report the outdated information.