Mozilla Firefox keeps a record of browsing history and the tabs that you recently closed. Within these browsing records, you will find all the tabs you have opened and closed in your previous browsing sessions.
To reopen recently closed tabs on your browser:
1. Launch the Firefox app and tap the More (3-dots icon) for the menu list.
2. Select the History menu and open the Recently Closed tab section.
3. Select the desired Closed Tab from the list to reopen in the browser.
You can also visit your browsing history using the Show Full History option to view and open any previously closed tabs.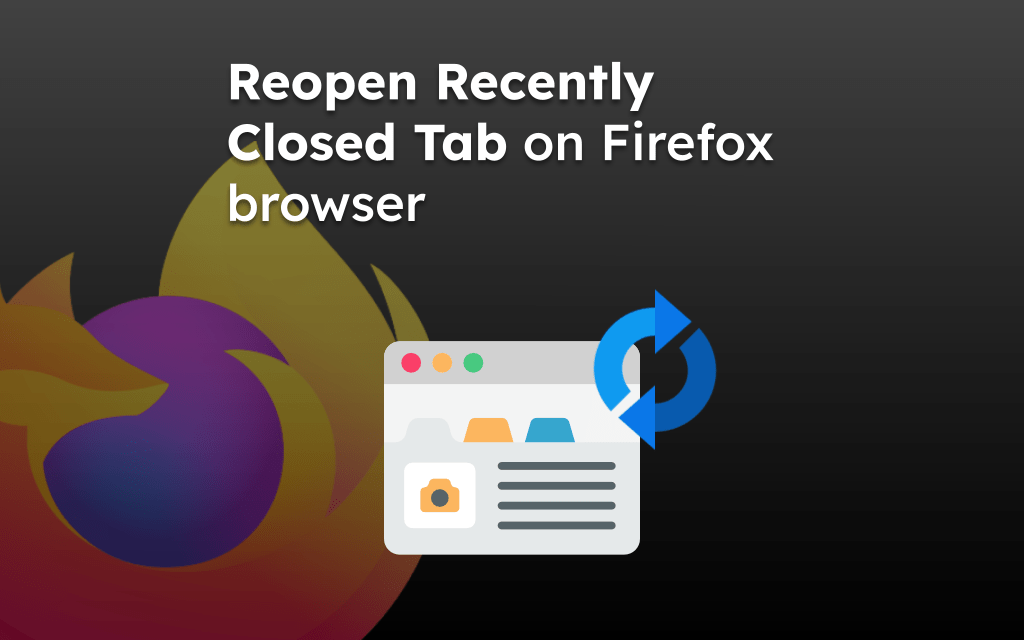 In this guide, you will learn to reopen recently closed tabs in the Firefox app on your Android phone. The tabs you've closed recently or accidentally will be recorded in your browsing history.
Note: Reopening the recently closed tab is impossible when using
private browsing mode
. Because the private mode doesn't keep any record.
On this page, you can find and jump to:
Reopen Recently Closed Tabs on Firefox
Launch the Firefox app on your Android device.
Tap the More menu, and select History from the list of options.
It will open the browser history page.
Select the Recently Closed Tabs option on the history page.
Choose the desired Tab to reopen on your browser.

Alternatively, you can also browse the Firefox History page to view the page you need to reopen.
If you need to reopen tabs closed earlier, you can scan through the browsing history.
Delete Recently Opened Tabs on Firefox Android
If you've recently closed the important or personal tabs that you do not want anyone else to know or see, then you can clear those tabs' records. In order to do that, follow these steps:
Open the Firefox app on your phone.
Tap the More menu, and select History from the list of options.

Hit on the Trash icon in the top-right corner.
Select a Time range to delete as the Last hour or Today and Yesterday radio button.

Finally, hit on the
command.
Since the recently closed tab has recent records, deleting the last 1 hour or today's records is considered to be good.
However, you can also choose Everything to clear history for the entire time range.
Reopen Closed Tabs from Firefox History
Reopening closed tabs helps recover the tabs that were accidentally closed on the browser. You can reopen all the closed tabs under the browsing history of Firefox.
If you use the Firefox browser on your computer, you can reopen closed browser tabs on your system.
Lastly, if you've any thoughts or feedback, then feel free to drop in below comment box. You can also report the outdated information.