Chrome browser supports the extensions that help in enhancing the existing browser capabilities. However, with AI-powered extensions, these capabilities have become limitless. You can easily download and install several AI-power extensions to get your work done with high-graded output results. The extensions we suggest, to begin with are Jasper, Merlin, Grammarly, Speak AI, Wordtune, Fireflies, Scalenut, and more.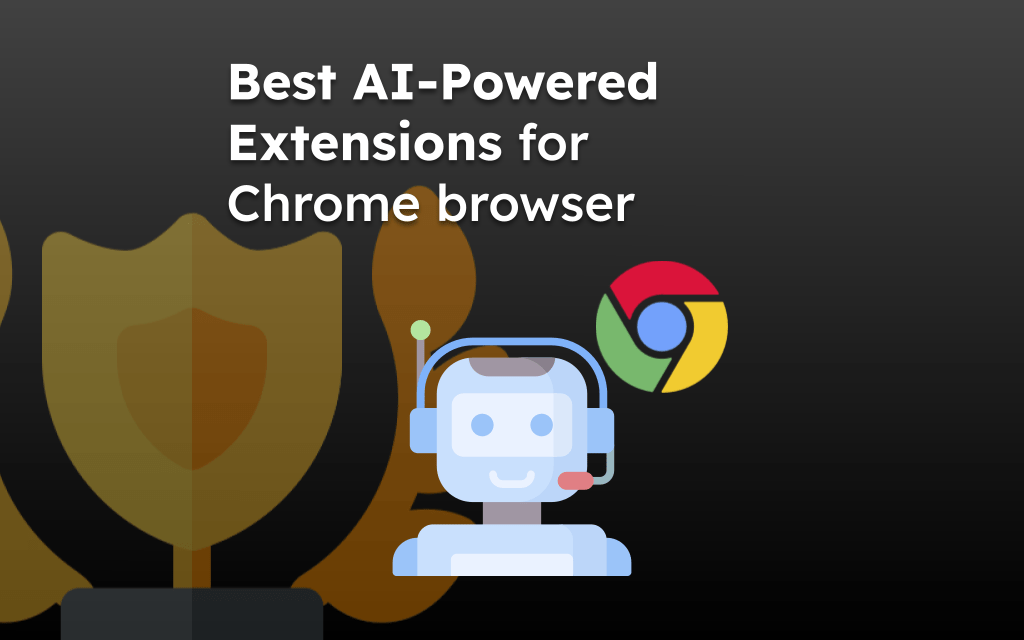 Chrome Extensions are one of the most effective ways to boost the productivity and efficacy of your browser. Extensions have been designed to provide the browser with new, enhanced, and outstanding features that are unavailable by default. With an extension, these features are readily available on the browser.
AI can make our lives easier and better and also help us save many lives in whatever we do. It is remarked for its enhanced ability to understand commands and provide valuable results. With its incorporation into the extensions of Chrome, things have gotten way more manageable.
If you're also looking for extensions that will help you navigate the realms of AI, then we have the perfect solution. We have curated a list of some of the best extensions driven by AI that are available for download on Google Chrome as extensions. Let's see:
On this page, you can find and jump to:
Jasper
With over 50 templates, this extension is regarded as one of the best tools for writing on Google Chrome. It can produce an article as long as 1500 words at once.

Some of its remarkable features are:
It can write blogs, social media posts, and emails for you.
It can support more than 25 languages at once.
It is perfect for writing long-form content.
It is effective for incorporating SEO guidelines in your article with meta descriptions.
Your grammar is analyzed thoroughly here.
However, it is still in development and may not get all your requirements right at once. Every content piece may still need the human touch at the end.
Merlin
Merlin is an AI-powered writing editor that can help you combine the superpowers of ChatGPT for an extensive and hassle-free browsing experience.

A few of its features that should be considered are:
It answers all your questions.
It creates a distraction-free environment for browsing.
It is swift, relevant, and accurate.
It collects data from various web pages for your ease.
 It can write blogs, suggest ideas, or even give you advice.
However, it can show errors sometimes and load very slowly. It can also generate irrelevant information sometimes.
Grammarly
One of the most popular AI-powered extensions on Google Chrome, Grammarly can be used extensively for correcting grammatical errors in your work. It can detect punctuation errors as well.

Some of its exciting features are:
It helps in setting the tone of your work according to your liking.
It can correct grammatical mistakes.
It can correct spelling and punctuation as well.
You can also check plagiarism here.
It helps determine your work's reading time, tone, and emotion.
However, it has many issues with loading the mistakes at once. The loading of these elements can take longer than usual. Additionally, the premium version is very costly.
Speak Ai
If you're someone who makes use of a lot of transcripts, then this AI tool is for you. It has many features let you transcribe audio recordings, calls, and other such formats.

Some of its notable features are as follows:
It can help in finding keywords between audio recordings.
It can do a deep search on its own.
It can manage APIs and even provide their integration.
It helps with media management.
It can easily record audio and even provide you with dashboard reports.
The audio recordings can lack sometimes, and the keywords generated may not always be correct for the audio. The analysis can also contain bugs.
Fireflies.ai
It is your own personal AI assistant that can do a lot at once. From taking notes to transcribing audio, it can do it all. It can also record meetings for you.

The primary features of this tool are:
It can join calls without your presence.
It offers integration and APIs for you.
It has an intuitive dashboard at your service.
It can easily record meetings.
The transcription of audio is fast and easy here.
Yet, it is a new AI tool that can take long pauses in between or show signs of lagging. This can disrupt your workflow highly.
Scalenut
This extension is designed to take your content marketing to the next level. It is perfectly curated to give you valuable insights into market research, keyword search, and the like.

A few features that stand out for this extension are:
It can write market copies in over 40+ templates.
It generates SEO scores and feedback in real-time.
It helps with keyword research.
It helps in email marketing.
It is perfect for copywriting frameworks.
However, some plans are costly on this extension, and nearly no helpful feature is available for free here.
Wordtune
Wordtune is an AI-powered writing assistant that can help you improve your writing style. It can suggest different ways to phrase your sentences and help you find the right words to express your ideas.

Some of its essential features are:
It helps to enhance your writing style.
It helps you paraphrase your sentences.
It helps in enhancing your vocabulary by suggesting better words.
It suggests synonyms for your usage.
You can translate and rewrite your sentences as well.
However, the phrases may not always be correct and require additional proofreading before finally submitting it.
Bottom Line
These AI extensions can help you upskill, upgrade, and enhance your daily work. They are designed to make your work faster, better, and more effective. Constant updates and changes are being made to these extensions to cater to your needs. They are easy to use and give an interactive user interface to keep you hooked.
Google Chrome browser is also integrating more AI features like Google Search Generative Experience (SGE) for the ease of their users. You should also give them a try and see it for yourself. It can help sort your daily tasks very well for you.
Lastly, if you've any thoughts or feedback, then feel free to drop in below comment box. You can also report the outdated information.