Mozilla Firefox has a built-in feature known as a browser add-on similar to the browser extensions that Chrome and Edge offer.
Add-ons help one access features that are not readily available on the browser. The add-ons help one do a lot of activities at once, including sorting out passwords, clearing ads, or even proofreading documents.
Let's have a look at some of the best add-ons for Mozilla Firefox:
Bitwarden
Bitwarden is the best password manager among all its contemporaries. It helps you to manage all your passwords seamlessly without any worries.
Additionally, you can sync your passwords across all your devices. Now, you never have to stress about logging into multiple accounts across multiple devices.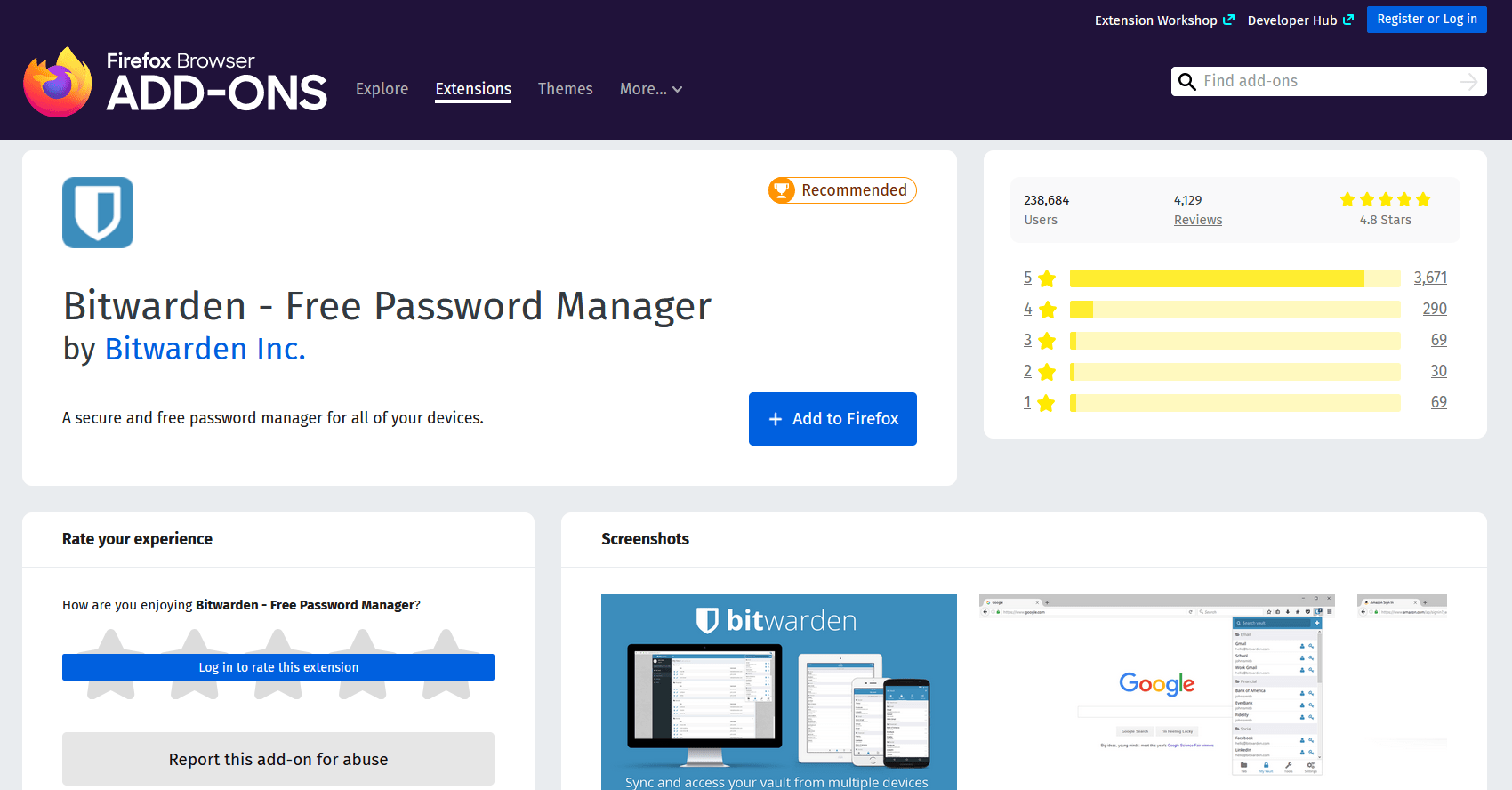 Some of its most prominent features are:
You can create, store, and manage all your passwords seamlessly.
All your passwords are synced across all the devices you log in to.
All your passwords are safely stored in an encrypted vault, preventing data or privacy loss.
Your privacy is given utmost importance, as even the team at Bitwarden can not read your passwords.
Although it is loaded with so many features, the extension has some bugs that still need fixing. The syncing can take time across devices and does not happen instantly.
Facebook Container
Are you very skeptical about their privacy? If yes, then you are in for a treat. Facebook Container browser add-on is your perfect match!
This add-on stops Facebook from collecting data or recording your web activity by keeping it separate.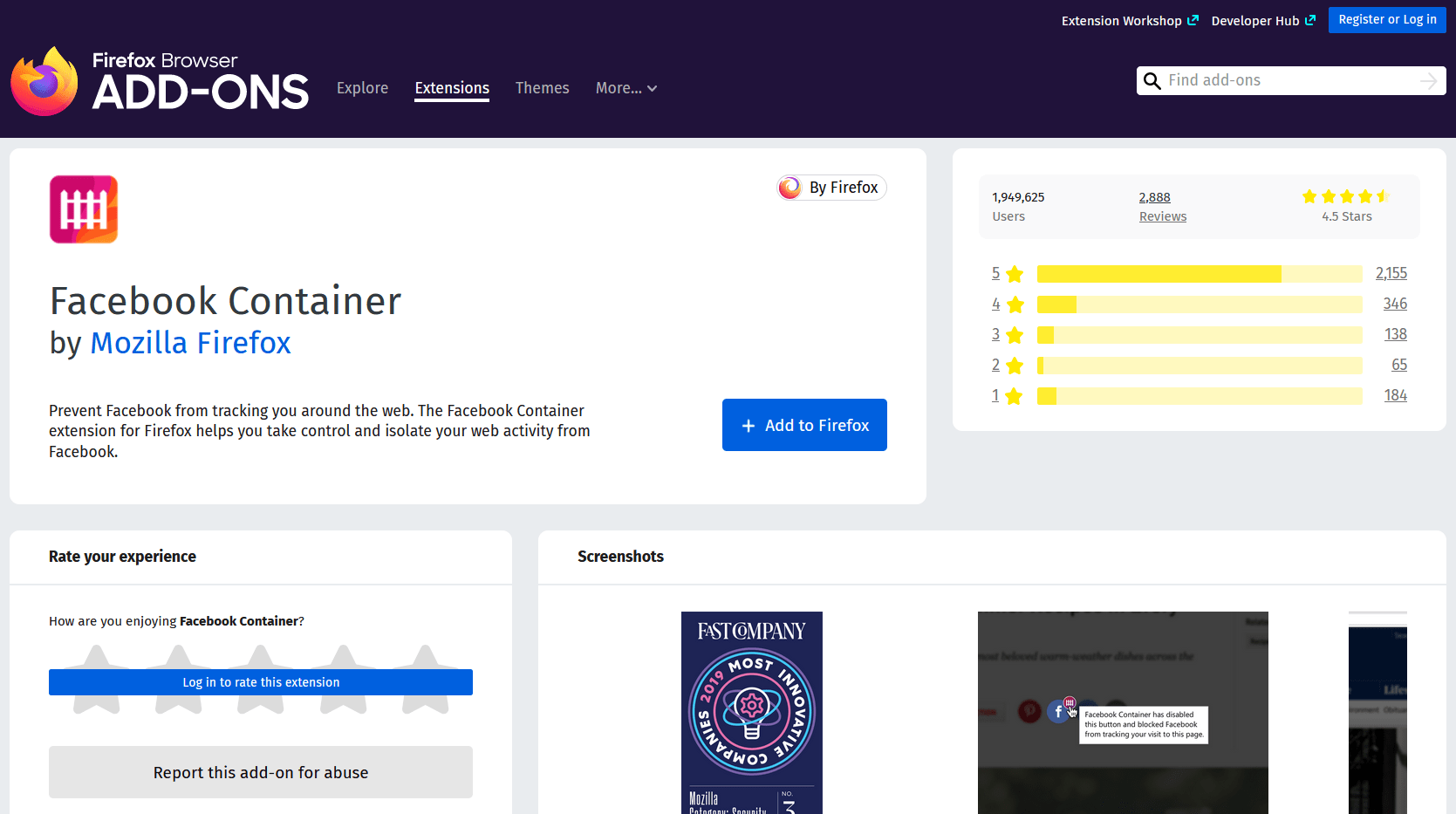 Let's have a look at Facebook Container's significant features:
It makes it difficult for Facebook to track your web activity by isolating it.
Firefox never read any of the information used within this extension.
It will delete your cookies, log you out of Facebook, and direct you to a new tab whenever you use it next.
All the non-facebook pages will load outside this tab.
However, it also has some demerits. You may have trouble logging into Facebook outside the tab loaded outside this extension. You may also have problems sharing posts from Facebook to other apps.
Grammarly
Are you a content creator? Then, you must spend much time researching and curating new articles daily. Editing and proofreading are real problems.
However, you no longer have to worry about it since the Grammarly browser add-on is here to help you.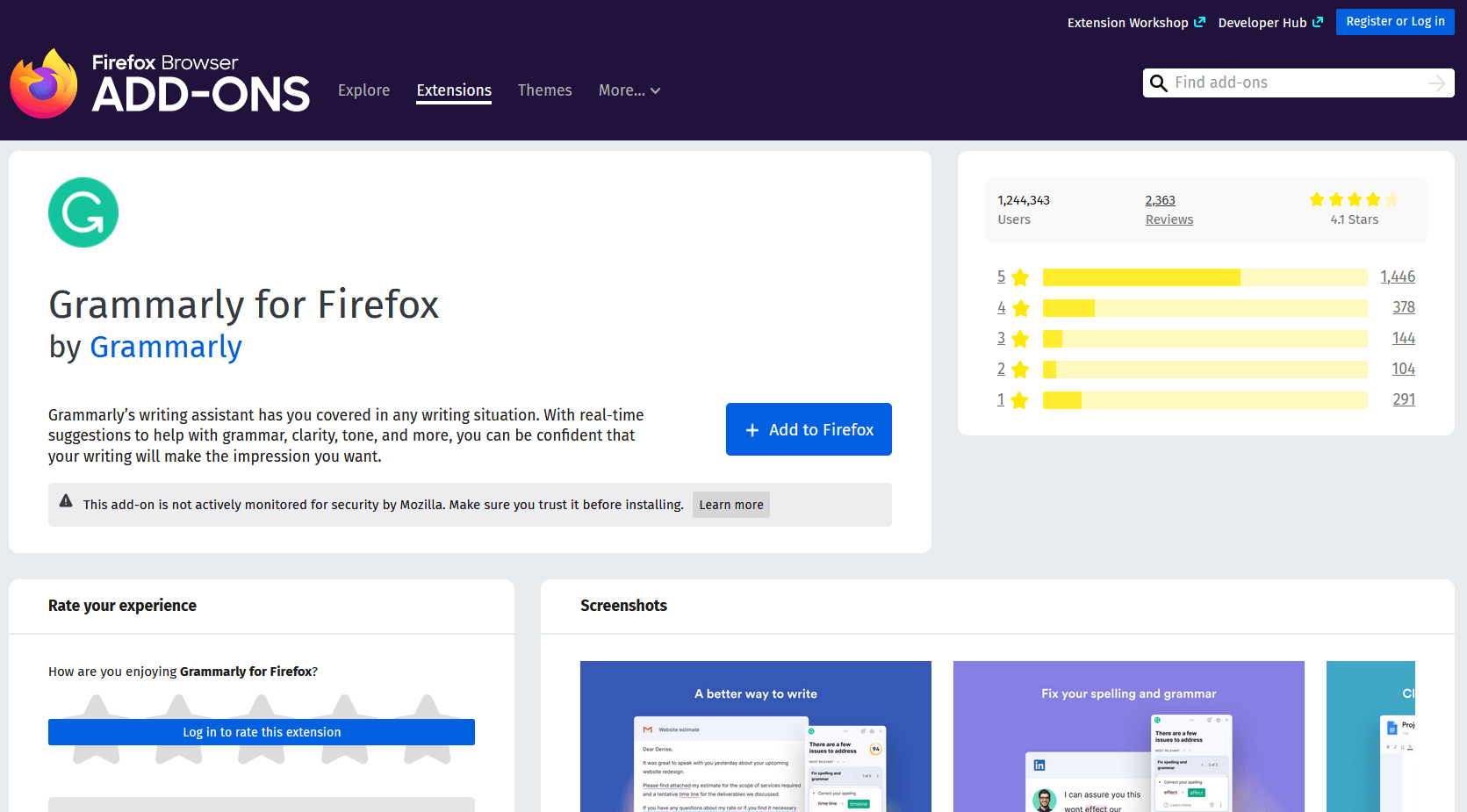 Some of Grammarly's significant features are:
Grammarly helps you edit and remove all writing and grammatical errors in real time.
It suggests new and innovative words for your existing words to make the documents more appealing.
You also have the option to know the tone of your writing.
It works on most websites, including Twitter, Facebook, etc.
You also have the option to add your own words to the dictionary.
You can also track your weekly and monthly progress on the add-on.
However, the features available in the free version are pretty limited and not enough compared to the premium version. The ads may also annoy you on the accessible version of the add-on.
Ghostery
If you are easily distracted by the ads and pop-ups on any website, then Ghostery is the perfect add-on for you. It will free all websites of useless ads.
Ghostery helps you block ads, pop-ups, and annoying notifications instantly.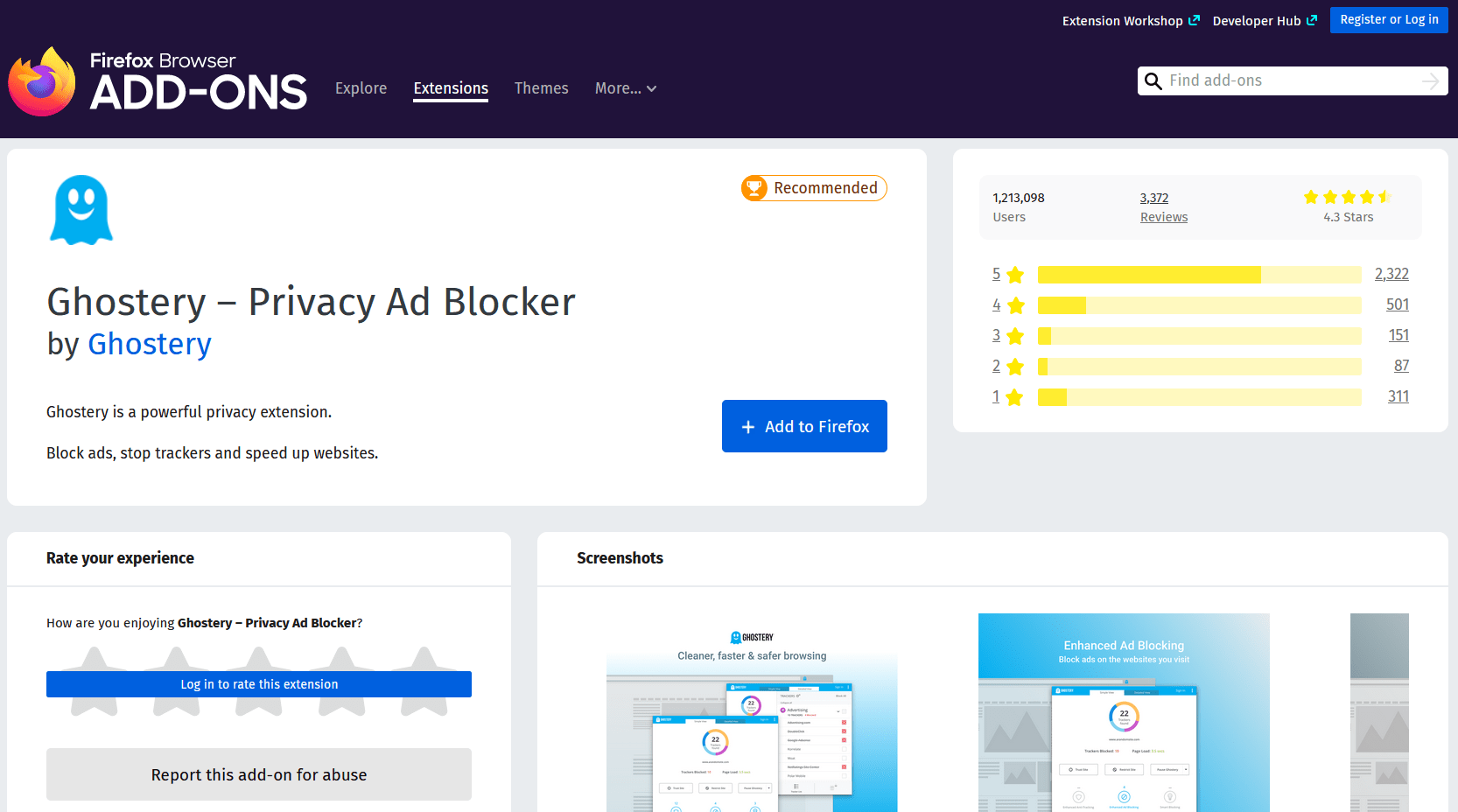 Let's have a look at ghostery's features:
Ghostery blocks all the useless ads on a website to ease your browsing.
It limits the use of every tracker that may endanger your privacy and collect your personal information.
It helps in the fast loading of all websites.
You can also customize your display to see only the things relevant to you.
Ghostery may still have some lagging issues that need fixing. Sometimes, it may not block all the ads entirely, which may cause problems later.
Lightshot
If you are keen on clicking screenshots now and then, Lightshot is the add-on for you. It helps you capture screenshots without any hassle.
Lightshot helps you capture and even edit them without worrying about anything else!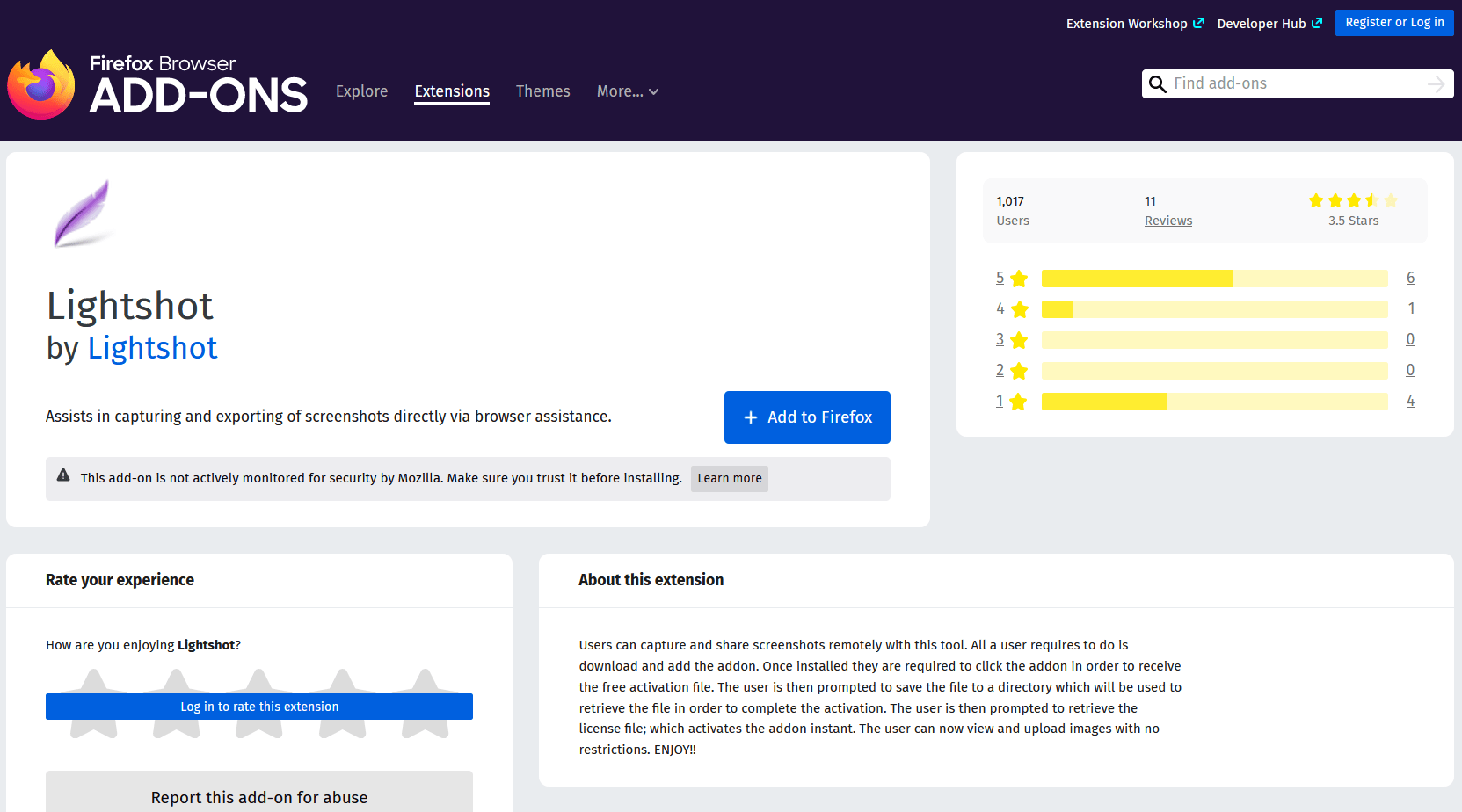 To name a few of Lightshot's prominent features:
You can capture and share screenshots almost instantly.
You can select a part of the screenshot that you want before sharing.
The screenshots are saved on your disk very quickly.
You can also search for similar screenshots.
However, the add-on can sometimes lag, causing it to delay the time to take screenshots. It has not been updated for two years and requires new features.
Greasemonkey
Are you someone who likes experimenting? Then, it would be best if you tried the Firefox add-on named Greasemonkey, as it helps you customize popular websites according to your choice.
The customization is achieved by tweaking how the websites behave by making script changes.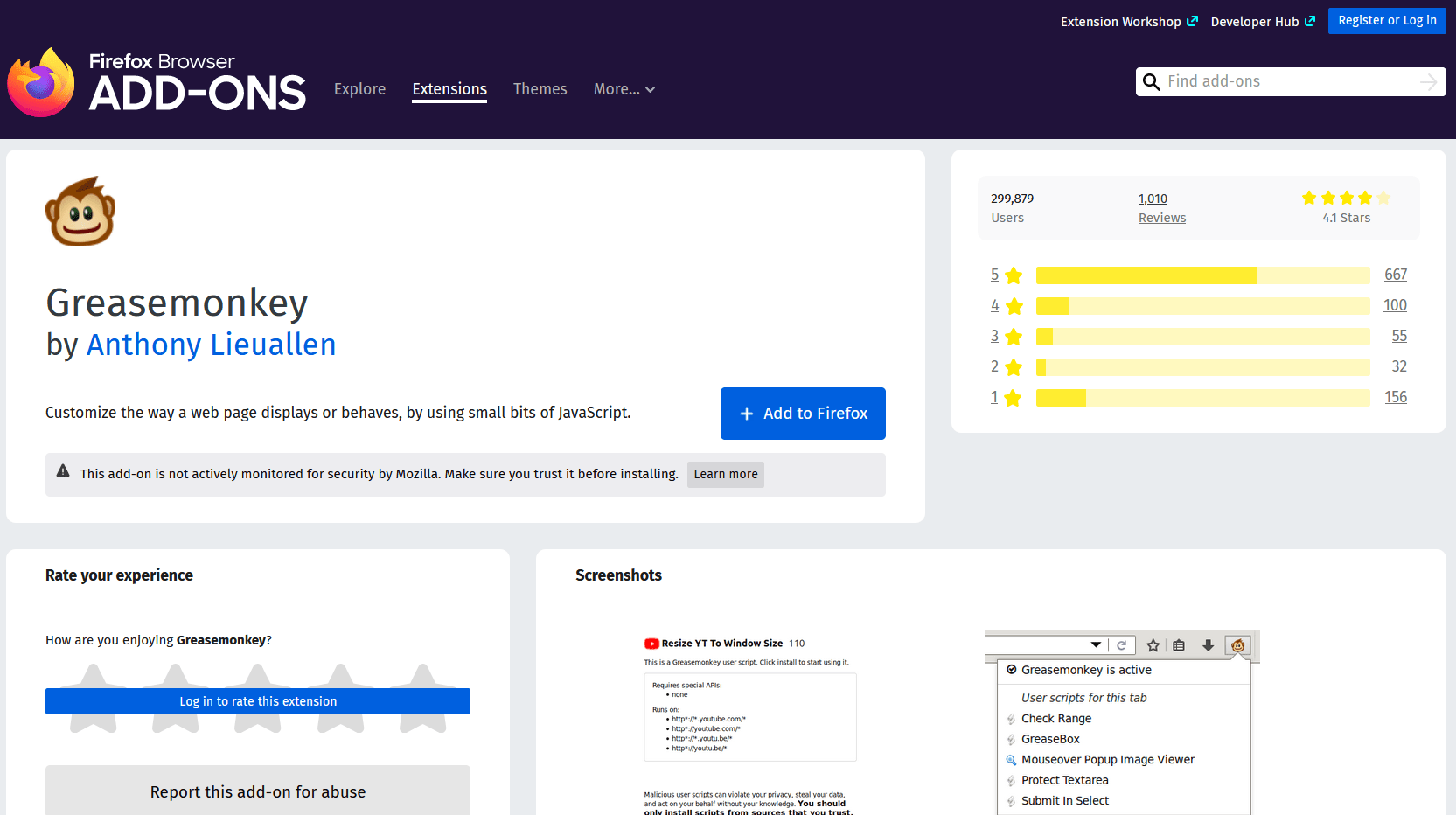 Greasemonkey is packed with loads of exciting features. They:
It enables your browser to support Greasemonkey scripts.
When you launch it, you will have the option to download scripts.
If you have code, you can create your scripts.
It is straightforward to use and set up.
Although it has numerous features, it has certain demerits. For instance, it has few configuration options and no direct link to the user script.
Clippings
Are you in constant need of saving time? If yes, you can save time using the Clippings browser add-on for Firefox.
Clippings help you save frequently entered texts so that you can send them immediately as and when required by you.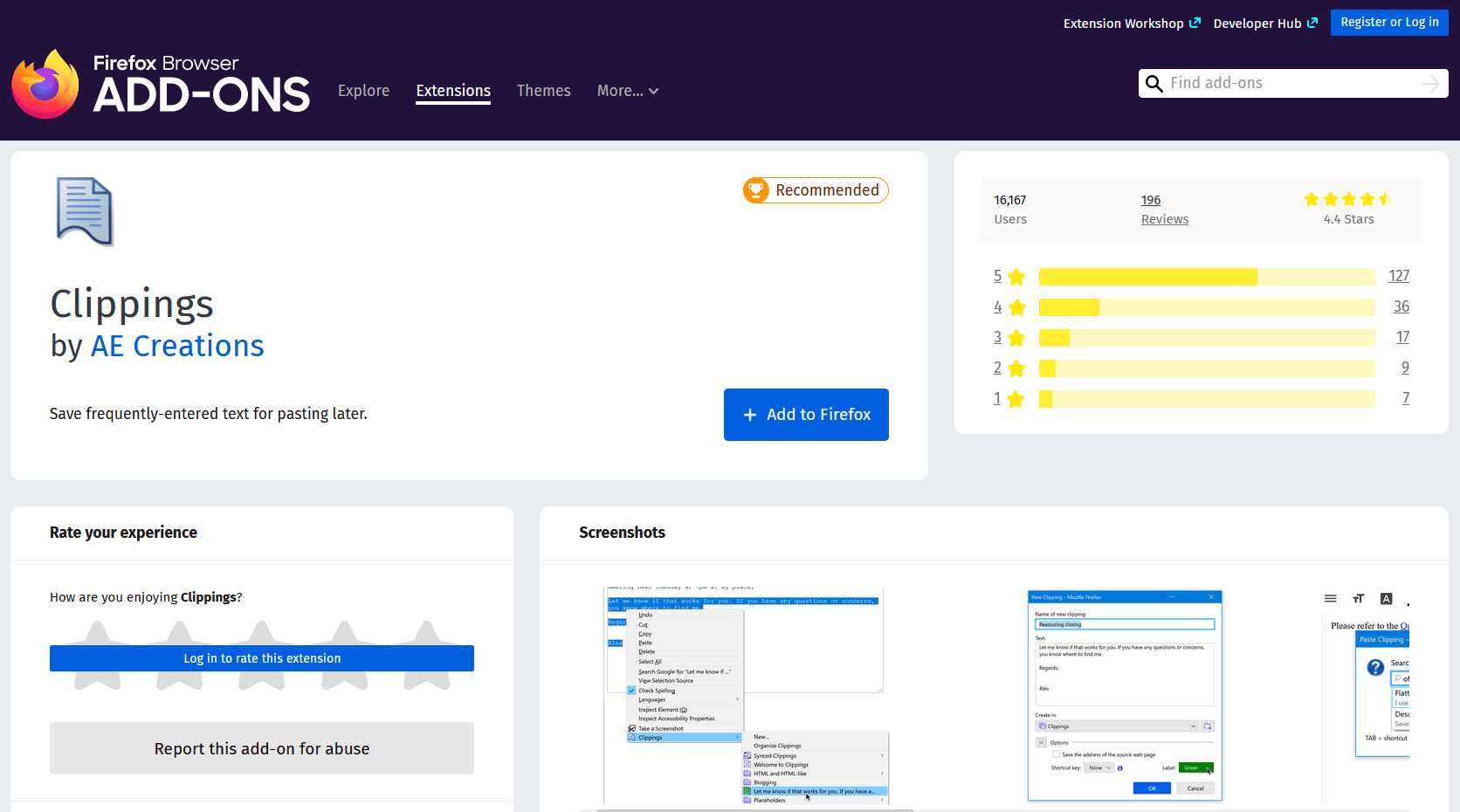 A few of Clippings' most significant features are:
Easy creation of a clipping from selected text on a webpage or even an email.
You can also color-code your clippings to organize them better.
You can easily access them with one click!
You can even use shortcut keys for the clippings for faster pasting.
However, it does have some bugs that need fixing. Also, its features are restricted when Firefox is in private browsing mode or has restrictions in its privacy settings.
Tabliss
Tabliss browser add-on lets you customize the new tab according to your needs and preferences. You can choose from various themes, backgrounds, and customization.
You will be greeted with a new design when you open a new tab. Interesting.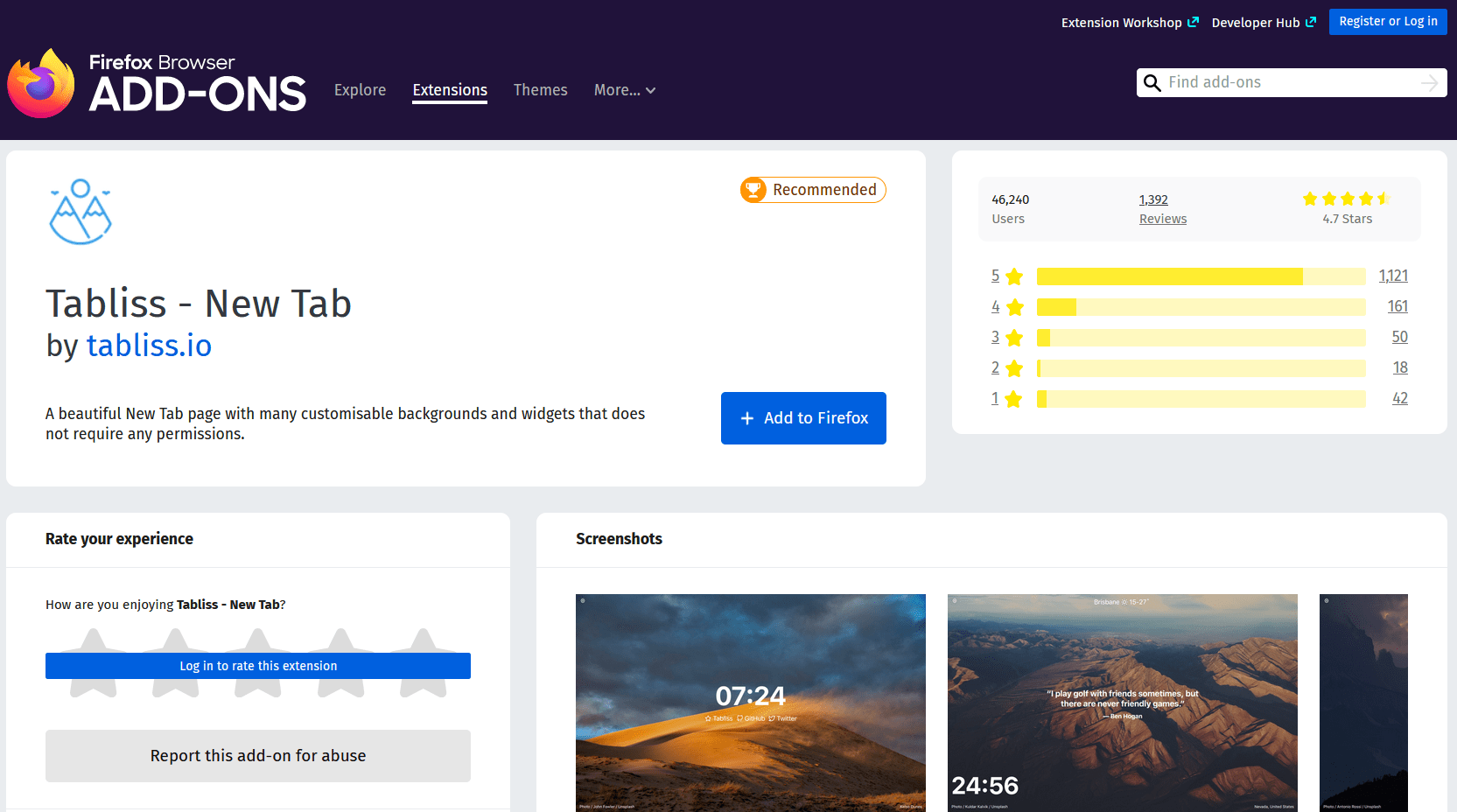 Let us look at some of the Tabliss prime features:
You have hundreds of customization options to create a new tab that is made for you.
It is entirely free.
It keeps you productive and more organized throughout the day,
It is lightweight and loads instantly.
It has no access to your privacy and assures your safety.
It is nearly a perfect add-on as it has no significant problems. However, it may sometimes lag due to overloading.
Gesturefy
If you own a mouse and want to get things done faster than before, here's your chance. With Gesturefy, you can use gestures on your mouse to get certain things done.
Well, it is clear that mouse gestures take far less time than keyboard shortcuts and are better in every sense.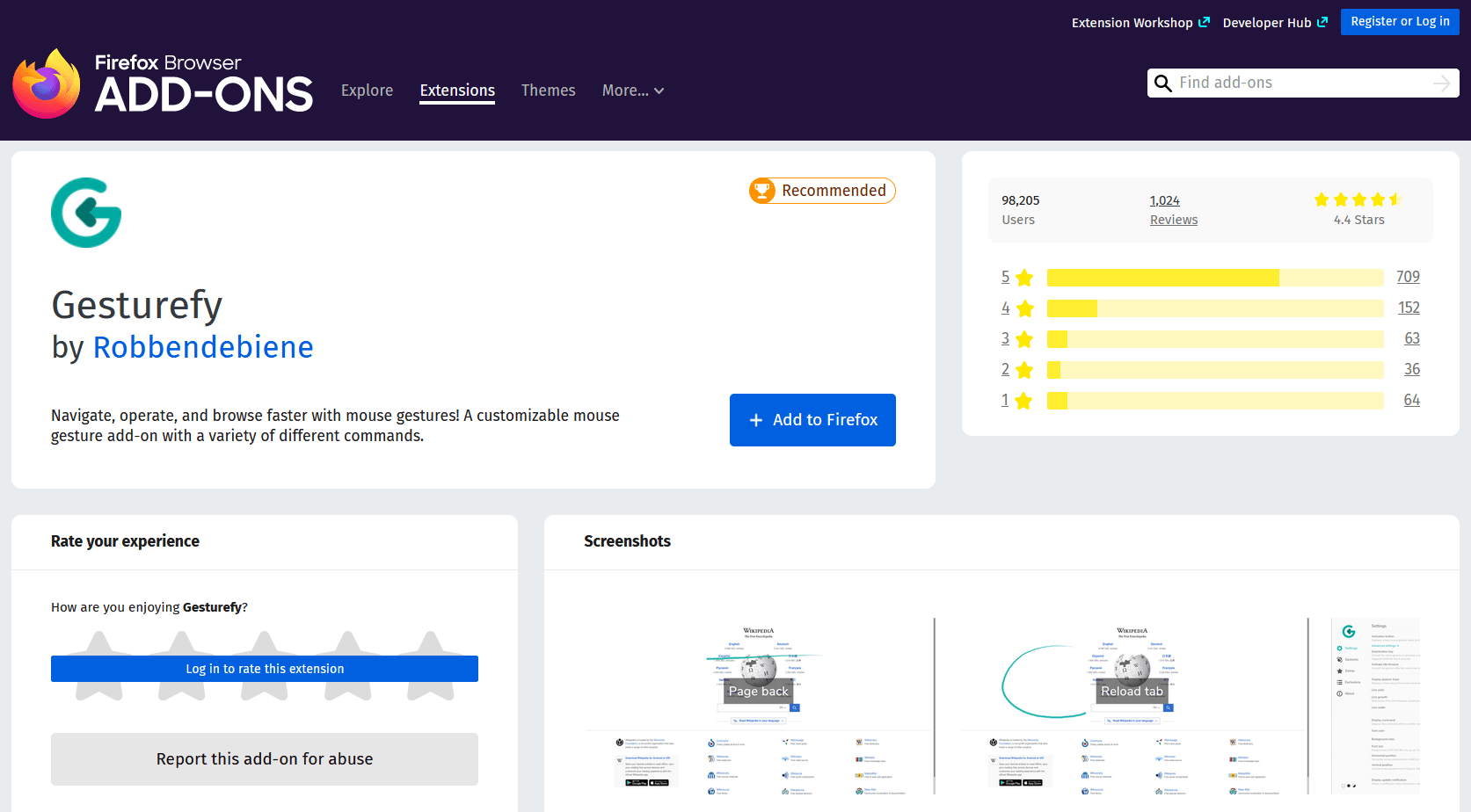 Some of the Gesturefy notable features are:
You have access to unlimited mouse gestures.
You can also customize gestures according to your needs.
There is an availability of more than 70 preloaded commands.
It also comes with user script support.
However, it still does not load on some Mozilla pages and faces issues. For gestures to work, the page should be partially loaded.
Video DownloadHelper
If you want an add-on to download videos and pictures and save them directly to your hard drive, your search ends here. Video DownloadHelper lets you do it all almost instantly without any extra effort.
You no longer have to worry about missing out on your favorite cat videos. They are easy and free to download with this add-on.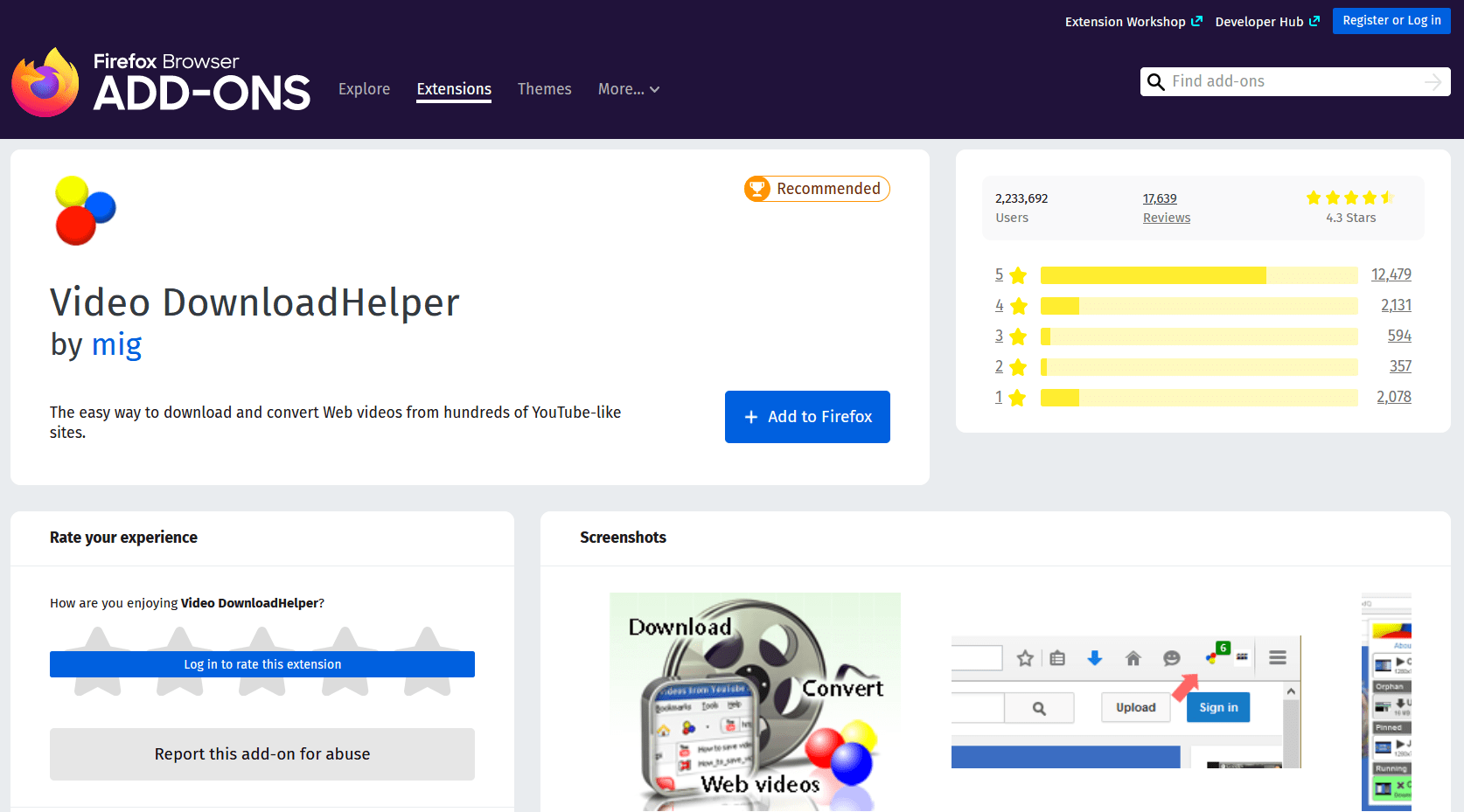 To name a few of Video DownloadHelper's unique features:
You have a toolbar to carry out the process flawlessly whenever a video is available to download.
You can download it from popular websites like Facebook, YouTube, Vimeo, Dailymotion, etc.
It supports different types of streaming as well.
You can download it easily and quickly with a single click.
Although this add-on will help you download videos from different platforms, it will not help you convert these files as they are limited to the paid upgraded version.
Bottom Line
With the advancement of technology, we have new updates and features available at our fingertips on the browsers we use. One such feature is the use of add-ons on the Firefox browser.
Add-ons similar to extensions make a lot of work more accessible since they help one do things quickly unavailable on the browser.
FAQs
What are the best Mozilla Firefox add-ons to enhance your browsing experience?
If you're looking to enhance your browsing experience, some of the best Mozilla Firefox add-ons include Bitwarden, Facebook Container, Grammarly, Ghostery, and more.
What is the purpose of the Facebook Container add-on for Mozilla Firefox?
The Facebook Container extension is designed to isolate your Facebook activity from the rest of your browsing, enhancing your privacy by preventing Facebook from tracking your movements across the web.
Can you suggest a reliable password manager add-on for Mozilla Firefox?
Bitwarden is a reputable password manager add-on for Firefox. It helps you securely store and manage your passwords, making your online accounts more secure.
How does the Greasemonkey add-on enhance the functionality of Mozilla Firefox?
The Greasemonkey extension empowers you to customize and modify the appearance and functionality of websites through user scripts. This provides a personalized browsing experience tailored to your preferences.
Lastly, if you've any thoughts or feedback on 9+ Best Mozilla Firefox browser Add-Ons, then feel free to drop in below comment box. You can also report the outdated information.