We use web browsers for numerous purposes. Whether browsing for our work or playing music, we do it all on web browsers. When working on something important or preparing for a presentation, the ads and popups on the browser may divert our attention and annoy us.
It may cause so much frustration that we may forget what we were working on. Ad Blocker helps block the display, videos, and popup ads.
We have curated a list of the best Adblock add-ons for Microsoft Edge that can help block all ads.
AdBlock
If you get easily annoyed by the ads on your favorite websites, then the AdBlock browser extension is your solution. It blocks ads from your favorite websites.
It can help you stay focused and block unnecessary ads from YouTube, Facebook, etc.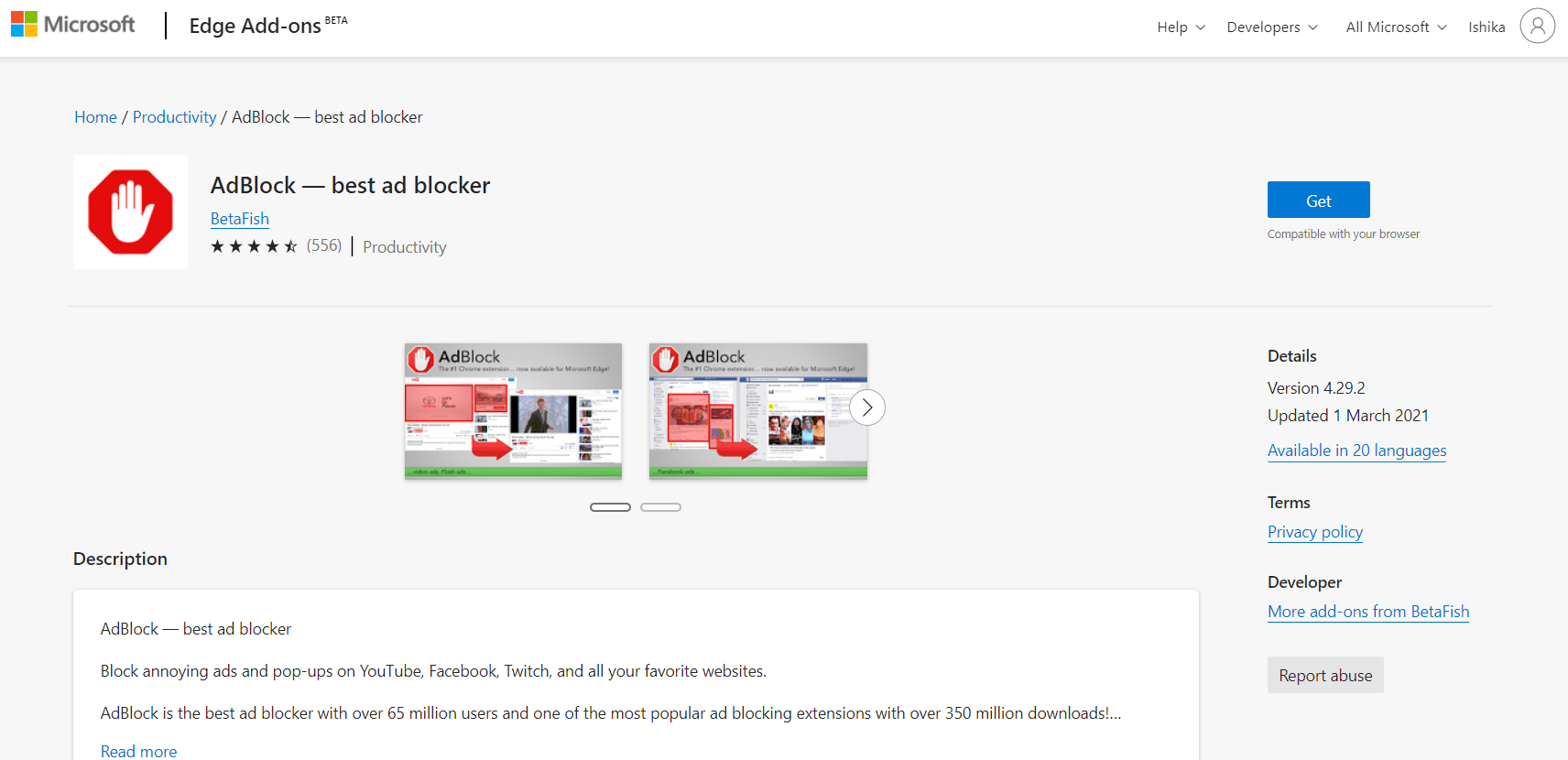 Some of AdBlock's essential features are:
It can block ads, popups, and videos on your favorite websites.
It blocks third-party trackers and helps you protect your privacy and security.
You can customize everything and choose the themes as well.
It enhances the page loading time and improves it for you.
Although it has loads of unique features, AdBlock still has some demerits. The free version's features are limited, and most are available in the paid version.
Adblock Plus
If you want seamless streaming on YouTube, this browser add-on is for you. It is one of the most trusted ad blockers around the globe.
It blocks ads or popups, protects your privacy, and helps you stay secure.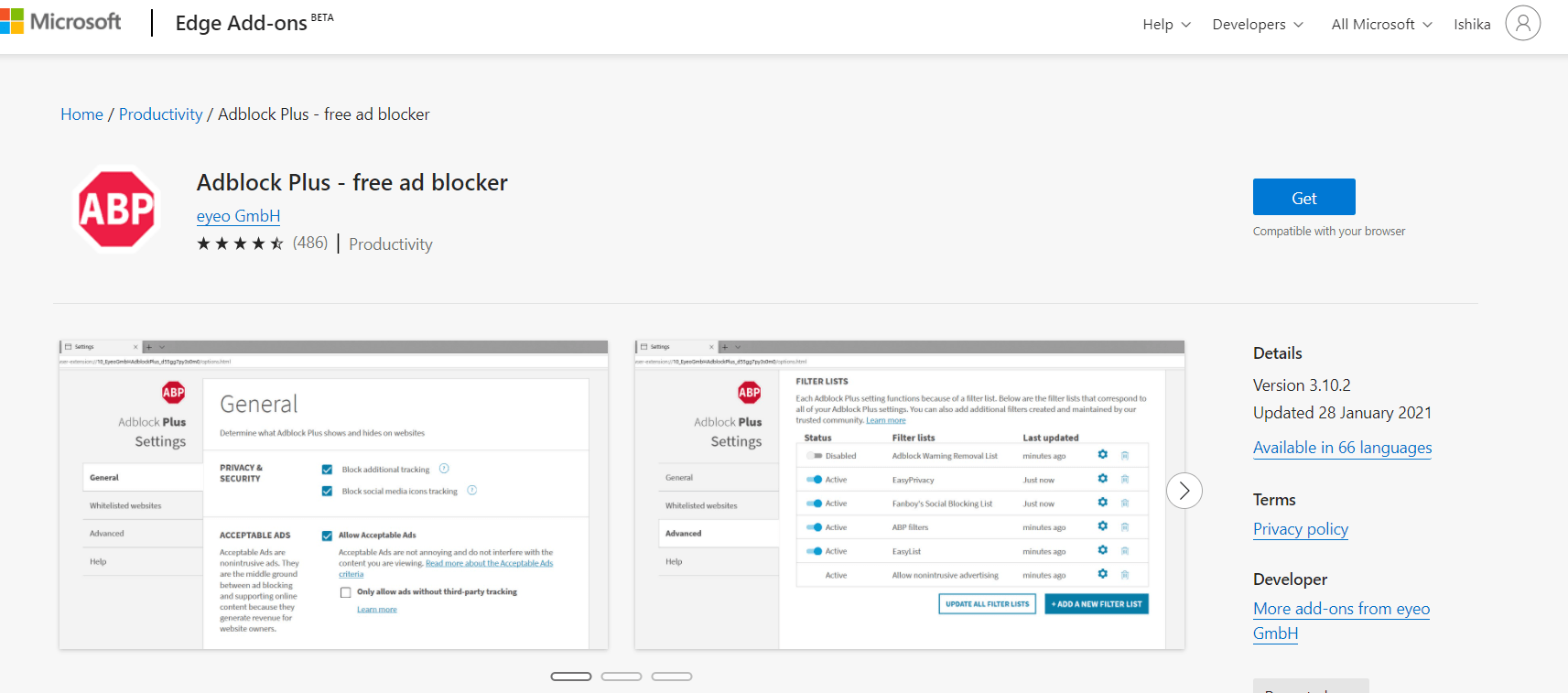 Some of Adblock Plus's prime features are:
It blocks irritating video ads and banners along with popups.
It protects your privacy by guarding you against scams or malware.
It also stops third-party apps from tracking your web activities.
You can experience faster browsing at your fingertips.
However, AdBlock Plus still has some bugs that require fixing. Adblock Plus may also have some access to your data at some point, but it isn't imperative.
Ghostery
Ghostery is one of the most potent ad blockers of all time. It has immense popularity due to its easy-to-use interface, blocking quality, etc.
It also enhances your privacy and security and protects your personal information.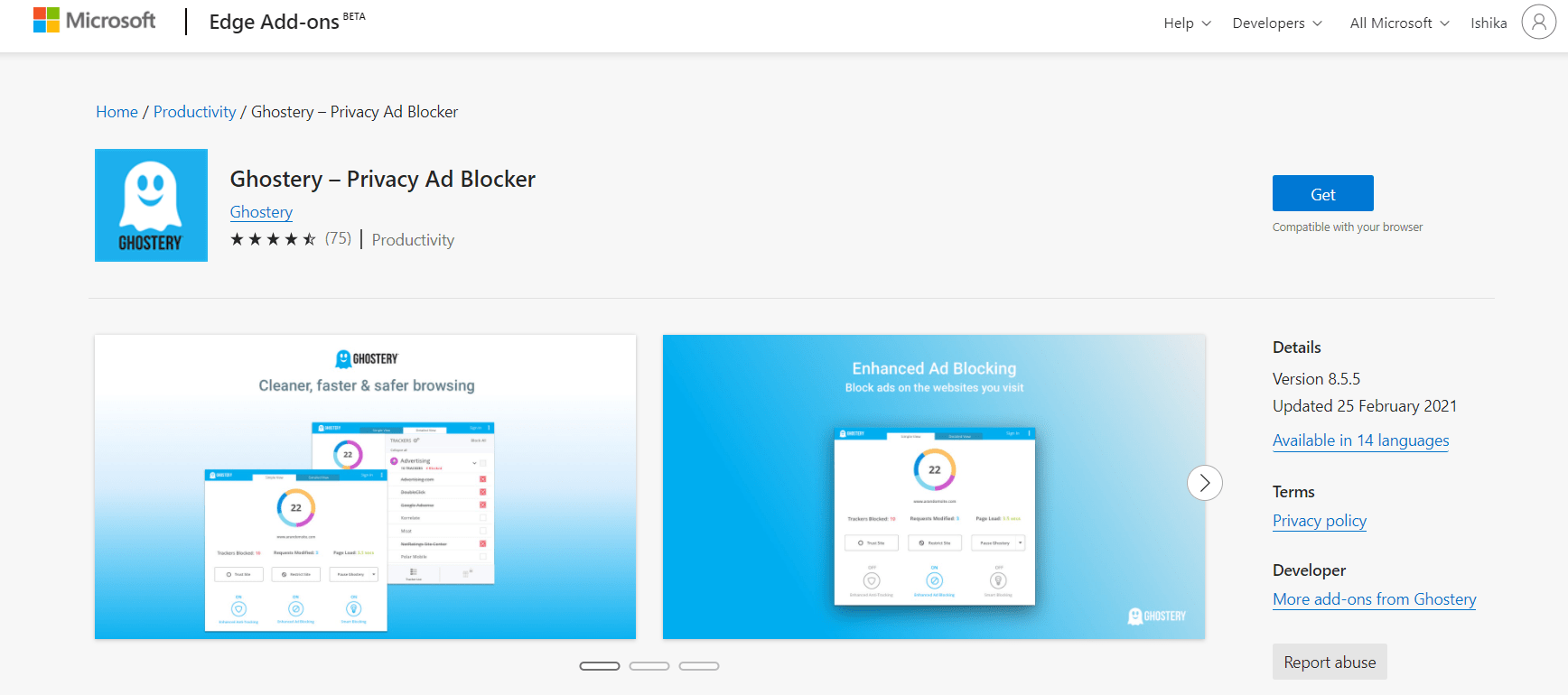 To name a few of Ghostery's features:
It removes all the unnecessary content from a website so that you can focus on the content of your choice.
It enables you to view and block trackers that collect your data.
Optimizing the web pages' quality helps you get your work done faster.
All its default settings can be updated as per your liking.
However, Ghostery may lag sometimes and not block all the ads altogether. This may cause inconvenience later.
AdGuard AdBlocker
If you are looking for an Edge add-on that takes half the memory of its competitors, you are in for a treat. AdGuard AdBlocker is the perfect match for you.
AdGuard AdBlocker helps block ads from Facebook, YouTube, and other websites.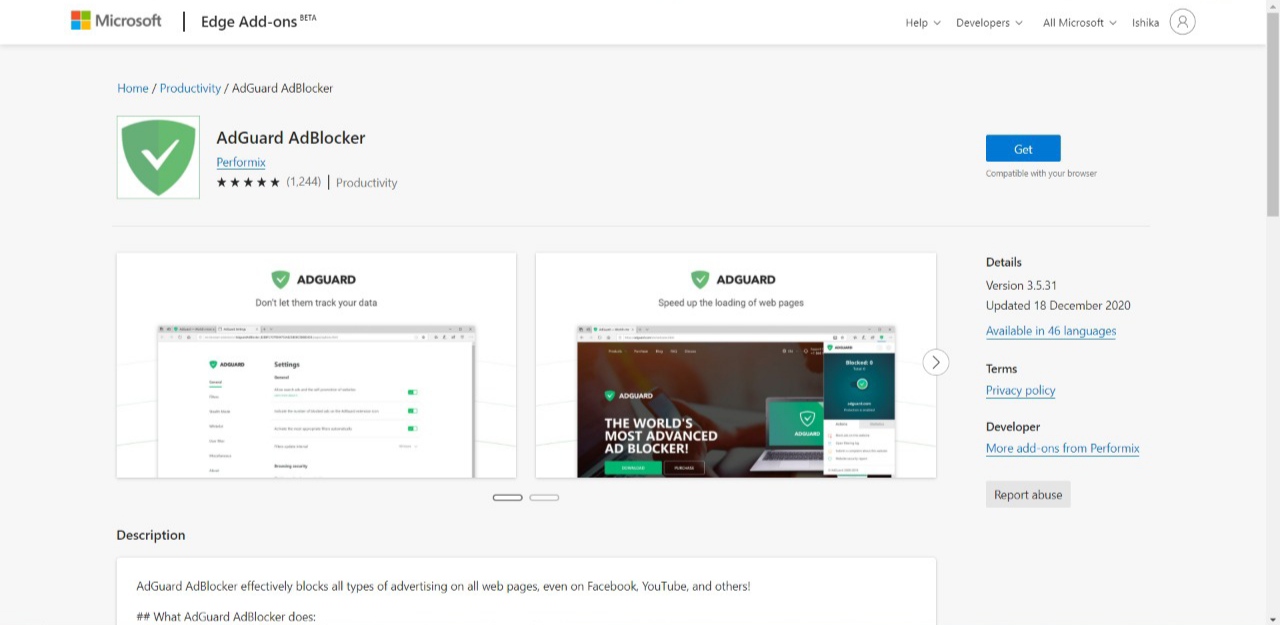 Some of AdGuard AdBlocker's characteristic features are:
It blocks video ads, banners, popups, and text ads.
It enhances the loading of web pages by removing unwanted data.
It uses half the memory that the other blockers use.
It also protects you from getting tricked by third-party apps.
Though AdGuard Ad Blocker is better than many competitors, it has not been updated with the latest features for a long time.
uBlock Origin
What makes uBlock Origin different is its ability to function fully on a small amount of memory and provide numerous filters.
It can enable thousands of more filters than all the other blockers.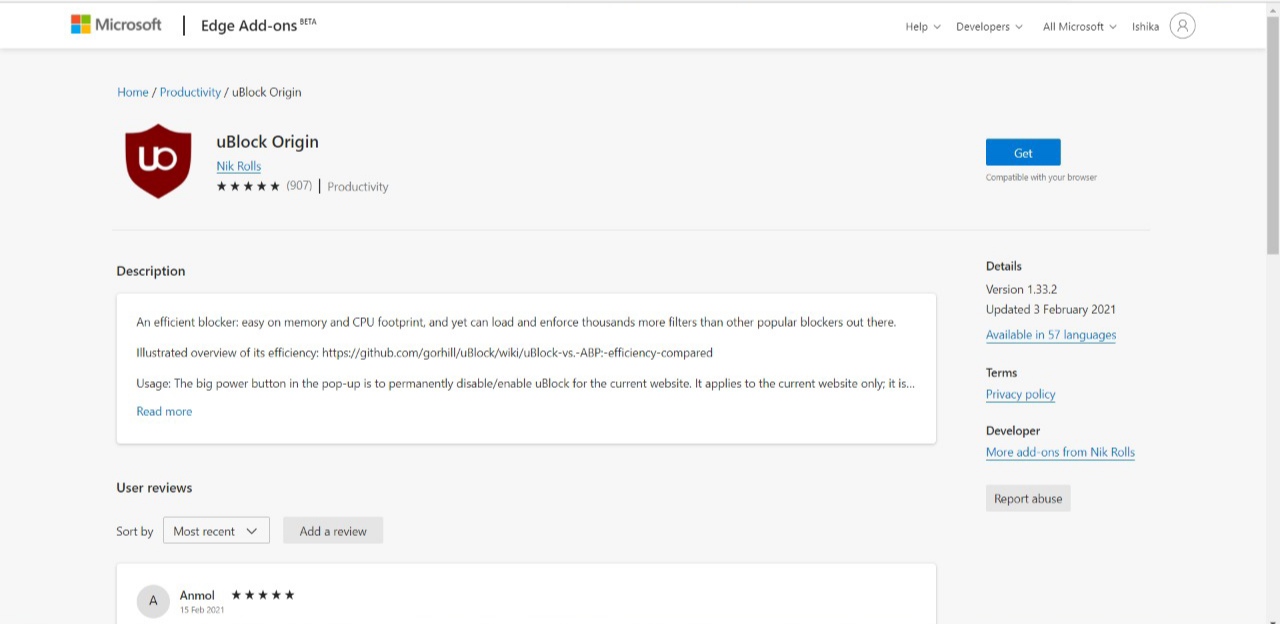 Some of uBlock Origin's prominent features are:
You can enable or disable it with one click.
It's free of cost.
You've numerous filters to apply on a website to be free of ads.
It has a lower memory footprint than others.
Although it can do so much, uBlock Origin is nothing without its preset filters. It's also a version still in development and can have issues that need fixing.
AdBlocker Ultimate
If you want to focus your undivided attention on your work and not on malicious ads, this extension should be your choice. AdBlocker Ultimate was designed with the same purpose.
Adblocker Ultimate blocks all ads and other content that may deviate your attention.
Some of AdBlocker Ultimate's essential features are:
It blocks ads, popups, and everything else that is unwanted.
It helps block malware and other spam.
It prevents your data from getting leaked by blocking third-party sites.
It also allows you to accept ads you want to be displayed readily.
Although AdBlocker Ultimate has many benefits, it still has some issues that need fixing. It can often slow down your browser performance when it fails to block an ad or two. The features are limited in the free version.
Bottom Line
We all want to work in an atmosphere free of distractions to work seamlessly and efficiently. These ads often impact our minds negatively and make way for the loss of productivity. While working on Microsoft Edge, we all want an escape from this.
To find a solution to this, we seek help from ad-blocking add-ons. We have mentioned all the best ones on the list above so that you can pick from them. All in all, they should cater to your needs.
FAQs
What is the best ad blocker for Microsoft Edge?
The best ad blocker for Microsoft Edge would typically include options like Adblock Plus, uBlock Origin, AdGuard Adblocker, and Ghostery. These extensions effectively block ads and enhance your browsing experience.
What is the difference between uBlock Origin and Adblock Plus for Edge?
Both uBlock Origin and Adblock Plus are powerful ad blockers for Edge, but uBlock Origin is known for its lightweight nature and efficient resource usage. On the other hand, Adblock Plus offers a user-friendly interface and extensive filter lists.
Is Adblocker Ultimate a good choice for Edge's ad-blocking needs?
Adblocker Ultimate is a decent option for ad blocking on Edge, but it might not be as well-known or frequently updated as some of the other extensions mentioned. Consider trying more established options like uBlock Origin or AdGuard Adblocker.
Among uBlock Origin, AdGuard Adblocker, and Ghostery, which is the top adblock extension for Edge?
Choosing the best AdBlock extension among these options depends on your specific preferences. uBlock Origin is favored for its performance, AdGuard Adblocker for its privacy features, and Ghostery for its focus on blocking trackers.
Which ad blocker extension is recommended for Edge users?
Adblock Plus, uBlock Origin, AdGuard Adblocker, and Ghostery are popular and reliable choices for Edge users seeking to eliminate intrusive ads and improve their online experience.
Lastly, if you've any thoughts or feedback on 5+ Best Microsoft Edge Ad Blocker Extensions, then feel free to drop in below comment box. You can also report the outdated information.