Smartphone browsers are probably the most frequently used apps. In this regard, the iOS or iPadOS ecosystem has the Safari app as its default browser.
While there are several Safari alternatives, users are generally sticking with this offering. The ability to change the default browser on your Apple devices has given some boost.
The App Store already beholds quite a few advanced browsers. Some focus on the customization front, while others have a stronghold on privacy.
We have listed the best web browsers for iOS and iPadOS, their features, and their drawbacks. Follow along.
Google Chrome
Let's start this list with the most obvious choices. It is hardly surprising that Chrome has occupied the numero uno position here. This offering from the Silicon Valley giants manages to checkmark nearly every prerequisite you can request from a browser.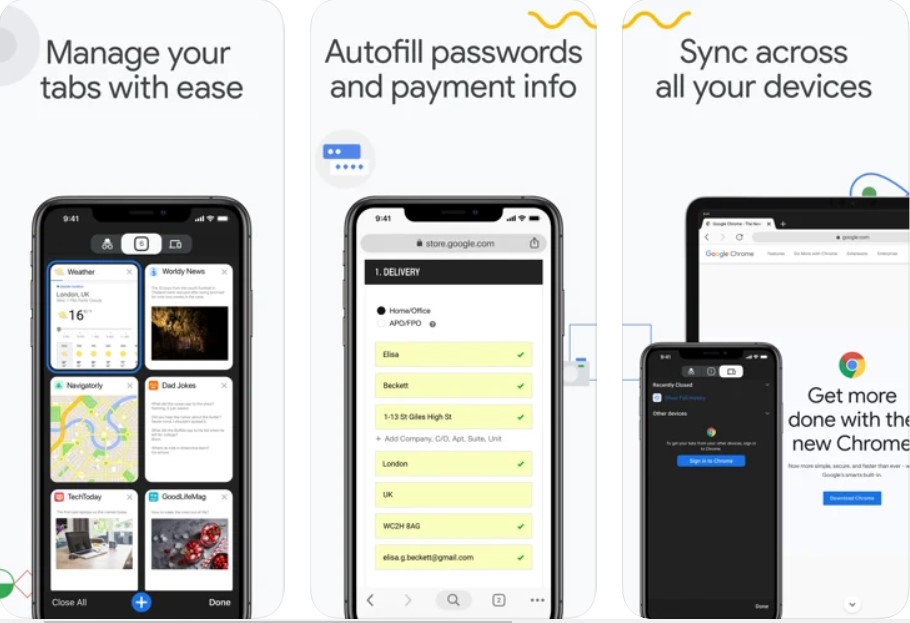 One of the biggest perks of settling for this is its handy cross-device support. If you use Chrome on your PC, deciding on its mobile variant is a no-brainer.
Likewise, it has a few built-in tools to streamline your workflow. Talking about which, its handy Reader Mode ensures you can read your preferred blogs without any distractions.
With that said, let's check out some of its noteworthy features:
Its Built-In Google Voice Search helps you find the answer to your query without manually typing them.
The embedded Google Translate allows you to interpret or convert text from one language to another.
Then, its ability to sync browsing history, bookmarks, and saved passwords across various devices is quite valuable.
An Incognito Mode for Private Browsing, where your history, cache, and cookies won't be recorded, is a boon for the user's privacy.
However, despite all these goodies, it has the same issue as its web counterpart- it is known to hog quite a few valuable resources. While today's iPhone or iPad might not lag due to this, it would result in a faster battery drain.
Microsoft Edge
If Chrome occupies the top spot, could its Chromium partner be far behind? Based on the Chromium source code, Microsoft Edge offers nearly all the features the former has.
But at the same time, it manages to keep resource consumption to a minimum. And it is due to this fact that it has quickly created a niche segment of the loyal fanbase for itself.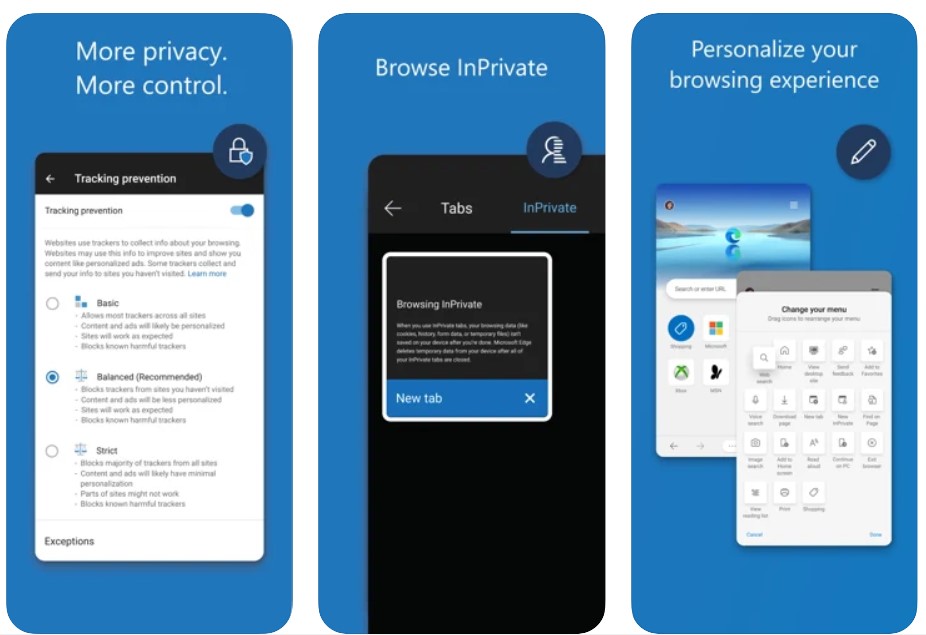 Additionally, linking your iPhone/iPad with your Windows PC and sharing the saved data, such as bookmarks, data, and other browser settings, is a boon for users looking for cross-device support. Furthermore, the following features further add to its rich collection:
You are tracking Prevention to stop third-party trackers from getting hold of your browsing activity.
They are baked into Ad-Block Plus to stop intrusive ads from ruining your browsing experience.
InPrivate browsing Mode so that you may browse securely in incognito mode.
Immersive Reader Mode allows for a distraction-free experience.
Password Manager to effectively handle all your saved passwords associated with your account.
The only complaint that some might have with Edge is the need for a Microsoft Account to extract the maximum potential of this browser.
Mozilla Firefox
If Privacy is the question not, Mozilla Firefox is the answer more often than not. This enriched privacy browser comes with quite a few stringent security measures.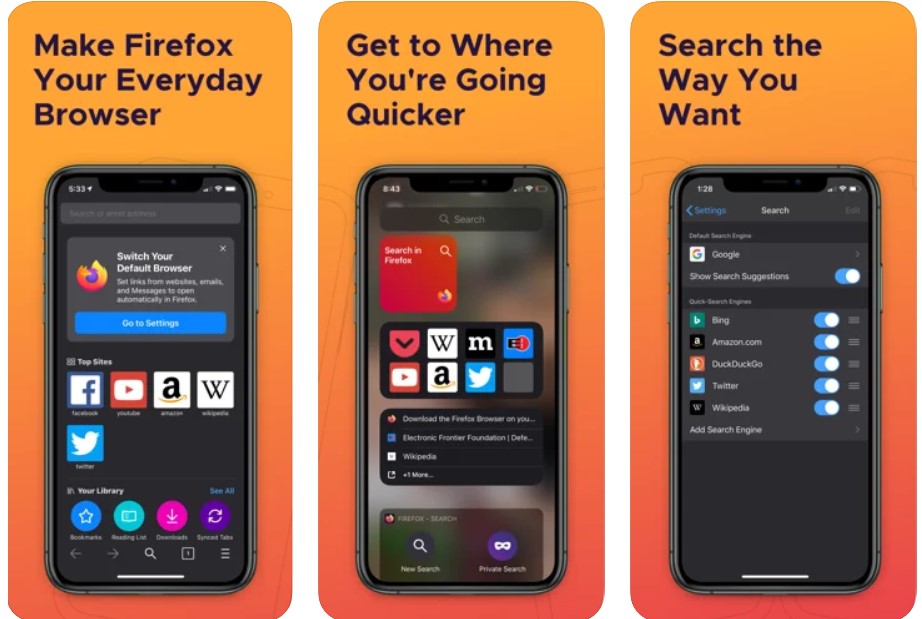 Apart from the Ads and Trackers blocking, it fully uses Apple's Intelligent Tracking Prevention (ITP).
If you prefer to take this security to the next, you have Firefox Focus, a browser that is even more aggressive in respecting user privacy and data. To cement this statement, here are a few privacy-centric features that the browser beholds:
Private Browsing Mode makes sure that none of your online activities are being recorded. Furthermore, once you close this mode, the browser will permanently delete all its associated activities from your device.
Its Enhanced Tracking Protection blocks all harmful trackers, including crypto miners and fingerprints.
You could also sync your data across various devices. For example, you could save your passwords, bookmarks, and browsing history to your account. Then log in with that same account on Mozilla's macOS build, and the browser automatically syncs all the data with that PC.
But there is a significant drawback with its Bookmark Management system. The thing is, it treats your PC and iPhone bookmarks as two separate entities. Not only does it end up cluttering the Bookmarks folder, but it also doesn't allow you to manage or delete PC bookmarks via your mobile and vice versa. So whereas it scores pretty well on the privacy front, the same cannot be said for its cross-device management.
Opera Touch
Another well-known player in this domain, the browser, was usually known for being the perfect alternative to Chrome or Firefox. However, things have changed since then, and it could establish itself as a worthy competitor to the abovementioned names.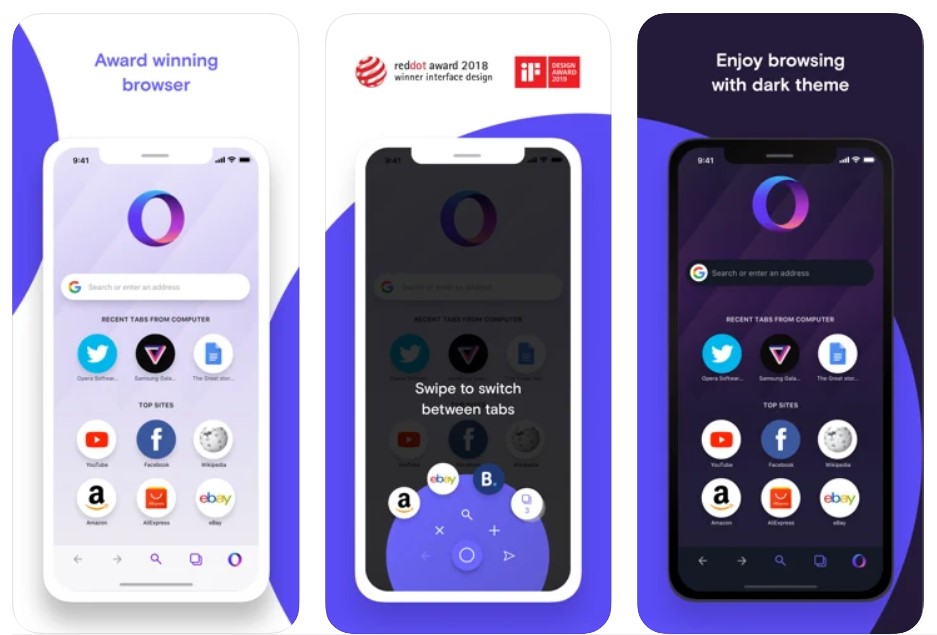 Apart from its smooth user interface and a few Opera-exclusive features, its iOS build has recently been completely redesigned. One of the biggest takeaways from the same is introducing the FAB or the Fast Action Button.
Taking a page of Apple's Control Center, a single tap on this button is enough to invoke quite a few functions. This could be done right via the FAB itself, from refreshing the tab to closing it or opening a new one.
With that said, here are some other features worthy of mention:
The 'Flow' feature lets you link the device's browser with its PC version. You could then easily exchange the desired data from either end.
It also has a built-in QR Code scanner, which blends inquire well with its Flow feature.
Furthermore, it also has a built-in Crypto wallet that efficiently manages Ethereum and other cryptocurrencies.
Then its AdBlocker feature, coupled with Pop Up blockers, leads to an immersive browsing experience.
But it suffers from two significant drawbacks- the lack of bookmark management and the option to online syncing your data. Being a browser, these features are generally counted as among the most important ones, the lack of which is sure to disappoint quite a few users.
Brave Browser
The Braver browser could be regarded as one of the unique entries in this list due to its functional methodology. By default, the browser blocks all the ads. It results in less intrusive UI/UX and considerably increases the page loading speed.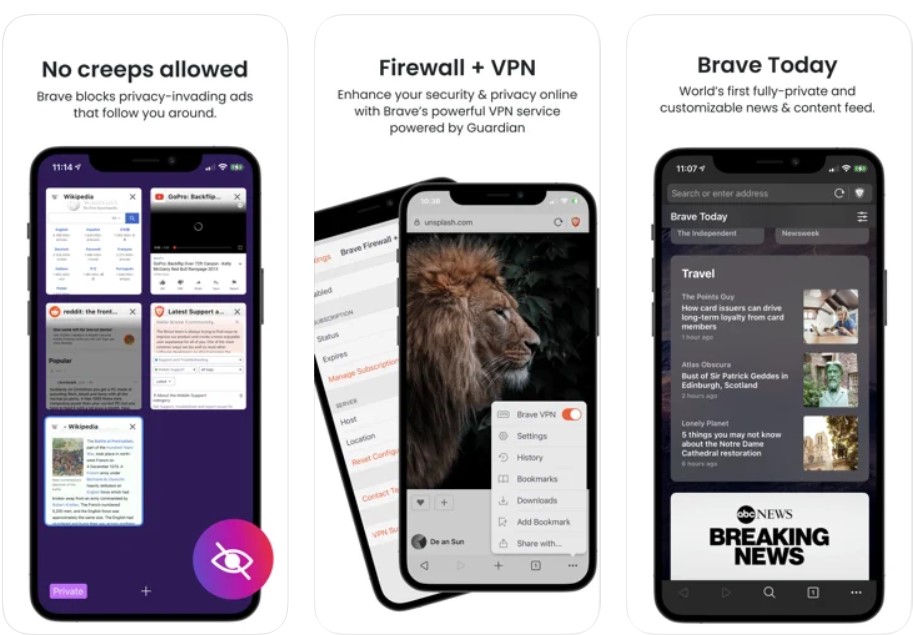 Considering the browser no longer has to load JavaScripts and other trackers, an increase in speed would be imminent. But since all the ads are blocked, how do the website owners earn their fair share of income?
Well, at the end of the month, the browser will compensate the publisher by estimating your interaction with that site. Likewise, you could also share your BAT (Basic Attention Token) with the publishers. Apart from that, it is also known to respect user's privacy in some other terms, namely:
The HTTPS Everywhere feature makes sure that you only visit safe sites.
Likewise, all the data transfers between the client and server sides are encrypted by default.
It also blocks all third-party trackers, add-ons, and scripts.
An inbuilt Private VPNPN that allows you to hide your actual IP address and browse anonymously.
However, there is still a little reluctance, especially in the developers' and publishers' communities. This is because they are still unsure how these Brave Rewards add up compared to the revenue they are getting via ads. So until the payment methodology gets further simplified, one or two sections of the user base might maintain a safe distance from this browser.
DuckDuckGo Privacy Browser
The amalgamation of a privacy-focused browser and a customizable one would result in something like DuckDuckGo.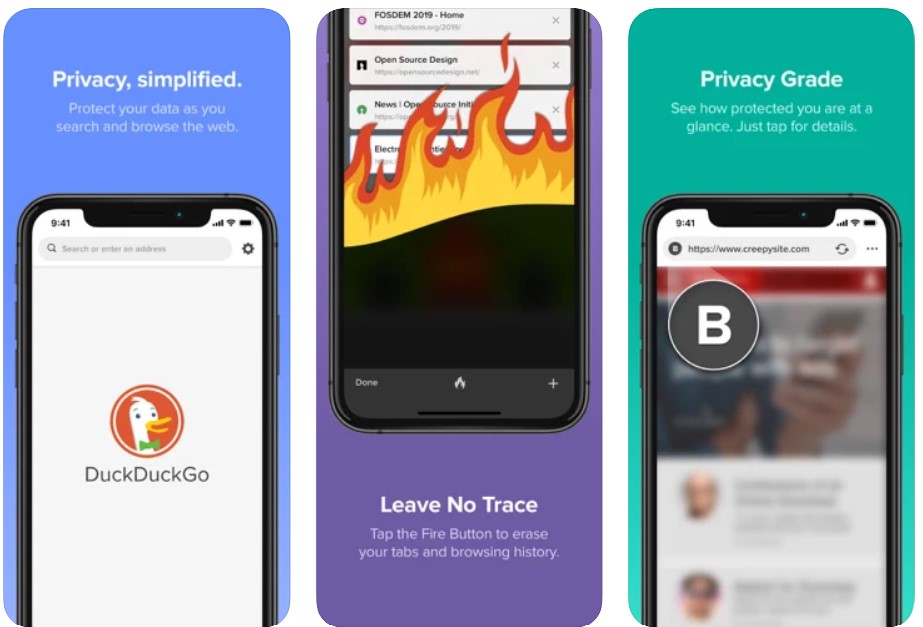 Apart from giving equal weightage to both Privacy and Customisations, it also boasts of its search engine, which recently clocked over 100 million searches daily. All these factors lead it to scale new heights with each passing day.
Likewise, its nifty features could have contributed to its continuous rise. Here are some of the noteworthy ones that deserve your attention:
It blocks all third-party trackers by default.
Its Enforce Encryption feature ensures you always land upon the HTTPS version rather than the HTTP (if available).
Likewise, it also gives each site a Privacy Score, from A to F. This might give you a decent idea of how secure that site is.
You could also implement a Touch ID or Face ID lock on this browser to prevent it from being accessed by unauthorized people.
While it's all good on the privacy front, the customizations are too much for some. For example, to clear your history and browsing data, tap on the Fire Button, which gives out a burning animation upon being interacted with. For some, all these are a big no.
So if these high degrees of customization aren't in sync with your liking, you might have to look for other alternatives mentioned in the guide.
Bottom Line
With this, we conclude the list of the best browsers for iPhone and iPad (iOS/iPadOS). As you might have noticed, each has its USP and a few caveats. While some focus on privacy, others have their eyes set on customizations.
It ultimately boils down to the user preference they end up settling for. Regarding my choice, I have decided on the offering from the Silicon Valley giants, i.e., Google Chrome. The biggest reason for the same is its highly effective cross-device support.
FAQs
What is the best browser for iPhone?
The default Safari browser is considered the best iPhone or Apple ecosystem browser. However, if you rely on Google or Microsoft accounts, consider getting Google Chrome or Microsoft Edge for ease of use and cross-device sync function. Both these browsers are great Safari alternatives.
What is the best browser for iPad?
Apple's Safari, Google's Chrome, and Microsoft's Edge browser are the best browser for iPad. Choose the browser based on the ecosystem you want to rely on for better usability.
What is the most private browser on iPhone?
Safari is considered to be the most private browser on the iPhone. It is pre-installed on Apple devices and comes with an advanced tracker prevention method, ITP.
Is it better to use Chrome or Safari on iPhone?
Google's ecosystem and its products fully support Chrome. At the same time, Safari is integrated with Apple's ecosystem. Both are excellent browsers, but it ultimately boils down to personal choice.
Are there any alternatives to Safari as the best iOS browser?
Yes, alternatives to Safari include Google Chrome, which offers cross-device syncing, Firefox, known for its privacy features; and Microsoft Edge, which focuses on seamless Windows integration.
Can you recommend a free browser for iPhone?
Safari, Google Chrome, Mozilla Firefox, and Microsoft Edge are all free browsers available for iOS or iPadOS. They offer a range of features without any upfront cost.
Lastly, if you've any thoughts or feedback on 5+ Best Browsers for iPhone/iPad, then feel free to drop in below comment box. You can also report the outdated information.