The Apple TV is a video streaming device. However, we can use third-party apps to make it a web-browsing desktop. While these apps do not provide a complete web browsing experience, there are officially available on Apple's App Store at a small price tag. Alternatively, we can consider using the built-in AirPlay option within the Apple ecosystem.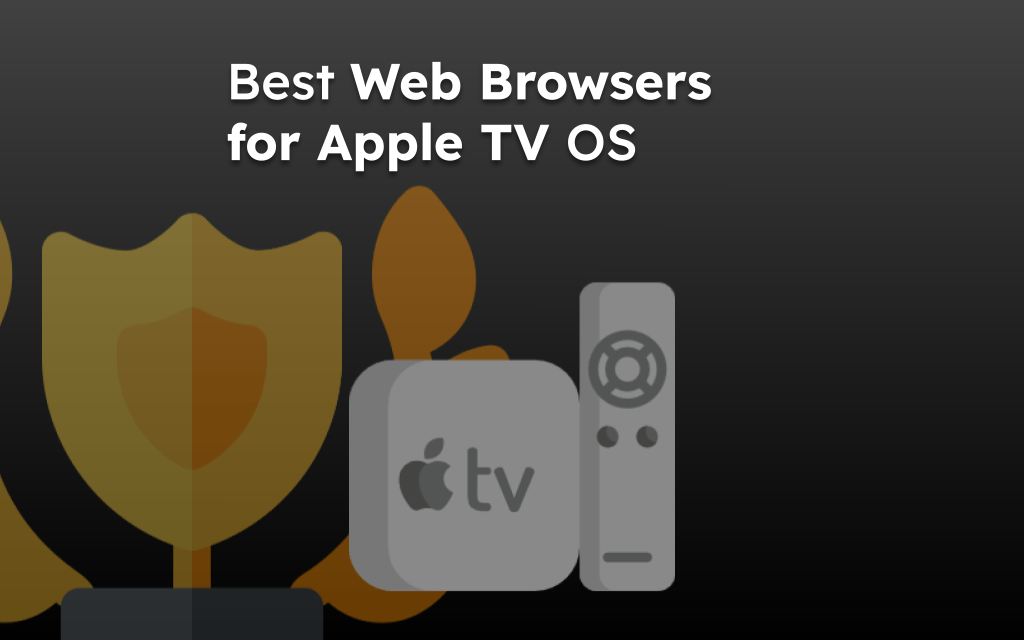 Apple TV is a fantastic way to watch whatever you want on television sets. It gives you complete control over who's watching and what you want to watch.
A significant increase has been seen in the purchase of Apple TVs. However, there's a slight problem with Apple TV. It doesn't seem to have a web browser of its own. That makes browsing the web very difficult.
Well, we got you covered. You can install several web browsers on your Apple TV to browse the web and search for anything you want.
Editor's Note: the app users have rated these apps very poor due to incompatibility or bugs; please consider this guide for informational purposes only and not a recommendation.
On this page, you can find and jump to:
AirBrowser
AirBrowser has been listed under the "Best New Apps" across many countries. It is fast, efficient, and loaded with unique features that can not be missed. Furthermore, you also have the option to try before you buy.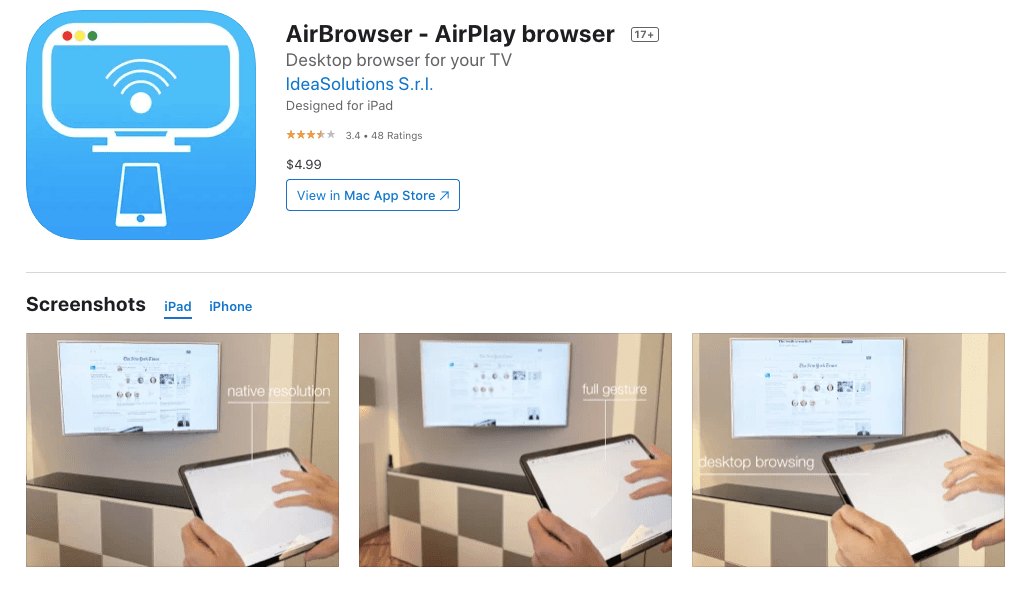 It makes the whole process more reliable and convenient. Some of AirBrowser's remarkable features are as follows:
It can be connected to your iPad, iPhone, or iPod.
Gestures can be used to browse through pages.
You can browse multiple tabs and bookmark them.
Your touch on your iOS device will guide the TV pointer.
It has a bundle of fantastic features. However, it is available only when you buy a subscription to the web browser.
Web for Apple TV
It is one of the most popular browsers for your Apple TV. It lets you control your big screen and browse it smoothly. The bigger, the better. You can search for new information or shop online. Everything is a touch away.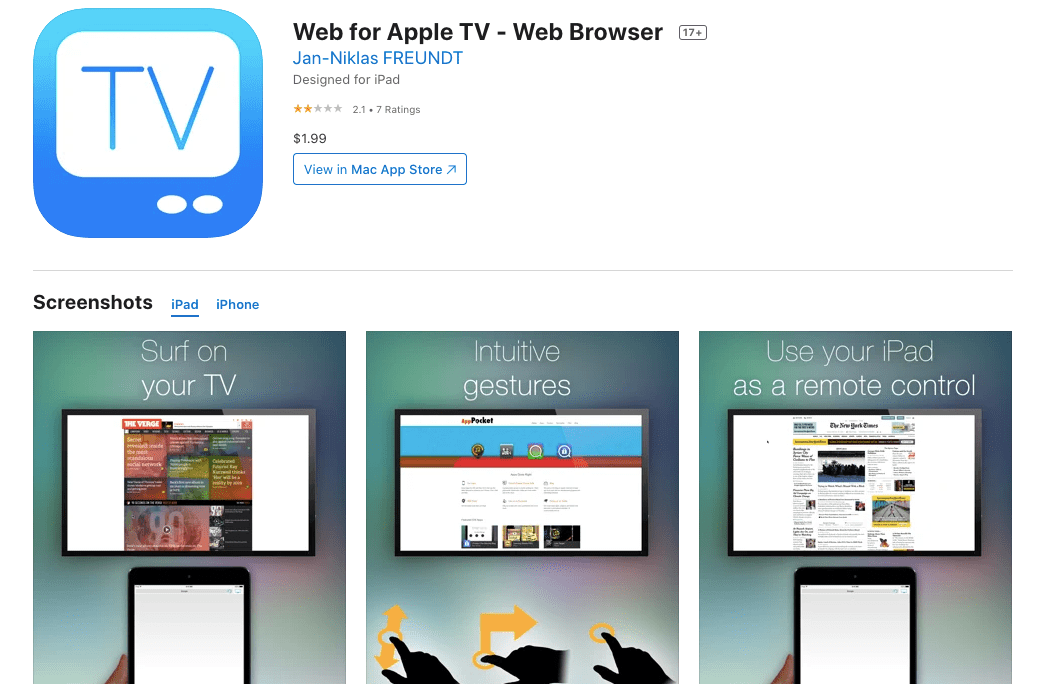 A few of Web for Apple TV's most prominent features are:
Your iPad or iPhone is your remote control.
The pixels are enhanced, which makes your browsing experience better.
It comes with intuitive gestures.
Browsing, zooming, and watching videos are a tap away.
Yet, some of its features may glitch and not work as smoothly as expected. It can connect to only Apple TV 2 and 3 wirelessly. For Apple 1, it requires an HDMI/VGA cable.
AirWeb
AirWeb is known to be the most compatible browser for your Apple TV. It provides a smooth and easy browsing experience on your HDTV. All you need to do is: use your iPhone or iPad as an input device or remote controller and start browsing peacefully on your TV Set.
Any iOS device that supports AirPlay Mirroring is automatically compatible.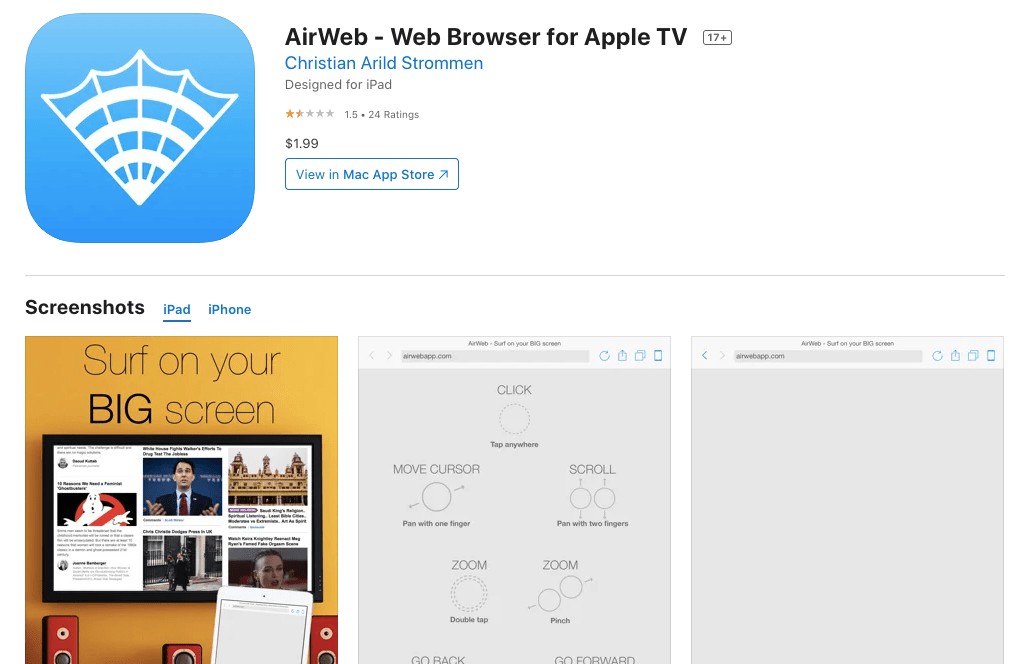 Some of AirWeb's most valuable features are:
It can connect with any iOS device, including iPhone, iPad, and iPod.
The only prerequisite is AirPlay Mirroring.
Once connected, you can browse peacefully without looking at your device.
It fits perfectly by the height and width of your HDTV.
However, it's still not optimized to work flawlessly. Moreover, it is available on a limited number of devices; only Apple TVs 2, 3, and 4 support it wirelessly.
Alternative: AirPlay Option
It's not a web browser but one of the easiest and quickest ways to browse the web on your Apple TV. This might be your best option if you're a large group of people who wish to view something on the big screen without much effort.
The only requirement is an iPhone, MAC, or iPad with an internet connection under the same Wi-Fi network.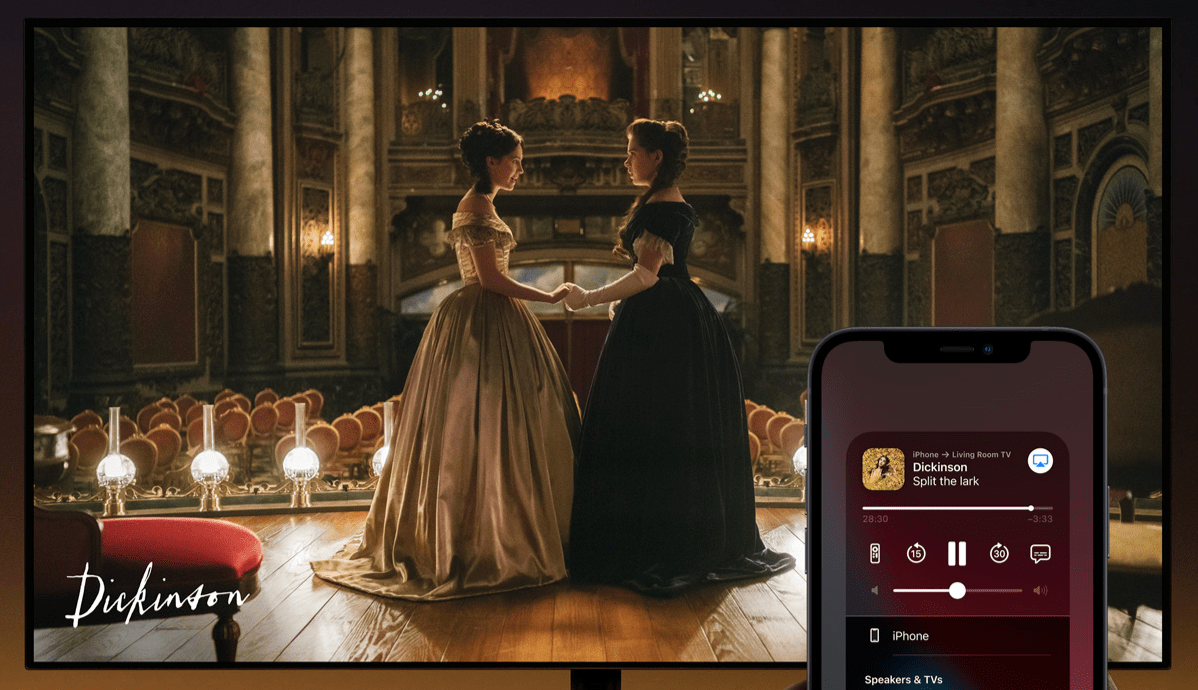 Some of AirPlay's merits are:
It can be done quickly and efficiently without much hassle.
It can be connected to your iPhone, iPad, or MacBook.
You will be able to view everything that you can view on your iOS devices.
It is a challenging process altogether because you won't be able to scroll or browse your iOS devices while mirroring its screen to your Apple TV. That makes the whole point quite limited and frustrating.
Here is the complete guide on how to use the AirPlay option from MacWorld.
Bottom Line
Apple TV is still an emerging and ever-growing tech in the digital world. That's why it still doesn't have web browser support officially available. We're sure Apple developers may work towards the same, and we'll see the results in some years.
We've tried to make it a bit easier for you by listing all the available options for internet browsing the web on your Apple TV.
FAQs
Does Apple TV have a built-in web browser?
No, Apple TV does not come with a built-in web browser. It's primarily designed for streaming media content and apps rather than web browsing.
Is there a way to access the internet on Apple TV?
While there isn't a native internet browser on Apple TV, some third-party apps like AirBrowser, Web for Apple TV, AirWeb, etc., might offer limited browsing features, but these are not traditional web browsers.
Can I use AirPlay to browse the internet from my device to Apple TV?
Yes, you can use AirPlay to mirror your device's screen to your Apple TV, effectively showing your device's browser content on the TV. However, this method might not provide the most seamless browsing experience.
What's the best browser for Apple TV 4K?
Yes, you can use AirPlay to mirror your device's screen to your Apple TV, effectively showing your device's browser content on the TV. However, this method might not provide the most seamless browsing experience.
Lastly, if you've any thoughts or feedback, then feel free to drop in below comment box. You can also report the outdated information.