Browser extensions are programs/software that enhances your web browser's functionality. They allow you to customize your browser and have it perform tasks it cannot perform without an extension. Browser extensions let you add features to your browser, making it more productive, fun, and safe.
We have listed a few of the best Brave browser extensions that drastically improve your browsing experience. You can download the extensions for this browser from the Chrome Web Store, which host thousands of extensions and themes.
Note: Brave has no extensions or add-on store. However, it fully supports the Chrome Web Store. They officially recommend using Chrome Extensions as an add-on store.
Loom – Screen Recorder
Loom is perhaps one of the most popular browser extensions on the internet. You might have understood that it is a screen recording and capturing extension from its name. It allows you to record your screen and obtain a shareable link.
You can record or capture your screen, add comments, react to videos, download media, and manage all the items in your library on Loom. The recordings can be done in high-quality resolutions, from 720p to 4k.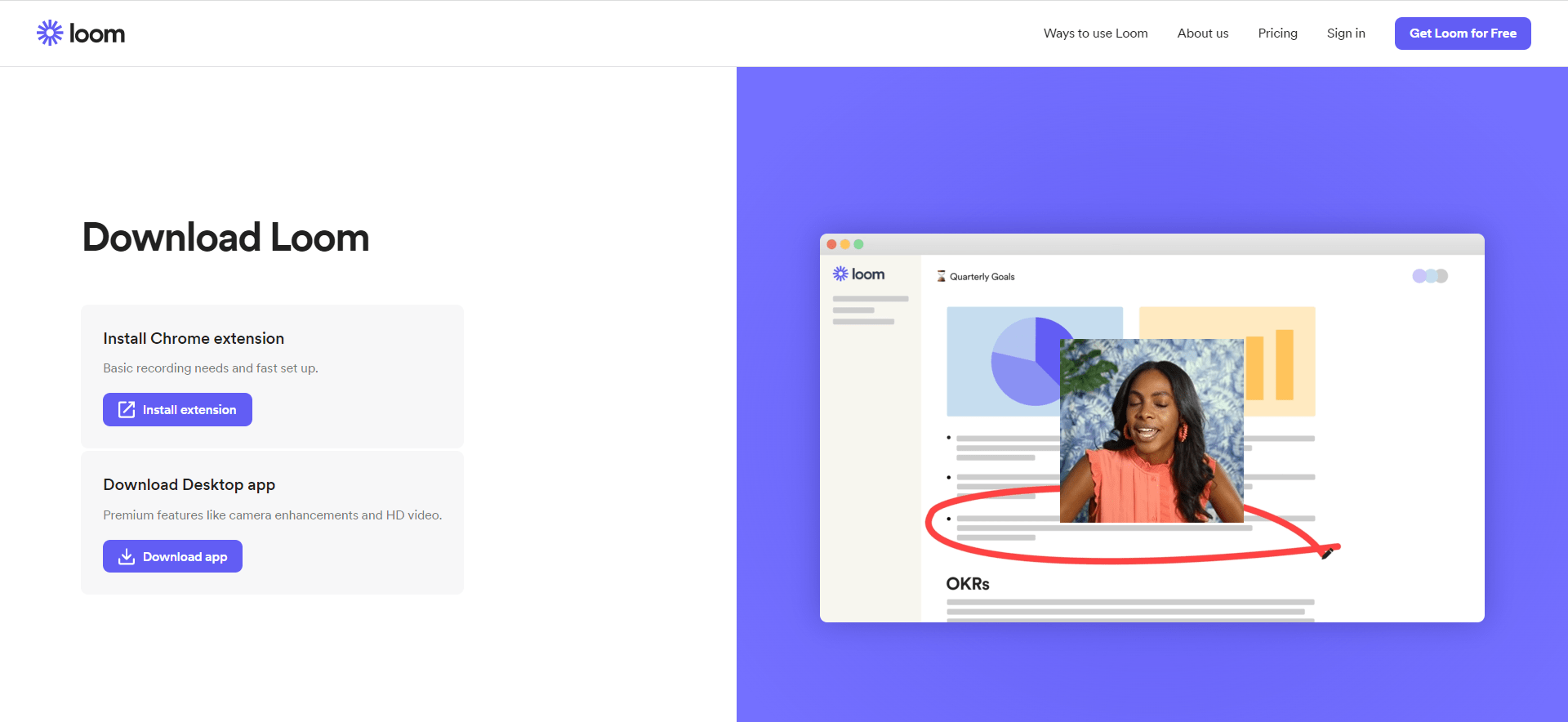 Loom promotes collaboration and teamwork, and its features are proof of that. More than 14 million people across 200,000 companies use this fantastic tool for recording purposes. Loom makes it simple to stay connected with its video if you're screen recording something, providing feedback, or just expressing your views.
Loom helps you record your screen, internal audio, and more.
React and allow others to react to videos through emojis and comments.
Add effects, backgrounds, and filters.
Manage videos with privacy and access controls.
Given its benefits, it would be a shame if you missed out on Loom. Get it now to fulfill your screen recording needs.
Toggl Track
Toggl is a time management extension that helps you keep track of your activities. It integrates a timer in any web tool and allows real-time productivity tracking using your Toggl data. It's simple to create entries and set timers using this extension. It also maintains track of your day-to-day activities by keeping a log. And you can set a Pomodoro timer to top it all off!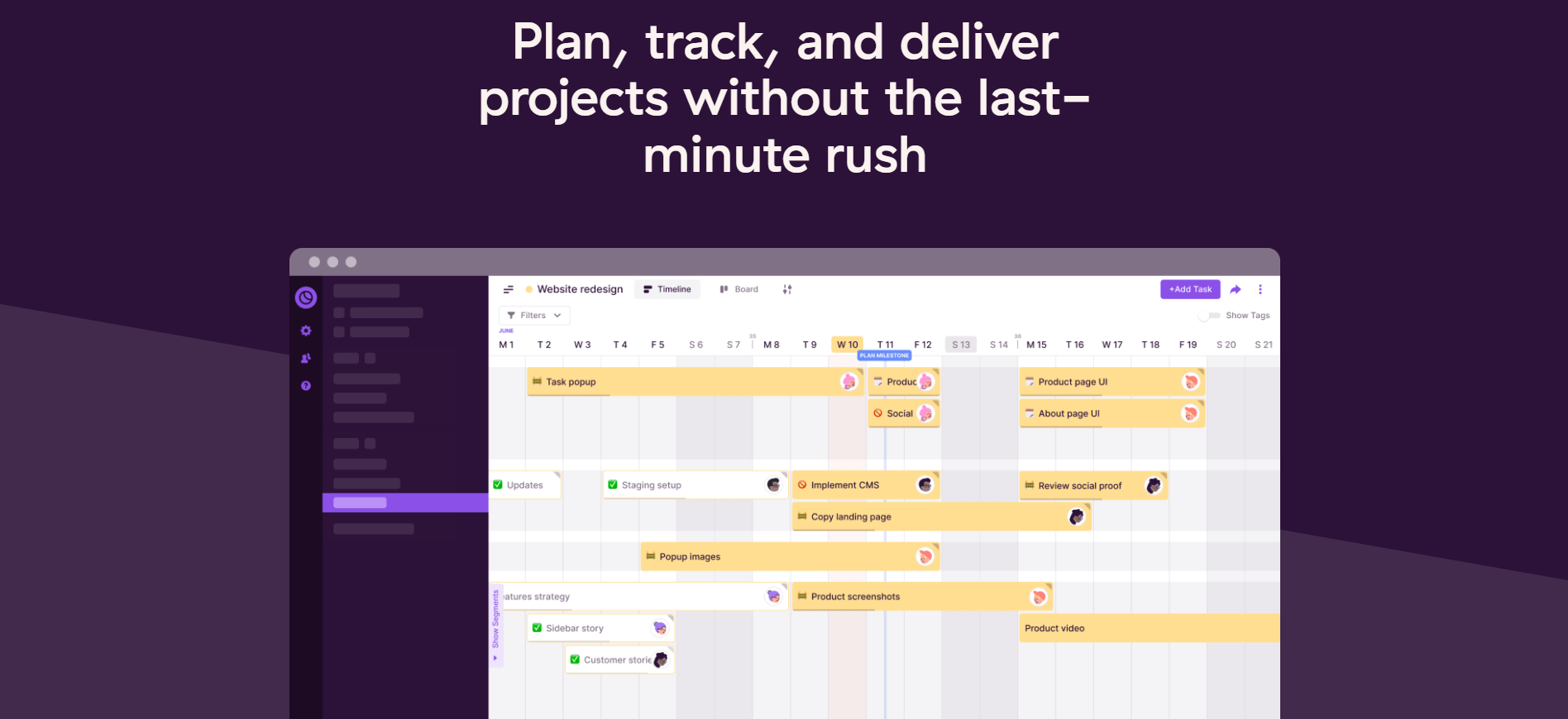 Toggl is so great that it has over 100 integrated apps like Slack, Notion, Trello, etc. You can start tracking your time without even launching a new tab. All your data is synchronized whether you use Toggl Track on the browser, computer, or smartphone.
Toggle detects idle time.
It has a tracking reminder feature.
It has a Pomodoro timer.
It can be used as a simple stopwatch too.
The best online time management solution for both groups and individuals is Toggl Track. This productivity tool is perfect for users who have poor time management skills.
Grammarly
We all make spelling or grammar mistakes when we write something, whether it's an email, article, or anything else. We aren't Shakespeare, after all! To improve our writing, we can take the help of Grammarly. Grammarly is an AI software that can identify and correct spelling and grammar errors.
Grammarly evaluates your sentences as you type and highlights words and phrases where you may improve your writing using color-coded accents. You can use it and see improvements in your writing almost instantly!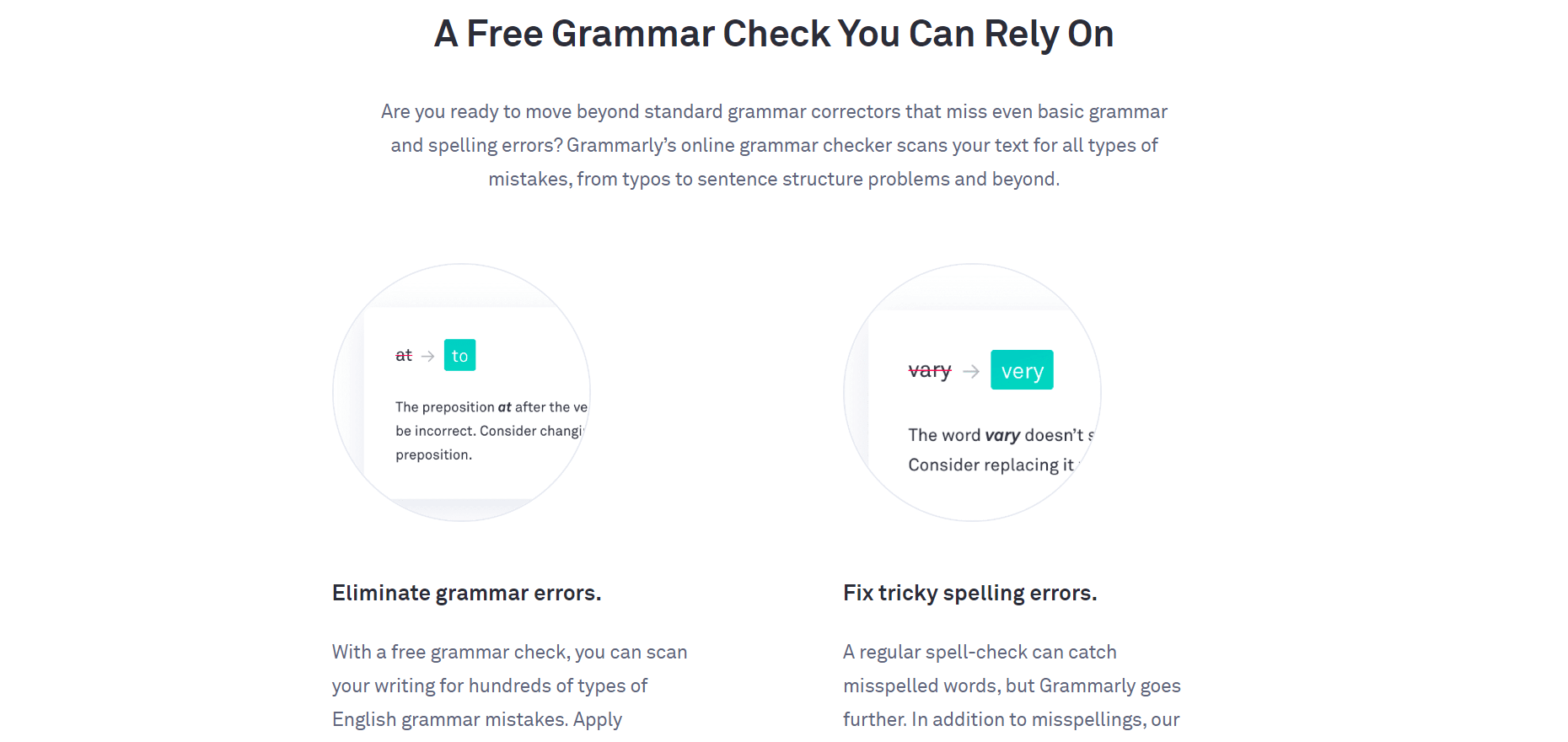 And guess which extension I am using while writing this article? You guessed it right! It is Grammarly! Grammarly is not just a proofreader, it is an editor, dictionary, and English professor made just for you!
Checks the spelling and grammar of the text.
Analyzes the tone of the text.
Looks for punctuation errors.
Works with tools like Google Docs, Gmail, Facebook, etc.
Grammarly will help you improve your writing. Who knows, you might turn into modern-day Shakespeare, thanks to Grammarly!
Zoom Scheduler
Drawn-out Zoom meetings are the bane of everyone's existence but can't be avoided. You can download the Zoom Scheduler extension to help you schedule and manage meetings on Zoom. This extension allows you to schedule Zoom meetings directly from your Google Calendar. This extension makes starting a meeting instantly possible with just a click. It eliminates the need to access the Zoom app, so you should try it.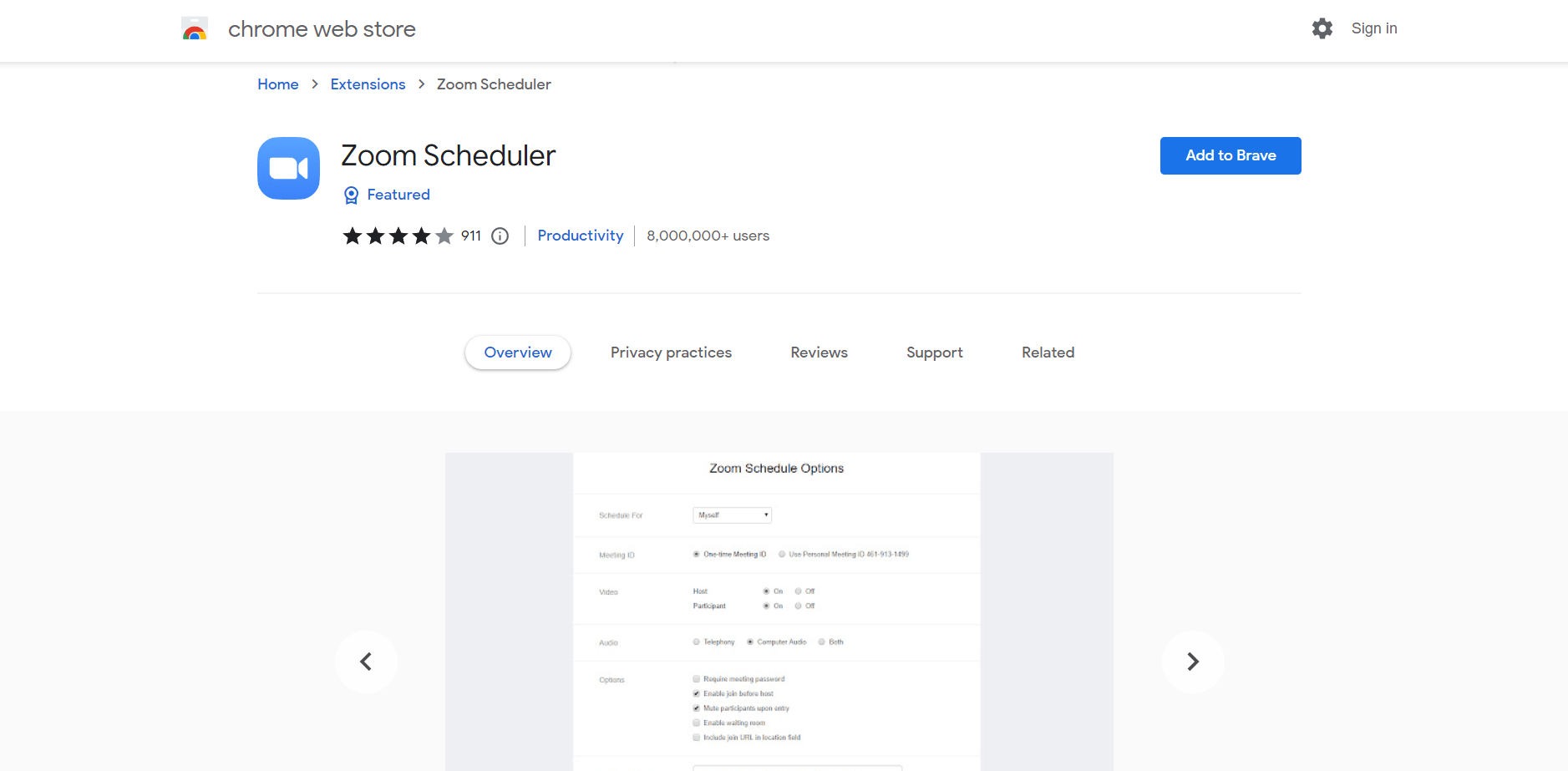 You can start Zoom meetings by just clicking a button. You can even schedule meetings this way. The meeting URL is sent to the invited recipient through Google Calendar, making it easy for them to join the meeting.
Start and schedule meetings with one click.
Works seamlessly with Google Calendar.
Schedule a meeting for others.
The supreme quality of video and audio.
If you have struggled to manage your Zoom meetings, Zoom Scheduler will undoubtedly take a load off your shoulders.
OneTab
Sometimes, we need many different tabs because they contain relevant information. This can lead to a reduction in the speed of your device. OneTab solves this problem by reducing tab clutter and reducing memory usage.
The extension converts all tabs into a list of sorts. You can then restore these tabs one by one or in one go. It also reduces CPU load, saving over 90% of the memory.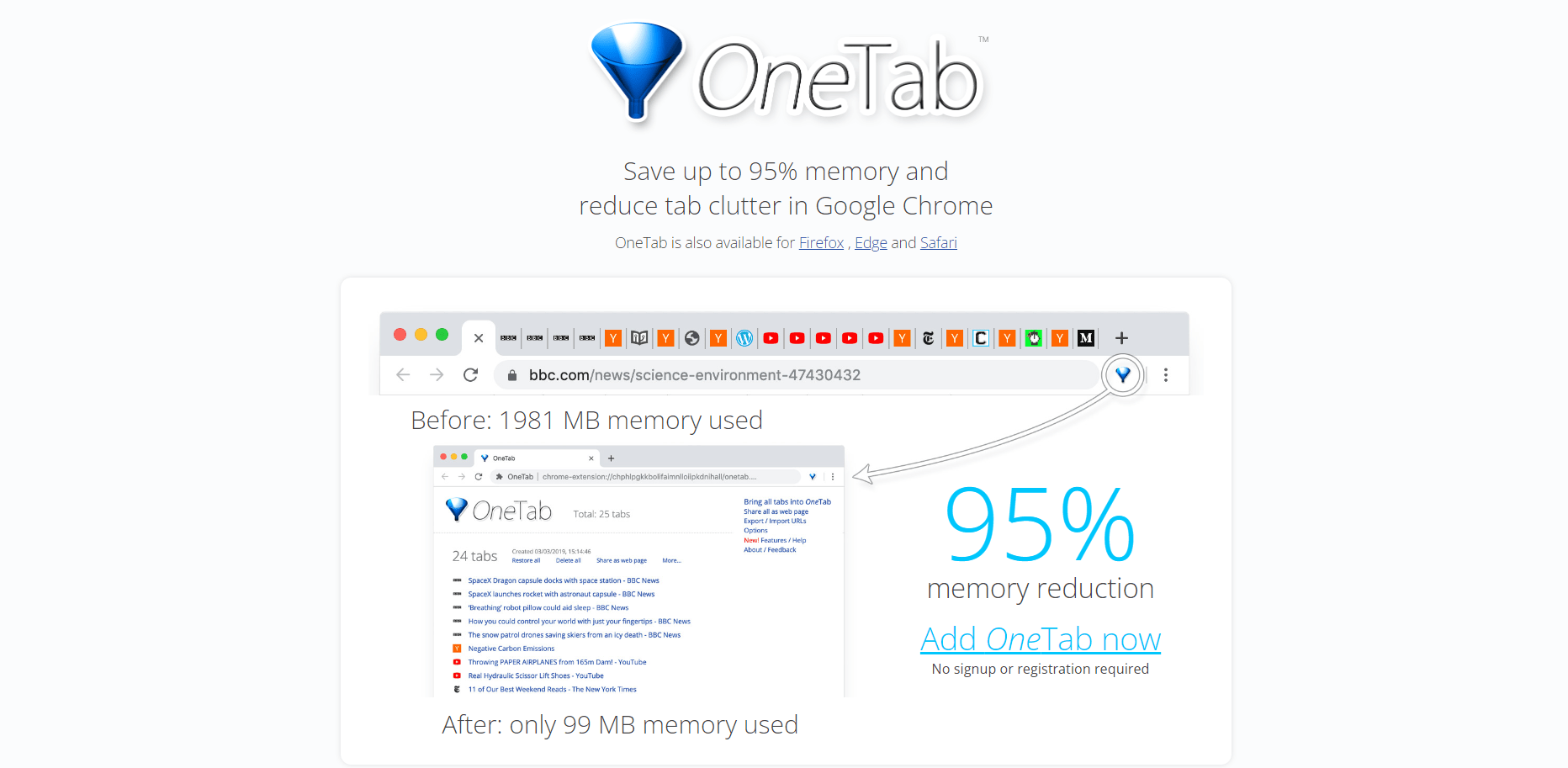 OneTab is such a great extension that I saw a big difference in my browser's performance when I started using it. It lagged less and did not disrupt my workflow in any way.
Help with organizing tabs on your browser.
Saves around 95% of memory space.
Reduces CPU load.
Keeps user data private.
All in all, OneTab is a must-have browser extension. It would be best if you gave it a shot.
Evernote Web Clipper
Evernote Web Clipper is a browser extension allowing you to save valuable online content into your account. It allows you to save images, articles, web pages, etc., from anywhere, anytime you want. Customizing anything you save is easy, and organizing it is even easier.
With this extension, you can easily save a piece of a website in your Evernote account.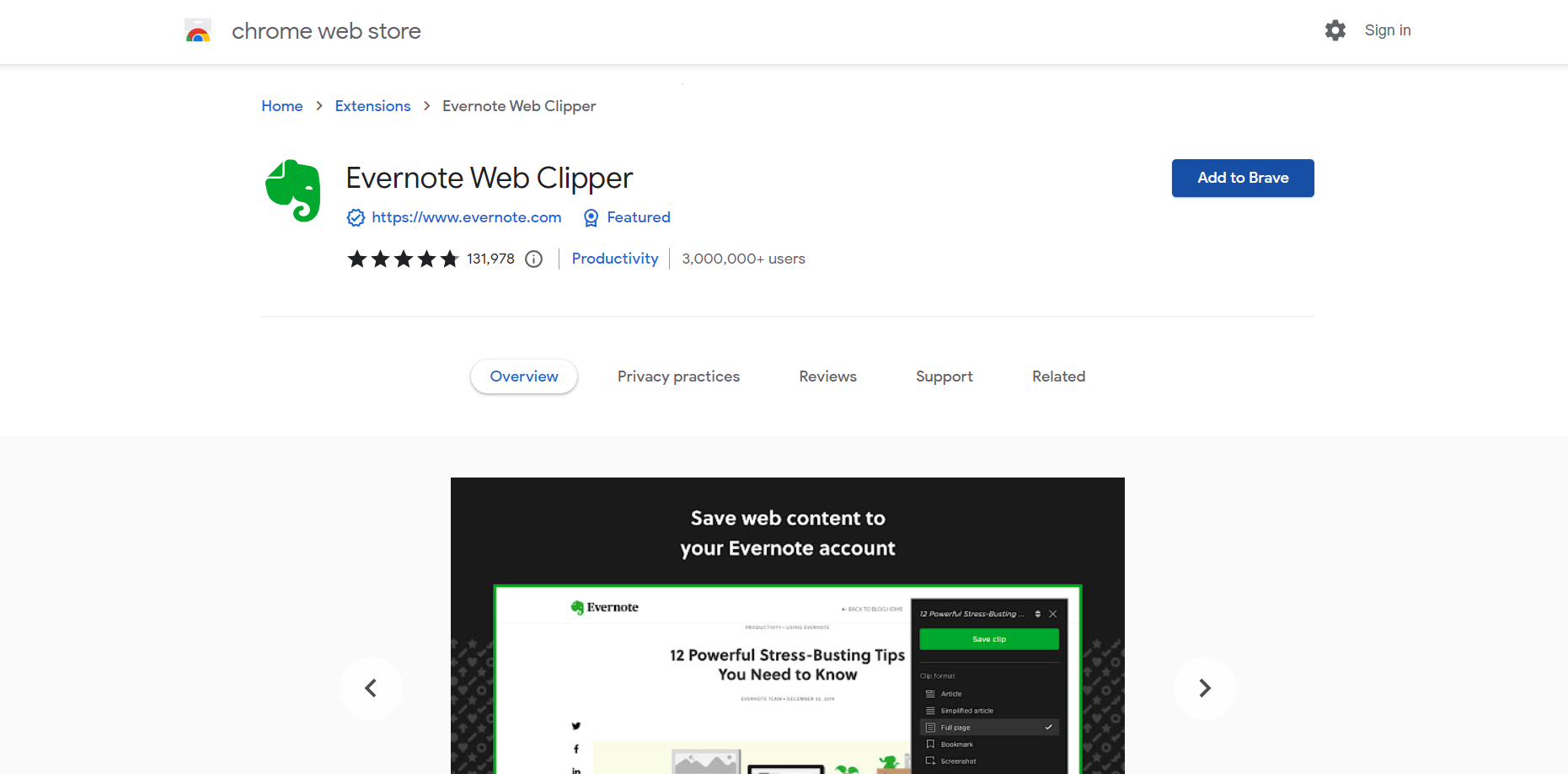 The Evernote Web Clipper is like a bookmarking tool but with low restrictions. You can retain anything you see on the internet with this tool. This free tool is the best for multitasking.
Saves parts of or complete web pages, PDFs, and articles.
Allows users to edit images and add text.
It helps users organize their content.
Allows users to add titles to the saved content.
Now you can save anything you want to into your Evernote account. Thanks to Evernote Web Clipper, you do not have to miss out on unique things you want to save.
Dashlane
It is easy to forget passwords with different accounts on different platforms. Fortunately, password managers exist! Dashlane is one such tool. You can store passwords, usernames, addresses, payment information, and other details on Dashlane. It fills in this information as and when required on platforms, and you can sync this data across all your devices.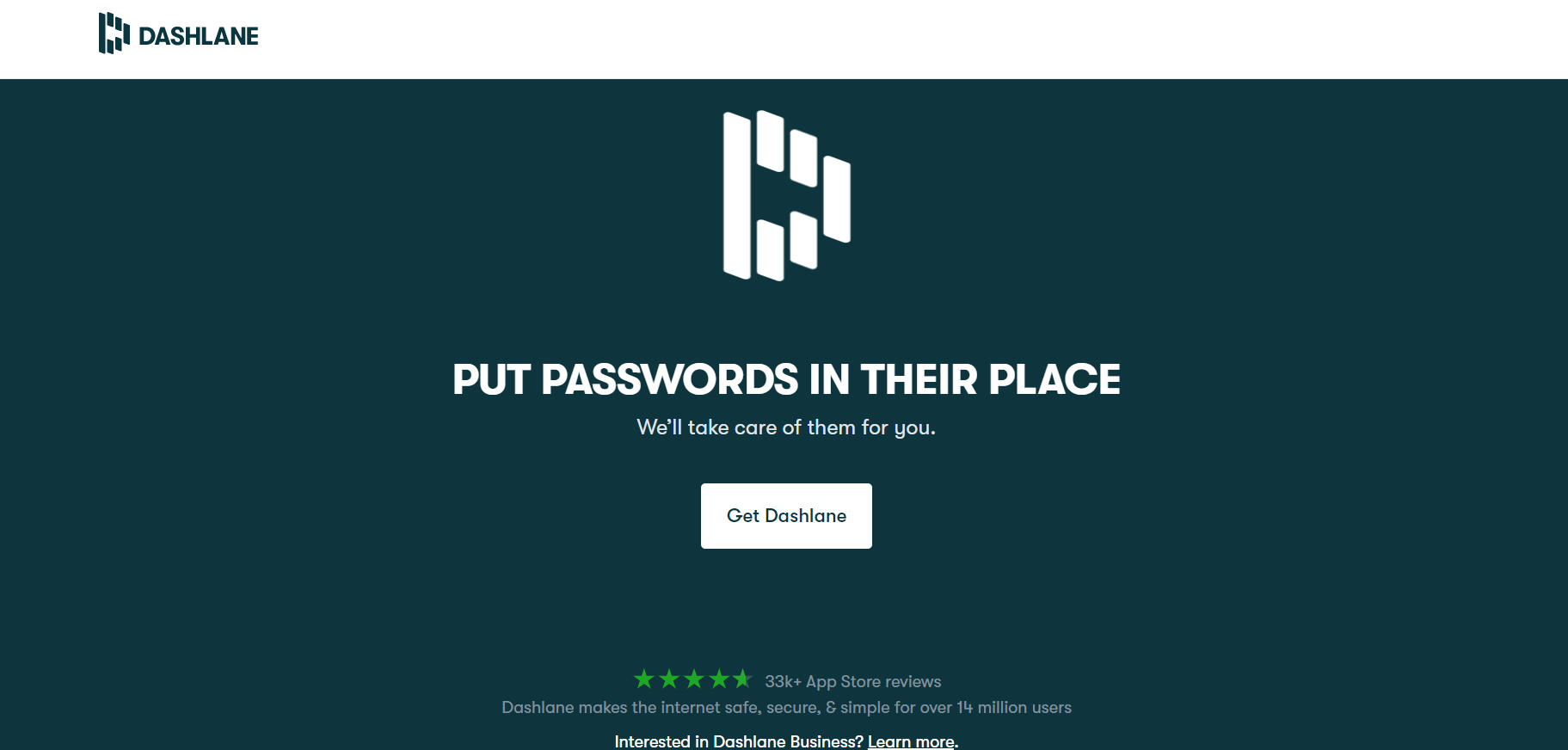 Dashlane has a range of advanced features. You can sign up to receive breach alerts and determine the strength of your passwords, check your Password's health score, and update compromised passwords with a single click.
It uses a patented encryption method to protect user data.
It was built using zero-knowledge security architecture that keeps users' data safe.
Creates solid passwords for users.
Allows users to update and change passwords with a single click.
Because of Dashlane, you never have to worry about forgetting or creating strong passwords. You can use this reliable tool to ease your worries.
BlockSite
BlockSite is here to save the day for those who procrastinate often. It helps you be more productive by minimizing your time on websites that make you procrastinate. You can allot a specific time to websites, and once that is up, the websites will be blocked for use for the day.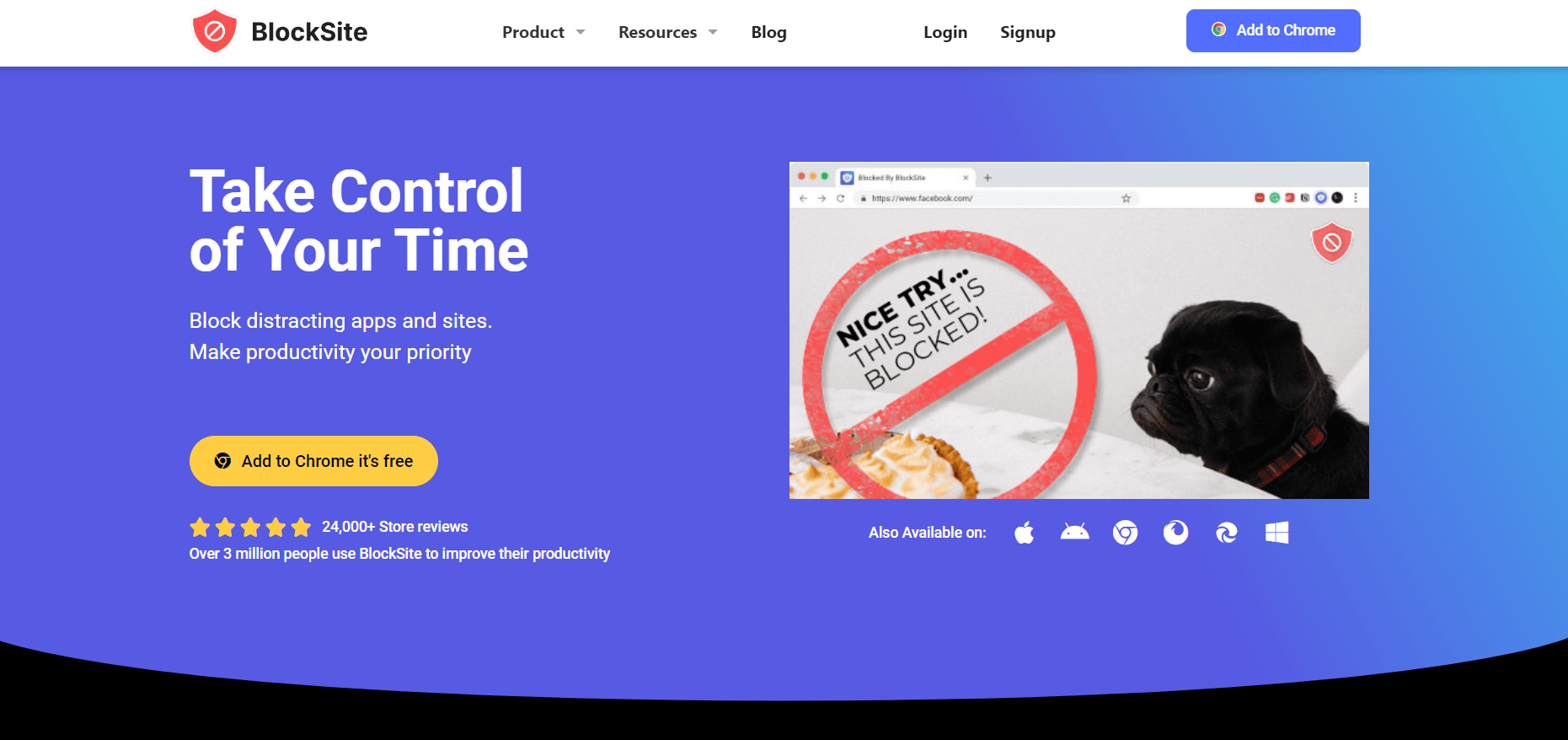 BlockSite restricts the time-wasting websites that you have identified. This pushes you to work on productive tasks rather than waste time. It can be customized a lot to suit your needs.
Restricts time-wasting websites after the allotted time is up.
Highly customizable to fit the needs of the user.
Allows users to block adult content.
It has a Focus mode.
Allows users to sync data across devices.
In the internet age, staying focused on the task is challenging. The BlockSite extension can help you concentrate on your work with its nifty features.
Click&Clean
Click&Clean is a handy browser extension that helps you keep your browser clean. With this tool, you can clear your browsing history, browser cache, download history, browser cookies, and flash cookies. Tidying up your browser is so convenient with Click&Clean.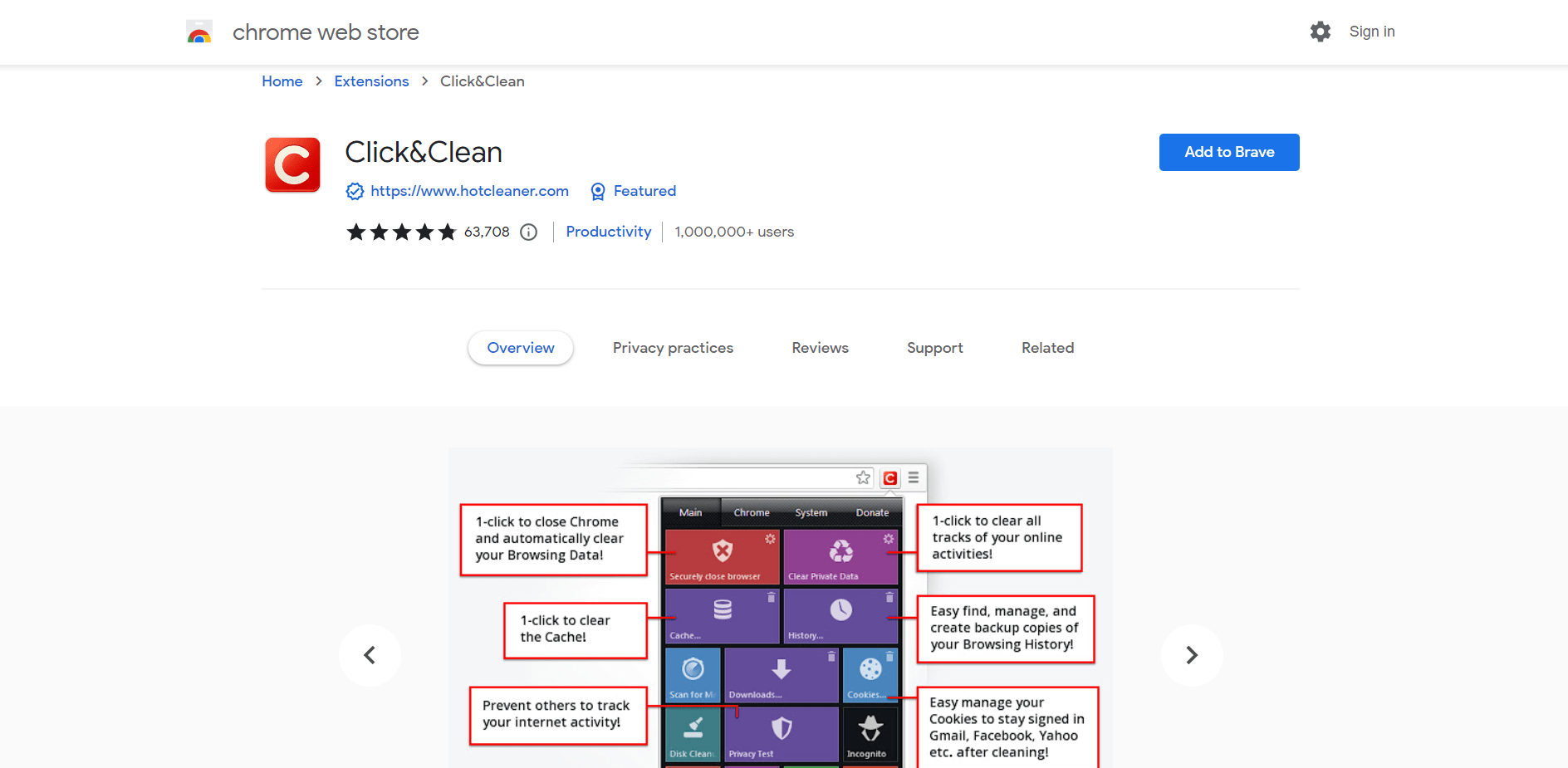 You wipe all data related to your browsing activities with this tool. You can scan your computer for viruses and malware. And did I mention that all of the above can be done with just one click? Amazing, right? Get Click&Clean and get rid of clutter from your browser.
Wipes browsing history, cookies, and cache.
Scans the user's computer for malware.
Cleans the hard drive of the user.
Everything can be done with one click.
Click&Clean is a fun and useful browser extension. You should use it to keep your browser and computer spic and span!
Bottom Line
To summarize, browser extensions are software that modifies the characteristics of a browser. They are helpful, but they carry security risks too. Hence, you must be mindful of the extensions you download on your browsers. Hence, it is recommended to download the extensions only from the official web store.
You can download extensions from the Chrome Web Store since Brave's browser is Chromium-based, fully compatible with running all extensions on the store.
FAQs
What are the best Brave browser extensions for enhancing your online experience?
There are numerous Brave browser extensions available to enhance your browsing experience. These extensions, also called add-ons, can be found in the Chrome Web Store.
How can I find and install the best Brave browser extensions?
You can easily find and install the best Brave browser extensions by visiting brave://extensions/, which offers a variety of add-ons to customize and improve your browsing.
How do I manage and organize my installed Brave browser extensions?
Managing your installed Brave browser extensions is easy. You can access them by clicking on the puzzle piece icon in the browser's top-right corner. From there, you can enable, disable, or remove extensions, allowing you to customize your browsing experience according to your preferences.
Can you recommend some must-have extensions for the Brave browser?
Certainly! Some popular and highly recommended Brave extensions include ad blockers, password managers, privacy enhancers, and productivity tools. Exploring the Extension Store will help you discover the best ones for your needs.
Is there a Brave Web Store?
No, Brave browser does not have an Extension Store or Web Store. However, it recommends using the Chrome Web Store for all your extensions needs.
Lastly, if you've any thoughts or feedback on 6+ Best Brave Browser Extensions, then feel free to drop in below comment box. You can also report the outdated information.