Imagine you are in a crowded cafe, and someone starts lurking around. Wouldn't that make you uncomfortable?
It is no different online since many third-party apps or websites always look for opportunities to track our activities. Hence, we should do everything possible to avoid leaving traces.
While the Firefox browser offers a strict privacy setup, a few add-ons are designed to provide an even safer environment.
We have created this list of Firefox's add-ons to help you restrict the sites from tracking and protect your browsing information.
Ghostery
If you want an add-on that cleans a web page's clutter and enhances its speed, Ghostery is the one for you. With its clever blocking, it is bound to enhance the performance of a webpage.
It also blocks the trackers so no hackers can track your web activities.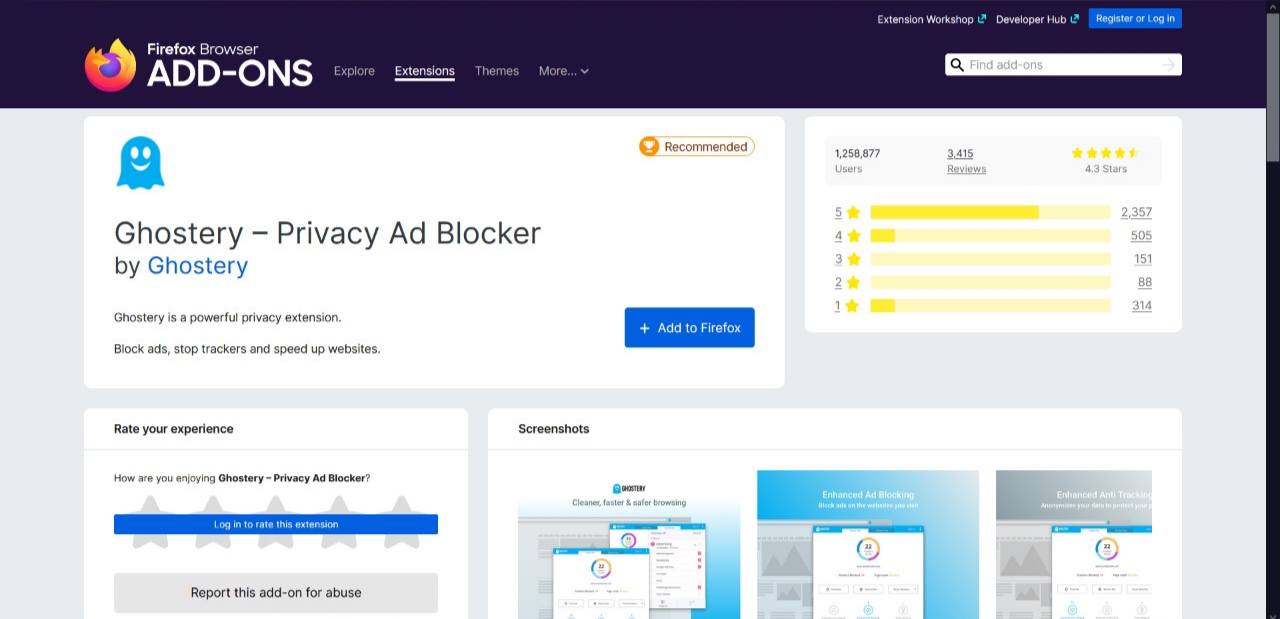 Some of Ghostery's essential features are:
It blocks all ads and pop-ups that clutter a webpage.
It prevents third-party apps from tracking your activities.
It helps in the fast and efficient loading of web pages.
You also have the option to customize its settings according to your choice.
However, it may fail to block all the ads simultaneously, leading to problems later. It can also cause the slow loading of some web pages.
Private Bookmarks
This is one of the unique add-ons that Firefox offers. Private Bookmarks help protect your bookmarks with a password-encrypted vault.
The bookmarks can be easily transferred by using the Private Bookmarks add-on.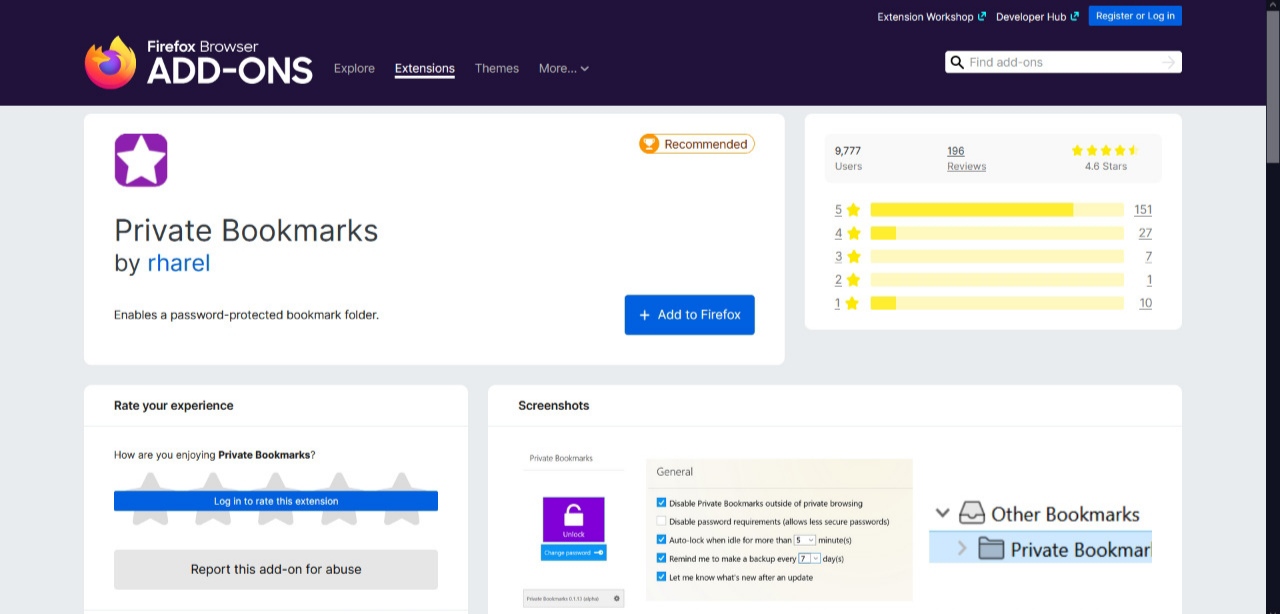 Several of Private Bookmark's notable features are:
It offers a password-protected folder for your bookmarks.
You can add, delete, or edit your bookmarks.
If a new change is made, it is automatically encrypted.
The bookmarks can be easily imported and exported to other devices.
It has its set of demerits as well. By default, this add-on only works in private mode. Moreover, it is not an online service; you are in sole control of everything.
Multi-Account Containers
Are you someone who uses different accounts for personal and professional use? Worry not! Multi-Account Containers add-on will ease all your troubles.
This add-on will organize your online life by segregating your accounts.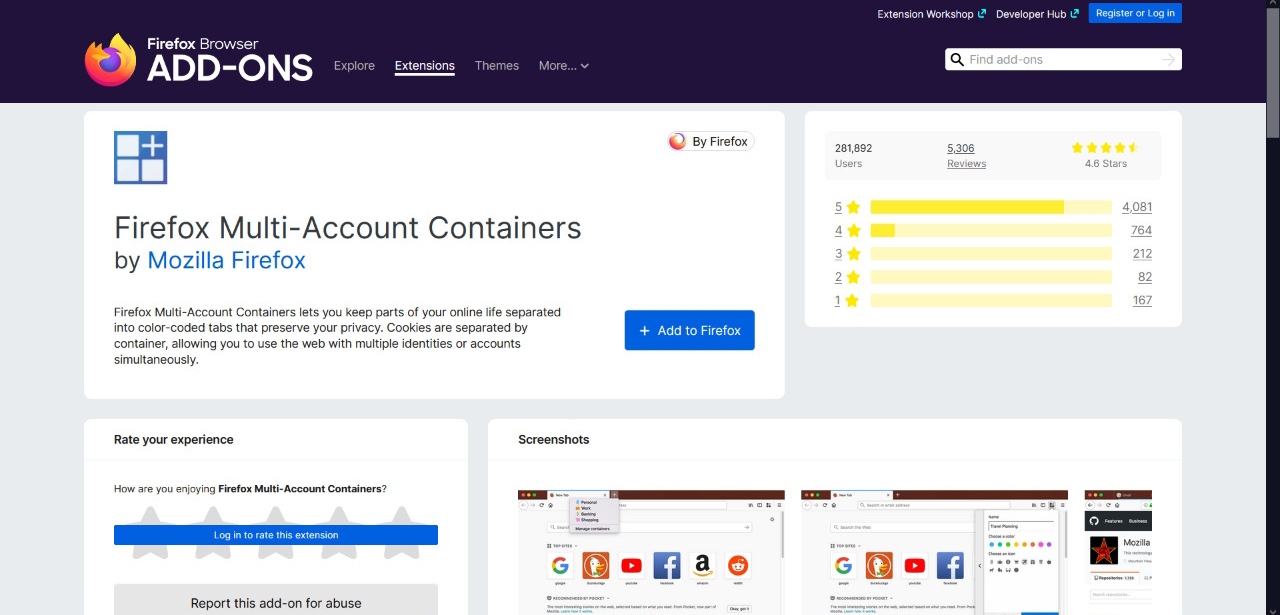 To name a few of the Multi-account container's unique features:
It will separate your accounts according to your needs.
You can use the same website with two different accounts.
It does not collect any of your information.
It will prevent you from leaving data about your social network everywhere.
It may be messy sometimes and difficult to understand. The user interface is not so easy to understand and may require time from the user.
Blur
Blur is your one-stop solution to all your privacy and security-related problems. It prevents trackers, manages your password, and masks your online identity.
Blur will protect all your data and information from people always looking for a chance to hack into it.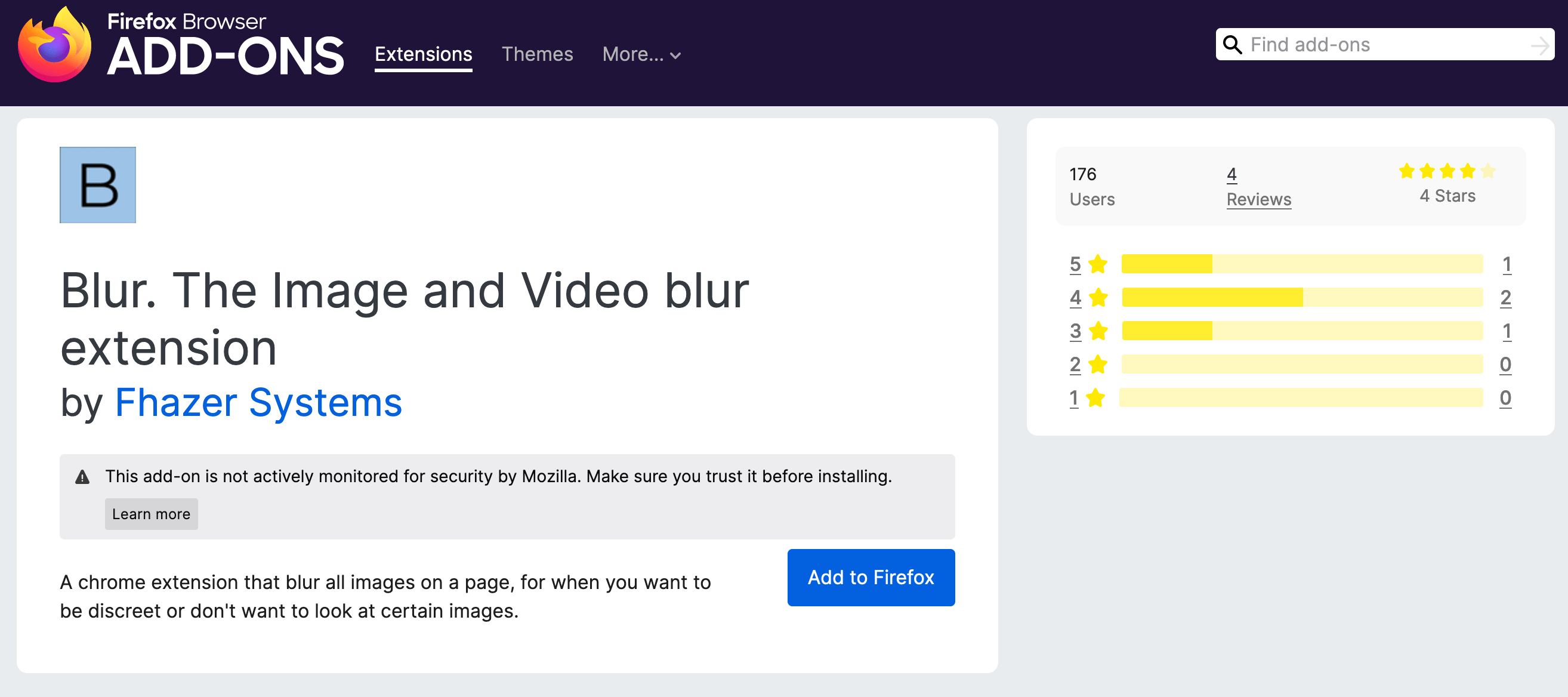 Several of Blur's prime features are:
It masks your email addresses, credit card details, and other information.
It helps you in creating strong passwords and stores them as well.
It blocks the tracking of your information.
It prevents Facebook from intruding into your privacy.
Although it has many features, it is limited to the free version. Most of its features are only available in the premium version of the add-on.
Facebook Container
Are you always concerned about Facebook tracking your web activities? Facebook Container will solve that completely.
This add-on separates your Facebook data into a separate container, making it difficult for third-party websites to track your actions.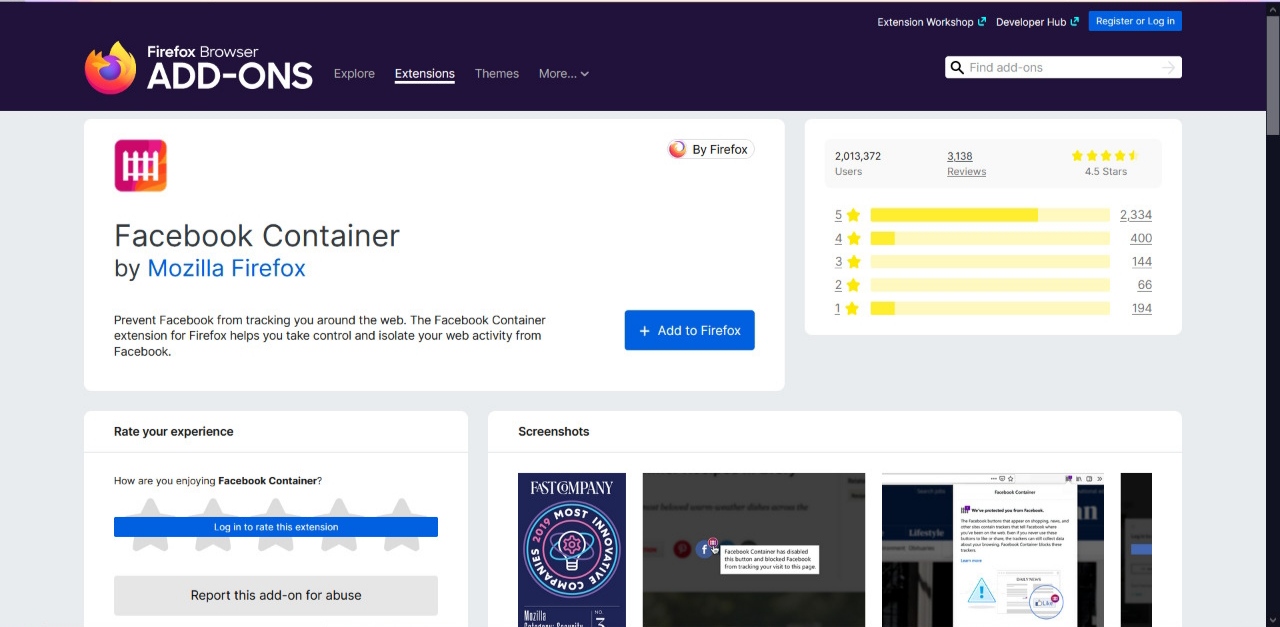 Some of Facebook Containers' remarkable features are:
Facebook will load in a different blue-colored tab.
It will be challenging to track your online activities due to a separate tab.
It will protect you against data theft.
It will enhance your privacy.
However, it will not function outside the container tab, limiting its access. Therefore, all other websites that require Facebook login will not function well.
NoScript Security Suite
NoScript Security Suite has been recognized and awarded tremendously for contributing to the intelligent world. It is ranked as the best security add-on for a computer.
It allows the reception of data and runs from websites you trust.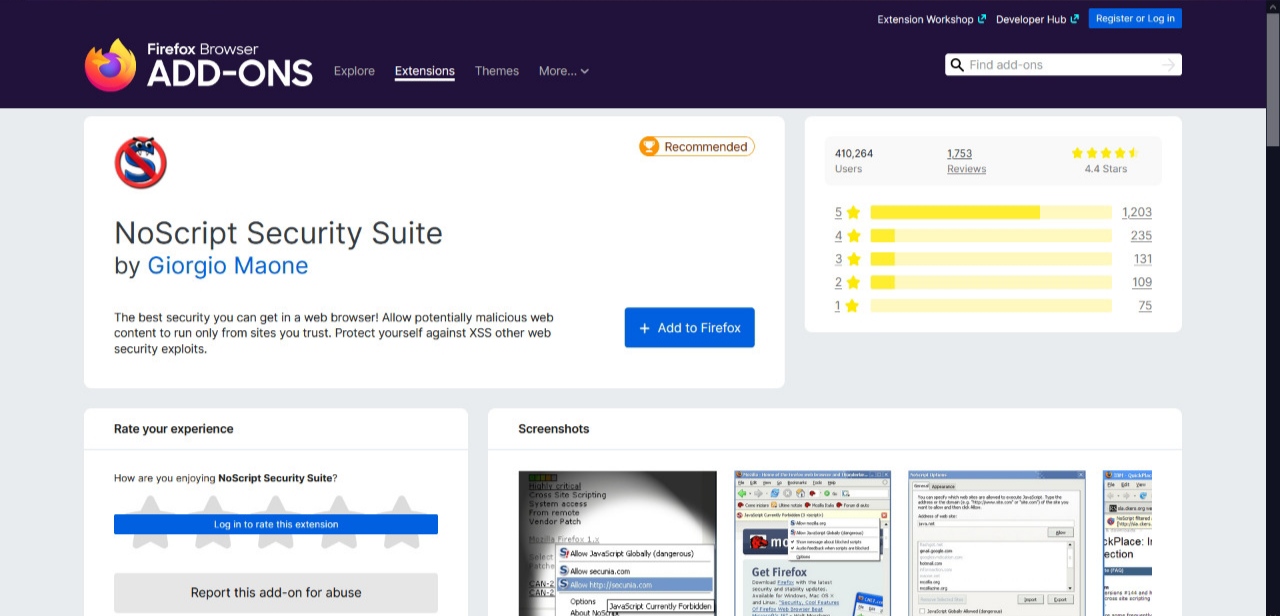 A few of NoScript Security Suite's outstanding features are:
It provides excellent protection on the web.
It allows running content from JavaScript and Flash from only trusted domains.
It prevents breaches of security-related activity.
It comes with advanced ClearClick technology.
However, it may repeatedly ask you to refresh or reload NoScript time and again. This may pose a distraction to your work. The add-on may also ask you for too many updates every time.
Cookie Manager
Cookies can be a significant concern for privacy-focused users. With the Cookie Manager, you can customize the cookies per your preferences.
This add-on lets you view, delete, or search for specific cookies.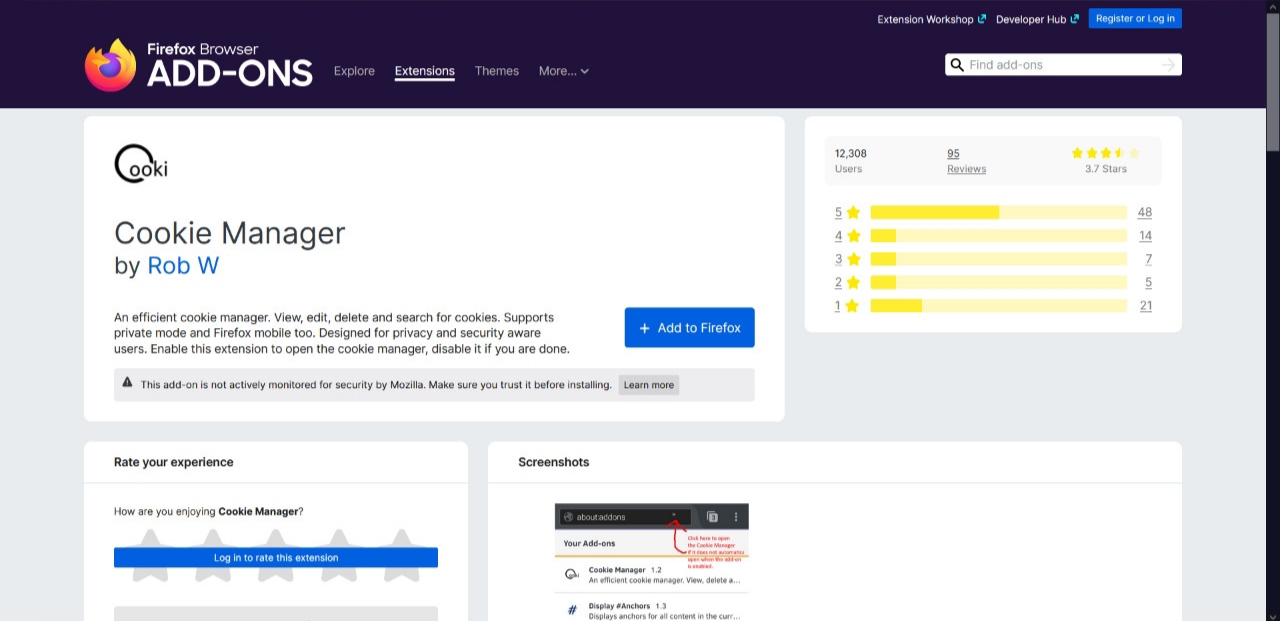 Cookie Manager is packed with many essential features. Some of them are:
You can view all the cookies at once.
You can add, edit, or delete cookies.
It also recognizes cookie jars.
You can remove an individual or a group of cookies.
You also have the option to import or export cookies.
However, it may sometimes fail to recognize all the cookies and take longer. This may hamper your work performance.
Bottom Line
We always look for privacy, safety, and security daily. Be it offline or online. It has become a basic need for everyone these days. With so many cybercrimes being reported daily, we must know who can access our privacy. The more we take care of our information online, the safer we are.
Firefox add-ons for privacy and security are the first step that ensures your safety online. Firefox has done a tremendous job in providing users with numerous options to choose from in terms of add-ons.
FAQs
What are Firefox privacy add-ons, and why should I use them?
Firefox privacy add-ons are browser extensions designed to enhance online privacy by blocking trackers, preventing data collection, and enhancing encryption. Using these add-ons can significantly bolster your protection against invasive online practices.
Which are the must-have privacy add-ons for Firefox?
Some essential privacy add-ons for Firefox include Ghostery, Facebook Container, Cookie Manager, and Multi-Account Containers. These tools collectively block unwanted content, force secure connections, and manage local content delivery.
Lastly, if you've any thoughts or feedback on 6+ Best Firefox Privacy and Security Add-ons, then feel free to drop in below comment box. You can also report the outdated information.