Google Chrome browser supports the VPN extensions that allows to access geo-restricted content and protect your browser privacy. Chrome VPN extensions like, CyberGhost, Hotspot Shield, VeePN, ExpressVPN, Hola VPN, WindScribe, and ProtonVPN are some of the safest and free VPN extensions that help you to browse securely without revealing your identity.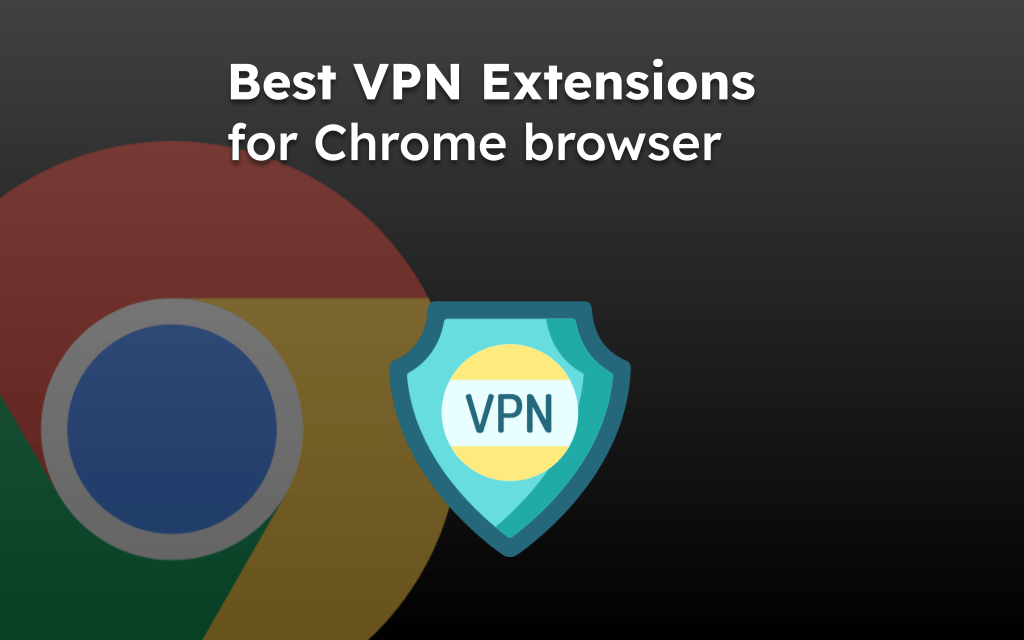 Virtual Private Networks, in short, VPNs, are helpful when you want all your browser data and activities to be protected. It also aids in accessing blocked content, even hiding or changing your IP addresses.
However, finding the right VPN for Google Chrome is difficult since hundreds of options exist. Especially when it comes to free versions, like any other extensions, paid VPNs are comparatively more reliable and have multiple features.
Editor's Note: This ranking is based on two factors – protection and worthiness offered by the VPN services. Free VPN services always have limitations; hence, upgrading to a paid subscription is recommended.
Here, we list the top VPN extensions for your Google Chrome that you can use for secure browsing.
On this page, you can find and jump to:
CyberGhost
CyberGhost provides VPN services, allowing users 'borderless internet access. This VPN is comparatively an okay one, but if you want more features like accessing streaming channels, it is preferred to go for the paid premium version.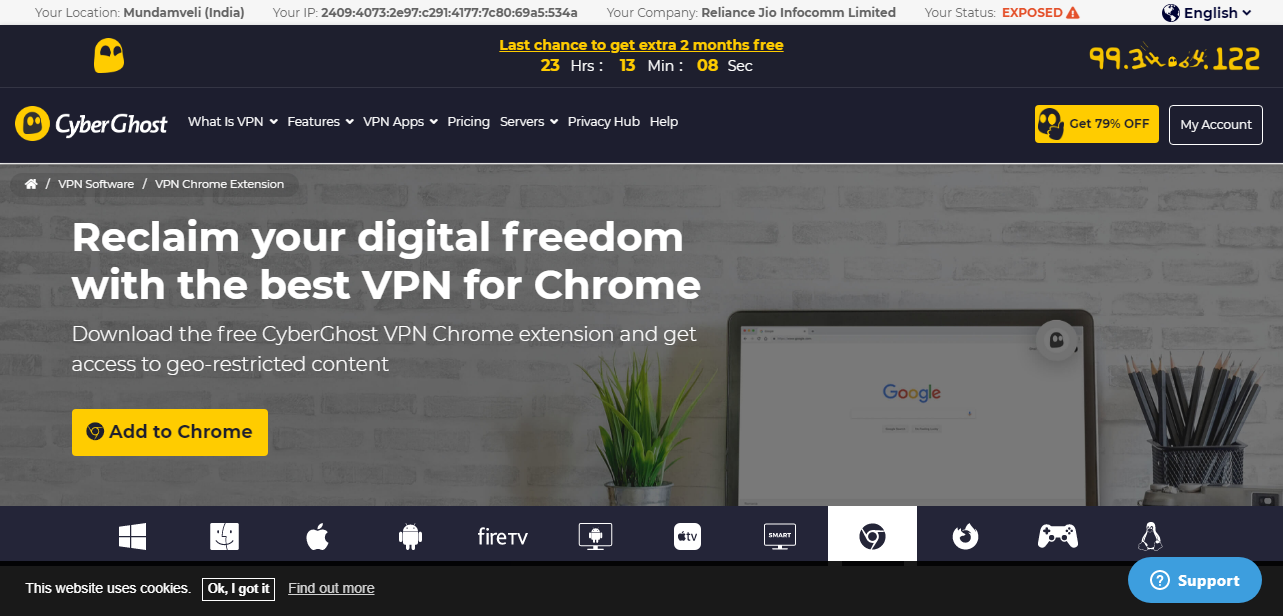 CyberGhost aids its users in eliminating online surveillance, which can affect your data security and privacy.
It can help users in bypassing digital censorship in the internet world. With over 6300+ fast and secure servers, it has one of the largest VPN server networks in the world.
Using this Chrome extension, you don't have to worry about public WiFi security. Live chat support is also available, so customer support has no queues and delays.
Features of CyberGhost:
No-logs policy
Dedicated streaming servers
WiFi protection
Ethereum blockchain network
Kill switch
256-bit AES encryption
CyberGhost provides limited WebRTC leak prevention. Unlimited bandwidth is not offered, of course, in the free version. However, a paid subscription at a competitive discount offers unlimited withdrawal.
Hotspot Shield
Hotspot Shield is one of the world's most popular VPN providers. This VPN has over 650 million downloads and has been rated the world's fastest VPN in speed and AV tests. It comes with a proprietary encryption protocol – Catapult Hydra- that gives it lightning-fast speed.
Hotspot Shield uses an encrypted channel to hide or change your IP address, granting access to restricted websites while protecting your identity.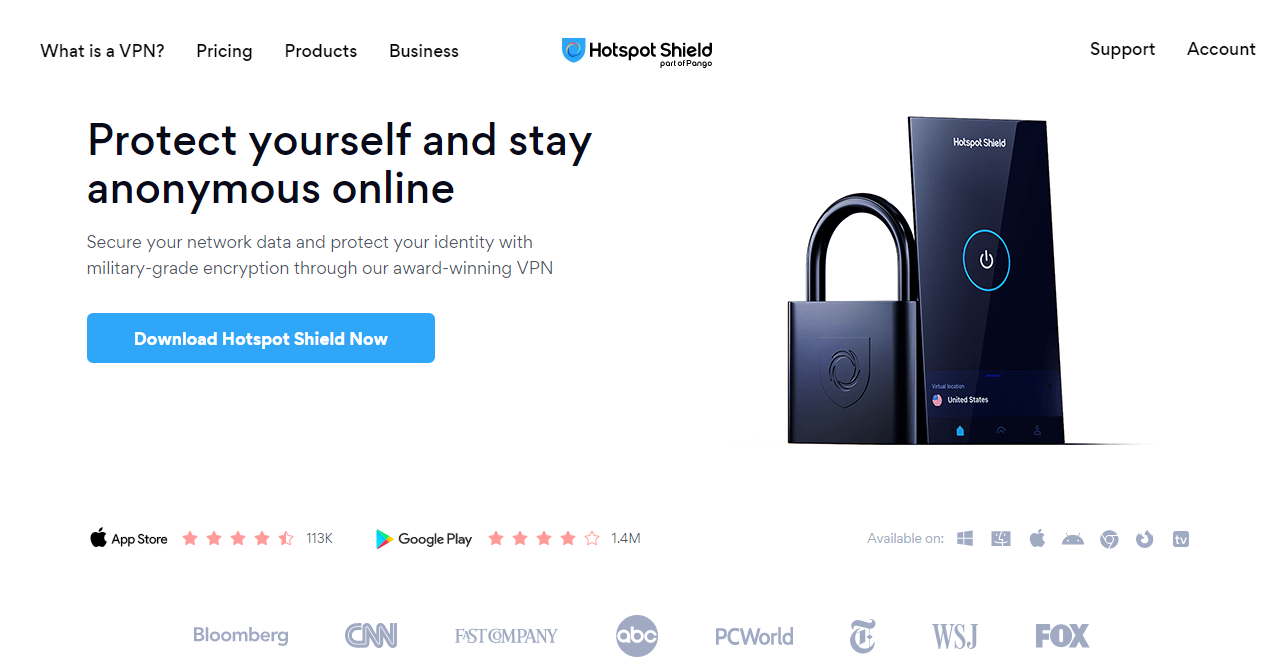 This extension has the fastest download speed and 500MB of free daily data. Hotspot Shield VPN services have many servers spanning over 82 countries. It provides IP/DNS/WebRTC leak protection. It is also one of the most user-friendly VPN Chrome extensions, which makes it more widespread.
Installing this Chrome extension allows you to enjoy ad-free service with malware protection in public places.
Features of Hotspot Shield:
It comes with a WebRTC blocker to hide your IP from websites
Access to geo-restricted content
Secures your online activities
Unlimited VPN access
Secure AES-256 Encryption
Websites and advertisers blocking trackers
It is a privacy-unfriendly extension in which the free version shares data with sponsors. Also, only paid versions work with Netflix and torrenting sites. There are also many past controversies around the free VPN app.
VeePN
VeePN offers a free and unlimited VPN service that assures security and privacy to its users. With around 2500+ servers worldwide, you can enjoy unrestricted and protected browsing all over the internet.
VeePN aids the user to remain anonymous by masking their IP address, thereby unblocking blocked contents and geo-restricted services. Along with that, you can also switch between different servers in an instant.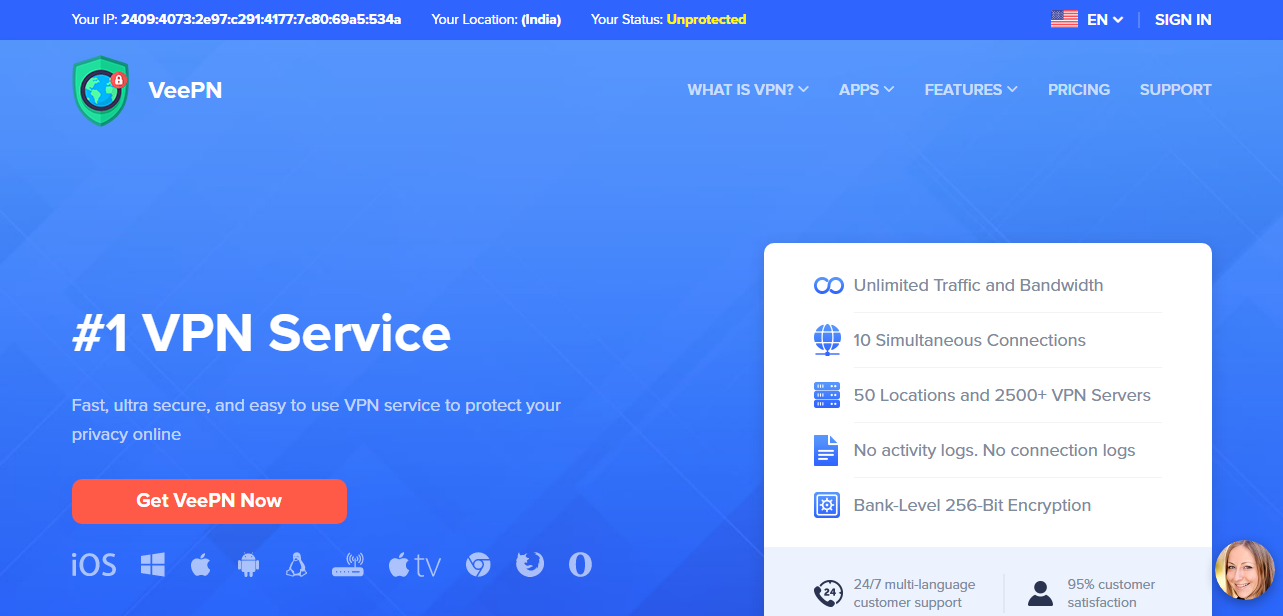 VeePN is a user-friendly VPN extension with a strict no-logs policy and an automatic configuration feature. Its cross-platform software works on multiple platforms. It assures users a safe and secure browsing and surfing experience with features like WiFi security.
Features of VeePN:
DNS leak prevention
Uses OpenVPN and IKEv2 protocols
256-bit encryption
Limitless bandwidth and speed
Kill switch feature
Unlimited server switching
One of the main issues with VeePN is that it is not a lightweight extension like other extensions. Moreover, the IKEv2 protocol is banned in some countries. Another issue is that the speed of the internet has been observed to be reduced due to server load and beyond coverage areas.
ExpressVPN
ExpressVPN extension works quite differently from other extensions on this list. To benefit from this VPN service, you must first have a native VPN app on your system, which ExpressVPN will control.
This free VPN will route all your traffic through their network. Thus hiding your locations, IP address, targeted sites, and other aspects of your online activity. ExpressVPN servers are located in 94 countries, from which you can automatically select, or the Smart location option can help you do it.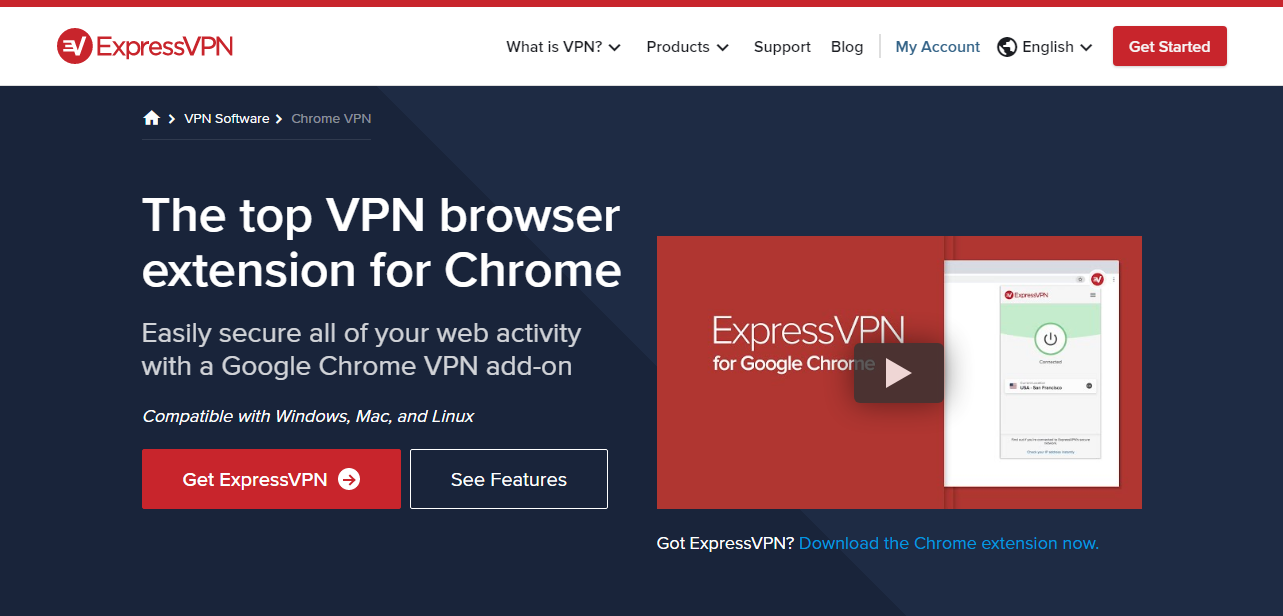 With fast and secure servers in more locations, it has one of the largest networks around the globe, giving instant access to your VPN. This extension will redirect the user to secure HTTPS versions of the sites, making your browsing more secure.
It comes with an easy-to-use, interactive, multilingual user interface. Color themes like dark mode are available in its free version, allowing users to customize it conveniently. Plus, ExpressVPN also offers 24/7 customer support.
Features of Express VPN:
WebRTC blocking
DNS leak protection
Network Lock kill switch
Location spoofing
AES 256-BIT Encryption with RSA-4096 and SHA-512 HMAC authentication.
Split tunneling
Open-source
ExpressVPN allows limited configurations only, which can be an issue while using. Even though chat and email support are available, no phone support can affect a small percentage of users. Also, as we already discussed, you must install a native VPN before installing ExpressVPN.
Hola VPN
With almost 200 million downloads, Hola VPN is one of the most popular free VPN services. It also comes in a paid version with additional features, which is better than this free version. Its simple and easy installation and usage make it more user-friendly.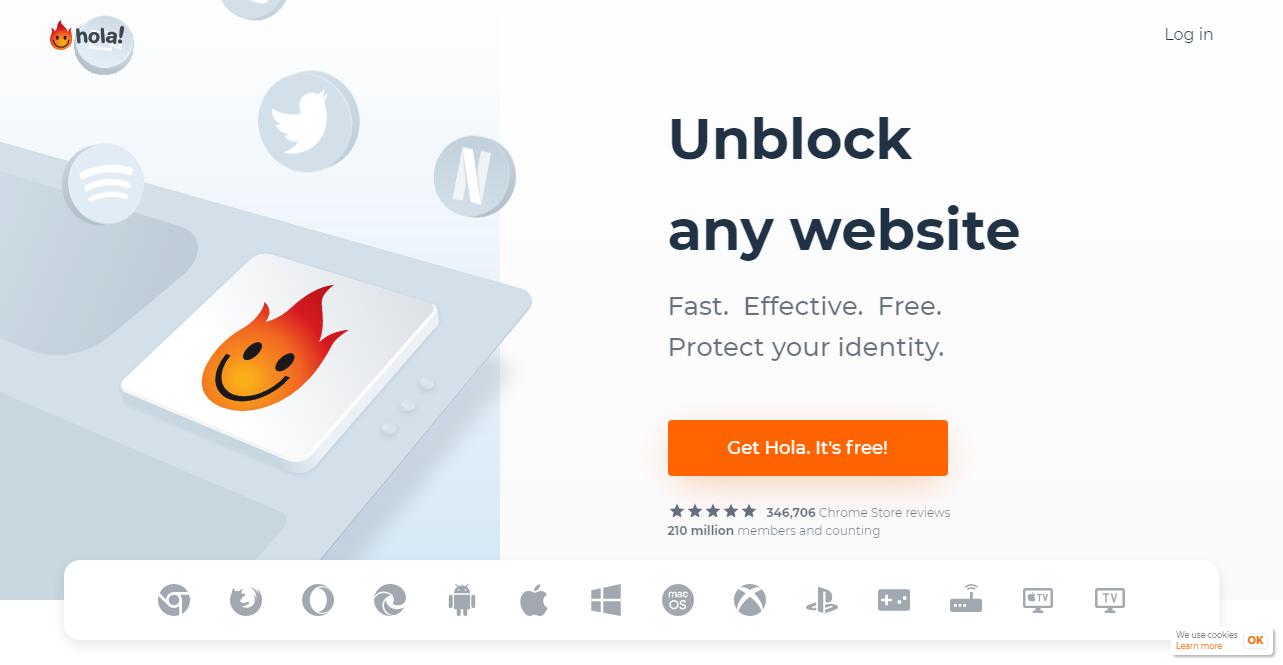 Hola gives fast internet speeds and provides identity protection to the user and their system. It unblocks CBS, and stream media is accessible. This is an ad-free VPN extension that is relatively easy to use.
Features of Hola VPN:
Split-tunneling technology
Can unblock websites from any country
Identity protection
Even though it is one of the most popular VPN services, it doesn't unblock all sites if you use the free version. There is no technology to avoid DNS and WebRTC leaks. Plus, the users need to share resources on the free version, and the company keeps logs. Hola's free version does not have encryption, affecting user identity protection.
Windscribe
Windscribe's proxy browser extension is one of the best free VPN extensions available. It's a relatively new VPN service. In addition to unblocking restricted websites and masking IP addresses, it also supports locking ads and trackers.
One of the best things about Windscribe is that it offers almost all features in its free version, aiding users on a tight budget.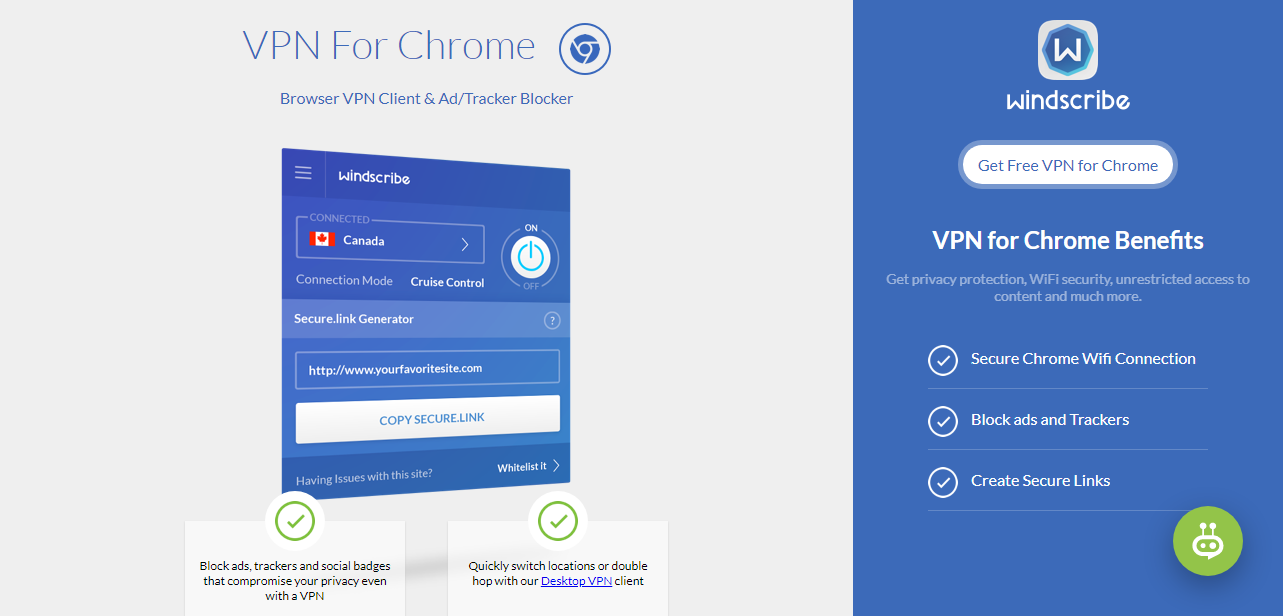 Windscribe provides premium security measures free of cost. It is a user-friendly VPN service providing 10GB of free data per month. This extension securely accesses internal resources.
It unblocks streaming services like Netflix, and torrenting is also allowed. It has fast servers in over 63 countries and 110 cities. There are no leaks or data logs. Also, it offers a secure WiFi Connection and creates secure links for user protection.
Features of Windscribe:
Uses OpenVPN, IKEv2, TCP, UDP, and SOCKS5 protocols
AES-256 cipher with SHA512 auth and a 4096-bit RSA key is used
Static IPs
Stealth mode
Kill switch
Split tunneling technology
100% transparent operations
Compared to other free VPN extensions, Windscribe has low internet speed. WindScribe is a Canadian-based parent company, thus increasing the chances of personal data leakage. Also, not all servers out of 480+ are active. Another drawback is that all their customer support is carried out using bots.
ProtonVPN
ProtonVPN is a community-supported VPN service and is not a free VPN extension like others on this list. But it comes with a 30-day- free trial period and exclusive features. That is why ProtonVPN made it to this list. Owned by a Swiss firm called Proton Technologies AG, it operates under one of the world's most solid privacy laws, giving assured privacy and security to its users.
ProtonVPN is an open-sourced VPN service provider offering unlimited data and high-speed connections (up to 10 Gbit). It's no ads and no logs policy, which is another plus point. There are no IP/DNS/WebRTC leaks, which unblocks streaming sites like Netflix. Another advantage is the forward secrecy feature, which can protect the user's sensitive data.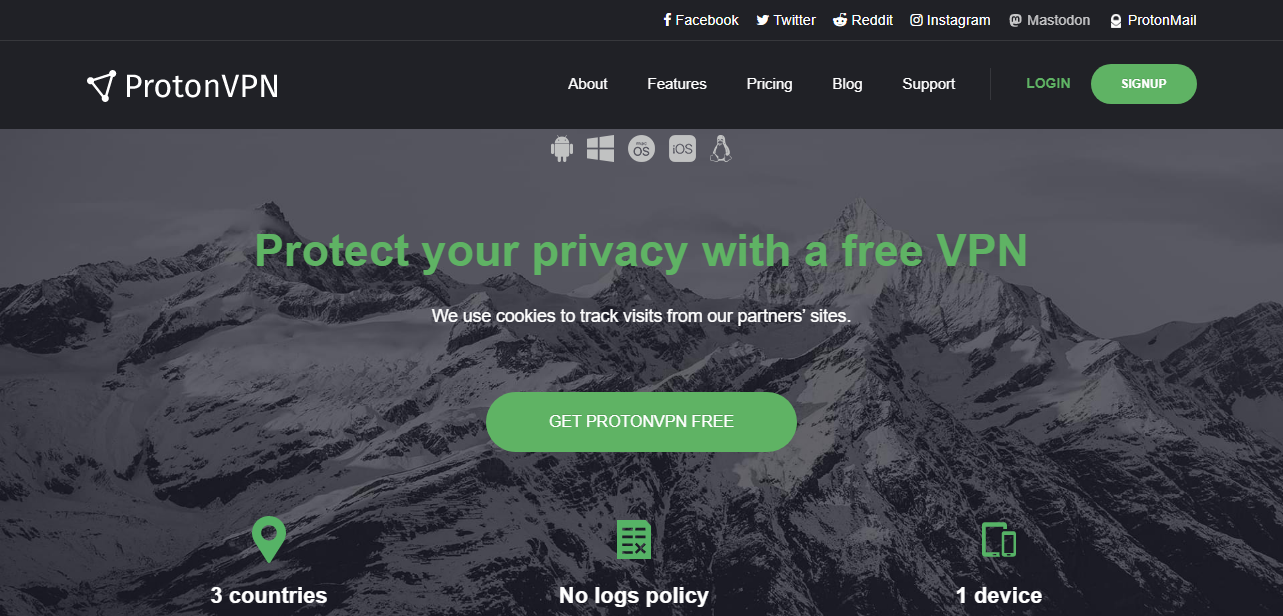 How does Proton VPN work?
All your activities and data are protected by routing your traffic through multiple servers before leaving our network so that no website can detect your IP address.
Features of Proton VPN:
Uses IKEv2/IPSec and OpenVPN protocols
Strict no-logs policy
AES 256-bit encryption is used
Secure Core architecture.
Kill switch
Since a company owns ProtonVPN under Swiss jurisdiction, it must disclose the "limited data" if it faces a Swiss court order. This VPN service has a smaller network of over 44 countries. The free version offers servers in Japan, the Netherlands, and the US. Torrenting is available only in four server locations. Live chat customer support is unavailable, meaning there is no real-time customer service.
Bottom Line
Other free VPN extensions for Google Chrome include SetupVPN, DotVPN, ZenMate VPN, TunnelBear VPN, Touch VPN, etc. Don't forget that since they are free cost, these extensions may have several restrictions and limitations compared to their paid versions.
So, if you are looking for featured, highly reliable Chrome browser VPN extensions with high speed and bandwidth, go for paid premium versions. At most, all VPN service providers have a 30-day money-back trial period. So, you can even try them before paying the money.
FAQs
What are the best free VPN Chrome extensions?
The best free VPN Chrome extensions include ProtonVPN, VeePN, ExpressVPN, CyberGhost Chrome extension, and others that provide secure and private browsing within your Chrome browser.
What features should I look for in the best free VPN Chrome extension?
When looking for the best free VPN Chrome extension, prioritize features like strong encryption, a wide range of server locations, a no-logs policy, good connection speeds, and a user-friendly interface. ProtonVPN, ExpressVPN, and CyberGhost meet these criteria.
Can you use a free VPN extension on Chrome without compromising privacy?
Yes, you can use a free VPN extension on Chrome without compromising privacy, but choosing a reputable option like ProtonVPN or CyberGhost is essential. These extensions are designed to provide enhanced privacy protections while you browse the internet using Chrome.
Is the ProtonVPN Chrome extension a safe choice for secure browsing?
Yes, the ProtonVPN Chrome extension is a safe choice for secure browsing. It uses advanced encryption protocols to protect your online activities and ensures your data remains private using Chrome.
Lastly, if you've any thoughts or feedback, then feel free to drop in below comment box. You can also report the outdated information.