Do you have trouble browsing certain websites that may not be available in our country? For instance, streaming platforms like Netflix, Hulu, and Amazon Prime have shows unavailable in all countries. The simple solution to all these problems is to use a VPN service.
The VPN will spoof your location to mimic the selected country and bypass the geo-restriction.
The Edge browser supports VPN extensions that also help in adding an extra layer of security to your network connection and keeping your IP address and browsing data anonymous.
We have created a list of some of the best VPN extensions you can install on your Microsoft Edge browser for private and unrestricted internet access.
CyberGhost VPN
Whether running on Windows PC or Mac computer, browsing data privacy should always be your priority. The CyberGhost VPN service offers fast and secured VPN connections across the globe. You can quickly switch between different regions and locations to maintain privacy.
Though it doesn't offer a dedicated Microsoft Edge Add-on, it supports all major devices, including Windows and Mac computers. You can download their small application on your computer and access the internet worry-free.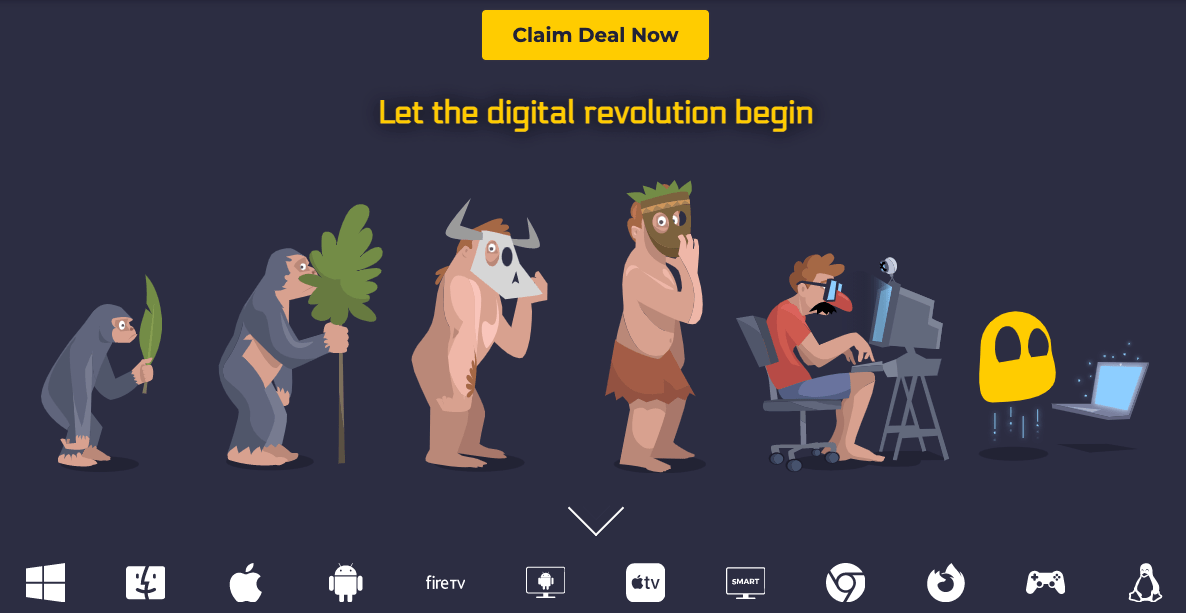 Here are some of the outstanding features of CyberGhost VPN:
Safeguard your digital and private information from ISP, governments, and attackers.
It has the fastest, safest, and most reliable network of VPN servers spread across the globe.
CyberGhost VPN is available across various devices like computers, mobile phones, and tablets and supports operating systems.
One subscription can be shared with seven devices simultaneously to protect you and your family.
You can ghost into different regions to access geo-restricted streaming services.
Forty-five days money-back guarantee.
I highly recommend CyberGhost VPN for data privacy protection. You can get the CyberGhost VPN at a discounted price using the below link.
Surfshark
This Edge extension is for you if you want to secure your online connection and enhance your security and privacy. Now, you do not have to worry about anything anymore.
All this comes with a click, so you do not have to worry about installing and making it work. Surfshark works very efficiently!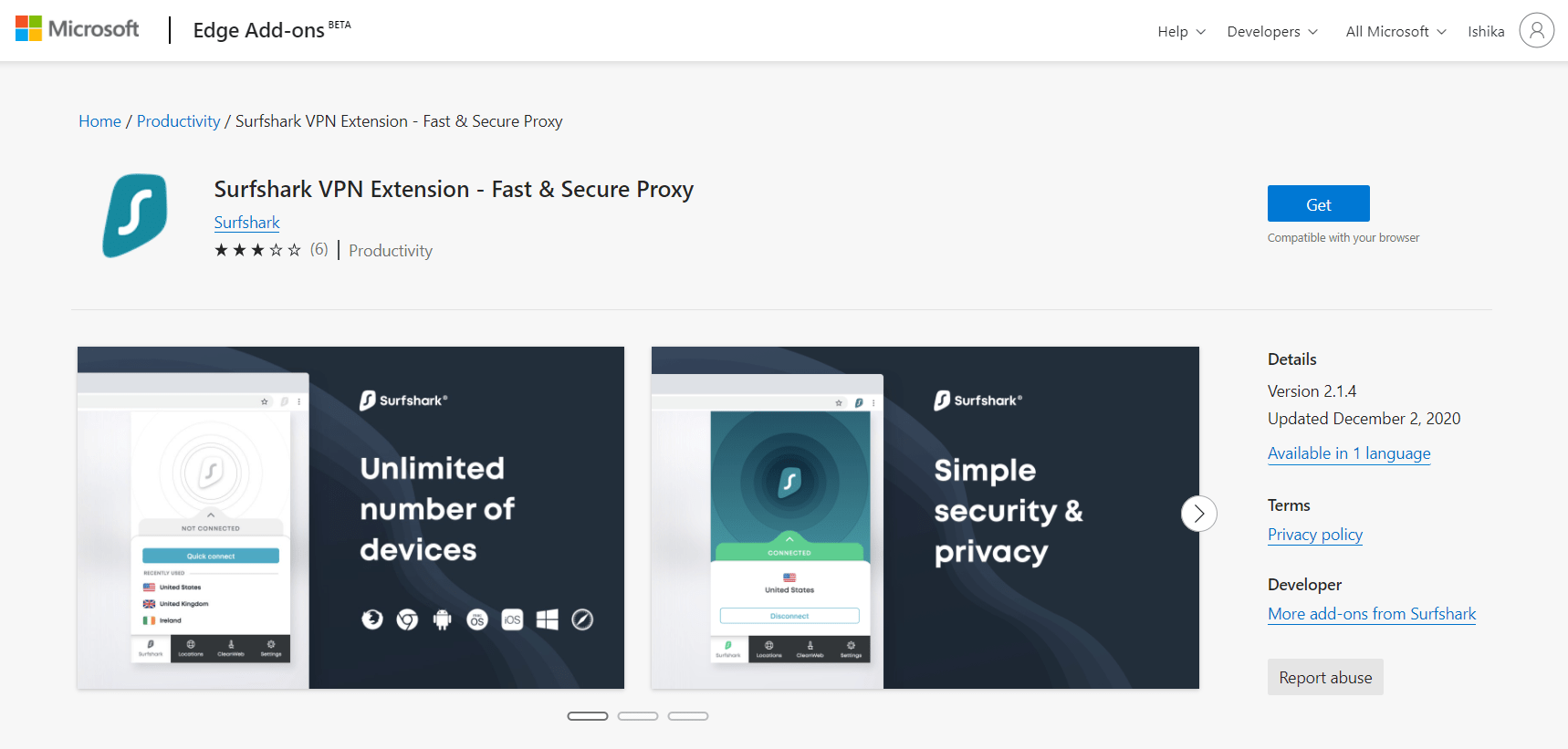 Some of Surfshark's essential features are:
It is incredibly lightweight and very fast.
It can be accessed over unlimited devices.
It can hide your IP and secure your connection completely.
It helps block ads, malware, and any scams.
You can use it for free!
Although it has so many unique features, it comes with shortcomings. Some of its features can be accessed only if you have a subscription. The features may show some bugs as well that still need improvements.
AdGuard VPN
If you are looking for a VPN extension that protects your privacy and security without much hassle, then AdGuard VPN is for you. It is trusted by millions of users around the globe who have unwavering faith in its capabilities.
AdGuard VPN comes integrated with all the other AdGuard products and hence, protects against scams as well.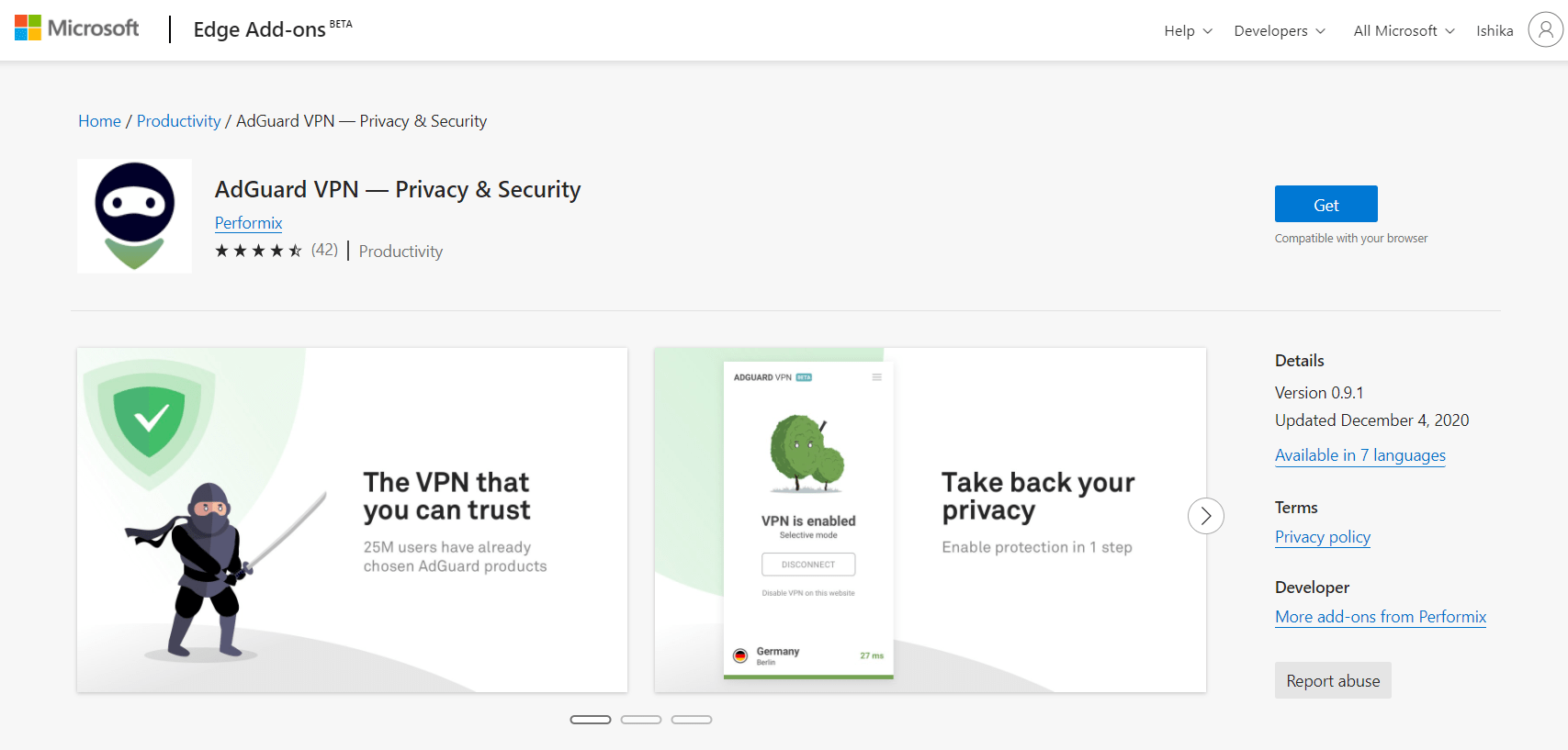 Let's have a look at some of AdGuard VPN's most prominent features:
It encrypts your connection and hides your IP.
You can unblock websites that are not readily available in your country.
It even has no logging privacy.
You can turn it on or off very quickly.
It comes packed with other AdGuard services.
However, it may ask for many permissions you may not be comfortable granting. Nevertheless, it still provides all these features for free.
Touch VPN
If you are a fan of unlimited bandwidth, TouchVPN is your go-to extension. You can switch this extension on or off according to your wishes.
Now, you will have no problem accessing websites unavailable in your country or have a problem with public Wi-Fi; this will solve it all.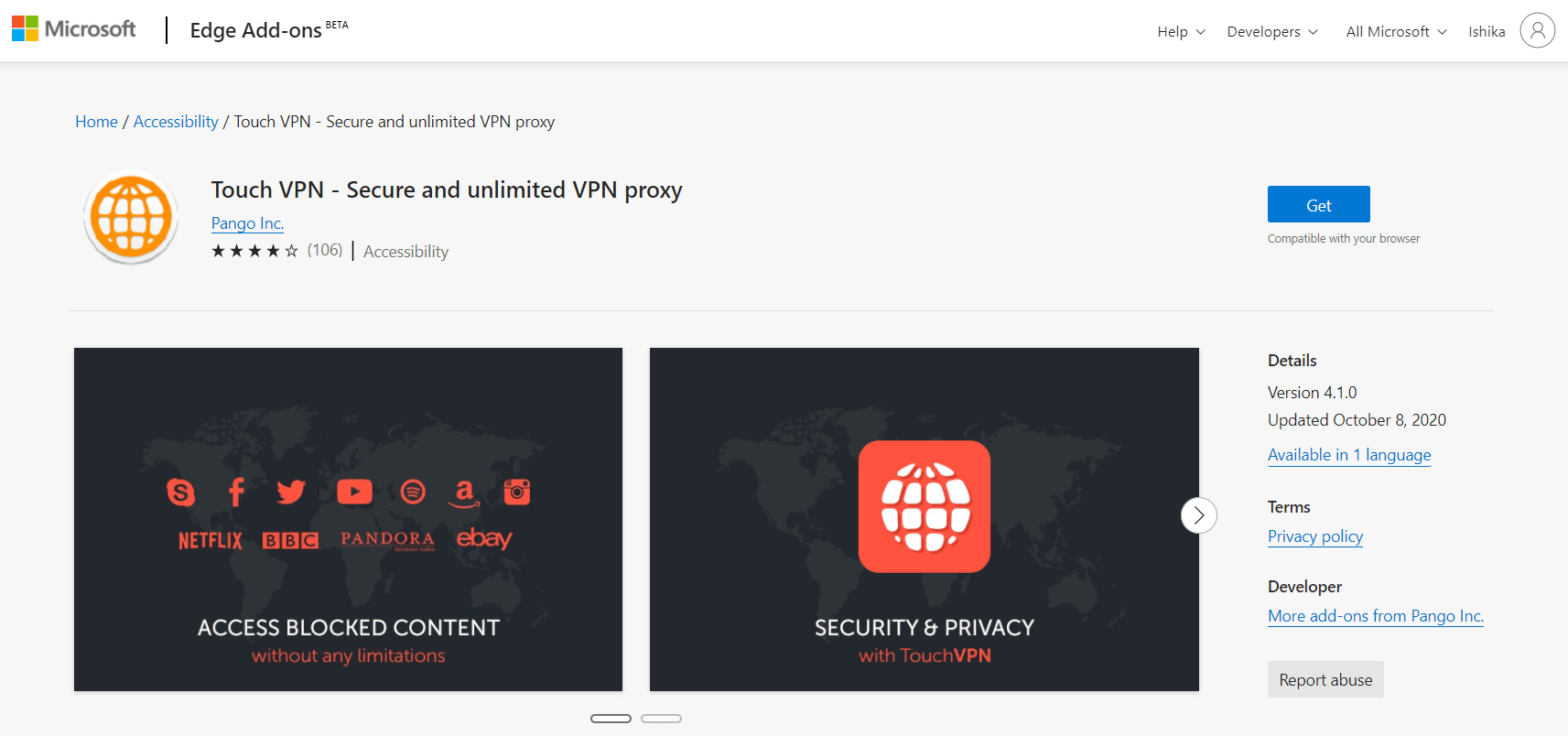 A few of Touch VPN's essential features are:
It is free with no hidden charges.
It provides you with unlimited bandwidth and data.
You can access any website in any country.
It protects your data from hackers or other such pranksters.
It enables you to surf the web anonymously.
Although it has so many unique features, it still loads some websites slowly when it is working. It may take more than usual to load, which may irritate later.
ZenMate
The best way to protect your privacy and protect yourself from data leaks is to enable the ZenMate VPN browser extension that ensures your security. Millions of users around the globe have trusted their privacy with ZenMate.
ZenMate is considered the best VPN extension by many Edge users.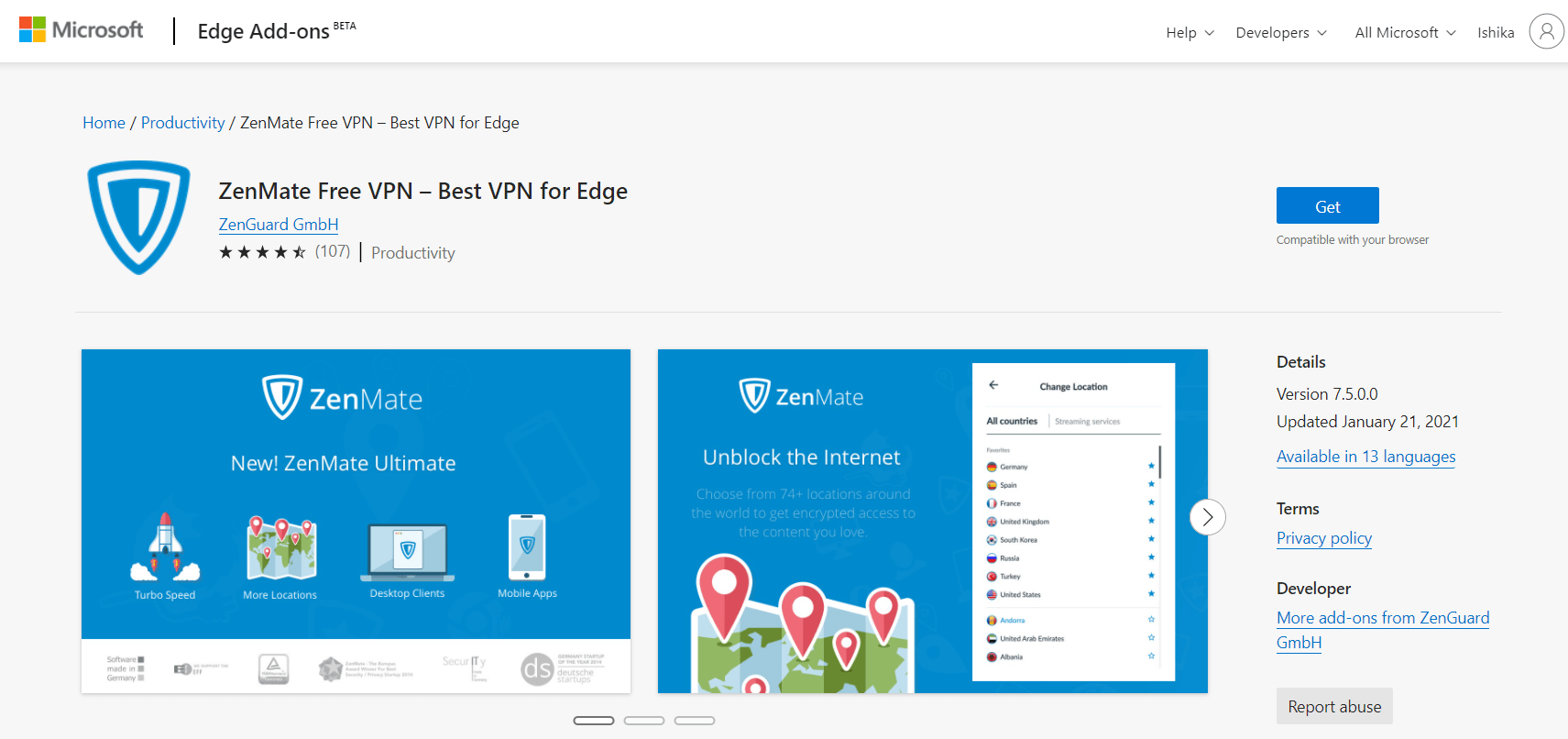 To name a few of ZenMate's prime features:
You can unblock websites and their streaming content.
It also protects your security and privacy.
It has access to 74 countries.
You can surf the internet anonymously without any data restrictions.
However, the ZenMate VPN does not work for countries like China, Saudi Arabia, etc. It also does not guarantee privacy protection at all times and may lag sometimes.
Hola VPN
Hola is the best VPN extension to access content in any country or school network.
Hola is one of the leading VPN extension providers around the globe.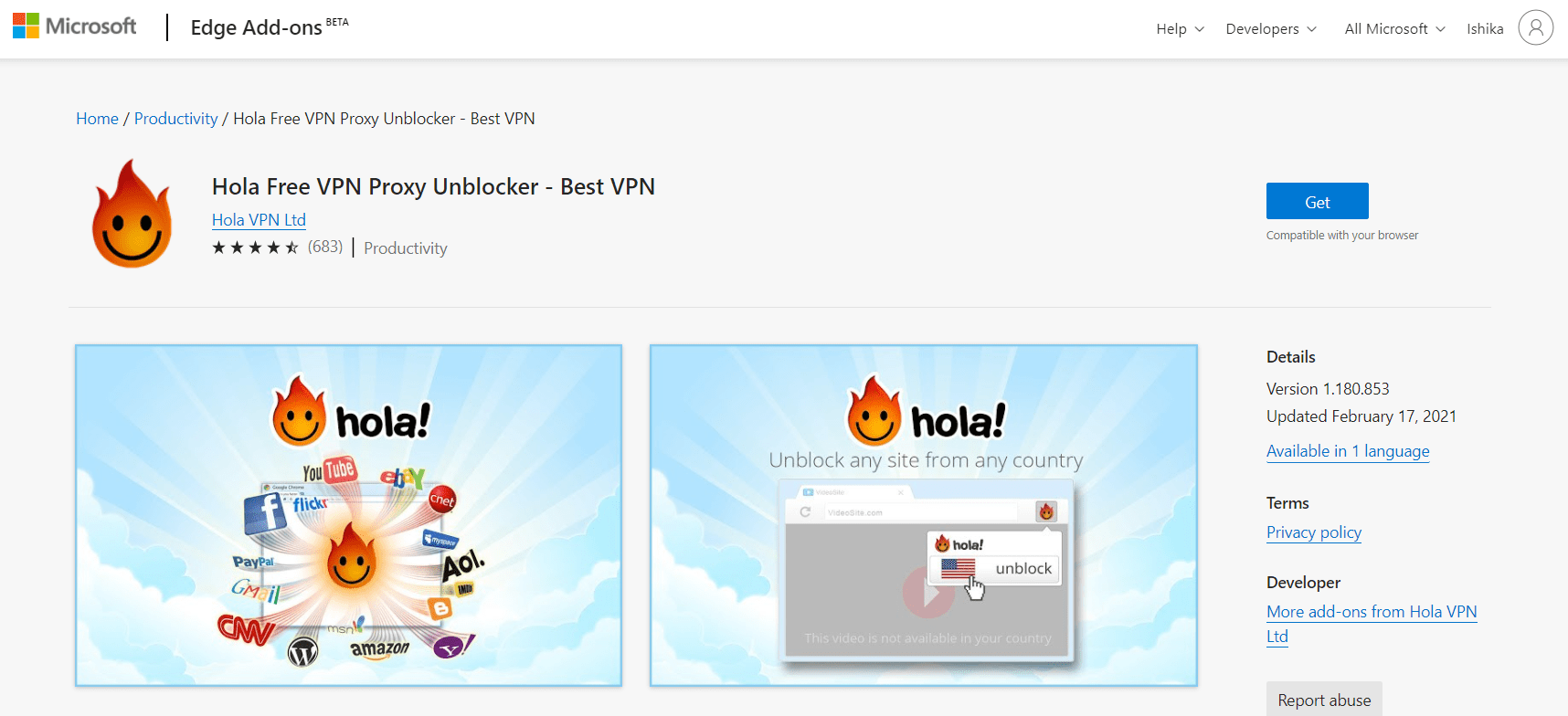 Some of Hole VPN's unique features are:
It is free and has no ads.
It gives you access to more free networks at all times.
It is also the most trusted VPN ever.
It is also the world's fastest unblocker.
However, you may face some technical issues while using Hola. It can also load slowly sometimes, which can delay your work as it is.
Urban Free
Urban Free should be your choice if you want a free, secure, private, fast virtual private network. You can now browse stress-free even when using public Wi-Fi.
Rest assured, Urban Free does not collect private information or data and prevents trackers from acting on your websites.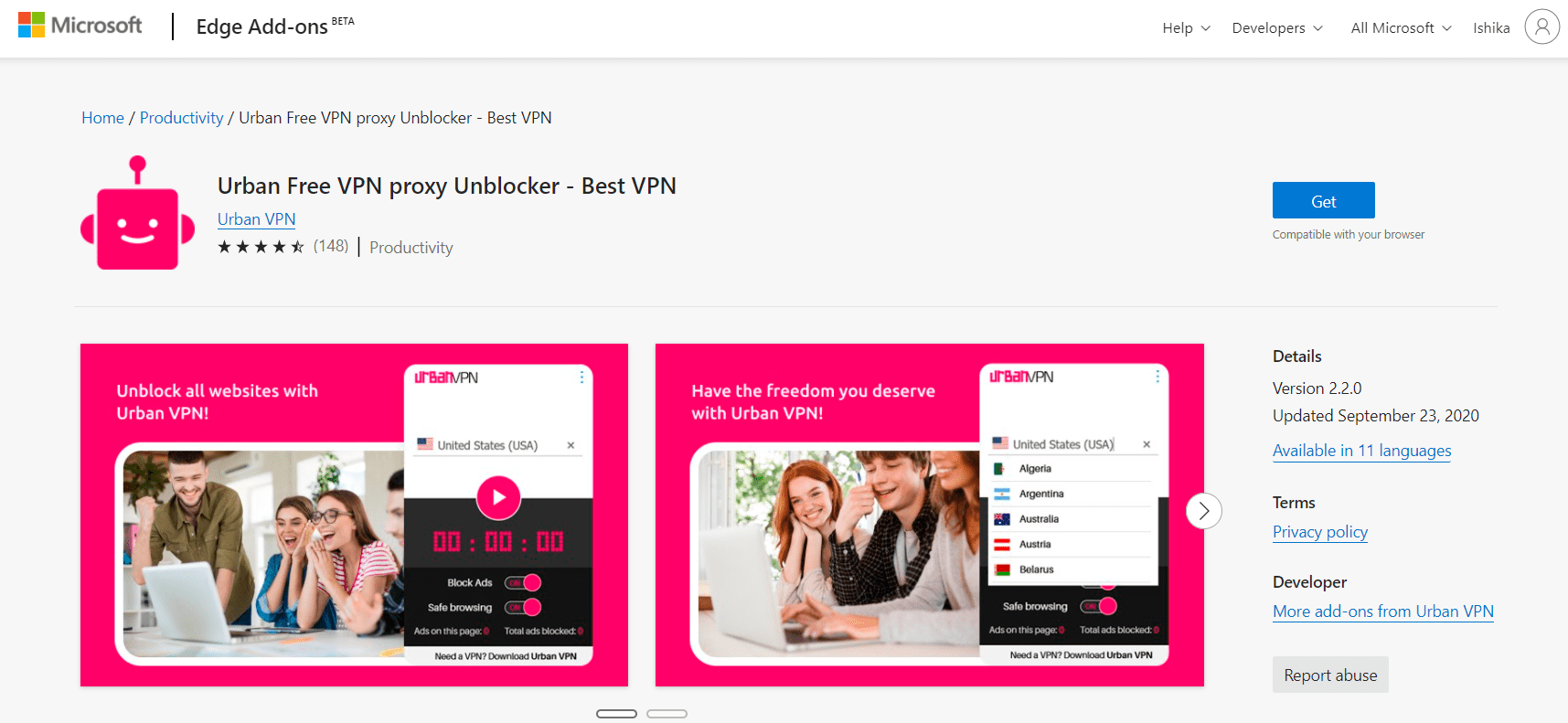 Several of Urban Free's essential features are:
It encrypts your information and hides your IP at all times.
It gives you access to geo-restricted locations.
It is cent percent free.
You can stream and download anything quickly and without any worries.
However, it may not have access to all the countries of your choice. It may also have installation issues and require you to download it again.
SetupVPN
Now you can unblock any website your school has blocked, the government, or any other organization with SetupVPN. It is fast and easy to use.
If you are not a technical geek, worry not! SetupVPN can be used by anyone or everyone who does not know.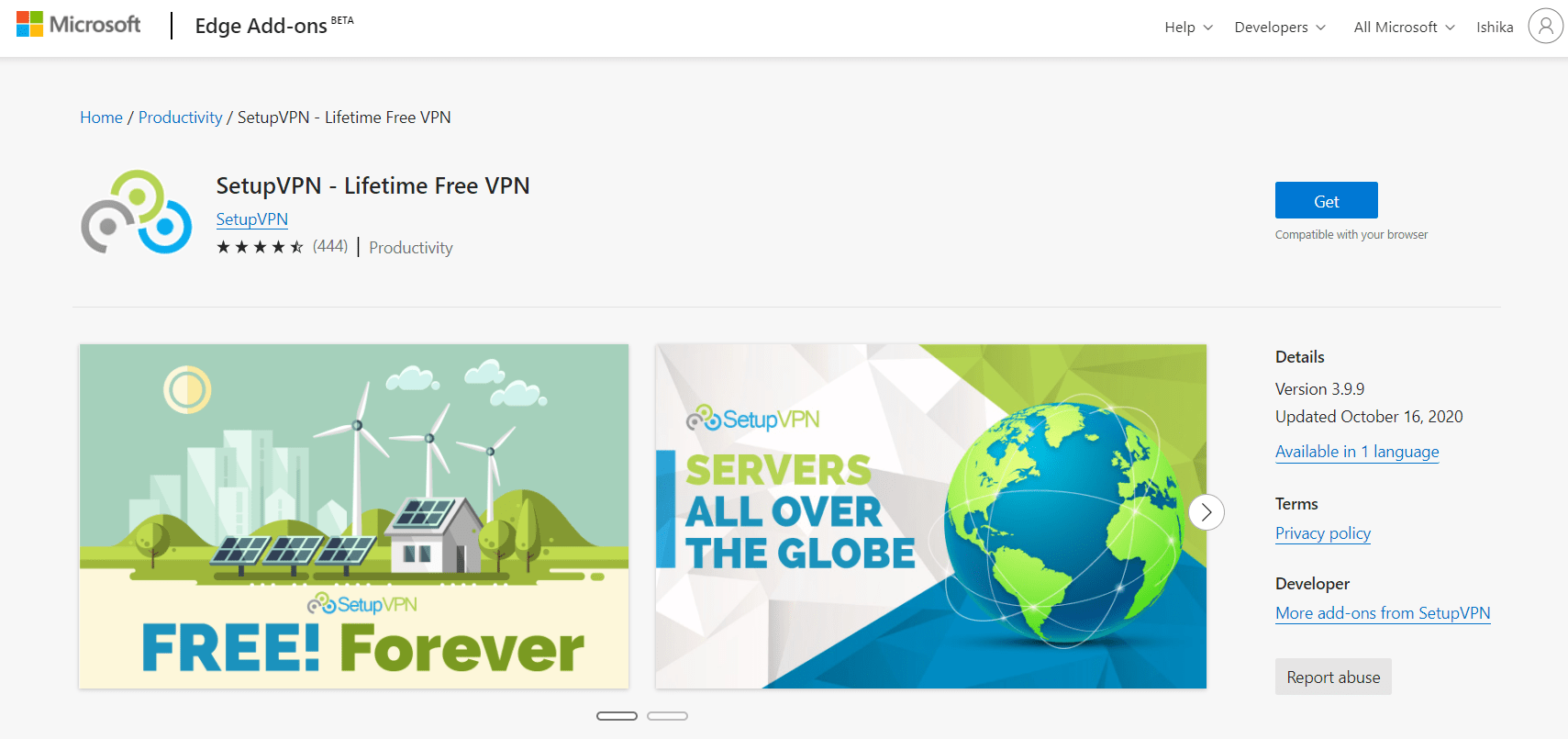 Some of SetupVPN's essential features are:
It has over 100 servers all around the world.
It is free to use.
It poses no bandwidth or speed limitations by any chance.
You can change your location to the country where the website works.
It offers exquisite privacy and security.
Though it has so many great features, it still has some demerits. It may ask for many permissions that can sometimes hinder your privacy. The user may face issues with tab management when this extension is active.
Bottom Line
Microsoft Edge gives you access to numerous extensions that are useful for various purposes. The VPN or Virtual Private Network extensions help users access websites more privately and securely.
These VPNs help access content not readily available for your region or blocked at the ISP level. If you are looking for an extra layer of security along with blocking ads and malware, the VPN extensions are for you.
FAQs
What are the best Microsoft Edge VPN extensions available?
The best Microsoft Edge VPN extensions provide reliable and secure browsing. They help safeguard your online privacy by encrypting your connection and masking your IP address. You can install CyberGhost, Surfshark, ZenMate, Touch VPN, etc., for your Edge browser.
What factors should I consider when choosing the best VPN extension for the Edge browser?
When selecting a VPN extension for the Edge browser, prioritize factors like connection speed, server locations, privacy policies, ease of use, and compatibility with Edge's latest versions.
Is it possible to find a reliable free VPN extension for Edge?
Yes, you can find reliable free VPN extensions for Edge. However, remember that free options might have limitations regarding data usage, server locations, and speed. It's essential to choose one that offers a balance between performance and privacy.
How do I know if a specific Edge VPN extension is the best for my needs?
To determine if a particular Edge VPN extension is the best fit for your needs, read reviews, check its features, test its speed and performance, and see if it offers the necessary level of security. Most VPN services offer a trial period and even a money-back guarantee if you do not like the service.
Lastly, if you've any thoughts or feedback on 6+ Best VPN Extensions for Microsoft Edge, then feel free to drop in below comment box. You can also report the outdated information.