Google has been the default search engine in Chrome iOS since the beginning of time. But you may use the search engine settings if you want to use a different search engine. It could have been helpful if the search engine option automatically popped up while we were trying to search for something on the internet.
However, Chrome iOS allows changing the default search engine from multiple options. If you're more concerned about your privacy, you would like to switch the default 'Google' search engine to something more reliable such as 'DuckDuckGo' or 'Yandex'.
Hands down, Google is one of the best search engines, with accurate results and fast responses. Also, not to mention the AI functionality built-in within Google makes the search more reliable than ever. However, other search engines, such as DuckDuckGo, give more precise results when searching for files and documents at zero cost privacy.
Now it's your own choice if you like to use Google as the default search engine or want to change to something else. In this article, you will learn how to change the search engine iOS.
Change Search Engine
Search Engines play an essential role whenever searching for anything on the internet. These search engines help you find the right solution, document, or site webpage.
Google is the default search engine of the Chrome iOS browser, which yields accurate results with personal preferences. However, if you want to change and switch to something else, say Microsoft Bing or DuckDuckGo iPad, Chrome iOS allows you to do that.
Here are the steps to change the search engine:
Open the Chrome browser app on your iPhone.
Tap on the More menu for options.

Select the Settings option from the list.
Choose the Search Engine tab with the Settings screen.

The default search engine will be set as Google in Chrome.
Switch and tap to mark other available search engines to switch.

That's it, and now whenever you search, it will go through the search engine of your choice. It's excellent that Chrome iOS has built-in functionality that allows users to change search engines iOS.
Unfortunately, users can not add new search engines in the browser as we can on Chrome computers. It might be a massive disadvantage for power users who use a custom search engine for their internet needs.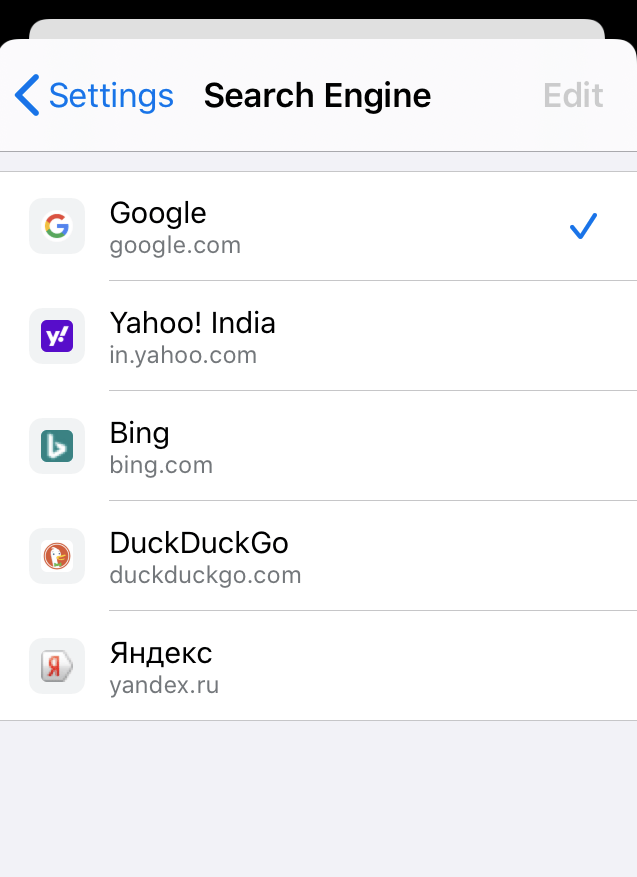 But I'm sure Chrome Developers will add the custom search engine functionality in the new Chrome iOS update.
Until then, you can change among five search engines – Google, Yahoo, Bing, DuckDuckGo, and Yandex. These search engines are the best in their class and provide accurate results. These options might change to reflect regional search engines, ex: in the United Kingdom — Yahoo! UK, Google.co.uk.
Bottom Line
Searching online helps us to find helpful information that we need the most. Searching for things is easier than ever, thanks to the boon of Search engines. However, Chrome iOS gives you multiple search engines to choose from the list.
Unfortunately, you cannot add a new search engine of your own. If you want to use a custom search engine apart from the already available search engine, then you can't do so in Chrome iOS. But I'm sure this functionality will be added later in the future.
Similarly, you can also change the search engine on a Chrome computer. It also offers the option to set the custom search engine unavailable in Chrome iOS.
What do you think about the change search engine iOS feature? Which is your default search engine?
Lastly, if you've any thoughts or feedback on How to Change Default Search Engine in Chrome iPhone, then feel free to drop in below comment box. You can also report the outdated information.