The Samsung Internet can be installed on all Android devices, but they were specially designed for Samsung phones and tablets. It is highly compatible with Samsung Galaxy devices for a smooth and immersive browsing experience.
The browser is highly customizable and allows you to clear the browsing history, cookies, cache, site data, etc. Apart from that, you can also customize the way the browser looks.
Since you have control over most of the settings in the browser, you can clear browsing data so that your browser can function well.
Note: Deleting browser cookies will automatically sign out from the logged-in accounts. Whereas clearing cache data will slow the page loading, eventually loading faster after a few page visits.
Clear Cookies and Cache on Samsung Internet
It is essential to occasionally clear the cookies and cache in your browser to ensure the smooth loading of your web pages. Here are the steps to follow:
Open Samsung Internet on your device.
Tap on the More options and select the Settings menu.
It will open the Internet browser settings menu.
Select the Personal Browsing Data menu on the settings page and tap on the Delete Browsing Data option.

Enable the checkboxes for the 'Cookies and site data' and 'Cached images and files' options.

Hit the
command button.
It will remove the entire cache and cookies data from the browser.
After clearing the data, the webpages can take longer to load, but it gets to average over time. The slow loading will only persist for a few instances.
However, you need to sign in again for all your accounts since the cookies that store login information no longer exist.
Bottom Line
It is recommended to clear your cache and cookies on your Samsung Internet frequently so that you do not encounter any problems related to the lagging of web pages.
It also helps keep your private information in check to avoid the gaze of hackers and 3rd party trackers for behavioral advertisements.
You can even check the Browsing privacy dashboard menu to understand the trackers and privacy request the browser has blocked.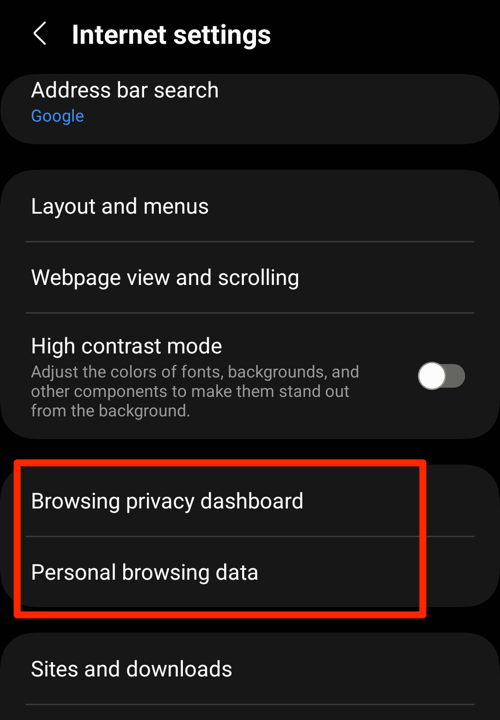 Lastly, if you've any thoughts or feedback on How to Clear Cookies and Cache in Samsung Internet, then feel free to drop in below comment box. You can also report the outdated information.