In recent years, the invasion of online privacy and cases of data breaches are constantly on the rise.
The fact that we are now logged into many services across the web only makes us more prone to such attacks. To counter this, users generally take quite a few protective measures.
These include setting up a strong password and using two-factor authentication. However, it could become quite challenging to keep a safety check on all your accounts even then. This is where Apple's Password Monitoring feature comes in handy.
Baked into every Apple device, it compares your passwords stored in the AutoFill keychain with the list of exposed and breached passwords. If your password is found in this database, it will notify you to take action immediately.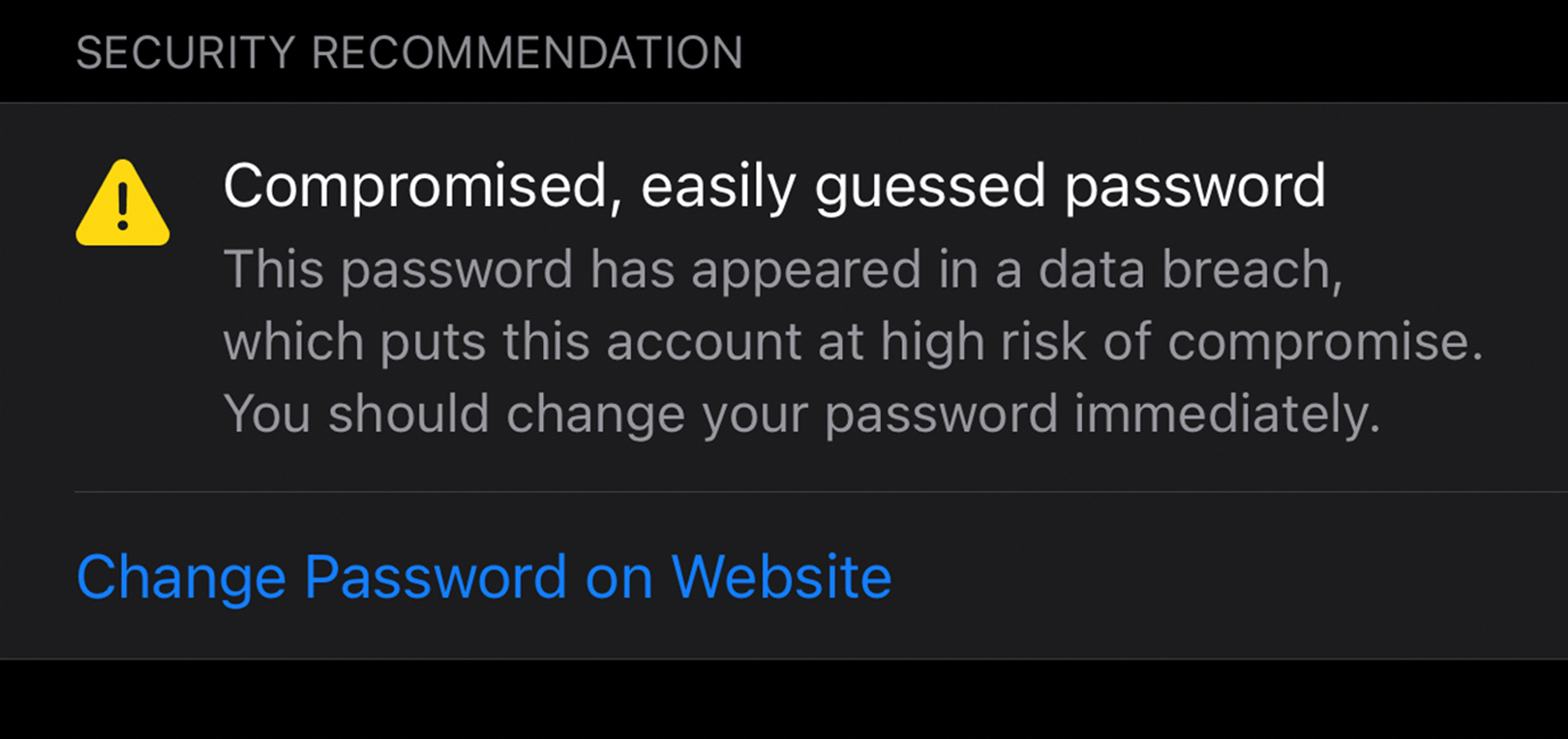 You will also receive the following warning message on your device: 'This password has appeared in a data leak, which puts this account at high risk of compromise. You should change your password immediately'.
So how could you fix this Safari Compromise Password warning message? Well, this guide will show you the steps for that just. So without any further ado, let's get started.
Compromised Password on iPhone
Safari automatically detects the breached password using its integrated feature. However, we must ensure that the feature is enabled under Safari settings.
Head over to the Settings app on your iPhone device.
Scroll to the Passwords section, and tap on Security Recommendations.
Make sure to keep Detect Compromised Passwords option has been enabled.

If that is not the case, then do so right away. Apple will now perform a check and let you know whether your passwords have been compromised in a data breach.
If your credentials were leaked, you would be notified of the same. So without any further delay, tap on Change Password on the Website.

You shall now be taken to that concerned site. You must verify your credentials and set up a new password for that account.
Note: While generating a new password, you recommend making it a combination of upper and lower-case letters, numbers, and symbols. Also, consider creating a long password and double-check that you haven't used that password on any other account.
Once that is done and you have changed your account credentials, the warning message will no longer be displayed on your device, and the issue stands rectified.
Bottom Line
So with this, we conclude the guide on how to fix the Safari Compromise Password warning. The previous warning message will disappear if you turn off the Detect Compromised Passwords feature.
However, that isn't the recommended course of action and should be avoided. Instead, taking immediate action should be your top priority when you see the password breach message.
Furthermore, if you continue to see this warning message even after changing your password across a site, other accounts are also part of the password breach. So head to the Security Recommendations tab, get hold of all such accounts, and change their passwords immediately.
Let us know if you've any questions or facing any issues while fixing the Safari compromised password alert.
Lastly, if you've any thoughts or feedback on How to Fix: Safari Compromised Password Warning, then feel free to drop in below comment box. You can also report the outdated information.