Out of all the web browsers out there, Chrome has occupied the numero uno position in this domain. It's cross-device and handy sync functionality, coupled with many extensions, make it the go-to choice for many users. However, these add-ons might be the cause of concern in some instances.
They could conflict with the proper functioning of the browser, lead to a slow browsing experience, or even worse, could result in frequent crashes as well. Fortunately, the offering from the Silicon Valley giants comes baked in with the Safe Mode window that would automatically disable all the installed extensions.
This would help you in identifying whether the culprit was indeed these add-ons or not. And if the answer turns out to be in the affirmative, you could then disable or remove these extensions right away. Apart from that, Chrome's Safe Mode also gives you a secure and private browsing experience.
The information you enter, the sites you visit, or even the cookies, the browser would store none of them during this session. But the real question is, how could you open Google Chrome in Safe Mode? Well, there are three different methods to do the same. Let's check them out.
Open Chrome in Safe Mode
The first method is a pretty straightforward approach towards carrying out the launching of the chrome in safe mode. The built-in incognito mode allows launching the browser without any third-party extensions.
Launch the Chrome browser on your PC.
Click on the More situated at the top right.
Select Incognito Mode from the menu that appears.

That's it. Chrome will open a new Incognito window where all your extensions and tracking scripts will be disabled.
Safe Mode via Shortcut Keys
The first method calls for three instruction steps. However, you could also trim it to just a single set of handy keyboard shortcuts. All you need to do is launch the browser and hit the Ctrl + Shift + N shortcut keys.
Chrome will then launch a new Incognito window, and your task stands complete.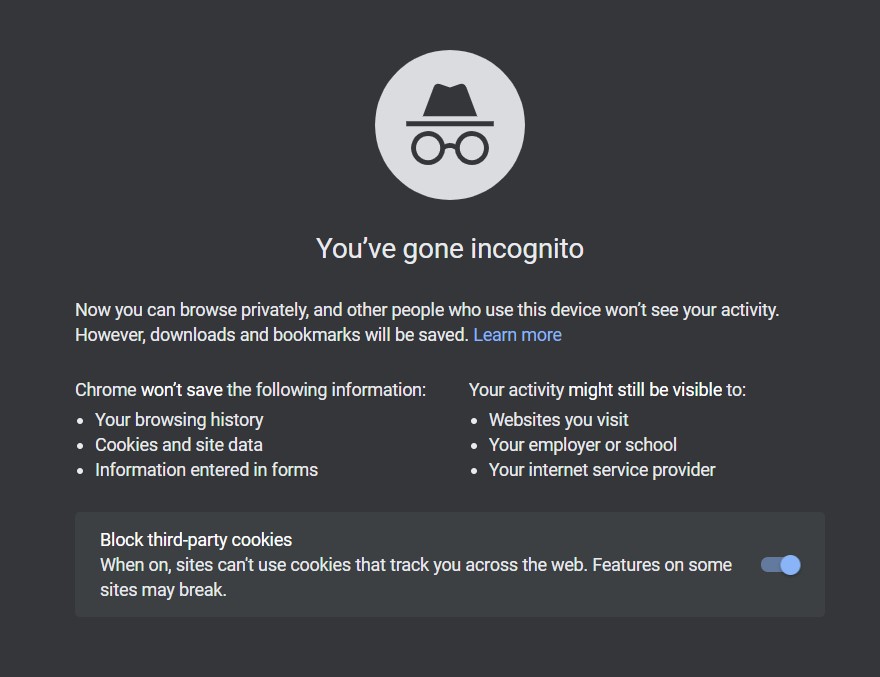 Always Open in Safe Mode
You might have noticed that to carry out any of the above two methods; you would first have to launch Chrome in normal mode and then perform a switch to the Incognito tab. This unnecessarily requires an extra set of effort.
What if you could directly launch Chrome in Safe Mode?
Note: the following method will only work on Windows OS computers.
Head over to the Chrome shortcut icon through which you access the browser.
Right-click for the context menu and select Properties.
Go to its Shortcut section and check out its Target field. It should spell something along the lines of:

"C:\Program Files (x86)\Google\Chrome\Application\chrome.exe"

Append a space followed by

-incognito

keyword after the double quotes. So the Target would then modify to:

"C:\Program Files (x86)\Google\Chrome\Application\chrome.exe" -incognito

Hit on
followed by .
From now on, whenever you launch Chrome via this shortcut, it will always launch in Safe Mode. However, if you wish to revert this change at any point in time, then remove the -incognito word from the end of the Target field.
Bottom Line
So these were the three different methods to open the Chrome browser in Safe Mode or Incognito mode. While these add-ons no doubt add more features to the browser, they aren't bereft of issues.
In this regard, manually disabling each installed add-on might take ages. This is where the Safe Mode functionality would come in handy. Add to it that it also provides a secure browsing experience, and we couldn't have asked for more.
What are your views on the Chrome browser safe mode? Do let us know in the comments section below.
Lastly, if you've any thoughts or feedback on How to Open Chrome in Safe Mode/Incognito Browsing, then feel free to drop in below comment box. You can also report the outdated information.