Being a part of the Apple ecosystem comes with its own set of perks, the biggest of which is its ease of cross-device sync support. Be it for smartphones, tablets, or even your smartwatch, all these devices are closely knitted together in an exclusive environment.
However, there does tend to be a blot or two in this otherwise perfect system. And the Safari browser is one such app that tends to face a few hiccups every now and then.
When that happens, there might already be a few workarounds up your sleeves, with the help of which you could rectify the underlying issue.
But in some instances, these tweaks might not be enough, and you would hence have to get in touch with the developers. In this regard, Apple does provide a platform to report bugs and issues to them easily.
Likewise, you could also use the platform to request the addition of new features or enhancements in the subsequent browser builds. And in this guide, we will show you how to do both tasks.
So without further ado, let's start with the steps to report bugs and feature requests to the Safari Developers.
Report Bug and Feature Requests
All three Apple devices – iPhone, iPad, and Mac- have a built-in Feedback Assistant app. As is evident from its name, it allows you to send in feedback related to a particular app, service, or even the OS as a whole.
However, if you don't have an Apple device, you could also use the Feedback Assistant website to carry out this task.
Likewise, there's a Safari Feedback page designed specifically for this purpose that could come in handy as well. All these three methods are discussed below; let's check them out.
Feedback Assistant app
Apple's Feedback Assistant app comes with quite a few nifty features. One of its most impressive ones includes Automatic on-device diagnostics that, upon your permission, would automatically collect all the required system diagnostic data related to that bug and would then attach it with the report.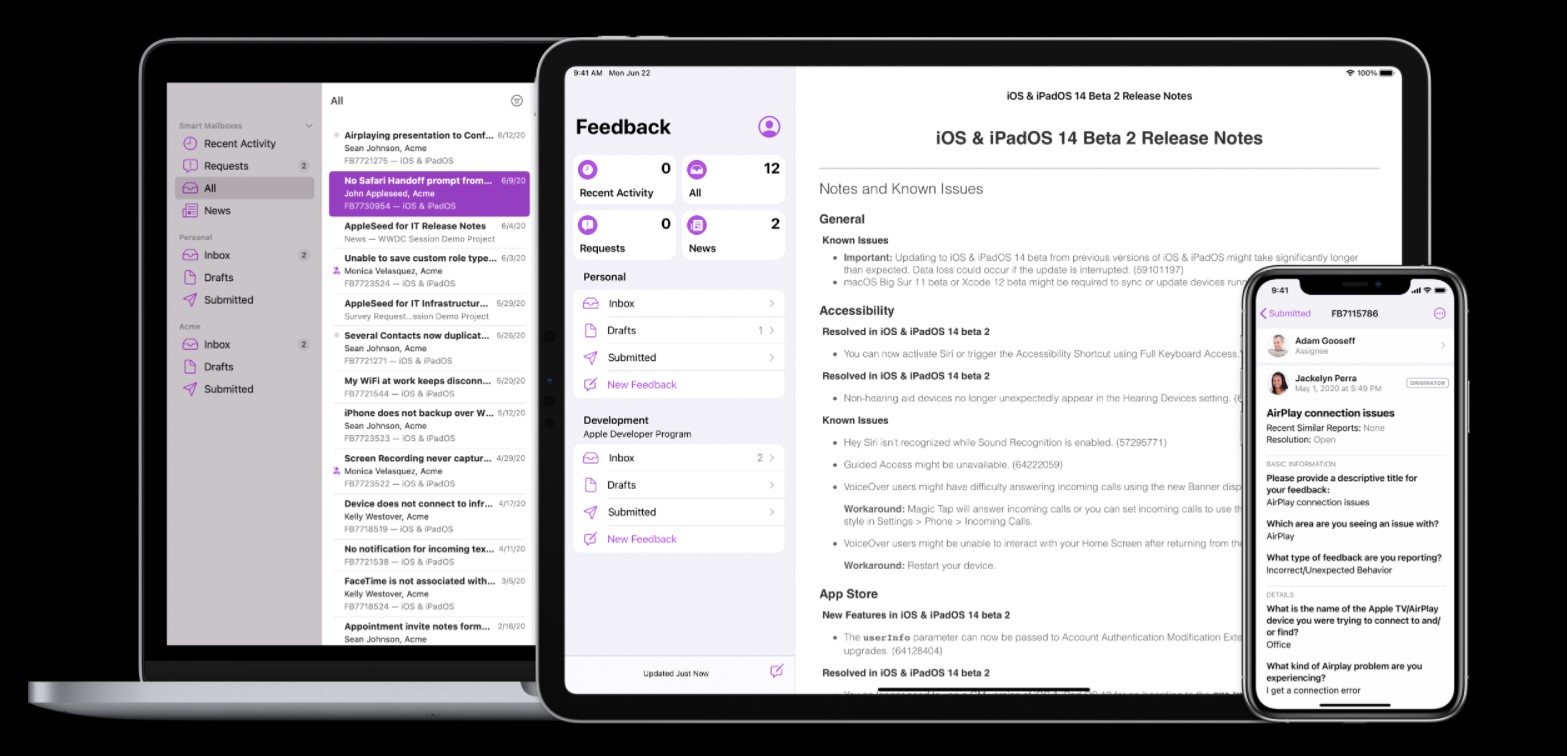 Furthermore, as and when you report a bug or raise a request for the incorporation of a new feature, you will get a Feedback ID. This acts as a tracking number through which you can get a hold of your report's current progress. So on that note, let's check out the usage instructions of this app.
First and foremost, you need to have iOS 12.4 or later, iPadOS 13 or later, or macOS Catalina or later builds. If you checkmark this requirement, then the next route is slightly different for users on beta and stable platforms:
If you have an iPhone or iPad and are part of the Apple Beta Software Program (i.e. running the beta version of iOS or iPadOS), then you can directly access the Feedback Assistant app from your home screen itself.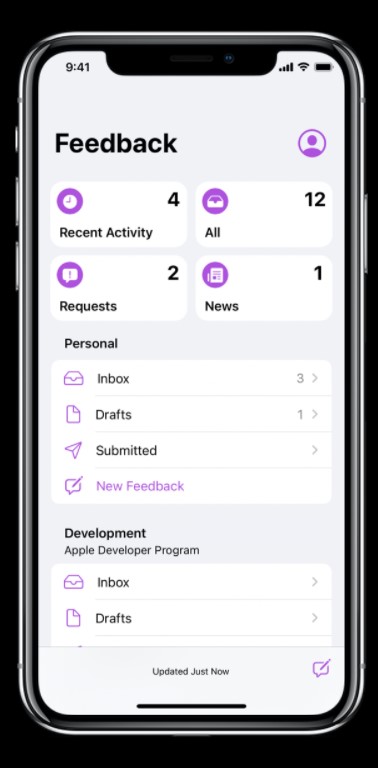 On the other hand, if you're running a stable build, you would have to install a beta profile onto your device.
However, in the case of Mac, there's no distinguishing factor between Beta and Stable builds. For both these builds of the macOS, the app could is located in the following directory:
/System/Library/CoreServices/Applications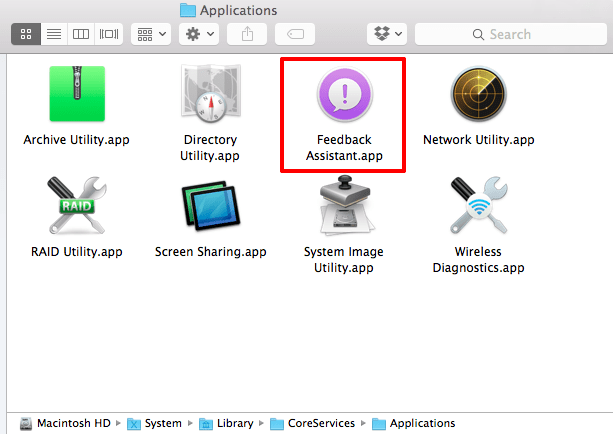 You could search via Spotlight or enter the following URL in the Safari address bar: applefeedback://. Moreover, the macOS Beta users could also bring up the app via the Docks under Utility.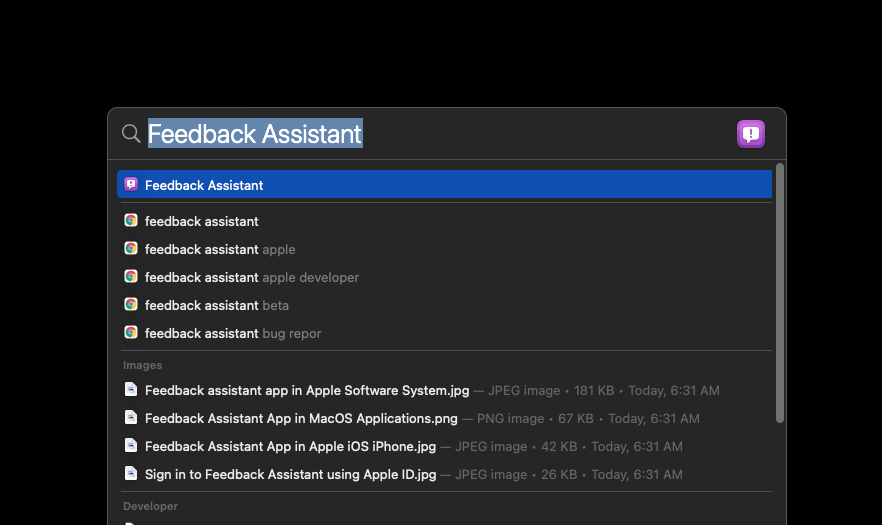 These will help report bugs and feature requests to the Apple Developers via the Assistant App.
Feedback Assistant website
If you cannot access your Apple device but have your Apple ID in hand, then you could also use the website for this purpose.
Here are the steps to report bugs via Feedback Assistant Web:
Head to the Feedback Assistant website and log in to your Apple account.

Select the device as well as the app/service that is currently facing an issue or two (which in this case is the Safari browser).
Explain the bugs that you are currently facing or the features that you want to see in future builds.
Once all these details have been filled up, Submit the form to the developers.
That's it. The Feedback Assistant website sends bug reports or feature requests to Apple Developers. You shall then shortly receive a Feedback ID, which could be used to track the progress of your query report.
You could also consider adding additional details such as logs, profile information, and screenshots. Make sure to compress them to a single folder before uploading them to the site.
Safari Feedback Page
The previous two methods either required an Apple device or at least your Apple account. However, if you can't currently qualify for any of these prerequisites, then there's a third approach, one that doesn't require your interaction with the Apple ecosystem. It involves the use of the Safari Feedback Page.
Here are the steps to send Safari Feedback without Apple ID:
Visit the Safari Feedback Page via any device of your choice.

Type in your personal details like name, email as well as the subject of your feedback.
Select Bug Report from the drop-down menu.

For feature requests, select the Enhancement Request option.

Enter a comprehensive explanation of the bug/feature request in the space provided.
Select the OS version and hit the button.
You shall get the Feedback ID in your email, which you could use to keep a tab on the progress of your report.
Bottom Line
We round off the guide on how you could report bugs and send feature requests to the Safari developers. We have shared three different methods for the same.
It is recommended that you use the Feedback Assistant App for this purpose. This is because as the app is baked into your device, it will be able to collect and send all the required system diagnostic data to the developers.
It will then help these developers to get a better picture of the underlying issue or the feature request, and hence they would be able to act in a much more efficient manner.
That said, we conclude this tutorial on how to file bug reports or enhancement requests to Safari developers. Let us know if you've any questions or thoughts.
Lastly, if you've any thoughts or feedback on How to Report Bug and Feature Request to Safari Developers, then feel free to drop in below comment box. You can also report the outdated information.