The Opera Browser has become a go-to browser for many after its recent updates and changes. The updates and its privacy policy have made it stand out among all the other browsers.
The privacy and security settings that Opera offers are far better than any other, including Chrome. With its regular updates, it has made it a point never to disappoint any of its users.
With everything going digital and the world coming to a standstill because of the pandemic, we are reading online now. With presentations and work assignments overdue for students and working individuals, they tend to go through their research materials the last time to find the essential pointers. It can be a bit tedious, but Opera is here to help.
The Opera Browser offers the feature to search for specific words or phrases in long-form content using the Find in Page feature. It highlights the word you're looking for, even if it has been used more than once.
Find in Page
If you're looking for particular pointers or words to glance through, this feature might come in handy. It saves a lot of time and effort. Instead of reading the entire document, you can quickly search for whatever you seek. Here are the steps to search and find on the page:
Launch the Opera browser app on the computer.
Open the desired website on the browser.
Click on the Opera , and select the Find… menu to open a find bar.
It will open the Find in Page bar within the Opera browser.

Type in the keyword you want to search on the page.
The word or search phrase will get highlighted with several occurrences. You can scroll and navigate through the entire page to look for your highlighted keyword.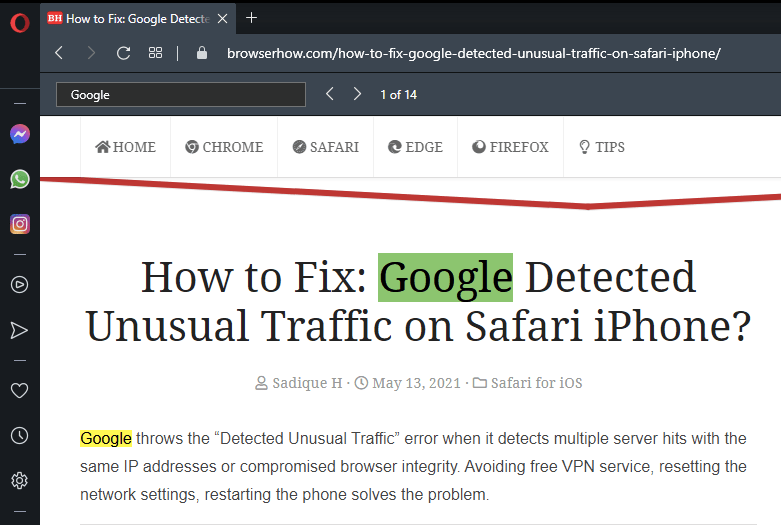 You can quickly glance through a page instantly and look for the keywords or phrases you seek.
Alternatively, you can also invoke the Find bar or search bar using the keyboard shortcut of Opera. Keypress Ctrl + F on Windows OS or ⌘ + F on MacOS.
Bottom Line
The Opera Browser has always wooed its users with its impressive and unique features that speak for themselves. They've also made it a point to make necessary changes and bug fixes with every new update.
The features offered by them help save a lot of time and stay ahead of schedule at all times. Furthermore, the speed provided by the browser is also top-notch.
One of the prime features offered by Opera is: Find on Page. It helps you find specific keywords or phrases in long content that you do not have ample time to read through thoroughly. At desperate times, the Find in Page feature can be very helpful and efficient in saving your time and energy.
Do you find the Find on Page feature within Opera helpful? How often do you use this feature?
Lastly, if you've any thoughts or feedback on How to Search and Find On Page in Opera Computer, then feel free to drop in below comment box. You can also report the outdated information.