The Opera browser has a feature that allows syncing the browser data, like Bookmarks, History, etc., across different devices. However, we need to connect two devices with the same account. We can either register an Opera account or use the QR code sign-in method. The favorites seamlessly sync between Opera Mobile and the computer.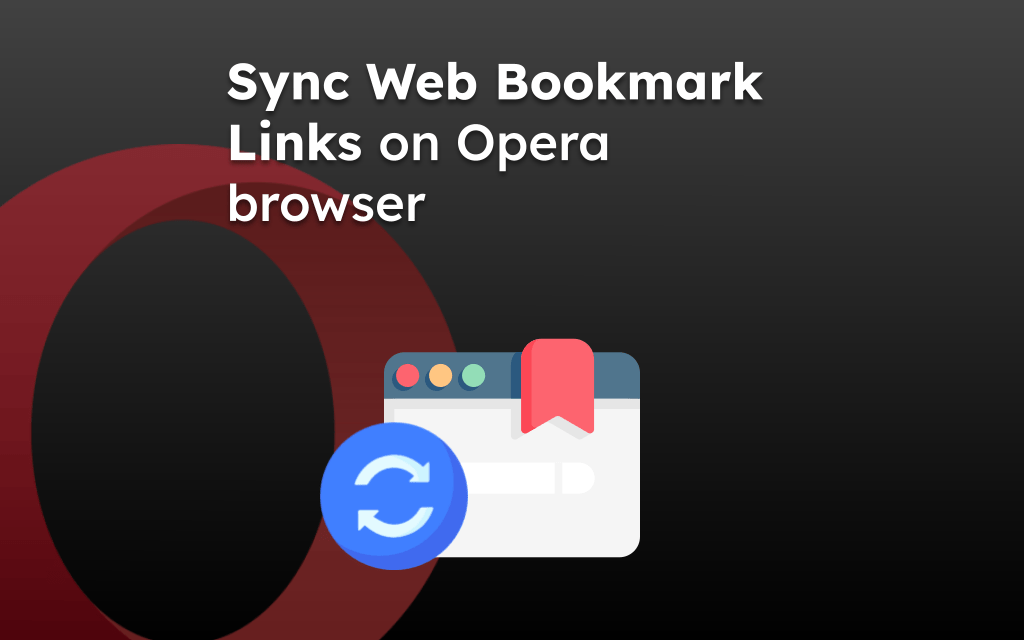 When it comes to the browsing domain, cross-device support is probably one feature that is on top of the priority list of nearly every user.
The reason for the cross-device support is no hidden secret either. Its name shows that it allows you to sync your browser data across all the linked devices.
It allows you to access your bookmarks, saved passwords, history, and other related data from any linked device. You only need to sign in to the same account across all these devices, and your data will be streamlined and available across all of them.
But this is where things begin to go south for some users as they consider this element of account creation a significant privacy risk.
Well, when it comes to Opera, you don't need to worry about it, as the browser allows you to sync bookmarks even if you don't have an Opera account. All this is possible thanks to its new QR Code functionality.
So apart from the straightforward approach of creating an account, you could also sync bookmarks between Opera Computer and Mobile via this QR Code feature.
As far as this guide is concerned, we will focus on both these methods. You may try out the one that meets your requirements.
QR Code Sign-in and Sync
Beginning with Opera Mobile v60 and Opera Web v71, you could sync all your Opera data directly by scanning a QR Code without creating an account.
The QR code will create a mirror copy of your bookmarks, speed dial, and opened tabs on your PC. When you scan this code on your smartphone, the browser will recreate those data precisely as they were on your PC.
Here are the steps to sign in and sync the Opera browser using a QR Code scan:
Launch the Opera browser on the computer.
Access

https://opera.com/connect

in the address bar.
It shall open the QR code on the Opera browser.

Next, launch Opera Mobile on the phone.
Tap on the QR Code icon present in the search bar.
It will ask for the camera's permission to scan the code.
Allow Opera to access camera permission.

Scan the QR Code displayed on Opera Computer.
The Opera will display a security code on the mobile screen. Make sure it matches the one displayed on the computer screen.

Click on the

button.
That's it. You will be signed in as an anonymous user, and the data synchronization between these devices will be completed.
Now to check if the bookmark sync between mobile and Opera computers is enabled, you can follow the below steps:
Launch the Opera browser on your smartphone.
Tap on Opera to open the menu and select Bookmarks.

All your Opera computer bookmarks are synced into the browser's mobile version.

That's it. This is how you could sync Opera bookmarks between two devices without linking any of your accounts using passwordless QR code sign-in.
You can send links between the devices once you connect with a QR code.
Create and Sign-in Opera account
Alternatively, you can take the traditional approach and sync bookmarks between Opera Computer and Mobile, creating and linking your Opera account across both these devices. Here are steps to sign-up Opera account and sync bookmarks:
Launch the Opera browser on a computer PC.
Click on Settings located at the left menu bar.
Scroll to the Synchronization section, and click on the button.

Hit on the

button in the pop-up dialog box that appears.
Select the Use Email Address option, type in your email, and hit Next.

Enter the desired password for the account, re-confirm, and click the button.
It will now send a confirmation mail to your registered address.
Open the verification email and Activate your Account.
Once done, the synchronized data menu will now open.
Enable the toggle next to Bookmarks (and others if you prefer).

Now that we have created the Opera account, we can use these account details to sign in on different devices. We can use the same credentials to log in to Opera mobile and enable the data sync.
Launch the Opera Mobile browser.
Tap on the Opera  menu and select Settings.
Hit on the Sync and backup option.

Enable the Sync and backup toggle, and select the Sign-in option.

Log in with the same Opera account that you created on the computer.
Enable the Bookmarks and Speed Dials toggle.

That's it; Opera would sync all your bookmarks across both devices. You can also sign in Opera account on different computer devices to keep your data in sync.
Bottom Line
So this is how you could sync bookmarks between Opera Computer and Mobile. We have shared methods: using your account and via QR Code. Both these approaches have their caveats and perks.
The account sign-in method provides a better data sync functionality and streamlines all the browser data in one go. However, you would need to sign in to your account might raise a red flag for the privacy-focused.
On the other hand, the QR code feature is a much safer approach, but Opera would store your data only on your device. So if your device needs to be formatted for any reason, you must bid farewell to all your data (as it is a local backup method, not a cloud one).
So on that note, we round off this guide. Let us know which method you decide to use to sync Opera mobile and Opera computer bookmarks.
Lastly, if you've any thoughts or feedback, then feel free to drop in below comment box. You can also report the outdated information.