Have you ever tried to find something specific on a page? Imagine you have a 5000 words article, and you have to find the word "time" from that article. How long will it take manually? Well, it will take a few minutes, depending on the content.
Well, the Find on Page within the Samsung Internet browser is here to help. It will automatically lookup up the matching phrases and also display the repetition.
If you're a desktop user, then you can press Ctrl or Cmd + F  as a keyboard shortcut and search for that specific word in finder. For a mobile user, it is not possible to keypress the shortcuts. For those users, Samsung Internet has a built-in Find on Page feature.
Find on Page
The find and search feature of the Samsung Internet browser not only highlights the particular word you're looking for and helps you navigate through all search results. Samsung Internet browser will search in real-time and give the results.
Follow these steps to search and find on-page:
Launch the Samsung Internet app on your phone.
Open the page you want to find on the page.
Tap on More  from the menu bar.
Hit on
It will open the Find on this page search box.

option.
Enter the text phrase you want to search on the page.
Samsung Internet will highlight the requested text and the times it appears. Navigation buttons will help you navigate through the search results.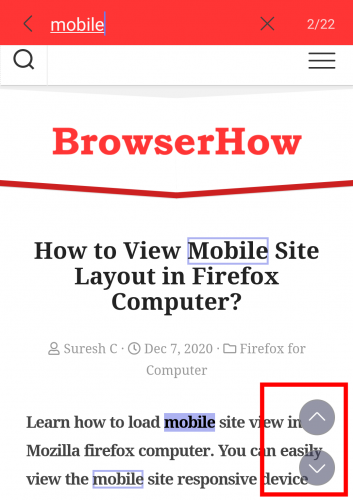 This will help you find specific words or key terms you seek in long-form content. It won't take much time, and you can do it quickly.
Bottom Line
Once you get familiar with the search and find the on-page feature of the Samsung Internet, you can save a lot of time as it allows you to search and find the desired text within seconds.
Regarding features, Samsung Internet is very similar to other browsers available. It highlights the requisite search terms and gives you access to the navigation buttons to quickly scroll through the search results.
If you have queries, please tell us in the comments below. What is your opinion of the search and find an on-page feature on Samsung Internet?
Lastly, if you've any thoughts or feedback on How to Search and Find on Page in Samsung Internet, then feel free to drop in below comment box. You can also report the outdated information.