The Brave browser can control and block the push web notification. We can enable or disable the notification for all websites or customize it per site. The browser notification often has time annoying when there are pretty frequent. The Brave browser notification customization is available under the Privacy and Security settings.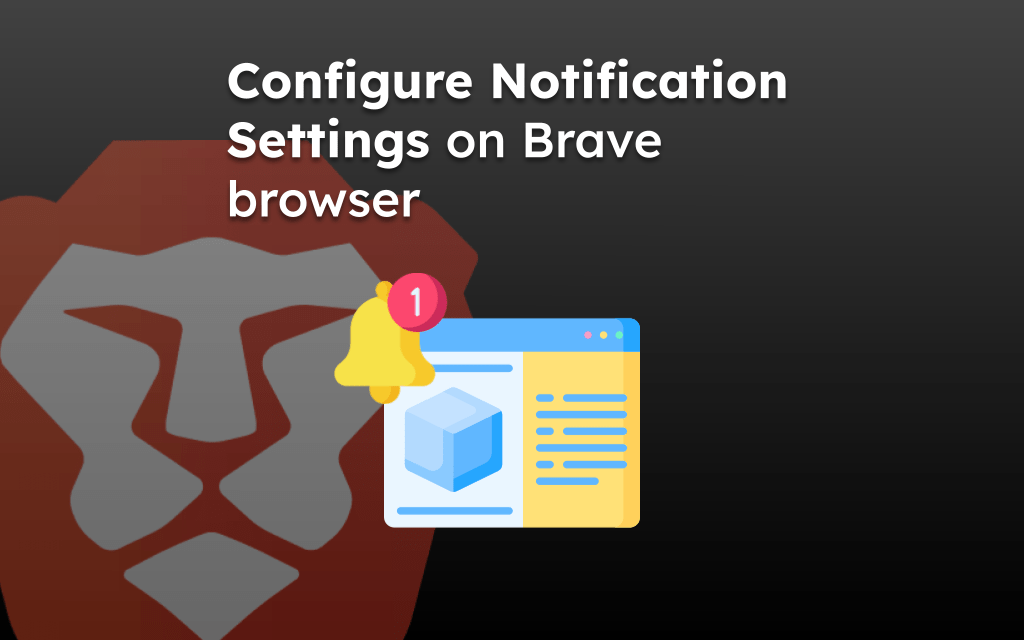 Notifications are everywhere! They are a new way of communicating. All platforms, from apps to websites, use notifications to communicate messages to their users. We are bombarded daily with notifications on our phones and computers.
Everyone has received a push notification at least once daily while browsing the internet. Sometimes these notifications are annoying, but sometimes they are exciting. It depends on who is sending them to you.
Getting notifications from your favorite websites can brighten your day. However, random notifications can frustrate you! Users can control which web pages receive notifications, block specific sites from sending notifications, and opt out of receiving notifications entirely.
Recently, I have seen a lot of notifications from various websites while browsing the internet on the Brave browser. I decided I needed to control them better and realized that many people would need help managing the notifications they receive. Hence, we compiled this article to help users figure out how to enable, disable, and manage notifications received on the Brave browser.
Notifications are a more direct communication channel that websites use to communicate more impactfully with the person in front of the computer. They may utilize notifications to draw users back to the site by sending them the latest news, deals, and just information in general.
Users can manage and control their notifications on the Brave browser, like on other browsers like Chrome. It makes their browsing experience an easy one.
On this page, you can find and jump to:
Allow/Block Notifications on Brave
You can enable notifications from a website on the Brave browser instantly. It is worth noting that you can allow notifications if you have not blocked all sites from sending you notifications.
Here are the steps to enable or disable notifications:
Launch the Brave browser on your computer device.
Open the website from which you wish to customize notifications.
In the address bar, click on the Padlock for info.
Select Site Settings from the menu that displays.
It will open the Site settings related to the website.
Change the value of the Notifications permission to Allow or Block per need.

Close the tab, and you will start receiving notifications or be completely blocked as and when the website sends them based on the Site settings configuration.
Alternatively, suppose you are on a website, and the website asks to send notifications. In that case, you can allow or block it from sending notifications by selecting the time frame of your choice and clicking on the respective buttons.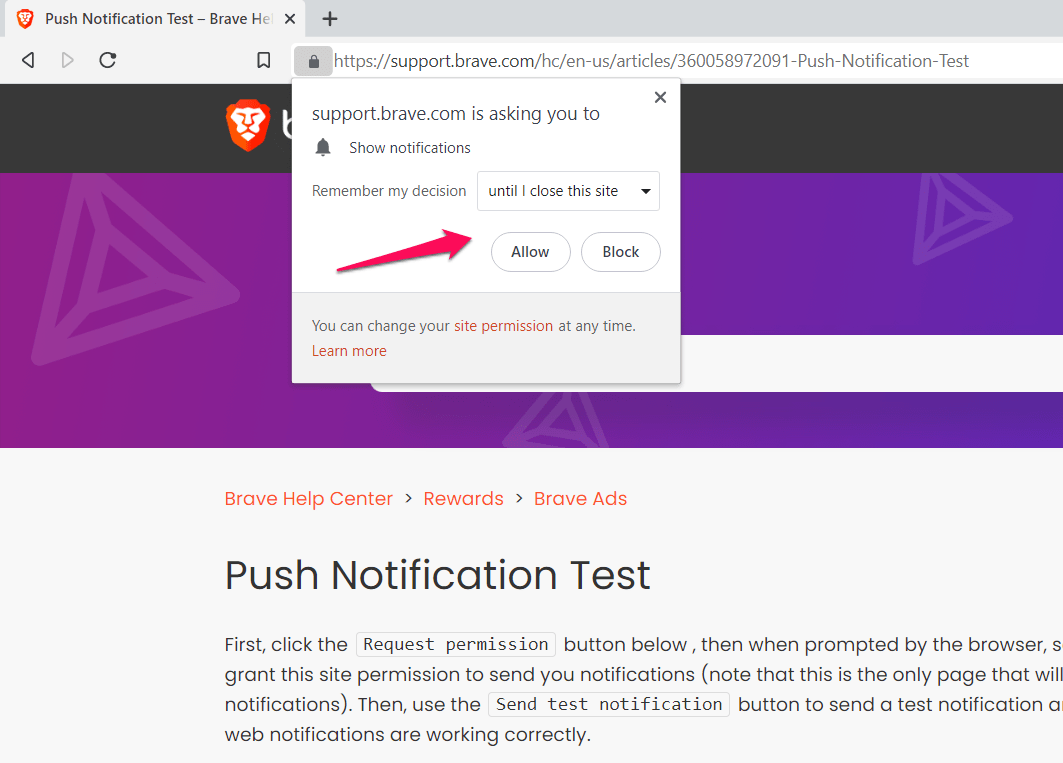 The Brave browser will respect your setting, and you can further customize the notification options from the same Site setting page.
Manage Notifications on Brave
You can manage your notifications by adding and deleting websites from which you wish to receive notifications. You can stop receiving notifications altogether from all websites you visit.
Here are steps to manage browser notifications:
Launch the Brave browser on the computer.
Click the More menu and select Settings to access the browser's settings.
Switch to Privacy and Security in the left panel and then go to the Site and Shields Settings tab.

Click on Notifications to access the notification settings page.

Customize the Brave browser Notification settings per your need.
First, you can allow sites to ask to send notifications or block all sites from sending notifications by clicking on the options of your choice.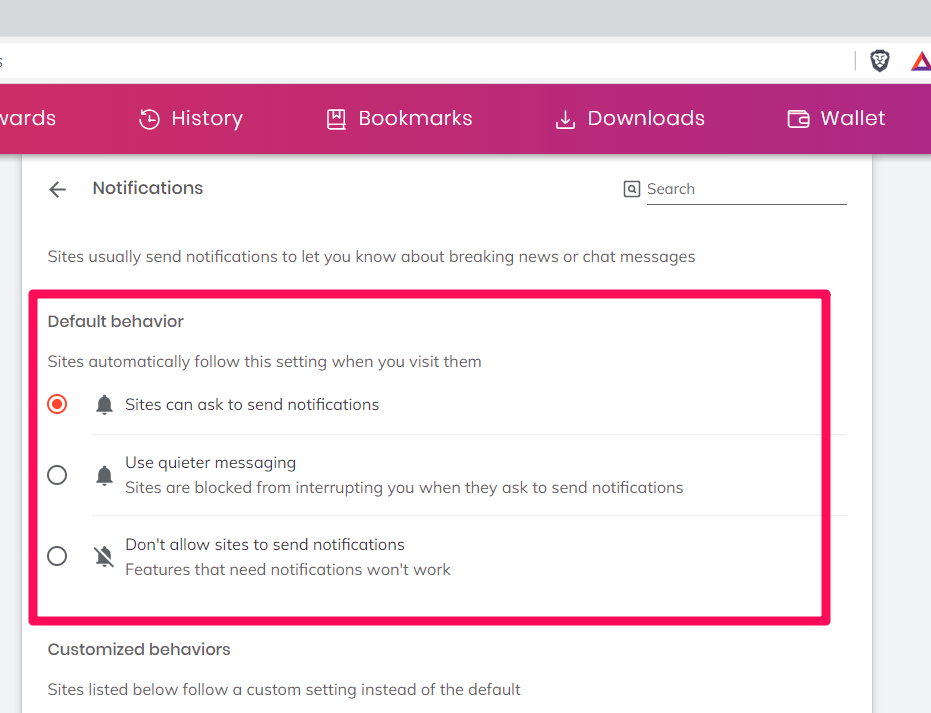 Second, you can block sites from sending notifications by adding their URLs. Similarly, you can allow sites to send notifications by adding their URL.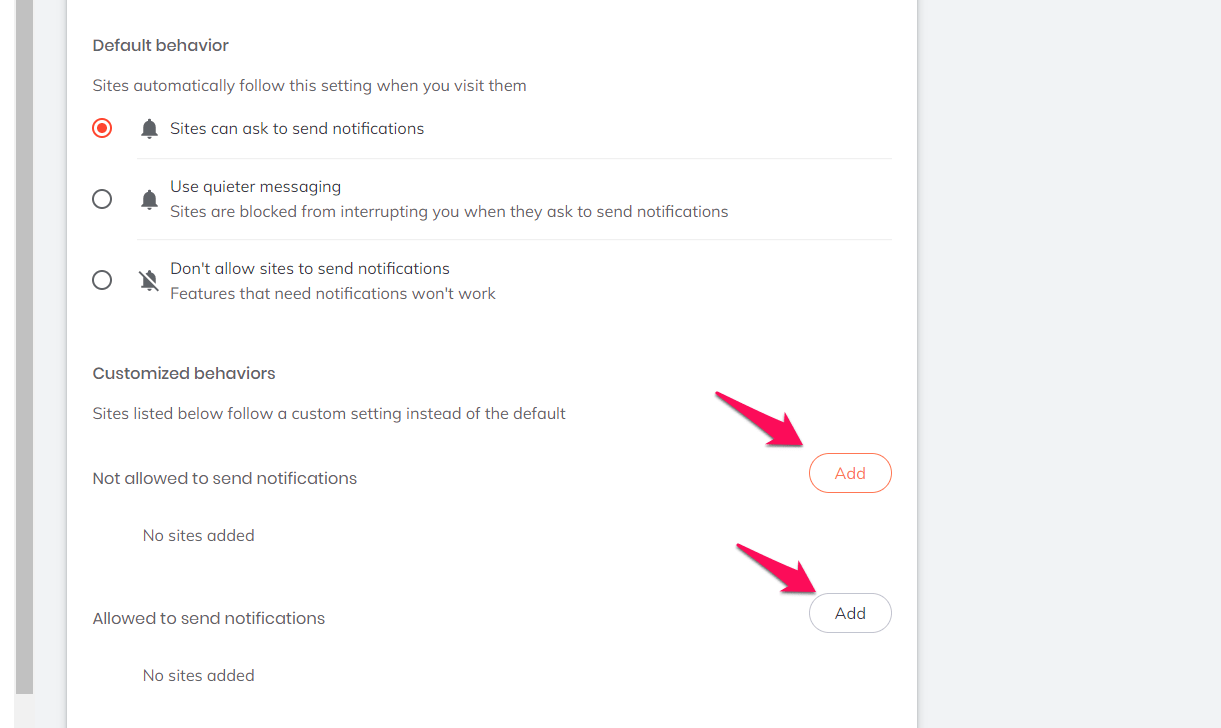 Finally, you can Edit and Remove the added or Block website to disable notifications.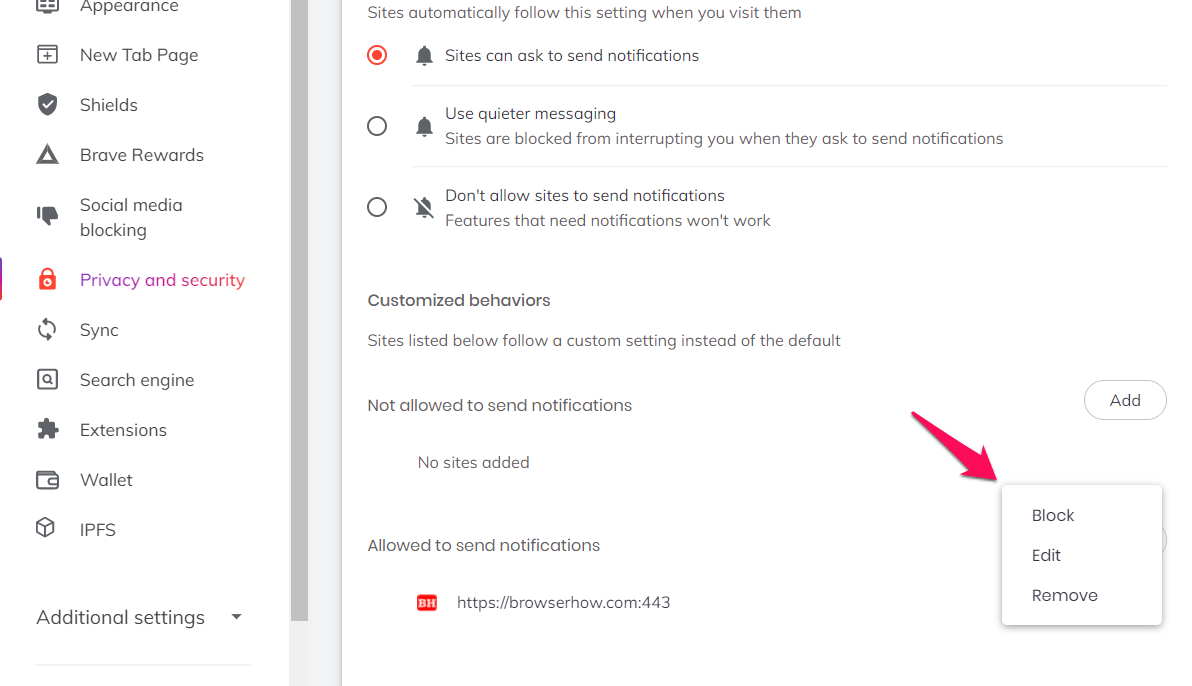 If you select the Don't allow sites to send notification radio button, The browser will block all the websites, and you will not receive any request to Allow or Block notifications.
The Brave will reflect all your changes once you close the tab.
Bottom Line
Managing the notifications you receive on the browser is essential to having a smooth browsing experience. You can enable notifications from your preferred blog to not miss anything. Similarly, you can block notifications from a disliked website to avoid being bombarded with annoying stuff.
On the Brave browser, you can manage notifications by accessing the site settings. Enabling and disabling notifications from a website is relatively easy and can be done in seconds. Notifications can help us and also distract us. It is up to us to manage them effectively.
Once you determine which notifications are helpful and which are not, you have to enable the useful ones and block the annoying ones.
Lastly, if you've any thoughts or feedback, then feel free to drop in below comment box. You can also report the outdated information.