A couple of years back, Google introduced password breach warning messages. Then, it was bundled with the Password Checkup extension. However, later on, it got added to your Google account. For the unaware, this feature will warn you if your account credentials are at risk in a data breach.
It will then list all the accounts at risk and give you the appropriate options to change the password or delete the associated account.
This is quite a helpful security mechanism incorporated by Google because manually doing the same not only calls for technical expertise but would also require too much effort to execute. So if it is such a valuable asset to the end-user, why would they wish to stop Chrome's breached password pop-up messages?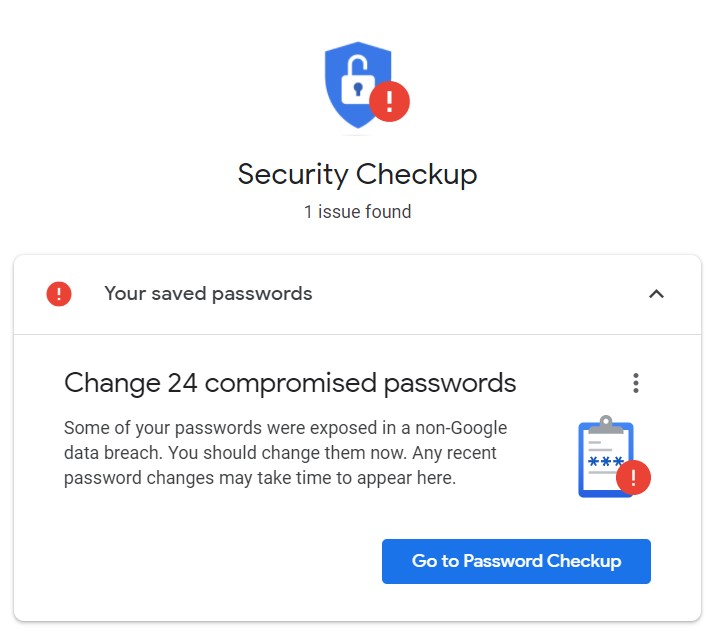 Well, the thing with these notifications is that they have become more intrusive and distractive than what would have been along the expected lines. Furthermore, in my case, I am getting these data breach warnings on my dummy Google account that I had created just for testing purposes. None of the accounts associated with that breach is of any security concern from my end.
Furthermore, some users have even taken action by changing all their passwords or altogether deleting them, but they are still being bugged with that pop-up warning.
That said, a method exists to stop these breached passwords from pop-up messages in Chrome. And in this guide, we will make you aware of that on your PC and smartphone.
Passwords Breach on Computer
Initially, the only way to disable this warning message was through Chrome's experimental flag, Password Leak Detection. However, that remained only through the testing phase and was then removed.
After that, it went to the Sync and Google Services section. However, it was removed even from there as well. At the time of writing, this option is currently settled under the Privacy and Security section.
Here are the steps to stop password breach alerts:
Launch the Chrome browser on your machine.
Click on More at the top right and select the Settings menu.

Switch to the Privacy and Security tab, and click on Security.
Disable the Warn you if passwords are exposed in a data breach toggle to stop the alert.

While it's good to see that Google has given the option to disable this functionality, the lack of stability in settling for its final location might prove to be confusing for the end user.
Compromised Password on Android
The option to turn off the password breach notifications is buried deep inside Chrome's Android build and requires some digging. We have done the same, so you don't have to.
Here are the required steps to disable this pop-up warning on your smartphone:
Launch the Chrome browser on your Android.
Tap on More situated at the top right and select Settings.

Open Privacy and Security settings and head over to Safe Browsing.
Tap on the Standard Protection.
next to
Turn off the Warn you if passwords are exposed in a data breach option.

Similar to its Windows counterpart, earlier, you could access this option via the Chrome flag. But then, this feature quietly moved over to the Standard Protection section. Again, this might raise some confusion among the end-users regarding the location of this feature.
Bottom Line
So with this, we conclude the guide on how to stop the Chrome breached passwords from popping up on your computer and Android devices. This is an option to manually check the password breach in Chrome for iOS and iPadOS under the Password settings page. However, it won't alert or bug you as it does on Android or computers.
While it is indeed a helpful security addition to our Google Account, at the same time, it might not checkmark the requirements for a few users.
As mentioned before, I have created a second Google account just for my blogging-related task, and most of the saved passwords are of those accounts that aren't of much security concern to me. And it turns out I wasn't the only one.
One user has also echoed this exact thought process (although on a much larger scale!) on Google Support Forums, and over 600 people have already upvoted his query. So there are quite a few users on the same boat, and they could now safely dock their ship as the query has finally been answered.
Lastly, if you've any thoughts or feedback on How to Stop Chrome Passwords Compromised Alert, then feel free to drop in below comment box. You can also report the outdated information.