Few websites developed only for the desktop version cause issues when accessing them on a mobile phone. Thankfully, Google Chrome has a feature where you can instantly switch between mobile and desktop websites with a single tap.
It will not only help to view web pages with tables and formula data, but it is also helpful for specific websites that work poorly on a smartphone. I face many problems while browsing certain anime websites as they are optimized for desktop viewers only.
The view desktop site option is a one-button script that can convert a smartphone website into a desktop. It is beneficial if the website you're visiting is not mobile-friendly or not working on a small screen.
I have faced many scenarios where certain websites that I used to complete my college assignment worked only on my PC and did not work on my smartphone. Some of them include graph plotting websites and 3D map websites. These websites were technically developed for a desktop screen.
But with the requested desktop site option, you can view their desktop-only websites on your smartphone! It is a handy and excellent option for users of iPhone or iPad with the Chrome iOS app.
View Desktop Site
The desktop site view helps us view all hidden menus and options as we watch on the desktop.
Although font size and elements might look smaller since we are visiting a desktop site on a mobile phone, the experience will be exactly like desktop websites. Desktop site iPhone is a handy feature. Here are the steps to view the desktop site:
Open the Chrome app on your iOS/iPadOS.
Open the website you choose, which you want to view in the Desktop version.
Tap on More for the menu list.
Scroll down in the list and choose the Request Desktop Site command.

The website will reload, and you will see the desktop view of the website. To switch back, you can choose the Request Mobile Site option at the same place.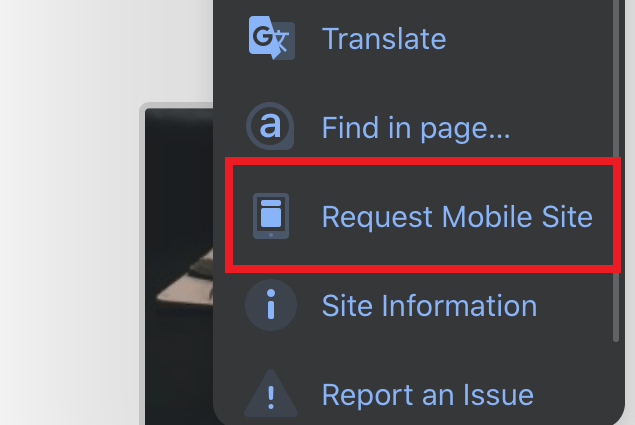 Note: You can pinch-zoom in to magnify the screen if you don't see texts or tables. You will see small texts because of your smartphone screen.
Bottom Line
If you want to experience full-fledged desktop sites on your iPhone, then Chrome iOS lets you do that. With the view desktop site iPhone feature, you can easily switch between desktop and mobile website versions.
It's a highly recommended feature if you're browsing online forms, downloading sites, etc. It will help you understand the website's content better and eliminate the risk of mobile-driven viruses that the mobile version of the website contains.
Now you don't have to read more of "your iPhone has been infected with the XYZ virus; click here to fix" messages if you're using a desktop version of the website using Chrome iOS.
Similarly, you can also enable the mobile site view on the Chrome computer browser. It's just the opposite of what we just learned. The mobile site view is helpful for web developers who want to test the site view in different screen layouts (mobile phones/tablets/desktops).
Let us know what your perspective about the desktop site iPhone option is. Isn't it great? Do share your thoughts.
FAQs
Now, let us go through some frequently asked questions regarding how to view the desktop site in Chrome iOS:
How to view Desktop Site in Chrome iOS?
Launch the site you want to open on the Desktop site in Chrome iOS, then tap on the three dots at the bottom. Now, select the option Request Desktop Site. 
How to switch back to the mobile view on Chrome iPhone?
Launch the site you've opened in the Desktop site in Chrome iOS, then tap on the three dots at the bottom. Now, select the option Request Mobile Site. 
How can the small text size be viewed in the Desktop View on Chrome iOS?
To view your site in the Desktop View, you must pinch-zoom on the screen to view the small texts and tables.
Lastly, if you've any thoughts or feedback on How to View Desktop Site in Chrome iPhone or iPad, then feel free to drop in below comment box. You can also report the outdated information.