Opera GX is a full-fledged gaming browser with plenty of customization and settings. It allows complete control over the browser needs and hardware to make the online heavy gaming experience seamless. It's a future-ready solid gaming browser that can run on any computer operating system; however, it's not made for low-powered laptops and computers.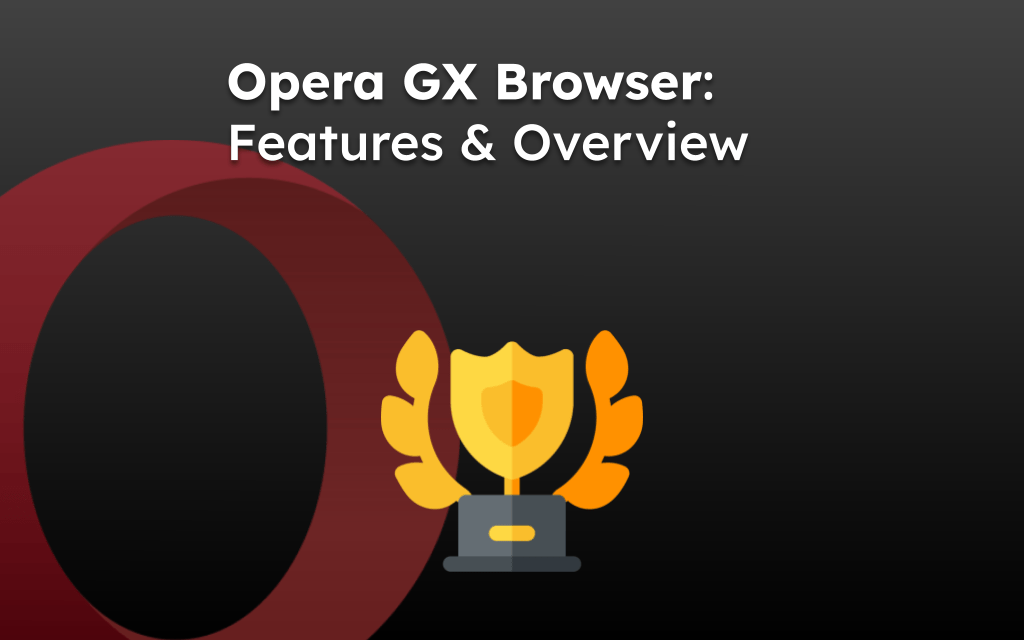 There are many web browsers available at our fingertips now. During some focus on the privacy front, others are primarily inclined towards providing a plentitude of features. However, the gaming domain has been left untouched until now.
Opera Browser seems to have struck a chord at the right time. With the launch of Opera GX, the browser would exclusively cater to the needs of the gaming genre.
You would get all the features that the standard Opera browser offers. And like its parent, it is also based on the Chromium source code. But this is just the tip of the iceberg.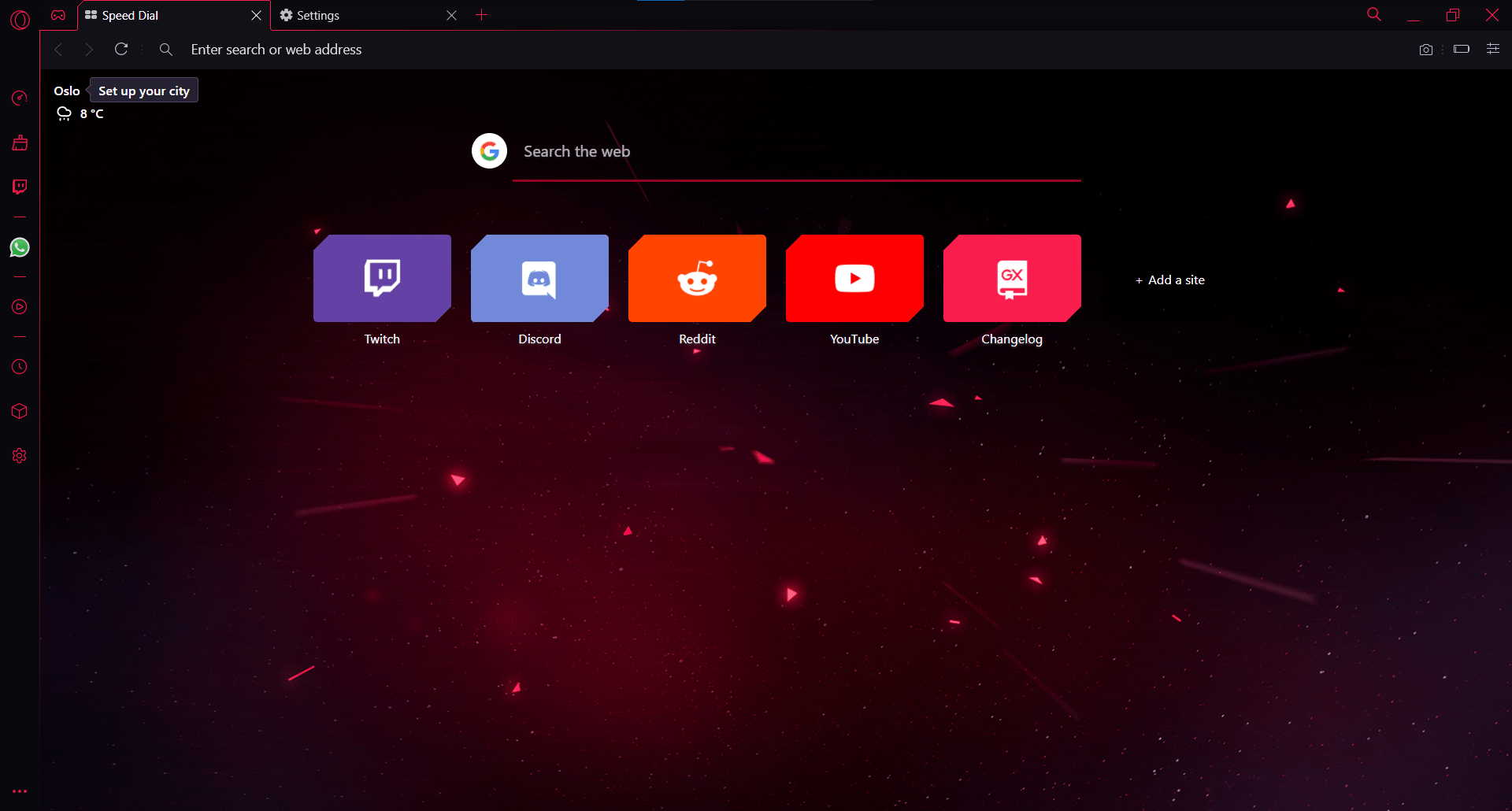 The browser even allows you to set certain restrictions on how much RAM, CPU, and network bandwidth you want to allocate to it so that your other apps and software can function efficiently. Then it has also added tons of customization options, from themes and UI/UX to various sound effects.
Moreover, there is also an addition of numerous third-party apps specially crafted for the gaming segment. These are just some of its features set; truckloads of others exist. And this guide shall make you aware of just that. So without further ado, let's get started —
Here are some noteworthy and essential features of the GX browser that caught our attention.
On this page, you can find and jump to:
RAM Limiter
Internet Browsers are generally known to be resource hoggers. However, with Opera GX, things are different and for good. By default, the browser will maintain an equilibrium between the user experience and memory usage. However, you could restrict it to consuming only a limited amount of RAM.
But even then, in some instances, Opera GX could bypass this limitation to provide the best UI/UX experience. If you don't want this to happen, consider enabling the Hard Limit option. The limiter will force the browser to stay within the allocated memory, even if it leads to the user experience being sacrificed.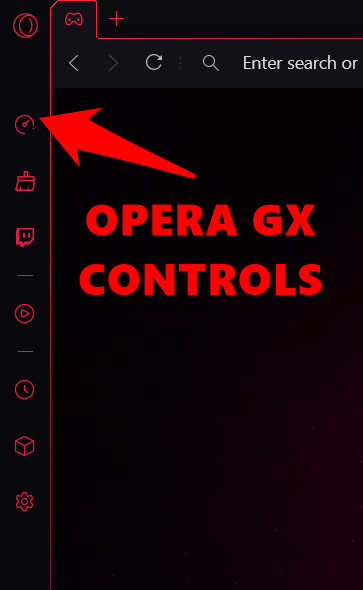 To access the RAM Limiter feature, click on the GX Control icon at the left sidebar and enable the toggle next to RAM Limiter.
Network Limiter
You could set a maximum bandwidth restriction on your browser for Network Limiter functionality. Upon doing so, Opera GX would ensure not to exceed this limit, whether for upload or download purposes. This feature could be pretty handy for users with a slow internet connection, as they could efficiently allocate the network usage across all their apps.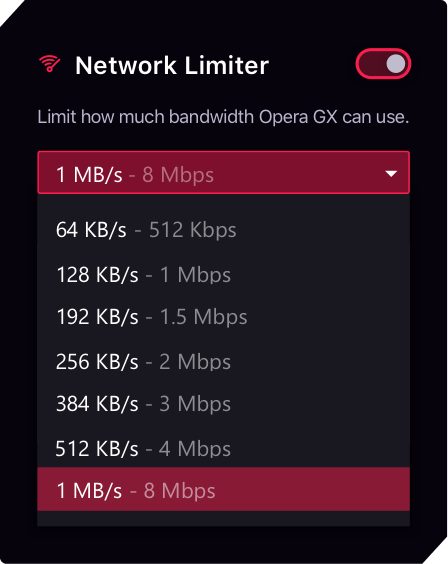 To try it out, head to the left menu, click the GX Control icon, and enable the Network Limiter toggle. Then select the maximum bandwidth that the browser could use from the drop-down menu.
CPU Limiter
As is evident from its name, this feature allows you to cap the maximum system resources the browser can use. Once you limit the total processor power that GX could use, the other games and software could use the remaining prowess and work accordingly.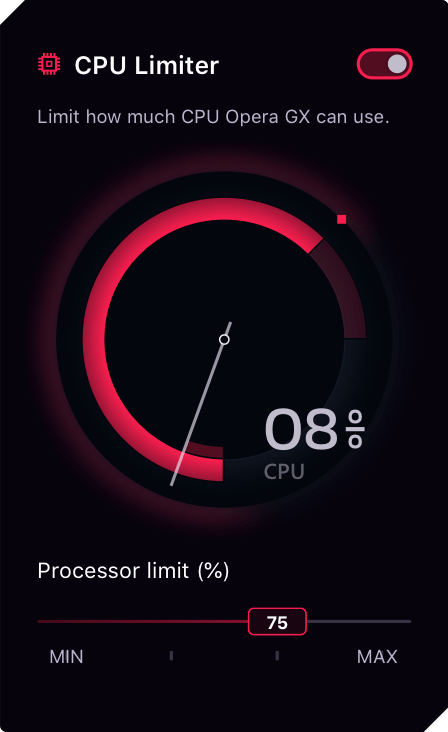 Like the other two limiters, CPU Limited could also access this right from the GX Control section of the left menu bar.
Tabs Killer
This brings out a well-detailed information tab about the total RAM and CPU resources the browser consumes. It also provides a one-click button to close all the accounts in one go. And as you might have guessed by now, the Tabs Killer is also placed within the GX Control domain.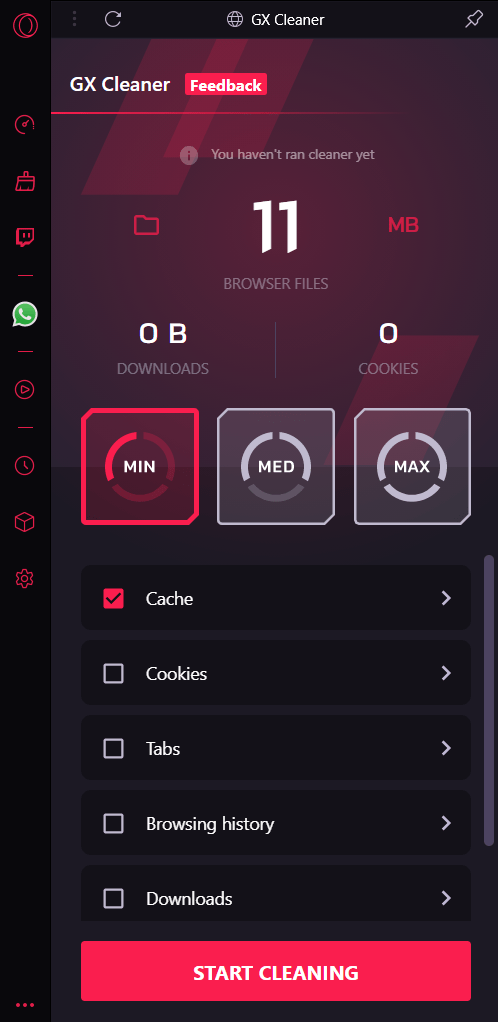 Workspaces
Users generally have a knack for keeping many tabs opened at once. While this leads to multitasking, finding the right one from the plethora of already opened ones could be challenging. This is where the Workspace feature could come in handy.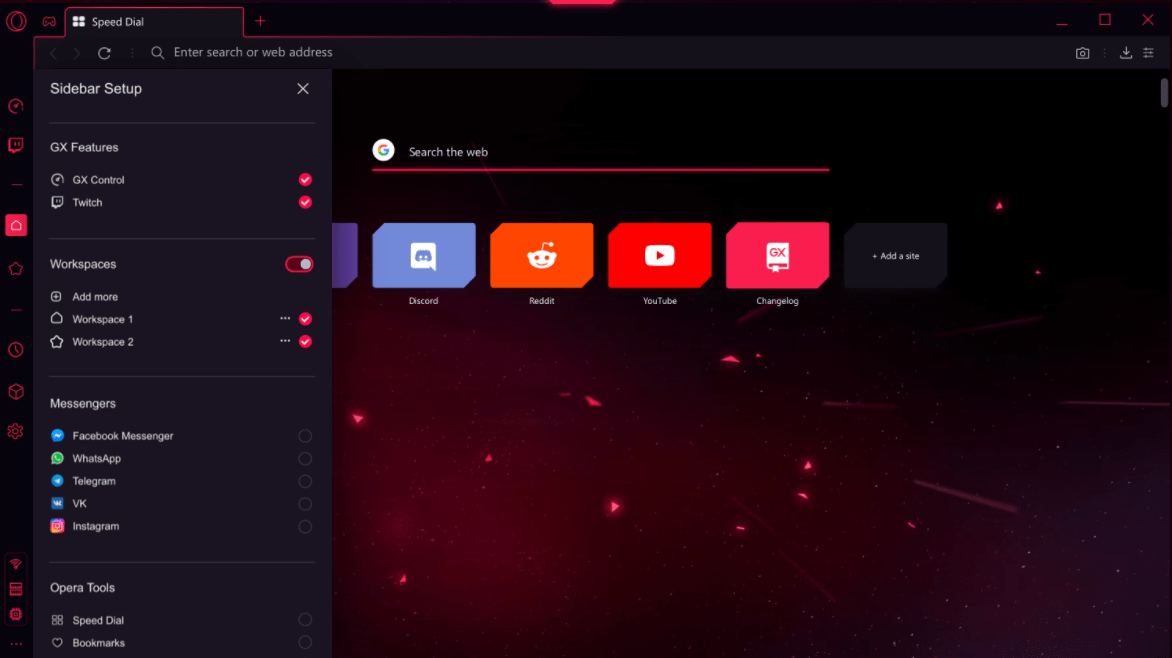 You could create separate sections for tabs belonging to a particular domain and place them under that roof. For example, you could create a group for the work tab and send your Google Docs and Gmail tabs under that, whereas YouTube and Netflix could occupy the streaming section.
Ad Blocker and VPN
Opera GX browser comes built-in with its AdBlocker and a Virtual Private Network. As a result, you wouldn't have to carry out any manual efforts to block those intrusive ads or access geo-restricted content.
It also has a tracker blocker, and the browser will make sure not to allow any tracker to keep a check on your daily browsing activity.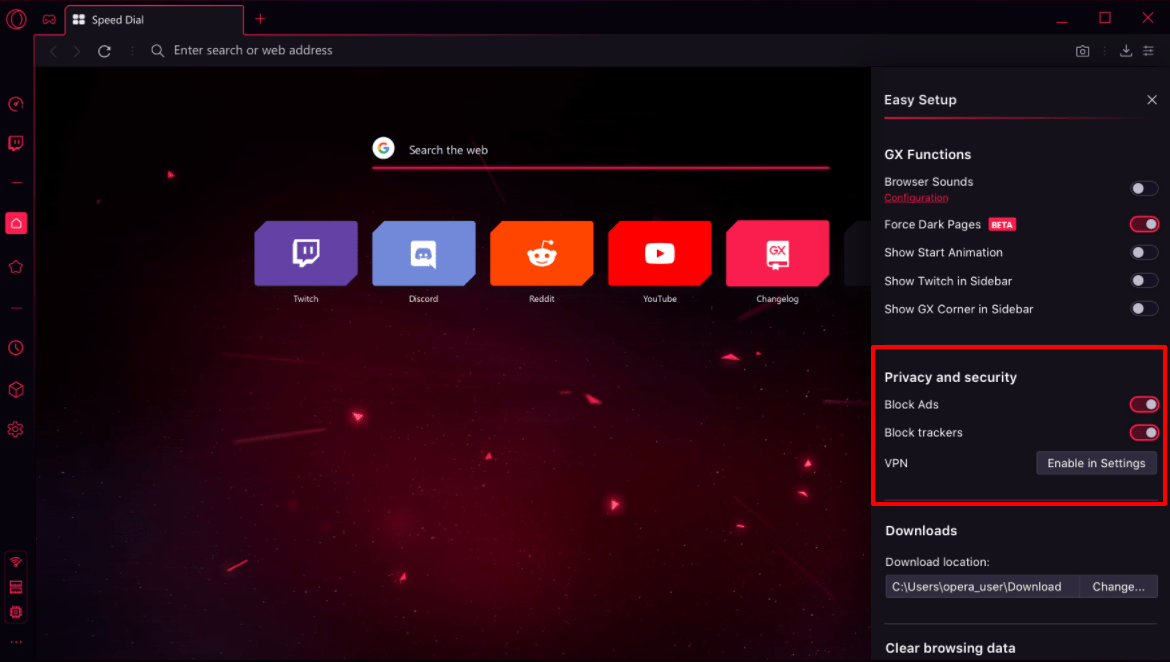 To enable these features, click the hamburger menu

at the top right. Then scroll to the Privacy and Security section and enable the toggle next to the desired feature. In the VPN case, you must allow it from the device's Settings page.
GX Cleaner
Over the due course of time, a lot of temporary data might get accrued. This would, in turn, slow down the entire browsing experience. During these times, you may consider calling the GX Cleaner.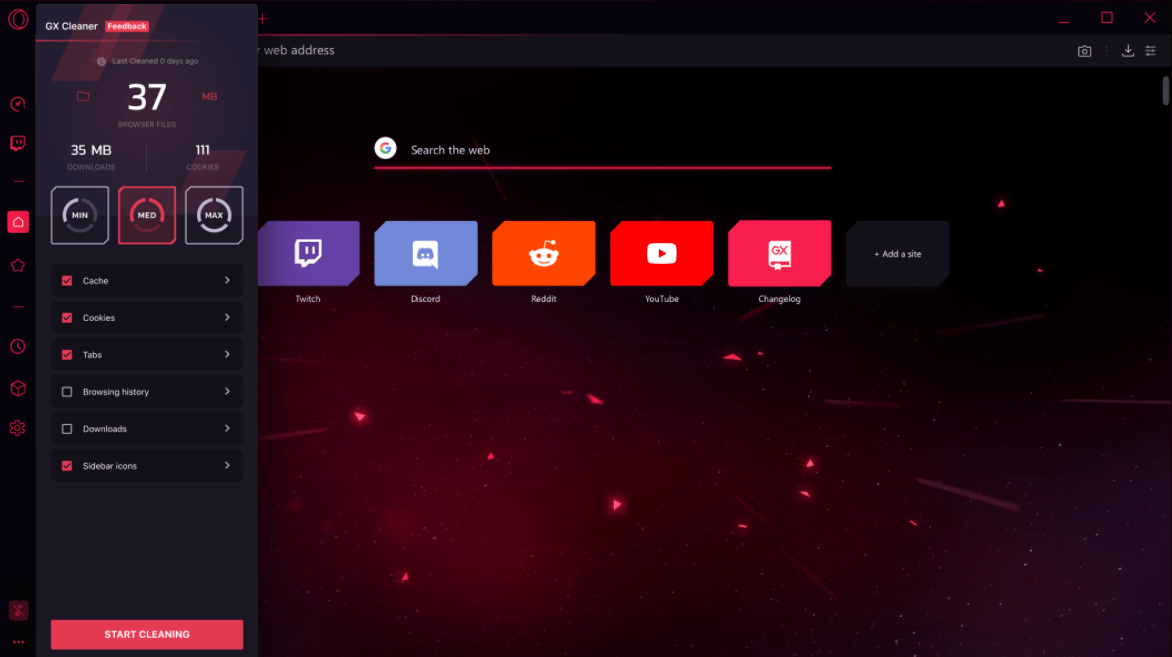 You can clear Cookies, Tabs, and Browsing History with a single click. Downloads, and even the Sidebar icons. Like other GX features, you can access it from the left menu bar.
Extensions Support
The browser is based on Chromium, which automatically translates your ability to try out most add-ons directly from the Chrome web store. Alongside that, you could also get hold of your favorite extensions directly from the Opera Store.

All in all, there's a lot to choose from. Click the Extension icon on the left menu, then search for the desired one.
Opera GX Customizations
The browser isn't short on the customization front, well. In this regard, given below are some options that would allow you to change the look and feel of the browser. Furthermore, if you wish to access any of the below-mentioned customizations, click on the menu icon at the extreme right.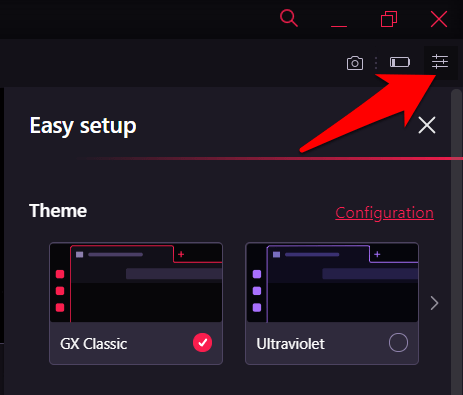 This shall bring a sliding menu from where you can make the desired changes. Now that the instructions are clear, let's check out the tweaks it has in store.
GX Themes Appearance
The browser beholds several themes through which you could completely redesign the UI/UX. Add to it, and you can set your custom backgrounds or choose from a wide range of preset wallpapers.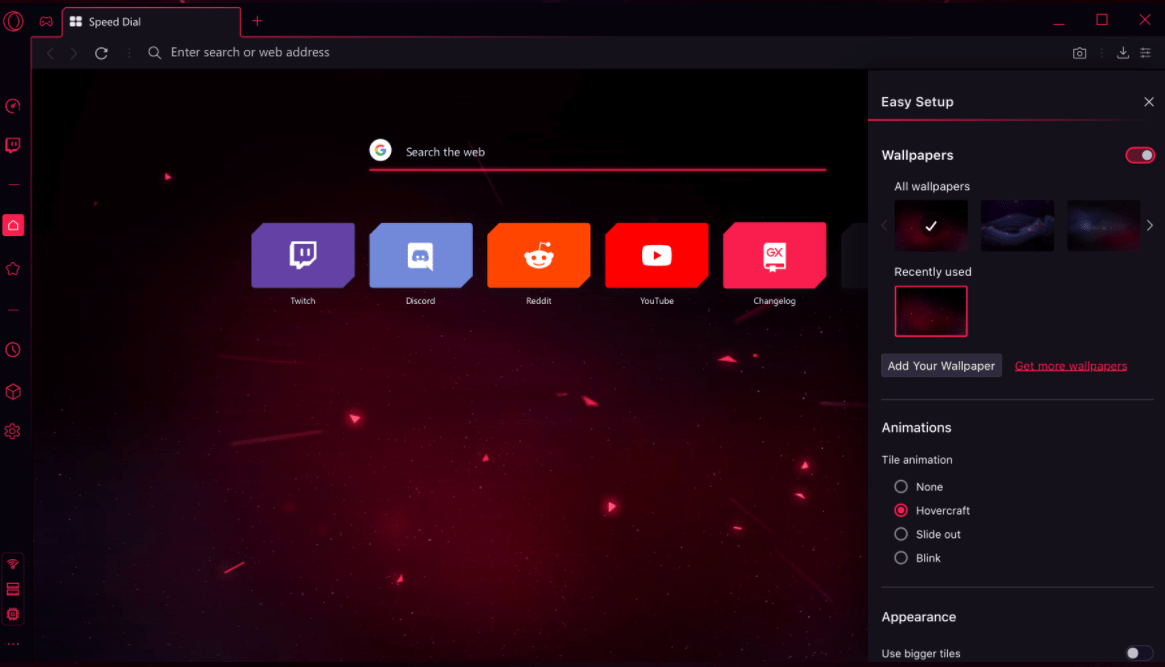 Likewise, you could even enable dark mode on unsupported sites using the Force Dark Pages feature.
GX Sounds
Another unique but peculiar feature, Opera GX, allows you to assign different sounds to various browser activities. Be it for opening or closing tabs, using a Limiter, or even performing a mouse click, you have a unique sound effect for each.
Though there's still some element of doubt as to how many users would try out this feature. We leave it to our readers to decide!
Video Pop-Out
You could also make a video play in a Picture in Picture Mode. This way, the video would only occupy a small portion of your screen and could be dragged and dropped to any corner. As a result, you could carry on with your work and watch the desired video inside that overlay window simultaneously.
Third-Party Apps Integration
Opera GX has a few third-party apps integrated directly into its browser. First is Twitch, where you can watch live streams of your favorite channels and gameplays.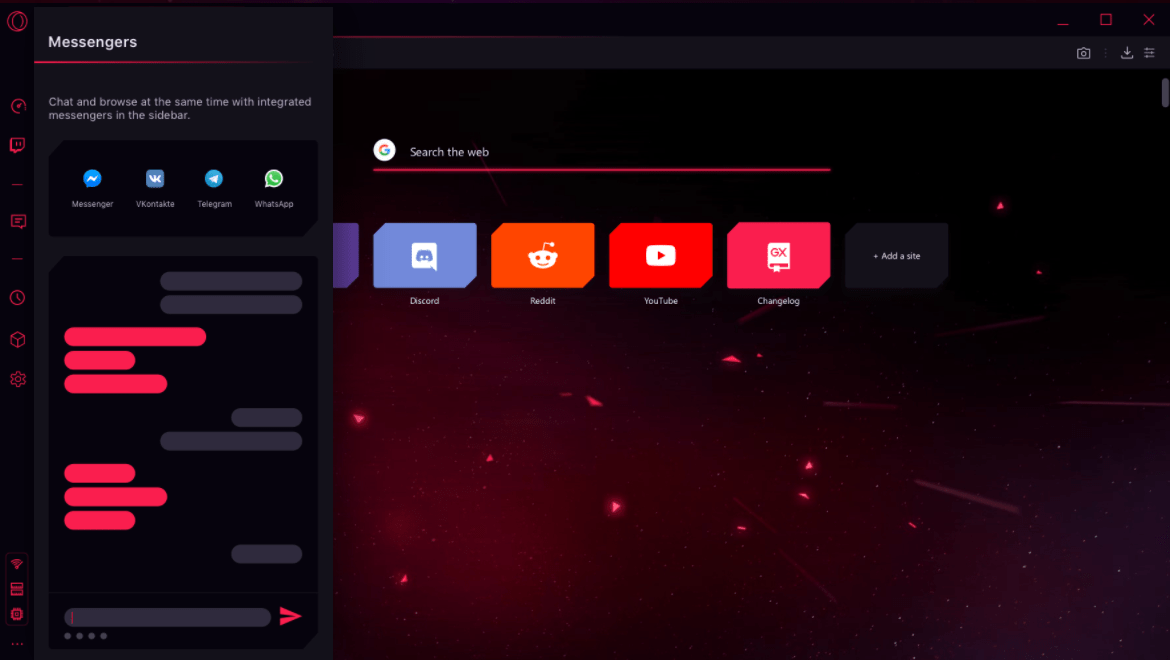 Then, you keep your gaming community up and running without hiccups using Discord.
Moreover, it also comes with many instant messaging services, such as Facebook Messenger, Telegram, Vkontakte, and WhatsApp. All these are baked directly into the browser's sidebar.
Where It Falls Shorts
The browser has a wide array of exciting and useful features; however, it isn't free from its fair share of issues. First and foremost, the installation and the in-setup extraction process took way more time than expected (compared with other browsers on the same PC).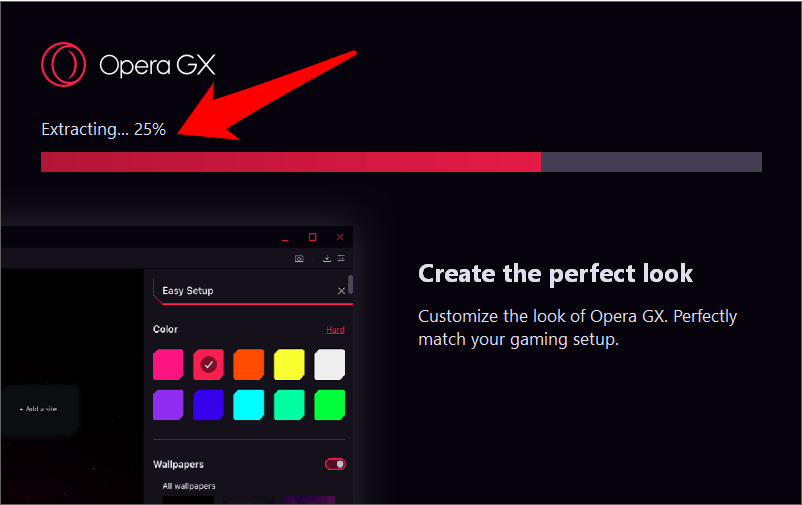 Furthermore, our testing discovered that the same features that act as its pillars of strength could well spell out trouble for itself. For example, to extract the maximum potentiality of this browser, we enabled all its GX Limiter features, namely, CPU, RAM, and Network Limiter. But on doing so, we were instead greeted with a slow browsing experience.
The fact that it has integrated tons of third-party apps only made the matter worse. Not to forget, the (unwanted) contribution of themes, customizations, and other visual effects make the browser heavy. So make sure that you don't end up enabling all its features at once, and instead, go for a more balanced approach.
Bottom Line
Undoubtedly, the browser beholds several options to brag about quickly being the first in this domain. However, does the first-mover advantage always work out? The real question in this regard is whether the users would be inclined towards a 'Gaming Browser' in the first place.
Some of its features could undoubtedly attract a few gamers and enthusiasts; however, it doesn't drastically affect the overall browser market, at least in its current state.
While GX features such as Network, RAM, and CPU Limiter do their job efficiently, the result wasn't anything that would take us back. But at the same time, it shouldn't be taken as just a marketing gimmick either.
If we limit our focus just to the gaming domain, it is ahead of other popular browsers. However, set your expectations within realistic limits!
Lastly, if you've any thoughts or feedback, then feel free to drop in below comment box. You can also report the outdated information.