VPN or Virtual Private Network makes it easier to browse or use the internet securely when using public Wi-Fi. It helps access geo-restricted sites and bypasses any websites the network administrator blocks.
Several VPN services provide free and paid subscriptions and an add-on that can be installed on Mozilla Firefox. You can choose any VPN extension to run on the Firefox browser based on the requirement.
We have created this list of the best Mozilla Firefox VPN add-ons you can start with.
CyberGhost VPN
The CyberGhost VPN is a highly recommended online VPN service that offers connectivity over many devices. I recommend using the CyberGhost VPN for its advanced data protection at an attractive price band. It's the fastest and most reliable service, with an unlimited data limit for a paid subscription. You can connect and use up to 7 devices simultaneously, protecting your loved ones.
If you are constantly worried about your website security and the idea of someone snooping around on your private information scares you, the CyberGhost VPN add-on is for you. It prevents hackers and other such people from hacking into your data.
CyberGhost VPN encrypts your browser traffic, so you are always satisfied with your privacy. This add-on is used by about 15 million users around the globe.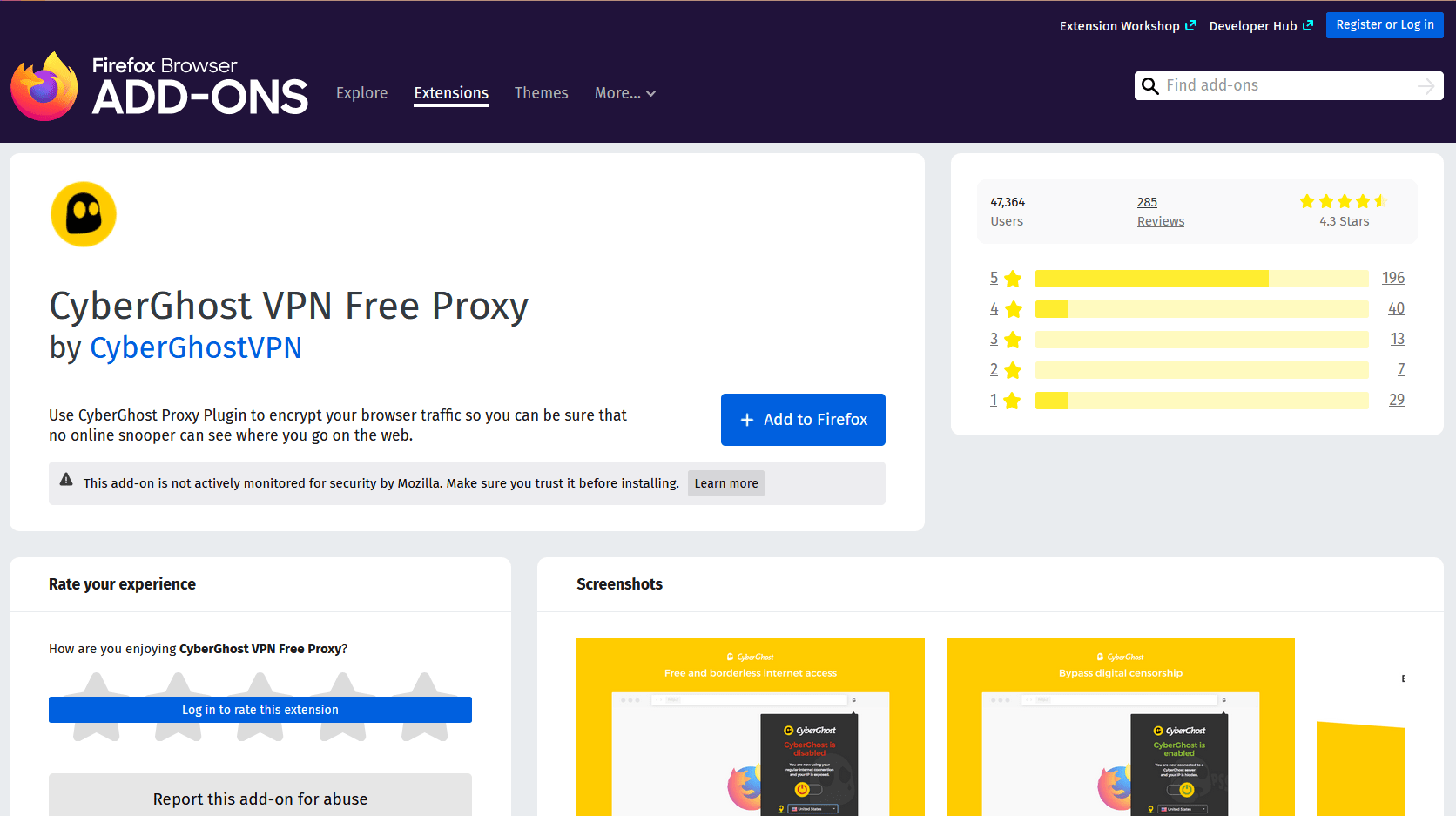 To name a few of CyberGhost VPN's unique features are:
You can instantly connect to this VPN add-on by clicking the power button.
It protects your information by encryption.
It establishes a secure Wi-Fi connection.
It also hides your IP so that you have the utmost security.
It also blocks malicious and spam content.
However, it may show some bugs that are not fixed yet. The CyberGhost VPN has also not been updated for a long time, which means it lacks new features.
NordVPN
If you are looking for a VPN add-on that is lightweight and easy to use, NordVPN should be your first choice. It is one of the best VPN add-ons everywhere.
NordVPN will never pull down your browser to work less efficiently or slowly.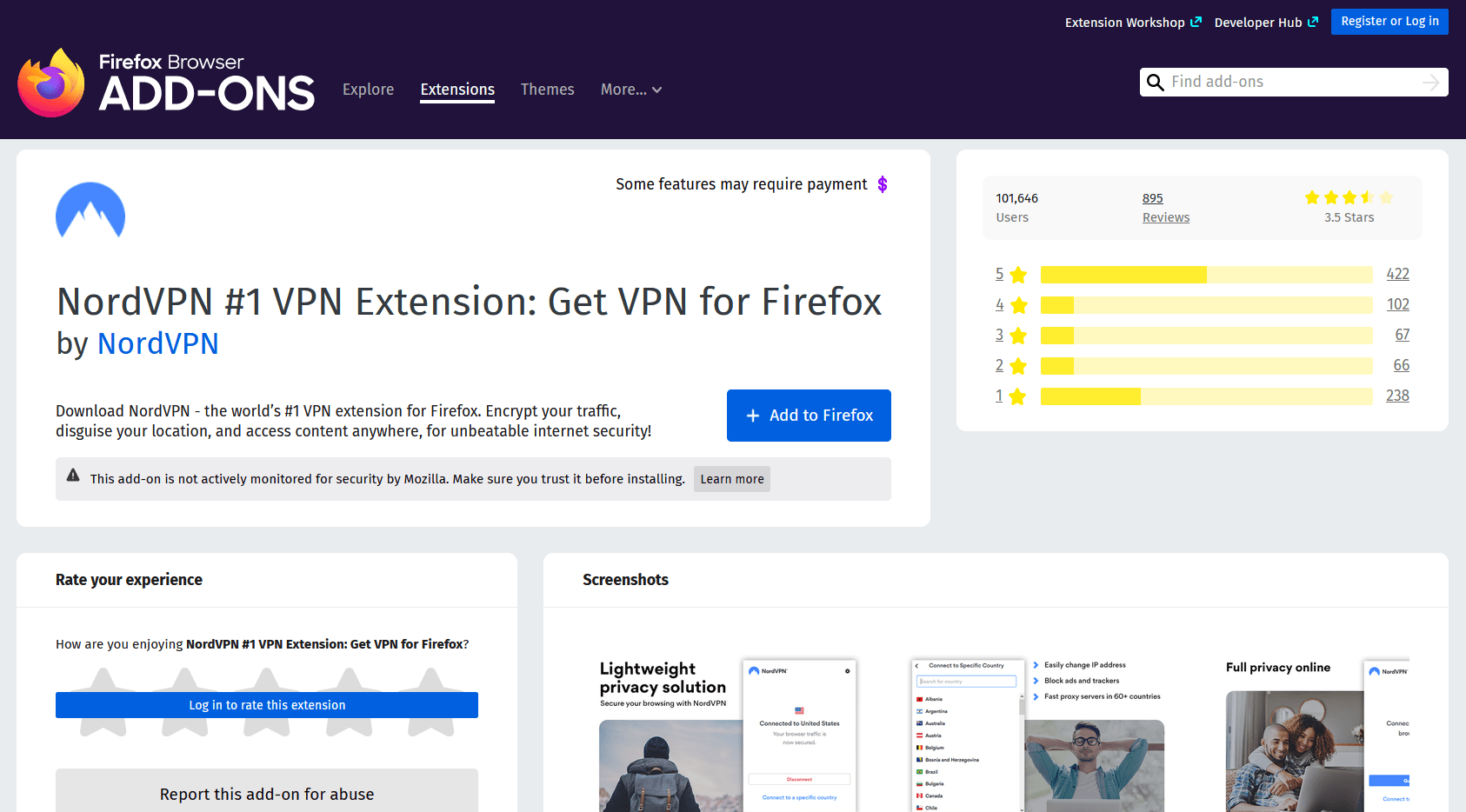 Some of NordVPN's essential features are:
It comes with a tight security system
It can work on 5,480 across 60 countries.
It also comes with an in-built ad-blocker.
You can work on six devices with just one license.
It also comes with a 30-day money-back guarantee.
Although it comes with so many benefits, it can fail to block ads at some times, which can cause frustration or annoyance later. It also does not work on more than six devices.
Surfshark
This Firefox add-on will provide you with the best type of security that gives you military-strength encryption. Surfshark is also super fast and works without any restrictions.
It comes with a 7-day free trial for mobiles so that you can have a good insight into the working of the Surfshark Firefox add-on.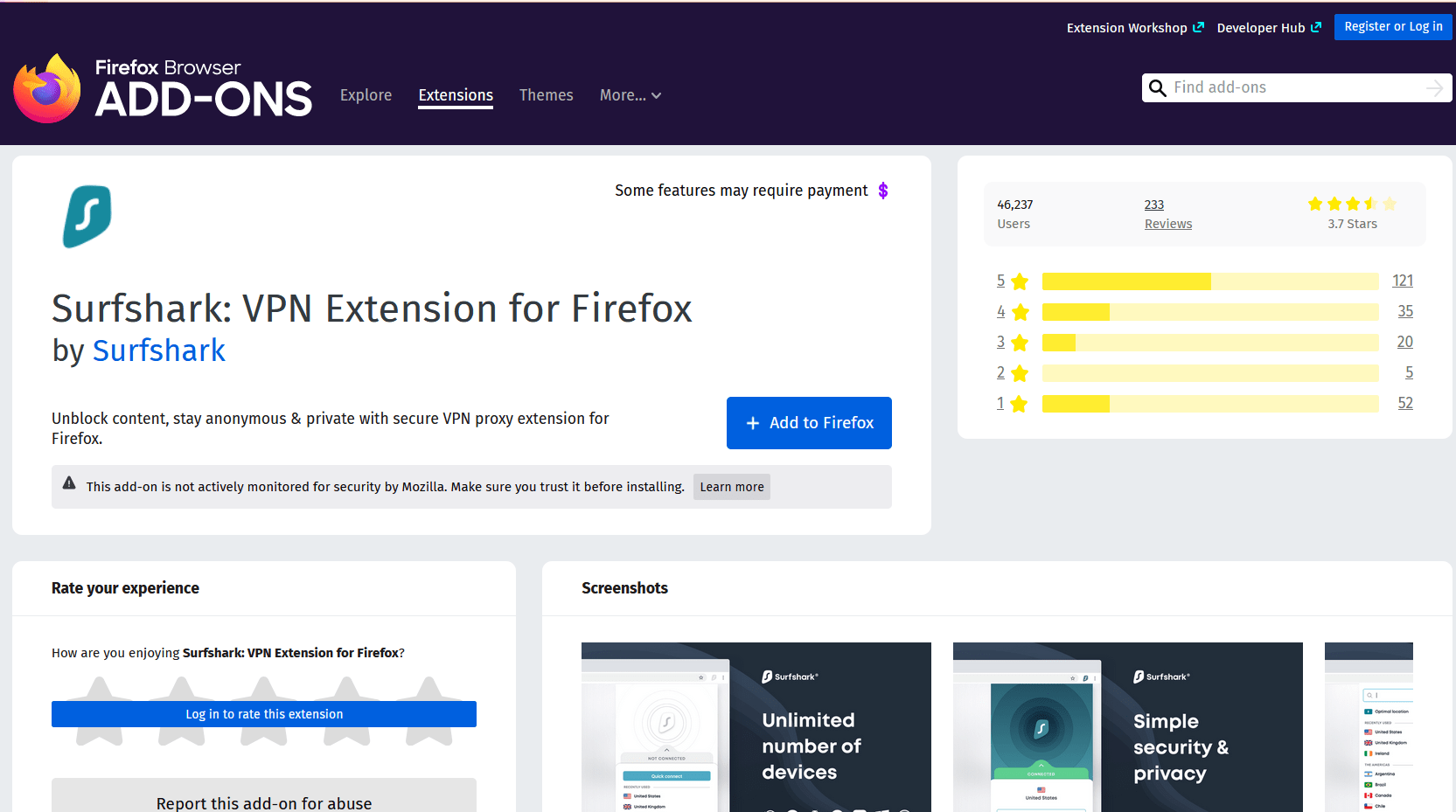 To name a few of Surfshark's prime features:
It has no limit on the devices you can use on one license.
It has an in-built ad blocker to free you from distractions.
It has a 30-day money-back guarantee.
It can work in 65 countries with over 3,200 servers.
Although it has many features, the 7-day free trial is offered only on mobiles, not desktops. Hence, desktop users will have to pay to get all the access.
ExpressVPN
ExpressVPN is one of those add-ons that give you the whole experience of a VPN rather than a proxy. This add-on not only encrypts your data but protects the entire computer.
ExpressVPN is extremely easy to use and install; anyone can do it quickly.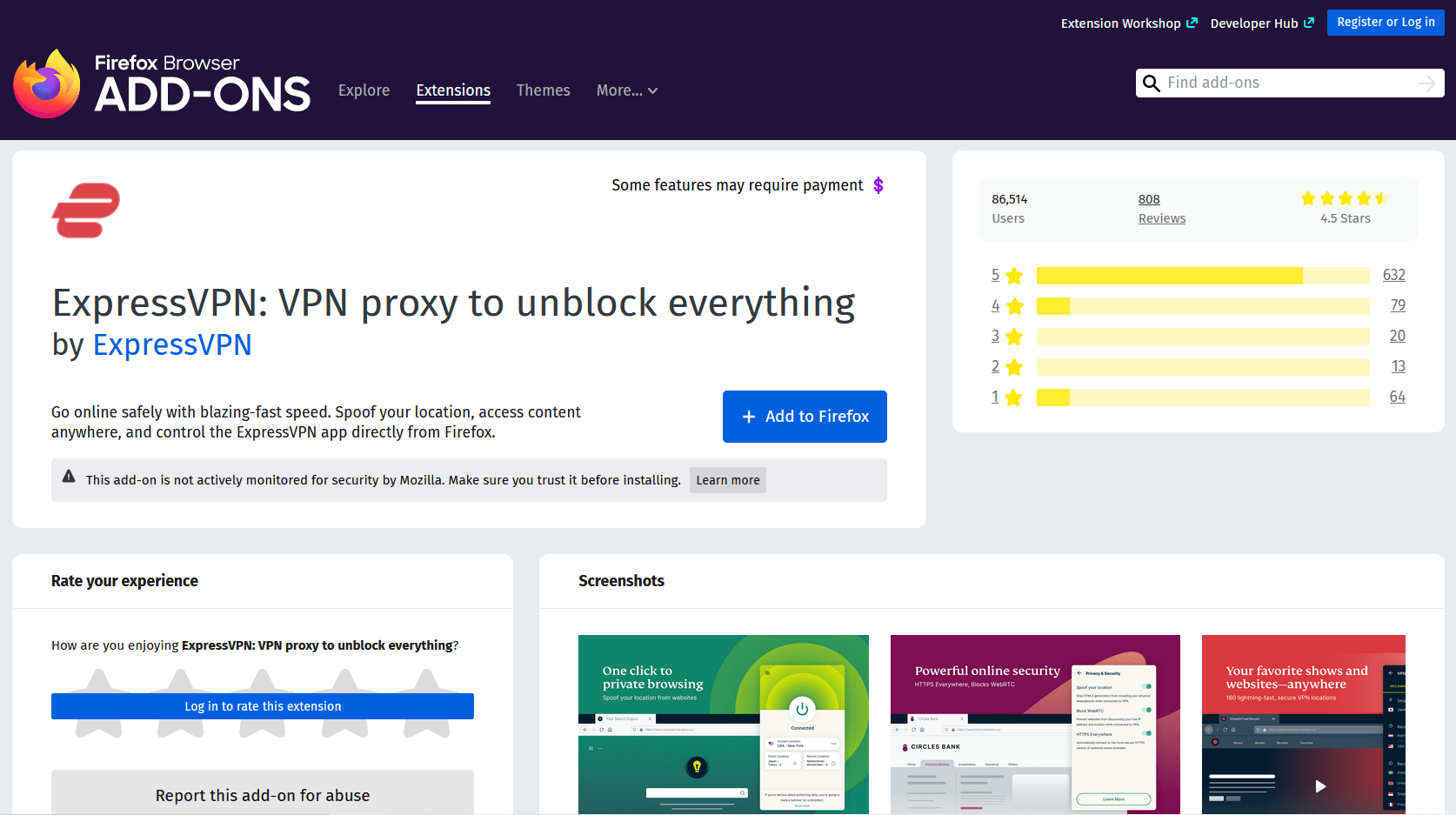 Some of ExpressVPN's prime features are:
It works as an overall VPN add-on.
It can be accessed over five devices as per one license.
It works in almost 90 countries with over 3,000 servers.
It also comes with a 30-day money-back guarantee.
However, it still has some issues that need to be fixed. It also gives access to 5 devices on one license, which is a bit expensive for the price you pay.
Hotspot Shield
If you can not afford a VPN service, then worry not! We may have something for you. The Hotspot Shield is free to use and access.
It has fantastic features to keep you hooked to Hotspot Shield, which is no less than all the other VPN add-ons.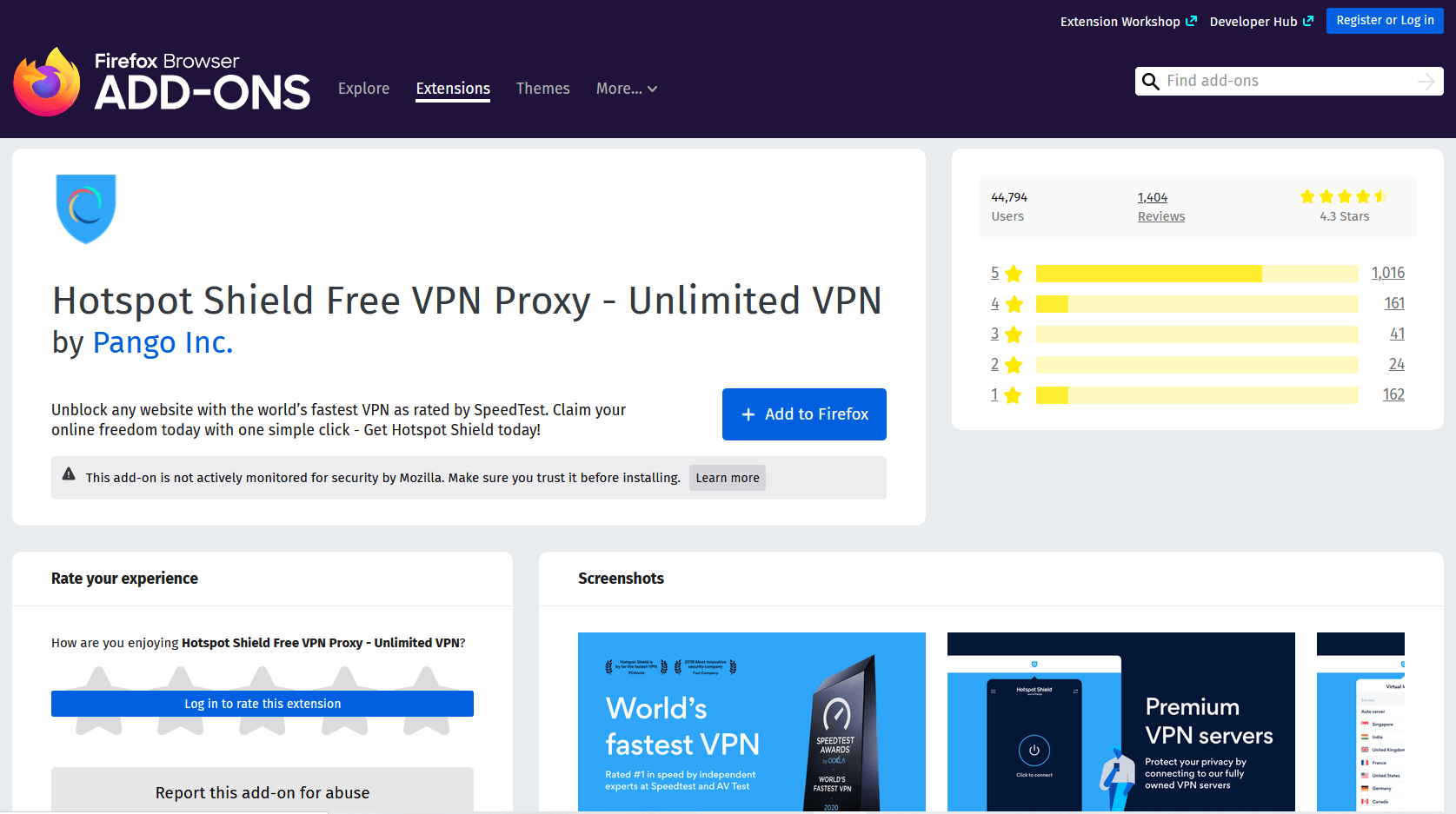 Some of Hotspot Shield's essential features are:
It is free of cost and does not require your subscription for immediate access.
It provides an ad-blocker along with a malware and cookies blocker.
You have unlimited access to bandwidths and data used on websites.
It works in 80 countries with over 3,200 servers.
However, it comes with its set of demerits. The physical servers can also be accessed after you switch to the premium version of Hotspot Shield. You only get access to virtual servers on the free version.
Private Internet Access
If you feel the VPN should provide access to more countries, then a Private Internet Access VPN add-on should be your choice.
It provides complete security even if connected to public or private Wi-Fi.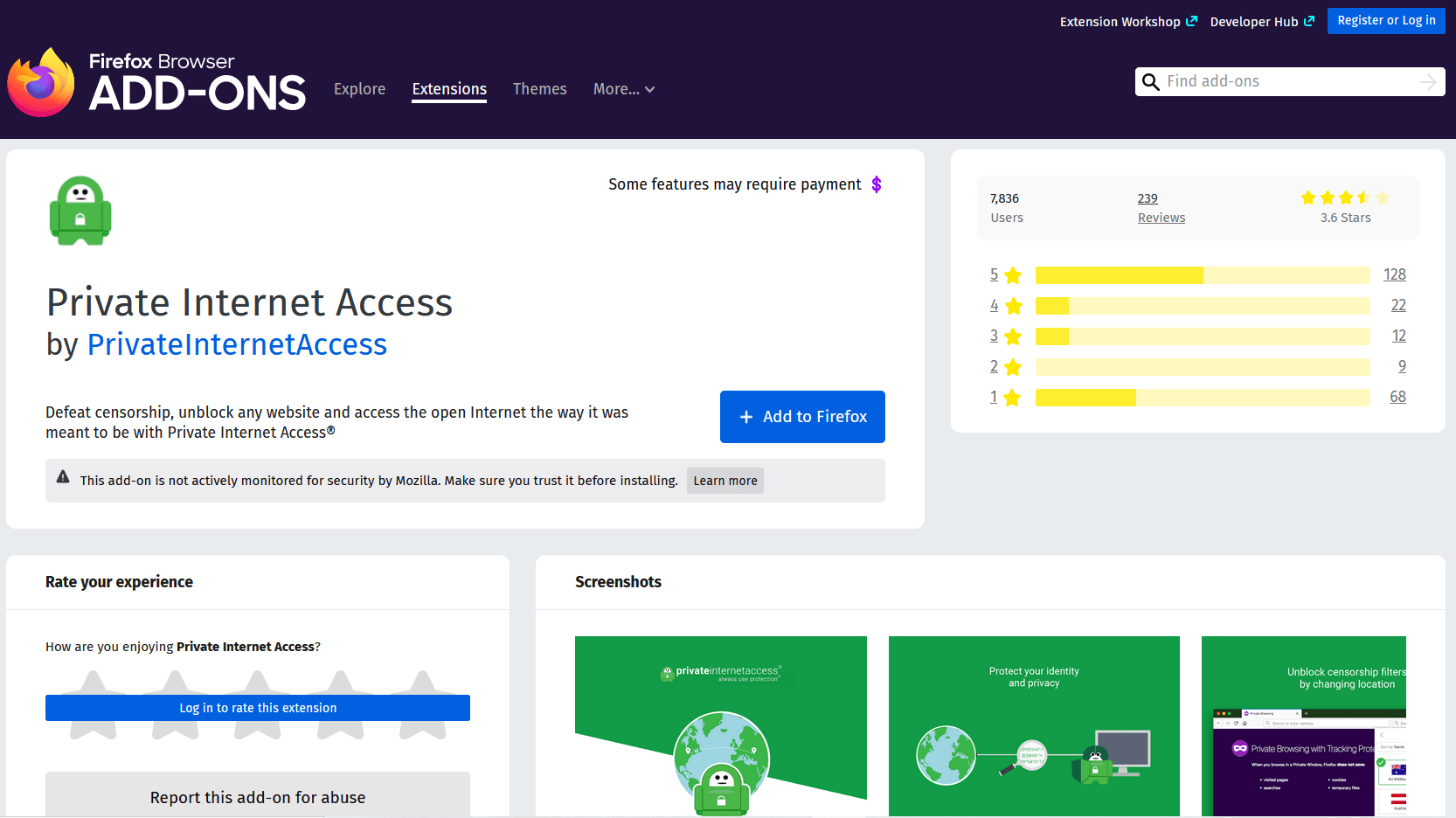 A few of Private Internet Access's essential features are:
It gives you access to 10 devices if you purchase a license at once.
It works with over 29,340 servers in about 75 countries.
It enables WebRTC blocking.
It comes with a 30-day money-back guarantee.
However, no free trial is available to test its services' durability. The blockers can fail to work sometimes, which may cause the page to load slowly.
PureVPN
PureVPN is one of the most trusted and highly rated Firefox VPN add-ons used by millions of users around the globe. It is the best free proxy add-on that helps you browse everything more securely.
It gives you access to over 30+ popular websites to ease the use of everything.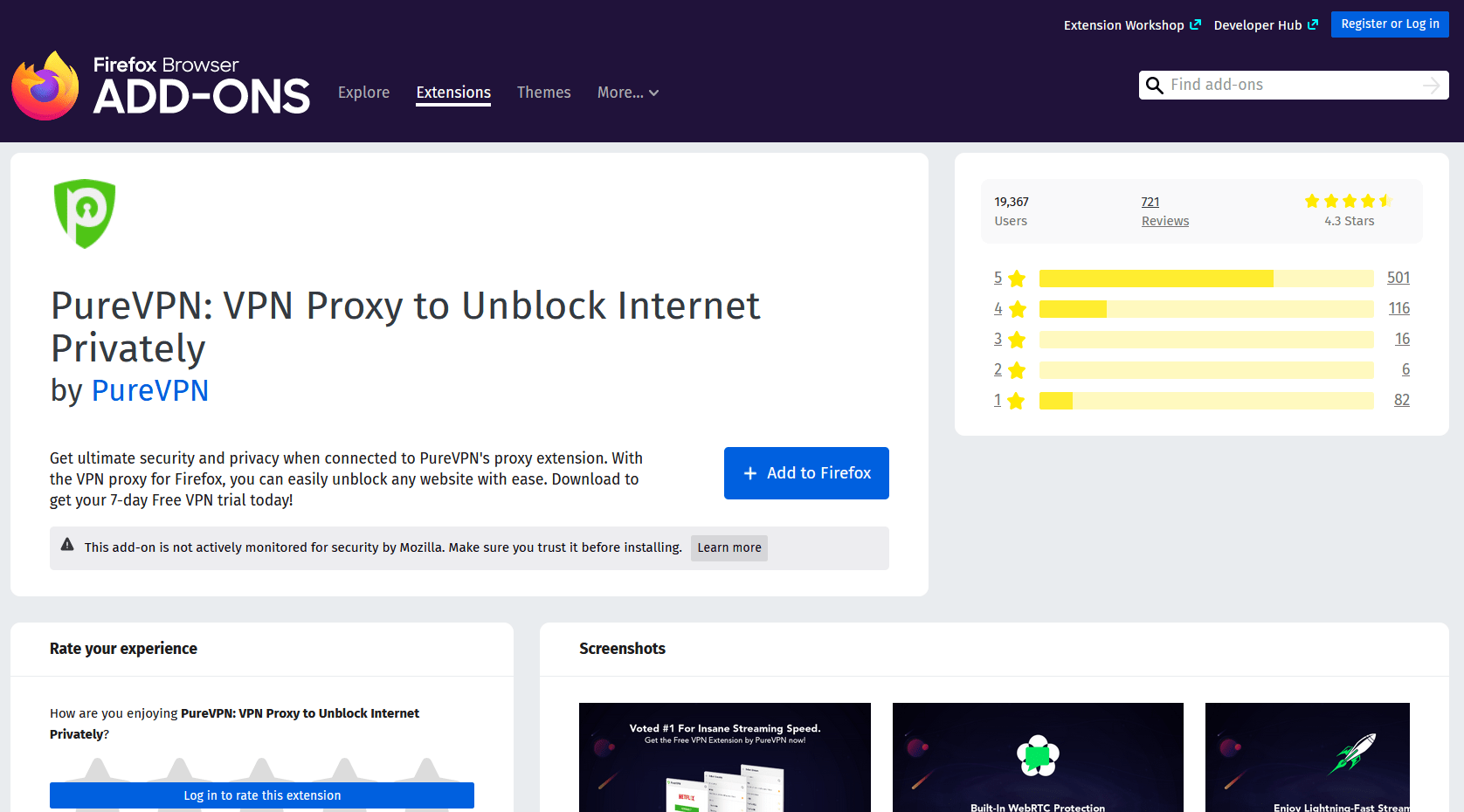 Several features that make PureVPN stand out are:
It comes with a 7-day free trial for all its new users.
No third-party app or even PureVPN can access your data or private information.
You can have unlimited access to bandwidth without worrying about anything else.
You can browse popular websites like Prime and Netflix in different countries.
However, it is only a proxy VPN add-on and does not offer a full VPN service for your desktop. It also has some bugs that need to be fixed.
Bottom Line
Firefox VPN add-ons can help you browse any website you choose securely, privately, and quickly. All you need to do is switch on the VPN when you want to use it for a website or public Wi-Fi and want your information to have an extra layer of safety. It encrypts your data so that no third-party websites can access the same.
VPN add-ons can also help you access information or content unavailable in your country. The servers work in a way to help you do that. You can stream anything in any country you want. Whether it's Amazon Prime, Netflix, or Hulu, everything is a tap away. While at it, you can enjoy everything without any ads or distractions.
FAQs
What are the best VPN add-ons for Mozilla Firefox?
There are several excellent VPN add-ons available for Mozilla Firefox. Some popular options include Hotspot Shield, CyberGhost, NordVPN, Surfshark, ExpressVPN, and PureVPN.
Which is the best free VPN add-on for Firefox?
Regarding free VPN add-ons for Firefox, Hotspot Shield and CyberGhost are often considered among the best options. These add-ons offer basic VPN functionality without requiring subscriptions.
How does a VPN add-on for Firefox work?
A VPN add-on for Firefox functions by creating a secure and encrypted connection between your browser and a remote server operated by the VPN provider. This connection helps to mask your IP address, making your online activities more private and secure.
What factors should I consider when choosing the best VPN add-on for Firefox?
When selecting a VPN add-on for Firefox, consider factors like speed, server locations, security features, and ease of use. Choosing a reputable provider with a strong track record in safeguarding user data and privacy is also essential.
Lastly, if you've any thoughts or feedback on 6+ Best Mozilla Firefox VPN Add-ons, then feel free to drop in below comment box. You can also report the outdated information.