Opera Browser is one of the most underrated browsers used by people worldwide. However, it has so many amazing features that make this browser unique and different. With its smart browsing and speed, Opera is ranked among the top browsers in the world.
However, it is not as popular as Google Chrome. Yet, Opera has surpassed Chrome in some of its features. Additionally, it offers extensions for its users so they can access the features not offered by the browser. The extensions are great for people with high expectations from their browsers.
We have listed a few highly rated and best extensions or add-ons for your Opera browser. You can use the same for Opera GX as browser add-ons.
Enhancer for YouTube
Do you watch a lot of videos on YouTube? Do you suffer from a mild addiction to it? Then, we may have something in store for you.
With its unique features, this extension will make your YouTube browsing experience nearly perfect.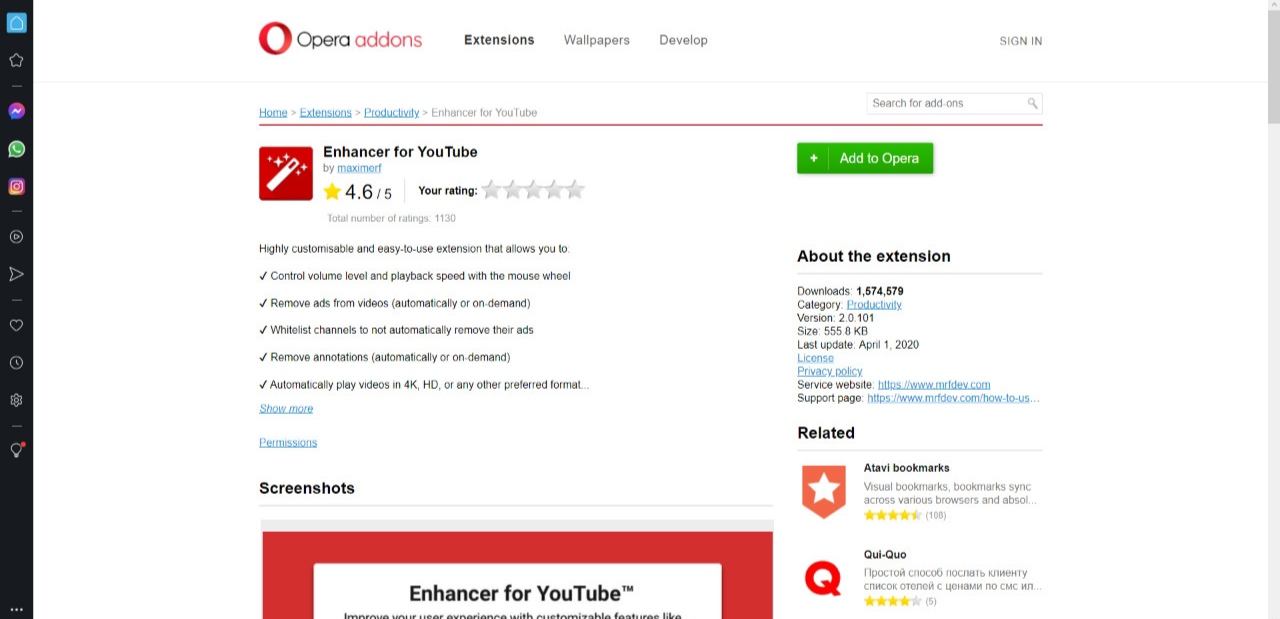 Some of Enhancer for YouTube's unique features are:
You can view the video in a larger window.
You can adjust the volumes according to your preferences.
It automatically blocks ads.
You can use custom themes.
You can also play videos in HD or 4K automatically.
Although brilliant, it can still have some bugs that must be fixed. Also, not all ads are blocked by this extension.
Mate Translate
If you are a fan of learning new languages or frequently browse foreign websites, Mate Translate will be the most helpful. Just like a mate, it will make everything better and more accessible.
This extension can translate words or phrases for you and help you understand any language.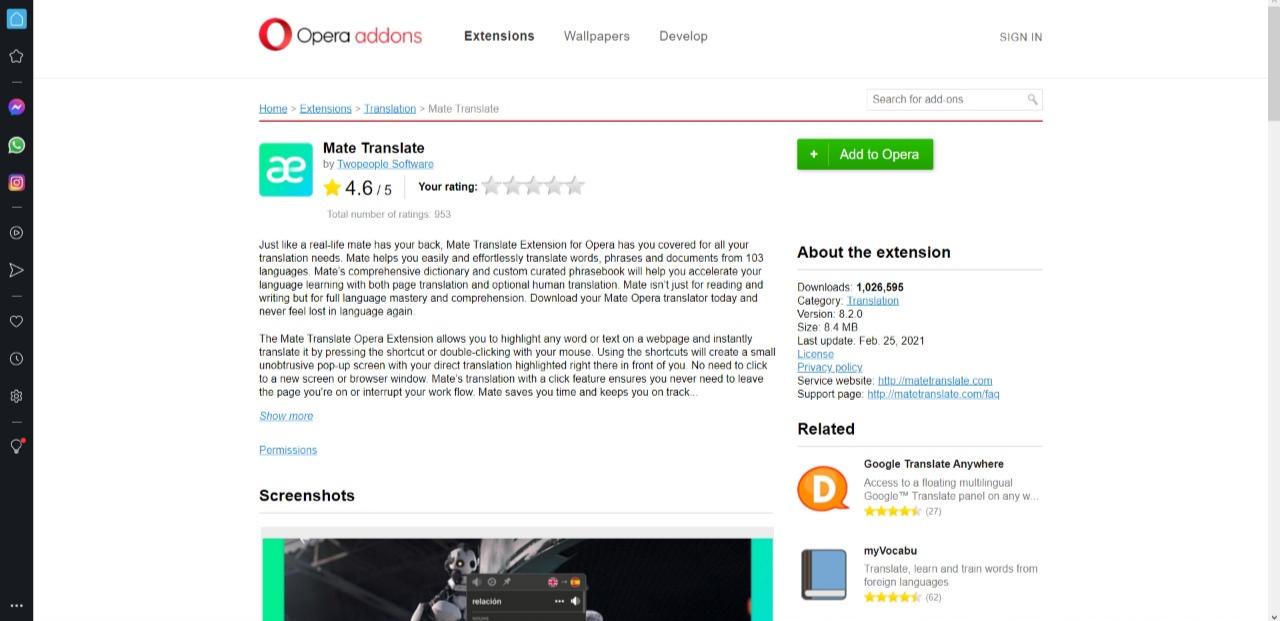 Several of Mate Translate's prime features are:
It can translate into 103 languages.
It gives you a choice between page translation and human translation.
You can highlight any word or phrase and derive its meaning.
It makes use of shortcuts.
It also helps you with incorrect pronunciation.
However, providing a simple meaning may take a lot of time, hindering your progress and wasting time.
LastPass
If you have more than one social media account, it may be common not to remember the passwords or codes to all of them. LastPass will help you in such times.
With this extension, you no longer have to worry about remembering passwords.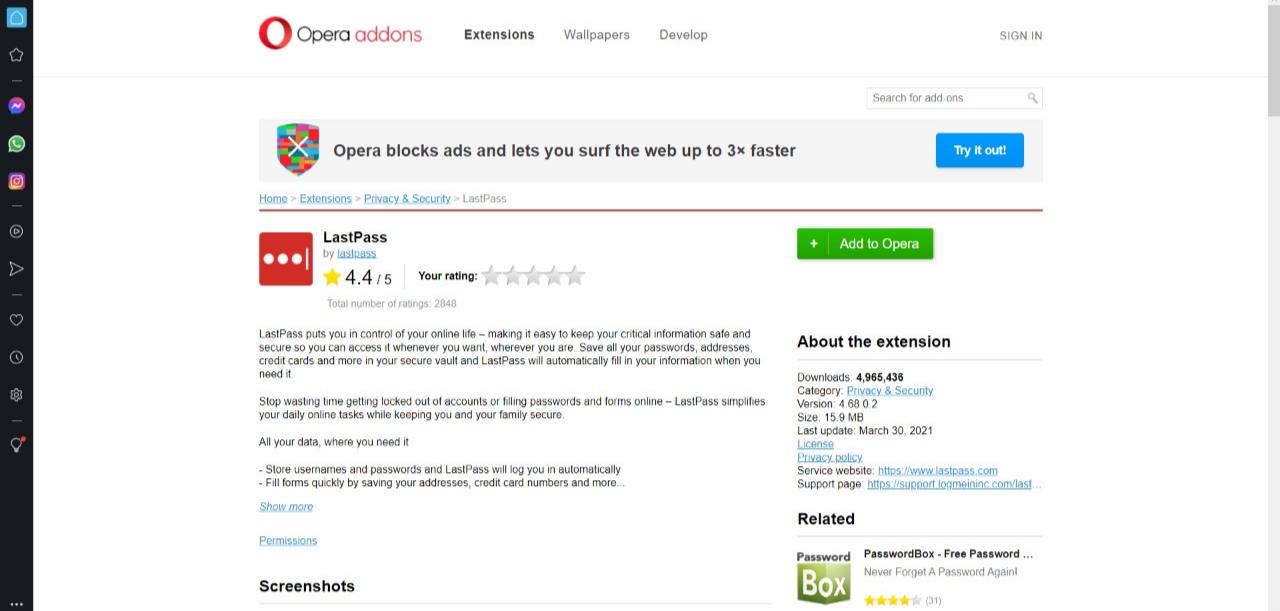 Some of LastPass's prime features are:
You can save your login information, and it'll log in automatically every time.
It also saves your addresses and credit card information.
Your data can be available on any device free of cost.
It is automatically synced across all devices.
However, the syncing is flawed and may not sync all your data simultaneously. For times like these, you'll have to input your data manually.
Emoji Keyboard
Emoji Keyboard is your solution if you love using emoticons and find it difficult to do so on your desktop. With this, you can seamlessly insert emojis into any conversation.
It is fast, unique, and easy to use, which makes it one of the most reliable keyboards.
To name a few of the Emoji Keyboard's unique features:
You can browse the emoji panel without the mouse.
You can auto-insert emojis by selecting them.
Your most recently used emojis are saved at the top.
You can copy automatically by using the clipboard.
You can customize the keyboard according to your choice.
However, it may have issues while working on Google applications like Sheets, Hangouts, etc.
Evernote Web Clipper
As a kid, did you habitually save essential newspaper clippings and articles? Now, you can do the same with Evernote.
This extension will let you save and clip important information with the world going online.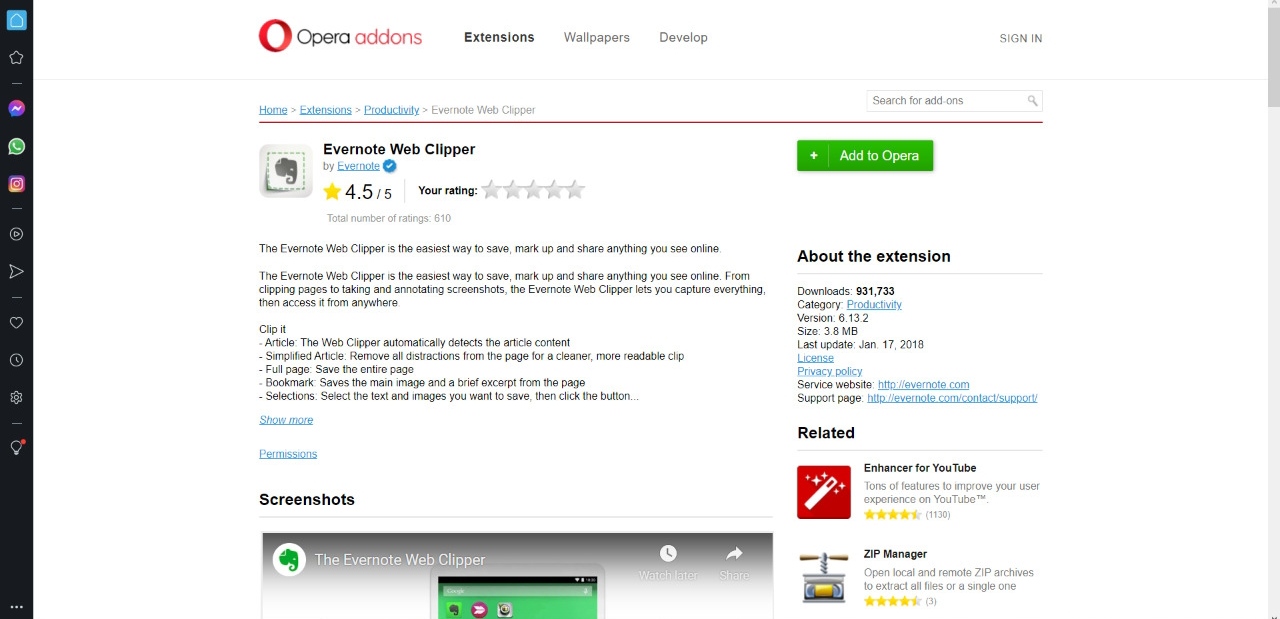 Let's have a look at Evernote Web Clipper's beautiful features:
It automatically detects article content and makes it distraction-free.
You can save the entire page or PDF of your choice.
You can also save images.
It also lets you highlight or annotate the pages.
You can share the saved pages on Twitter or Facebook.
Yet, you need to allow third-party cookies for this extension to work. It can be a significant privacy concern.
Turn off the Lights
If you get irritated by bright lights and constantly look for ways to block them, Turning off them will be a lifesaver.
This extension will help you browse everything in the dark mode that will not strain your eyes.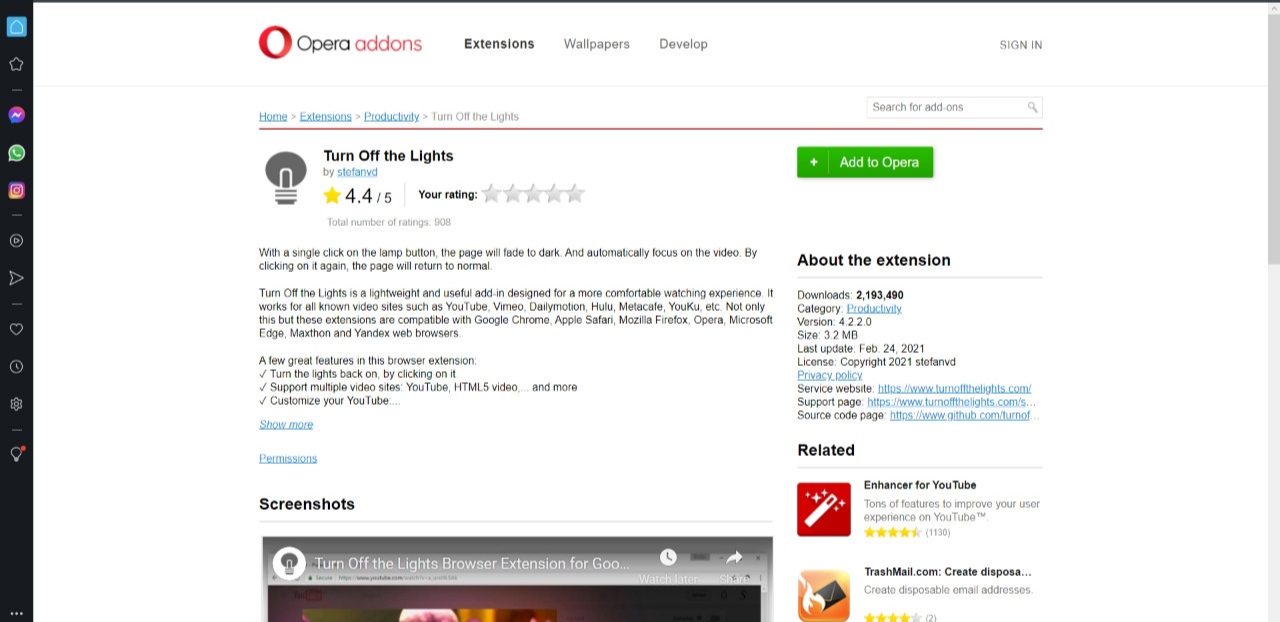 A few of Turn Off the Lights' essential features are:
It can turn the light on and off with a single click.
It supports many popular websites.
You can also use keyboard shortcuts to enhance your experience.
You can also customize YouTube.
You can customize the way your screen looks.
Although packed with many features, it can sometimes malfunction and not cover the entire screen in light or dark mode.
Pocket
If you want to browse articles and blogs on the go and never miss any updates, Pocket is your perfect choice. It lets you save every important article anytime.
With Pocket, you can also read articles when your device is offline. It is a great companion while traveling.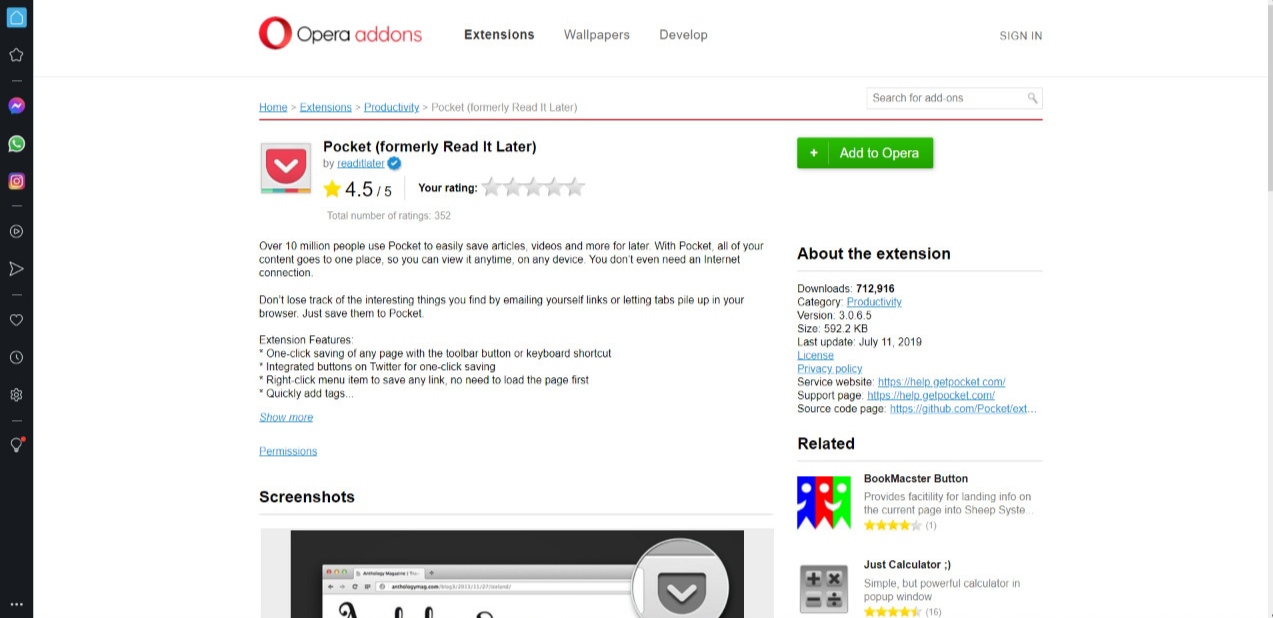 Some of Pocket's prominent features are:
You can save any article with a single click.
You can add tags quickly.
It is free.
The content can be available offline.
It can be synced across any device you own.
However, the extension may malfunction and not save all your articles as quickly as you want.
AdGuard
If you want to browse all your websites free of annoying ads and pop-ups, AdGuard will help you achieve that.
This will block ads on almost all popular websites, including Facebook, YouTube, etc.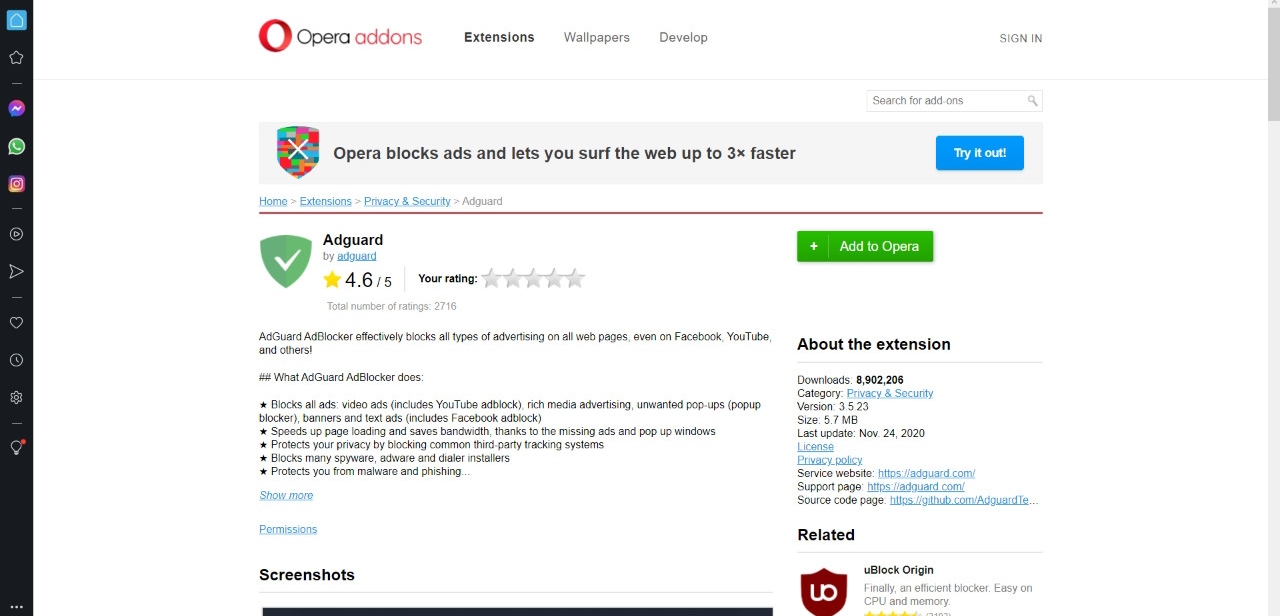 To name a few of AdGaurd's significant features:
It can block all kinds of ads, including banner ads, text ads, and video ads.
It loads your pages more swiftly and efficiently.
It blocks third-party websites.
It also blocks trackers and malware.
It also protects you from phishing sites.
Yet, most of its features are available in the paid or premium version of the extension and not in the free version.
TreeClicks
With our environment deteriorating every day and global warming becoming a grave issue, it is high time we do something about it.
With TreeClicks, you will contribute to the environment whenever you shop online.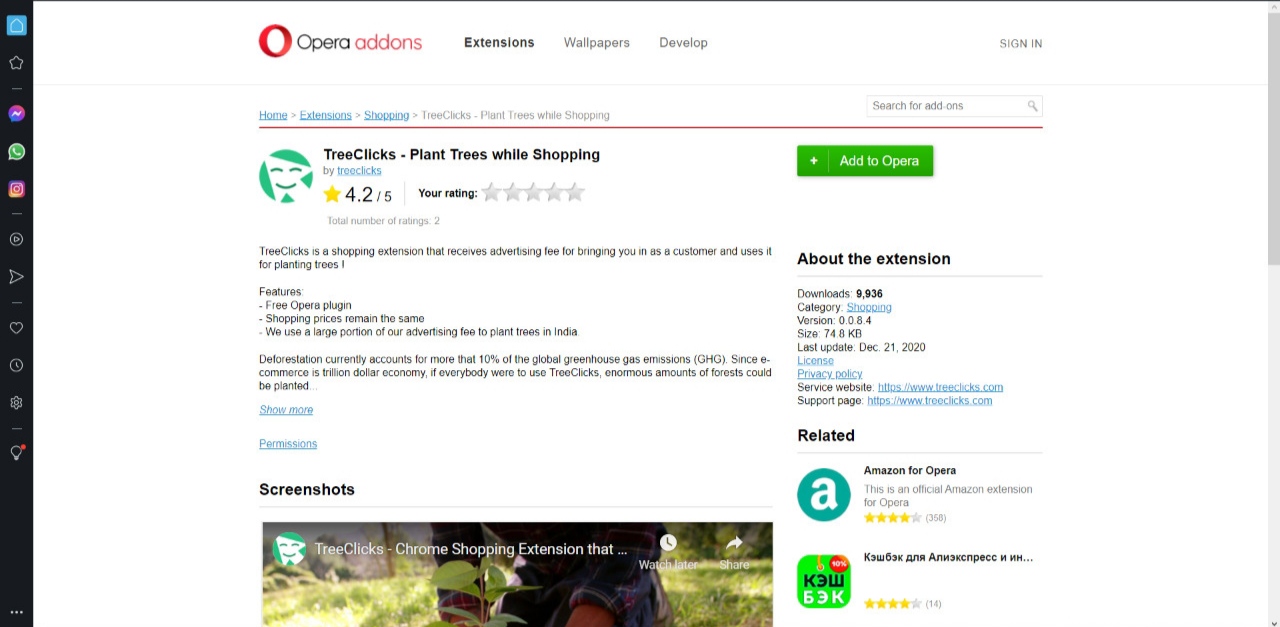 Some of TreeClicks' remarkable features are:
It is free.
The prices remain the same.
It uses a large portion of advertising fees for planting trees.
You can plant trees for free.
It has no setbacks, but shopping with a new extension seems unnecessary and time-consuming.
Bottom Line
Opera Browser offers many features that can be effective for its users. It has been a leading browser worldwide with exquisite features and elegant UI to serve its users. However, it is still underrated and deserves more fame than it gets.
Opera also has the option to provide its users with extensions to help them in every way possible. The browser has everything from browsing in dark mode to removing unnecessary ads.
These extensions or add-ons are also supported in Opera GX browser.
FAQs
What are the best Opera extensions to enhance your browsing experience?
If you're looking to enhance your Opera browsing experience, numerous extensions can add functionality and convenience to your browser. You can start with TreeClicks, AdGuard, Pocket, Turn off the Light, Evernote Web Clipper, Emoji Keyboard by JoyPixels, and LastPass.
How can I make my Opera GX browser more functional with the right extensions?
To make your Opera GX browser more functional, explore a variety of extensions that align with your needs—whether it's for social media management, news tracking, or even gaming-related add-ons. These extensions can add a layer of versatility to your browsing experience.
What are some popular Opera GX extensions for blocking ads and improving page loading speed?
Quite a few Opera GX extensions are explicitly designed for ad blocking and speeding up page loading times. These extensions can significantly improve your browsing experience by reducing distractions and saving bandwidth. You can use AdGuard, AdBlock Plus, etc.
Can you suggest some Opera GX plugins for customizing the browser's appearance?
Lastly, if you've any thoughts or feedback on 8+ Best Opera Browser Add-ons and Extensions, then feel free to drop in below comment box. You can also report the outdated information.