There might be a few sites on your bucket list that you would visit regularly. To easily access them in just a few clicks, there are quite a few approaches you could take.
However, for each task above, you must launch the browser and head to the desired option. On some low-end PCs, you might even have to wait a few seconds before using any browser's functionalities. And that's not it.
Likewise, pinning the tab might slow down your browser's startup time. Well, you'll be glad to hear that a handy method exists that bypasses all these limitations.
It involves directly creating a website shortcut link on your Windows desktop. The next time you open that shortcut link, you will be directly taken to its associated website, minimizing most of your manual efforts and interested in knowing its 'how-to'. Well, then, here are the required instructions.
Via Drag and Drop Feature
The shorter and quicker of the two, you only need to drag a specific portion just before the URL and drop it to the desired location on your desktop. Here are the steps to add a site shortcut link using drag and drop:
Launch any Windows web browser on your computer.
Open the desired website that needs to be created as a shortcut.
Resize the window so that the desktop and the browser are visible simultaneously.
Click on the Padlock in the URL address bar.
It would be a lock icon (in case of a secure connection) or a warning sign (for insecure sites).

Drag that Padlock icon to any location on your desktop and drop it.

The associated browser shortcut link for that site will then be created on your Windows desktop. You may also give it a different name by right-clicking on it and using the Rename option.
Using Browser-Specific Feature
While this approach requires a few extra efforts, it's always a good idea to have a backup plan. Furthermore, this 'backup' method has another pretty helpful benefit. If you create a shortcut through the first method, it only displays the associated URL of that shortcut.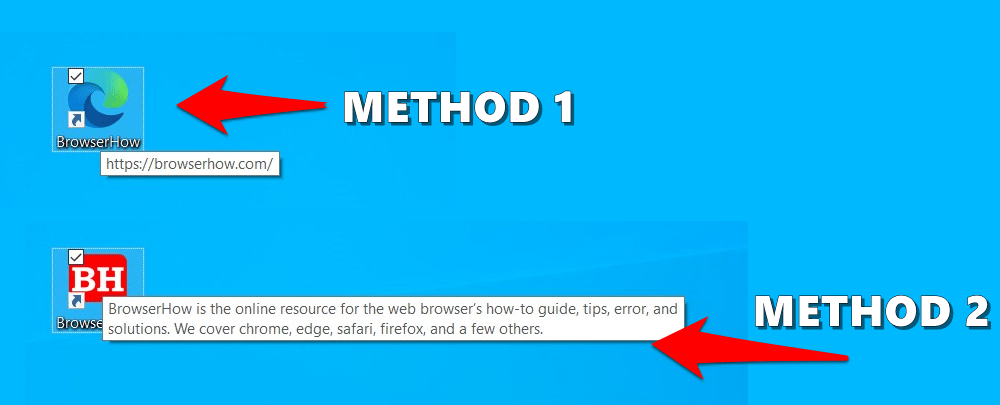 On the other hand, if you choose the second approach, the shortcut created will also display its associated metadata. These include the logo of the site, its description, and the URL. Here are steps to create site shortcut links from a web browser:
Launch your web browser app on your machine.
Open a website to add a shortcut link.
Click on the More icon for the menu list.
Hover on More Tool and select Create Shortcut…
A dialog box to create a shortcut will pop up on the screen.
Hit on the

command button.
That's it. The browser shortcut link of that website will be created on your Windows desktop. You can also rename the shortcut and enable the checkbox to Open as a window option.
A similar option to create a shortcut link will also be available on other web browsers running on Windows.
Bottom Line
So this was all from this guide on adding a browser shortcut link for your desired site. There is a crucial point to keep in mind, though. It doesn't matter which browser you have used while creating the shortcut; the latter will always open via your default browser only.
For example, if you have created a link via Firefox but your default browser is set to Edge, the system will respect this decision and open the site via Edge itself. With that said, we have shared two different methods in this guide.
Regarding my preference, I am inclined towards the second approach as it gives detailed information about the link. What are your views on the same? Does the drag-and-drop feature meet your requirement, or do you echo my reasoning and prefer the second method?
Lastly, if you've any thoughts or feedback on How to Add Site Shortcut Link on Windows Desktop, then feel free to drop in below comment box. You can also report the outdated information.