Opera browser provides complete control to its loyal users. It allows controlling the JavaScript execution on the browser for websites. We can allow or block the JavaScript to use on the browser. However, blocking the JS is not a good idea since it's a critical part of web technology, but helpful when stopped for the malicious sites to avoid hackers.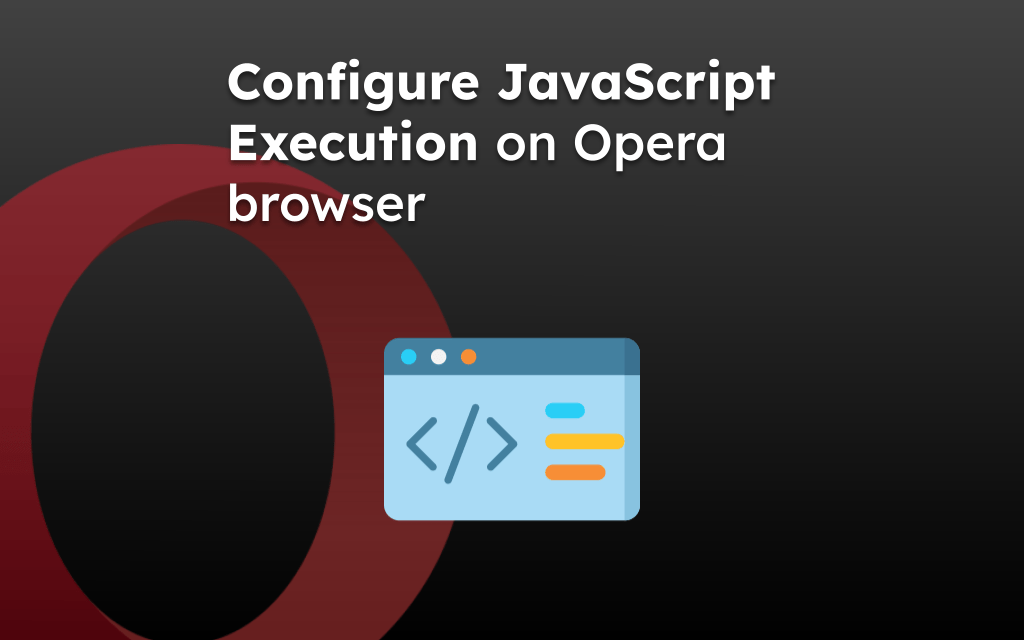 The Opera Browser has become one of the most significant browsers around the globe. It's stellar performance and easy-to-use interface have impressed its users time and again to go to the top. In addition, most of its features are different, new, and like a breath of fresh air.
Most of us may not know what JavaScript is. Coders and web developers use it to add different features to a website. However, it can be perilous as it makes the user vulnerable to hackers' data loss. If you do not take the necessary precautions, you can lose your personal information and be on the verge of cyber theft.
We must understand the gravity of this situation and take possible steps to change Javascript settings per needs. The Opera browser can disable and enable JavaScript according to our convenience.
Allow JavaScript execution
JS is a core part of all modern websites. Hence, we need to use it cautiously without breaking the websites. Several websites will not function properly if you've disabled JavaScript, and in such cases, one should enable Javascript.
Here are the steps to enable JavaScript for websites:
Launch the Opera app on the computer.
Click on the Settings from the sidebar.
It will open the Opera Settings page.
Scroll down to the bottom to find the Advanced Settings section.
Within the Advanced section, go to the Privacy and Security section.
Click to open the Site Settings tab.

Scroll down to the Content section, and click on JavaScript options.
It will open the JavaScript setting page.
Enable the toggle button to allow JavaScript on Opera browser.

Alternatively, there's also an option to add websites exclusively with JavaScript enabled. Just click on the Add button under the Allow section and copy-paste the URL of the website of your choice.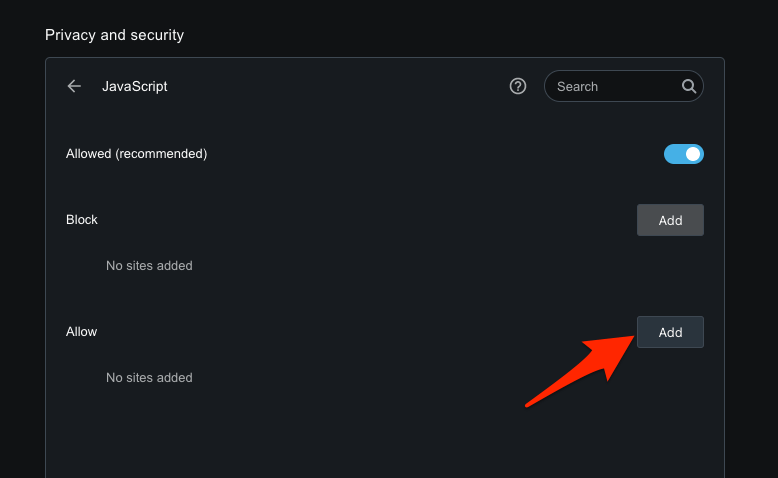 It will enable JavaScript for all the websites or specific websites of your choice. It is essential for websites that malfunction without enabling Javascript on Opera.
Block JavaScript
Javascript can be dangerous without even your knowledge. So before it gets out of your control, it's better that you take precautions and block JavaScript for websites. Especially the sites that you won't trust or have a low-security level. Here are the steps to block JavaScript:
Launch the Opera browser app on your computer.
Click on the Settings from the sidebar.
It will open the Opera Settings page.
Scroll down to the bottom to find the Advanced Settings section.
Within the Advanced section, go to the Privacy and Security section.
Click to open the Site Settings tab.

Scroll down to the Content section, and click on JavaScript options.
Disable the toggle button to allow JavaScript on Opera browser.

Just like enabling a particular site, you can also go to the Block section underneath and click on the Add button to insert the website's URLs that will have JavaScript disabled.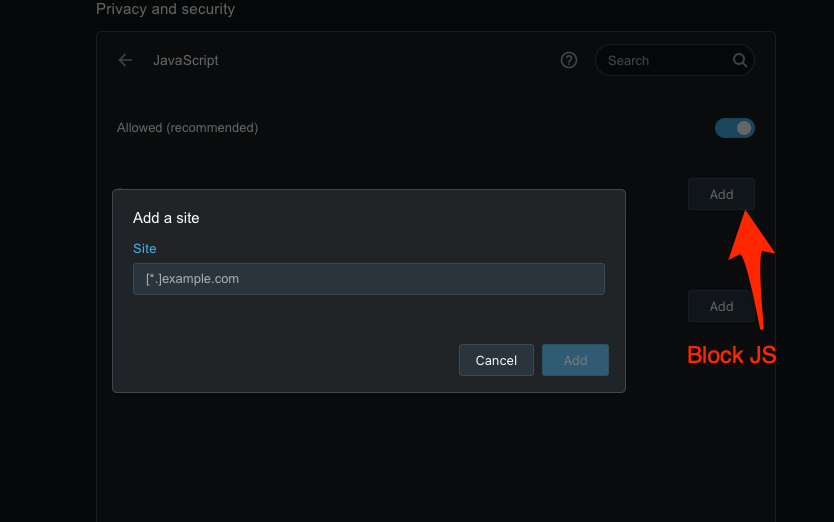 It will help you block JavaScript for all the websites on Opera or select specific websites you want to stop. Either way, it's beneficial.
Bottom Line
The Opera Browser has provided myriad features for all its users to choose from. Some features are unique and not readily available on other browsers. That's why it is so popular among millennial users across the globe. Opera is innovative and unique.
There's a high risk of losing your valuable information to fraudsters online with so much happening online. Unfortunately, JavaScript provides a way for them to steal your data.
If you're not careful enough, it can be pretty dangerous. That's where the Opera feature to allow or block JavaScript comes into play. It is a step forward to ensure your privacy and security.
Which websites have their JavaScript blocked on your computer? What are your thoughts on the ability to allow or block JS on Opera?
Lastly, if you've any thoughts or feedback, then feel free to drop in below comment box. You can also report the outdated information.