Some websites on the internet can be highly intimidating and may contain inappropriate stuff for children. Thus, most people restrict their children from accessing the internet, while some smartly block particular websites for prevention.
If you use Microsoft Edge, you won't find an option to block any website to prevent access. Hence, most Microsoft Edge users are curious enough to know how to block a website on Microsoft Edge.
Microsoft Edge hasn't yet introduced any in-built function specifically to block websites. Nevertheless, using your command prompt, there is a workaround to block websites on the browser. And this trick works not only for Edge but for all web browsers absolutely for free.
I've listed two ways to block a website, the best you can do is use an extension and block the website from accessing the Microsoft Edge browser.
Sites Blocker Extension
Earlier, there wasn't an alternative to attach extensions on Microsoft Edge, but with the latest Microsoft Edge Chromium, you can combine extensions. Hereabouts, how to prevent websites by the site blocker extension.
Here are the steps to install the site blocker extensions:
Launch Microsoft Edge on the computer.
Click on the Menu from the top right-hand Edge.
Choose the Extensions tab from the menu list.

Click on the Get extensions for Microsoft Edge button.

Type block sites on the search box and hit .

Click on the

button and then button against any extension.
Note: You can download any, as they all operate similarly. You can try different extensions to find out which suits you the best.
When the extension is installed, start a website you wish to block (e.g., Facebook.com)and tap on the Block Site icon at the top. The last step is tapping the Confirm button.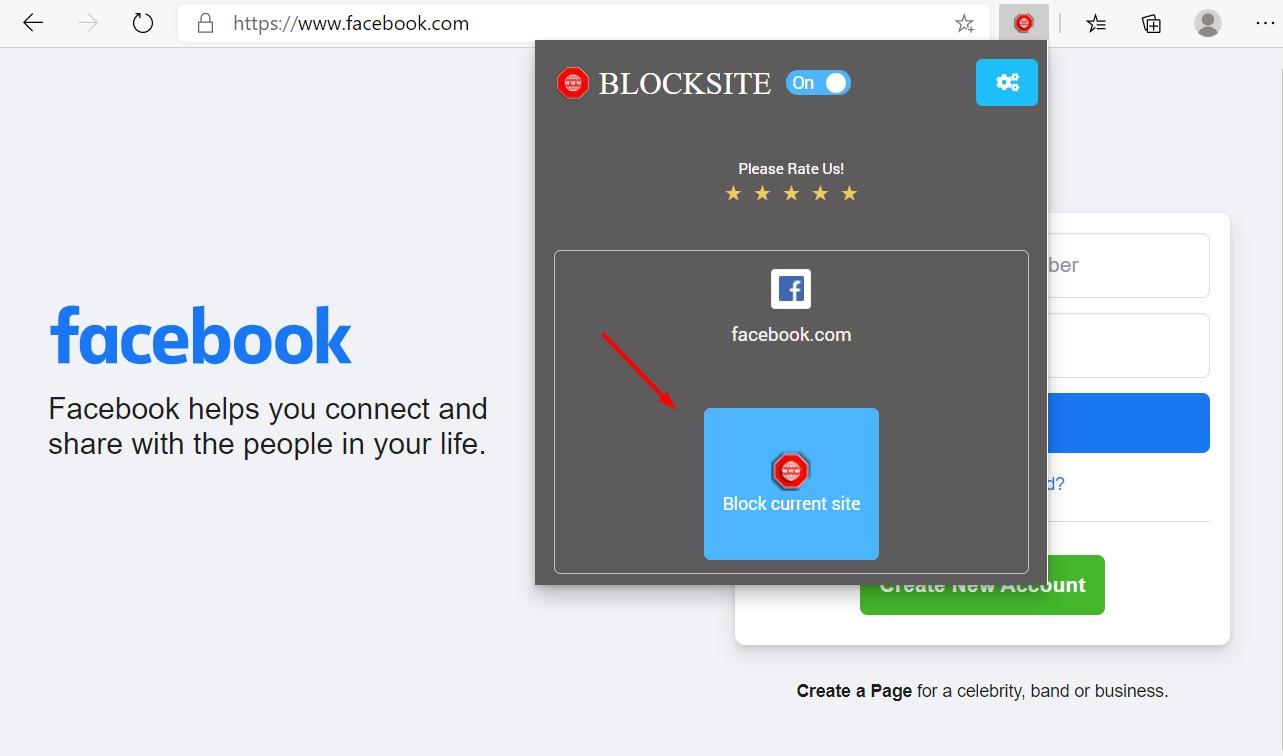 Promptly, you notice a black screen whenever you start Facebook, which means restricted access. To unblock back, tap on the Block Site icon from the top edge of the screen and click OK.
Using System Host File
During this process, you must execute some easy addition to the Windows hosts file. Host file editing is the most straightforward technique to block websites on Microsoft Edge or any other web browser. This is an accessible approach to restrict people of all generations from viewing content you don't want to see.
Tap the

cmd

.
key button and search for
Right-click on Command Prompt and choose the option Run as administrator.
In the command line window, type

notepad c:\WINDOWS\system32\drivers\etc\hosts

and hit the button.

Switch to the Notepad app, and at the end of the text, type

127.0.0.1

.
After giving space, type the website name you wish to block.
For example,

127.0.0.1 www.facebook.com

. For every website you wish to block, repeat this step.
Open File from the notepad menu bar and hit to keep the file.
Close notepad and command prompt.
If you cannot edit the host file, we recommend you download Notepad++ (freeware software) to edit this file. As this is a critical system file, you will need special software/permissions to edit this file. With Notepad++, you can edit and save this file effortlessly.
For Mac, you can use the Terminal app and run the following code to edit the Host file: sudo nano /etc/hosts/ and add the same 127.0.0.1 example.com script. You should save the file and restart the system for the blocker to work.
Bottom Line
Making good use of the internet is crucial, mostly in cases of children. However, certain websites containing ill-suited ads or content might create a negative impact on the usage of the internet. As a result, it is always a wise decision to block such websites on your browser.
Microsoft Edge does not yet have any built-in functionality for blocking websites. However, you can use your command prompt to block websites in the browser as a workaround. This method is entirely free and works not only for Edge but for all web browsers.
The steps mentioned above will help you do so in your Microsoft Edge browser. Since experimenting with the command prompt must be alarming; therefore, you are advised to follow these steps very carefully.
Lastly, if you've any thoughts or feedback on How to Block a Website on Microsoft Edge, then feel free to drop in below comment box. You can also report the outdated information.