The Microsoft Edge offers option to data import from other browser. It has the built-in data importer that can be use for moving the saved bookmarks and Chrome Passwords to the Edge browser.
Open the Edge Settings and select Profiles tab to choose Import option. You can select the desired Chrome Profile and Data options. Apart from Favorites and Passwords, you can also choose Browsing History, Extensions, Addresses, Payment Methods, etc. to import.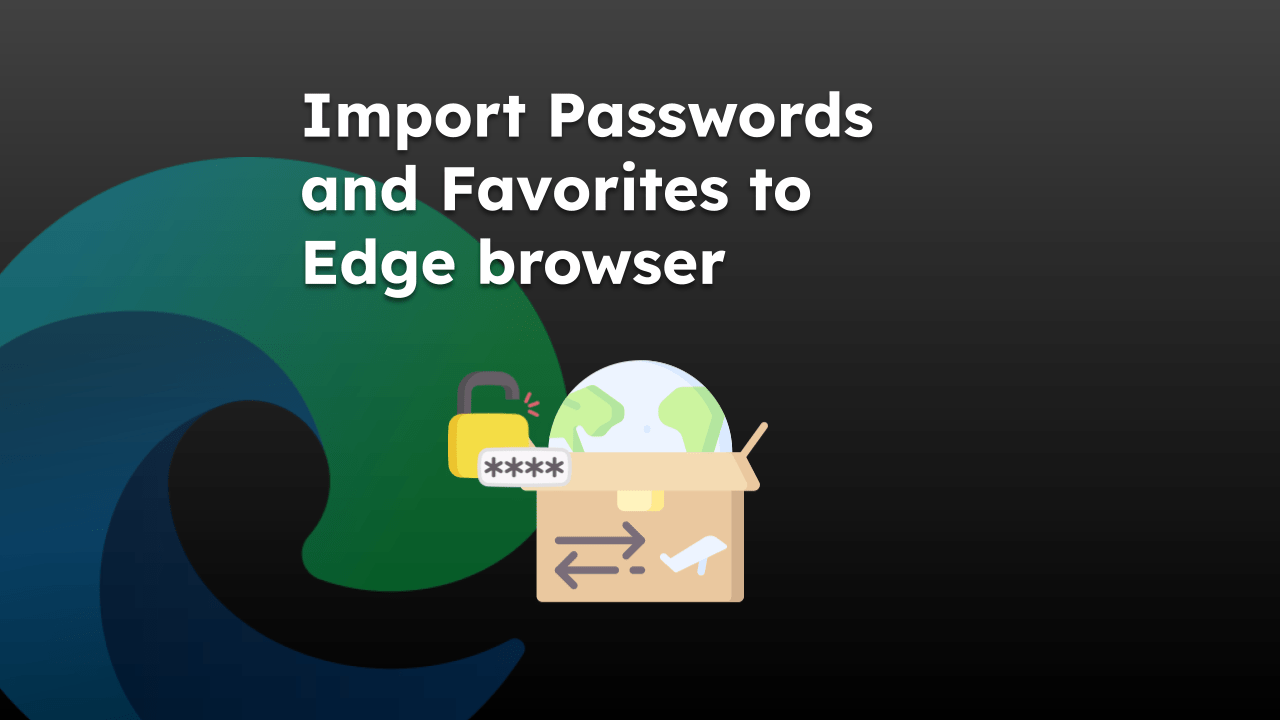 Suppose you are currently using the Chrome browser. You have your bookmarks and saved passwords on Chrome for various websites you access. You may be looking to explore Microsoft Edge. However, you have to save your passwords and bookmarks again on Edge. That's a time-consuming affair.
Fortunately, you can import all that data from Chrome to the Edge browser with a few clicks. In this guide, you will learn easy steps to import data from one browser to another.
On this page, you can find and jump to:
Migrate Saved Data from Chrome to Edge
Before importing the browser data from Chrome to Edge, install both browsers on your PC. I suggest updating Chrome and Edge to their latest builds. The importing of bookmarks and passwords will be error-free.
To migrate the bookmarks, passwords, and other saved data:
Launch the Edge browser on your PC.
In the URL bar, enter

edge://settings

and press key.
On the left-hand sidebar, click on Profiles.
On the right side, scroll to Import Browser Data and click it.

Click the Import Data from Google Chrome' option.

button beside the '
Under the tab Choose What to Import, click the checkboxes "Saved Passwords" & "Favorites or Bookmarks".
Select the Chrome Profile that you want to import.

You may also select to import payment history, browser settings, extensions, and other personal info.
Hit on the
button.
Microsoft Edge is very similar to Google Chrome. Once you import browser data from Chrome to Edge, it can sync across the various devices on which you use the Edge browser with the same Microsoft account.
If you use the Edge for Android or iPhone, the Microsoft account will automatically sync the Chrome data into the smartphone browser.
Note: When you freshly import browser data from Chrome, your existing passwords will be updated with the new passwords when you have duplicate records.
Easily Import Bookmarks and passwords to Microsoft Edge
If you want to explore Microsoft Edge for a change, you do not have to resave your bookmarks or passwords. Import the data from your older browser to Edge using the built-in data importer with a few clicks.
With the above steps, you can migrate all the browsers and saved data, like passwords, addresses, payment methods, extensions, bookmarks, etc., from Google Chrome to Edge.
Lastly, if you've any thoughts or feedback, then feel free to drop in below comment box. You can also report the outdated information.