Browser cookies are used to remember the user's login information and session details for a website. However, the Samsung Internet browser does offer the option to block or allow browser cookies. You can customize and block the cookies and even block only third-party cookies for privacy protection.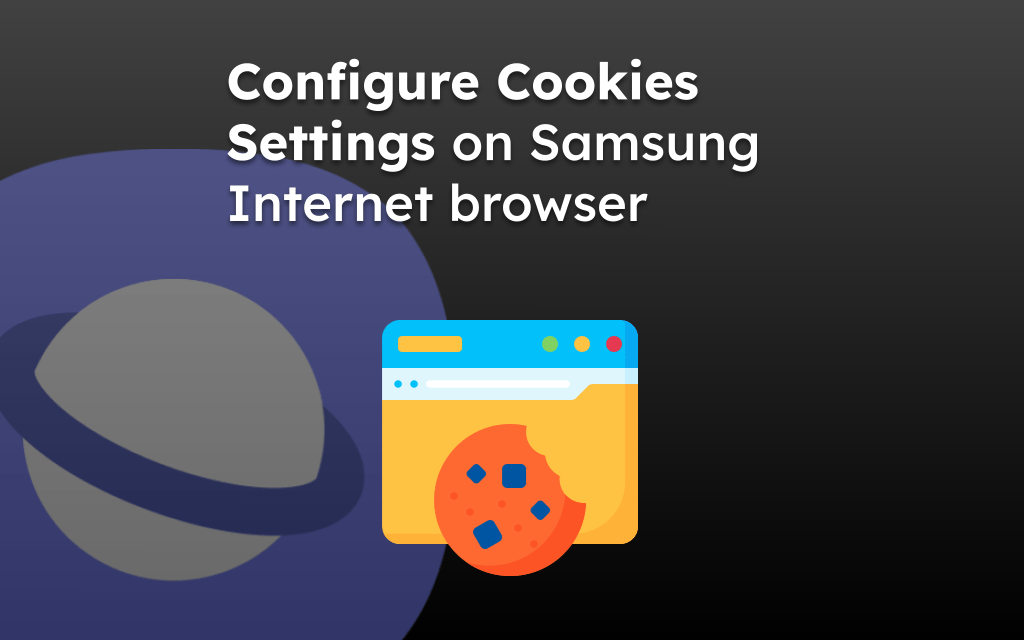 Cookies are small pieces of information that websites store on your computer. Cookies only store text information, nothing more than that. The text information can be a username, password, or any other that a website requires to keep track of your login activities in an encrypted format. Cookies are an integral part of the browser and help them to remember your login information.
When you enable browser cookies on Samsung Internet, the websites you visit will be able to remember you to make your login information more comfortable. If you're surfing for a website that requires a login or wants to customize the preferences on the website, you'll need to enable browser cookies.
Besides advantages, cookies also threaten your browser's security and privacy. Advertisers take advantage of the cookie's information to record your browsing activities, which can be used to display ads while browsing. That's why most people prefer to disable browser cookies on Samsung Internet.
Whether you want to enable or disable browser cookies on Samsung Internet, it's always good to block third-party cookies. If you are too concerned, clearing browser cookies is easy.
Allow or Block Cookies
Samsung Internet app lets you enable or disable browser cookies for all websites with a single toggle button. The process is quite simple and won't require much effort. Here are the steps to enable or disable browser cookies:
Launch the Samsung Internet app on your Android.
Tap on More for the menu list.
Select the Settings menu option.

Choose the Privacy and Security settings from the list.
It will display the list of privacy and security options available in the Samsung browser.
Enable or Disable the toggle button for Accept Cookies tab menu.
Enabling the toggle will allow cookie settings while disabling the toggle will block browser cookies.

Based on your settings, the websites have access to store cookies. If you want to disable all third-party cookies on Samsung Internet, tap the Accept cookies menu tab and disable toggle against the Allow third-party cookies.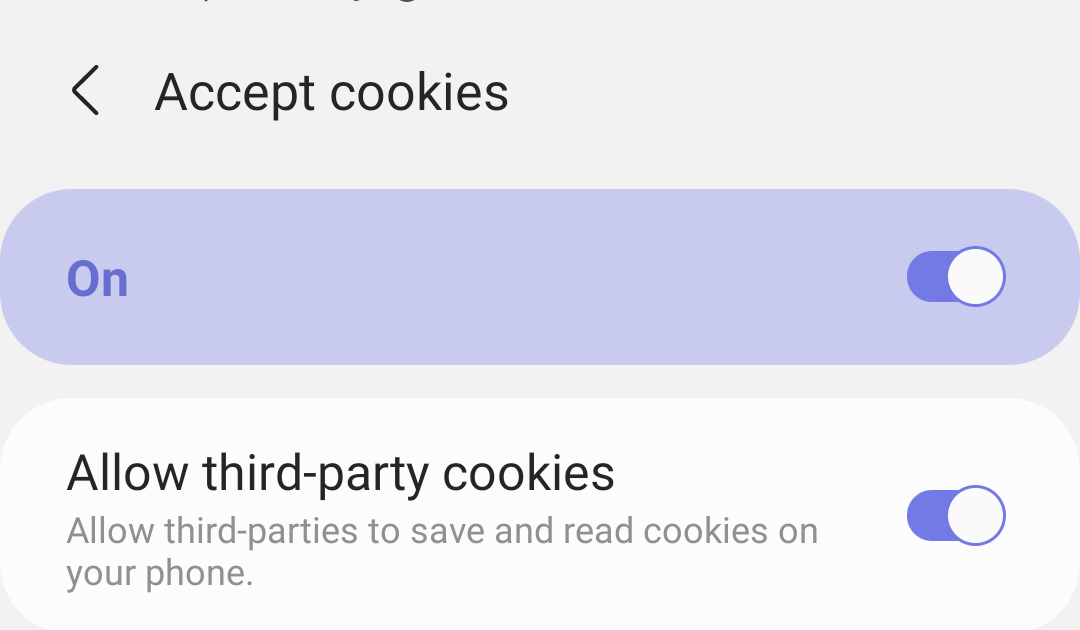 If you disable the cookies, none of the websites can store cookies on your smartphone. This way, some websites might refuse to work; in such a case, you should enable the cookies again.
Bottom Line
Remember that cookies are an integral part of the browser and work well to make browsing comfortable. They will save time by remembering your login credentials and storing your customized site preferences.
Blocking cookies for a website will also cause sign-in errors, and the site might misbehave. In such a case, we do not have any option other than allowing it on the Internet browser.
Unfortunately, Samsung does not have the option to block site-specific cookies; you have to enable cookies for all websites or stop them completely.
If you're concerned about browser privacy and security, you should disable the cookies as they track your online activities. Moreover, if you don't want to block cookies for all websites, you can benefit from blocking third-party cookies.
How was your browsing experience after allowing or blocking browser cookies on Samsung Internet? Have you faced any issues after blocking cookies?
Lastly, if you've any thoughts or feedback, then feel free to drop in below comment box. You can also report the outdated information.