The Opera Browser stays ahead of all the other browsers due to its advanced features and services that have impressed users for years. It has given tough competition to popular browsers like Google Chrome and Firefox.
Often we see that our browsers take longer to load a particular page or crash without any reason. Although we can tolerate it for some time, it becomes excessively annoying after a point.
The main problem is the unnecessary storing of data, history, and cache in browser storage. The best way to deal with this problem is to eliminate it immediately.
The Opera Browser provides the option to clear the browsing data, history, and cache. It is effortless and can be done in mere minutes. It also helps in protecting the privacy and security of the user data.
Clear Browsing Data
The Opera Browser helps you eliminate all the unnecessary junk on your computer with a single click. It will prevent your browser from crashing in the future and remove obsolete data. Here are the steps to clear browsing data:
Launch the Opera browser app on your computer.
Click on the Settings from the sidebar options.
It will open the Settings page in Opera.
Scroll down to the Privacy and Security section.
Click to open the Clear Browsing Data options.
The clear browsing data window will open.
Enable the checkbox for Browsing history, Cookies, and other site data along with Cached images and files.

Select the Time range from the drop-down menu.
Hit the
command button.
It will immediately clear the selected data sets from the Opera browser. After you remove the cache, the sites you usually visit may take longer to load, but it's normal, and there's nothing to worry about.
You can switch to the Advanced tab under Clear browsing data and remove Download History, News usage data, Passwords, and form auto-fill for the complete Opera browser reset.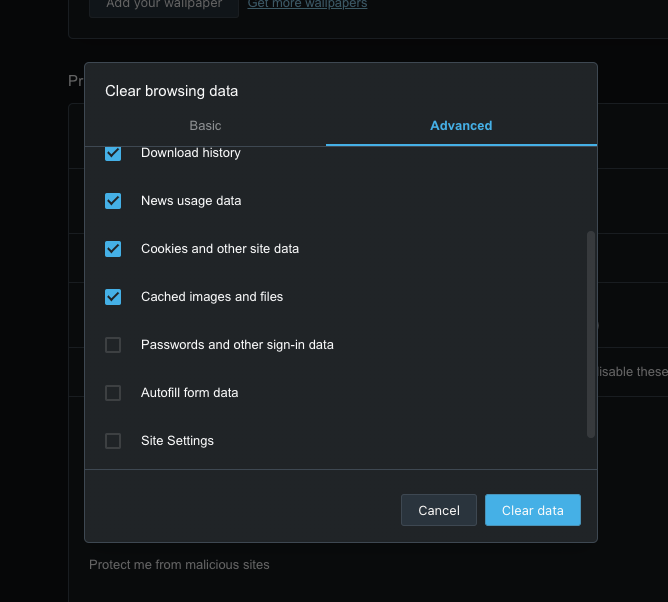 Bottom Line
The Opera browser has provided its users with best-in-class features and benefits at all times. That's why it has gained a lot of popularity in a short duration of time. The features provided by Opera are unique and feasible. The feature to clear the browsing data on your computer will make it relatively easy for all its users in the long run.
When we constantly browse our browsers day in and day out, there comes a time that it becomes excessively loaded with unnecessary data and details that need cleaning. If that's not done occasionally, the browser may cause significant problems and crash anytime. So, it's advised to clean your browsing data whenever necessary and save your browser from data clogging.
How often do you clean your browsing data on the Opera Browser?
Lastly, if you've any thoughts or feedback on How to Clear Browsing Data on Opera Computer, then feel free to drop in below comment box. You can also report the outdated information.