Samsung Internet is one of the best browsers regarding privacy and security. It allows the user to control the privacy and security option from the Settings menu. It has a smart anti-tracking system and also a few other options, like alerting phishing sites that secure users' browsing behavior and protect them from visiting malicious sites.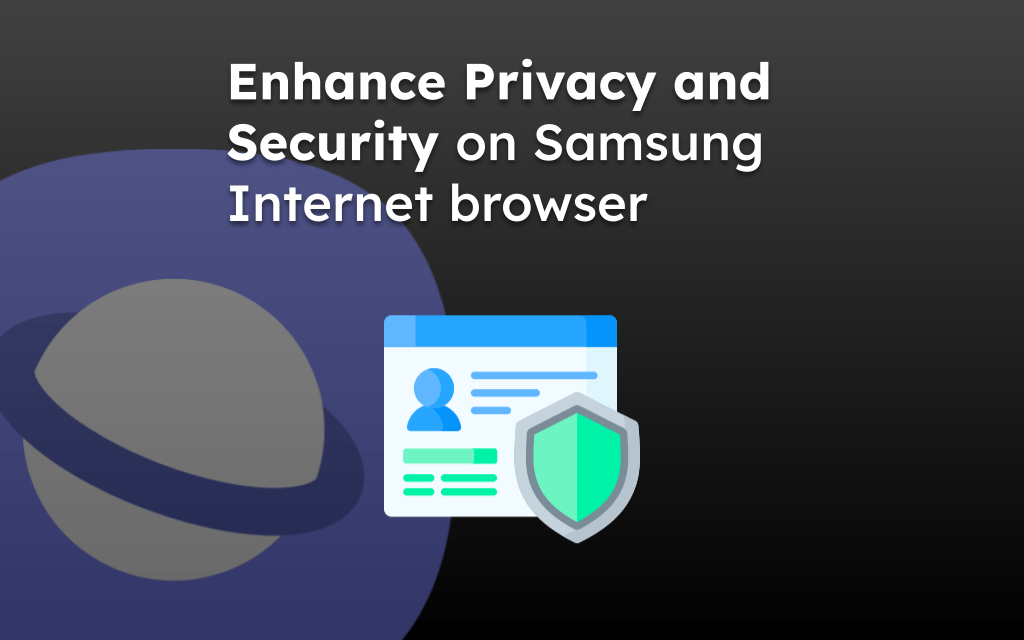 There is a rising inclination toward people about privacy. Samsung Internet offers you a good amount of control over privacy. It has a built-in ad blocker preventing websites from loading advertisements and tracking your activities.
Most of the websites you visit track your online activities and use this collected information to display advertisements.
The increasing use of the internet has raised privacy concerns. I have researched and found that enabling some privacy and security settings within the Samsung Internet will protect data privacy. While it's true that nothing on the web is anonymous, it is best practice to enable privacy settings.
Samsung Internet offers a few known privacy settings, like do not track and block unwanted sites; it also includes an intelligent anti-tracking feature that helps browse safely.
Privacy Settings
Samsung Internet is not a privacy-centric browser, but still, it enables you to block unwanted webpages, smart anti-tracking, ask sites not to track, secret mode settings, and so on. You can enable these privacy settings from the Samsung Internet settings.
Here are the steps to enable the privacy and security settings:
Launch the Samsung Internet app on your Android.
Tap on More for the menu list.
Select the Settings menu option.

Choose the Privacy and Security settings from the list.
This will display the privacy and security options list in the Samsung browser.
Enable/Disable the Privacy and Security options per need.
You can enable a smart anti-tracking feature to prevent website cookies from tracking your online activity. However, by doing so, some websites might refuse to work; in such a case, you can disable the smart anti-tracking.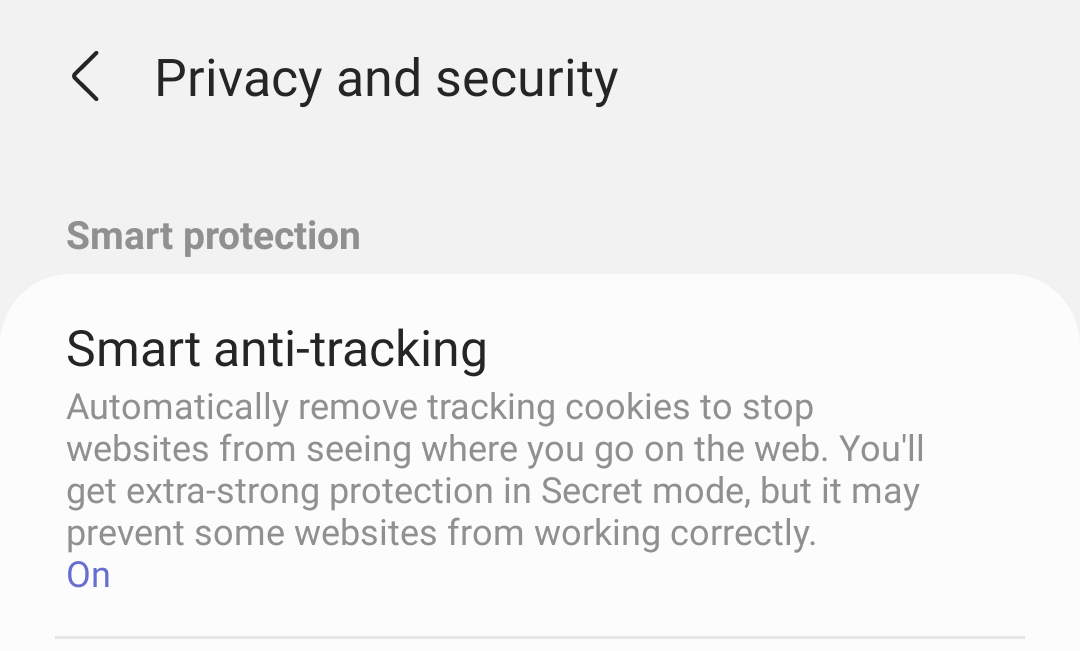 You can also enable the warning about malicious sites option. By doing so, Samsung Internet will warn you whenever you're about to visit a malicious site that is recognized as dangerous.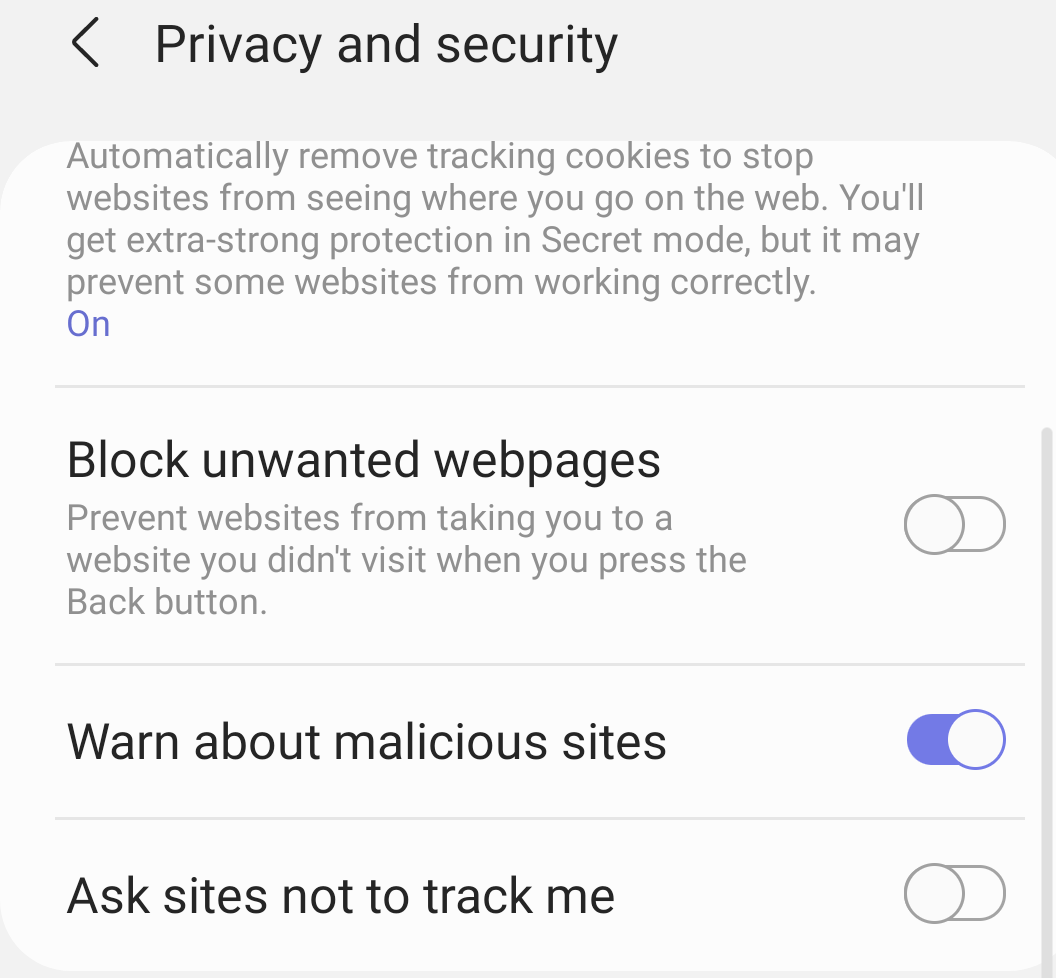 You can also Block unwanted webpages, preventing unwanted web pages from loading. I also recommend you enable Ask sites not to track me options.
Bottom Line
The Samsung Internet browser offers an excellent option to tackle the privacy and security of users. It's great to see a feature like Smart Anti-tracking that works quite well.
Samsung Internet also offers a secret mode feature, so you don't want to leave your browsing history traced. You can also enable passwords for the secret mode on Samsung Internet. But do keep in mind that private browsing mode will not block the web trackers; it just protects you from unauthorized access to your device.
Hopefully, this helps in enhancing the privacy settings on Samsung Internet. What's your take on these privacy settings? What are your current privacy and security settings?
Lastly, if you've any thoughts or feedback, then feel free to drop in below comment box. You can also report the outdated information.