We always face some or other technical issues when using a website or browsing the internet. It can happen to anyone. It could be that your browser is not responding or your posted content on Twitter or FB is not reflecting immediately.
Perhaps this can be an issue with the web browser or website server. If we are sure that the website is working fine, but our browser is clogged with too much cache, then a hard refresh often helps.
The page refresh typically tries downloading the new files and deleting the existing data from the browser cache. This is the most common issue for websites not responding or displaying the same old pages.
Hard Refresh and Reload
If your website page is not refreshed even after multiple reloads, the only option is to refresh the page. It will delete all the cache files stored in the browser and re-download new data.
Here are the simple steps on how to refresh a page:
Launch the Google Chrome browser on your computer.
Open the Website that you to refresh hard.
Press and hold the
(Windows/Linux) or (Mac) button.
Hit on Reload   on the browser next to the URL bar.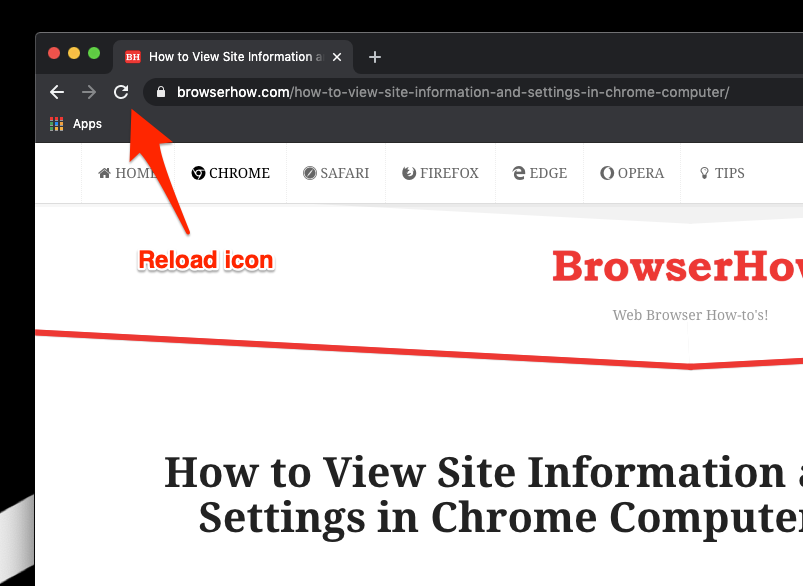 This will completely refresh the page and help load the new assets and files from the server.
The data stored in the browser cache, images, static assets, etc., are deleted. The browser will request new files from the server, giving a cleaner experience.
If you think the Page has not refreshed the content even after using the refresh page, you can try clearing the browser cache from Chrome for your computer.
Bottom Line
If your Chrome browser is slow and sluggish or displaying the same content even after modification while loading the website, remove the website cache using the hard refresh.
As mentioned, the page refresh will delete all the static files stored in the browser and re-download new files from the server. Also, the data you saved on the site will get erased as soon as your hard refresh the Page.
Similarly, you can also hard reload on the Chrome Android browser with a single tap on the reload button. This will delete the cache and new files on the browser.
Did this help you hard to refresh the website page in the Chrome browser? This will help in clearing the browsing data and cache storage.
Lastly, if you've any thoughts or feedback on How to Hard Refresh or Reload Page in Chrome Computer, then feel free to drop in below comment box. You can also report the outdated information.