The Brave browser has a built-in importer feature that automatically imports the data from an existing web browser. With the help of the same importer, we can select the import source as the Chrome browser profile and enable the checkbox for Saved passwords to import into the Brave browser database directly.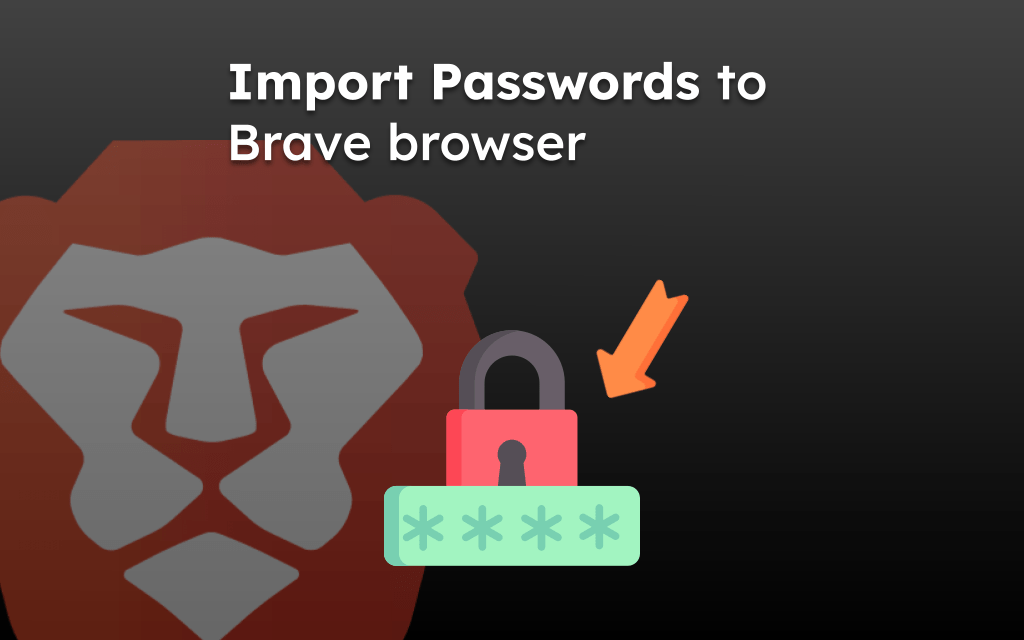 Do you dislike the tedious process of signing into your email account or other accounts? I certainly hate it! It is so dull and tiresome. To avoid this, I saved my browser passwords so I could sign into my accounts within seconds without manually entering my account details.
But when I stopped using Chrome and moved to the Brave browser, I realized I did not have my passwords saved! Then, I imported my password to Brave, and the problem was solved!
The Brave browser lets users import browsing data like bookmarks, passwords, etc. Importing passwords to the browser allows users to access their accounts without manually entering their account information.
The tedious process of entering the username, password, and other information is streamlined when all this data is stored on the browser. The browser enters this information on behalf of the user, cutting down on time required to sign in to an account. The Brave browser allows users to transfer their passwords and other data from their browsers to save the user time and effort.
Transferring passwords from Chrome to Brave browser does not require you to follow complicated processes like downloading and uploading CSV files.
Although you can transfer passwords with the help of a CSV file, I do not recommend it since it is a bit lengthy. The method that I will show you is more straightforward. All you have to do is visit the browser settings to import passwords.
I have described an easy way to import your passwords to the browser from Chrome. I can promise you that it will be worth your time!
Import Password to Brave
The Brave browser has a built-in feature to read the data from existing web browsers. If you have recently started using Brave, you should consider importing the browser data from an old web browser. Similarly, we can import Chrome Password to Brave Password Manager.
Launch the Brave app browser.
Select the Settings menu from the More options list.
Under the Get Started tab, click to open Import bookmarks and settings options.
It will open the Import pop-up box.
Select the preferred Browser Profile from the drop-down list for import.

Enable the checkbox for Saved passwords among the items that can be imported.
You can choose to import bookmarks, extensions, and browsing history.
To confirm, hit the
The data import will be processed, and a dialog box with a success message will appear.
command button.
Hit on

to close the importer.
The passwords will be imported into the Brave browser instantly. Henceforth, every time you visit with a saved password will automatically fill in the sign-in information, saving time.
Similarly, you can also import the browser data from other browser profiles and sources.
Bottom Line
Like other browsers, Brave allows users to transfer passwords from their old browsers. You can import passwords from all browsers to Brave, including Chrome, Firefox, Opera, etc. If you are in the process of transferring data and customizing Brave browser and its settings, then you must transfer passwords too. It will make your life so much easier.
The remarkable speed with which you can migrate to Brave and import your data, such as stored passwords, bookmarks, and extensions.
This a remarkable process to make your transition to the browser more accessible and more seamless. The process is short and sweet, and the passwords will be stored and ready for use as soon as you import them to Brave.
I hope this article assisted you in importing your passwords from Chrome to the Brave browser. I hope your journey from your old browser to Brave will not be rocky and you can successfully transfer your passwords to Brave.
Lastly, if you've any thoughts or feedback, then feel free to drop in below comment box. You can also report the outdated information.