There is no denying the fact that Chrome comes with quite a lot of useful functionalities. But on the other hand, some might not be well-appreciated by everyone. And the browser's ability to auto-fill the address bar probably falls in the latter category.
There are quite a few reasons that could help me justify this statement. Taking my personal experience into account, I just typed in "What is.." and the browser did the rest of the job of filling the Omnibox with the query I wasn't going to search.

As a result, I then had to use the backspace key to delete this automated data and proceed with my search query. While a single backspace might not count in as much of an effort, imagine doing so every time you proceed ahead with a search.
Furthermore, it could also stand out as a significant privacy issue, especially for shared PC users. So is there any method to stop the autofill in the Chrome address bar, and if yes, how could it be achieved? Well, let's check it out.
Stop Autofill in Chrome Address Bar
So let's get straight to the point- there is no native option to stop the autofill from hijacking Chrome's address bar. On checking the Chromium Bugs Tracker "Issue 91378: Option to turn off autocomplete in Omnibox", the Status clearly says WontFix (Closed).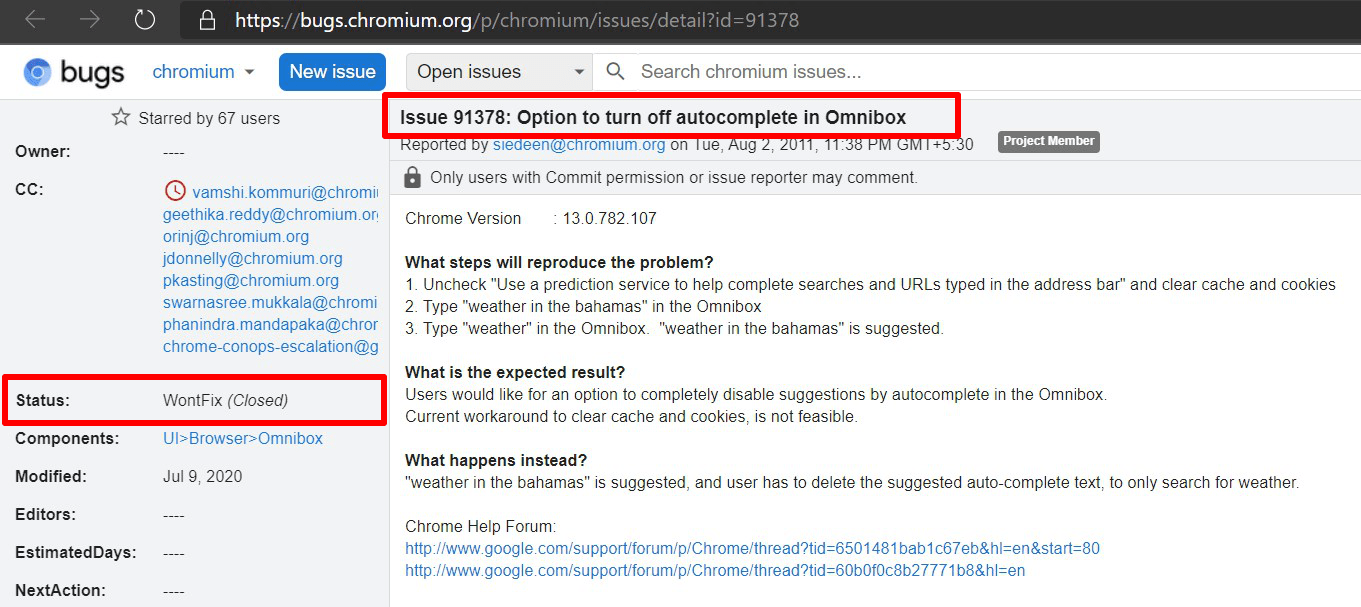 Well, that speaks volumes in itself. However, even then, a few workarounds exist through which you could at least minimize this rather irritating behavior of Chrome. So without further ado, let's check them out.
Disable Autocomplete Searches and URLs
If you disable this functionality, the browser wouldn't send your cookies and browsing history to the search engines. While doing so won't altogether disable the autofill, the results will at least be fewer in numbers.
Here are the steps to disable autocomplete search on Chrome:
Launch the Chrome browser and go to its Settings page.
Then head over to the Sync and Google Services section.
Finally, disable the Autocomplete searches and URLs toggle under Other Google services.

While on the one hand, it would reduce the number of autofill queries, on the flip side, the queries you would be getting wouldn't be curated as per your interest. So decide on this trade-off accordingly.
Delete Chrome Browsing Data
The autofill feature of Chrome mostly picks up the data from your cookies, search history, and autofill services. So by deleting these data, you would be limiting the autofill domain.
This would straightaway result in the browser showing fewer autofill queries. Here are the steps to delete the browsing data:
Open the Chrome app on the computer.
Start by accessing Settings from the More menu.
Privacy and Security section and click on Clear Browsing Data.
Select Browsing History, Cookies and other site data, and Cached images and files.
You may also checkmark the Autofill form data if you want to be more aggressive.
Once you have selected it, hit the

button.
The benefit of the above method is pretty straightforward- the autofill will now function with limited data at hand. However, this is a temporary fix because, over time, the browser will again send data to the autofill, and the latter will populate the Omnibox with its suggestions.
Now, if you wish to browse in an Incognito Mode, then use the Ctrl + Shift+ N keyboard shortcut combinations to open a new incognito window.

Bottom Line
So this was all from this guide on how to stop autofill in the Chrome address bar. As already mentioned, there is no option to disable this feature. Quite a few concerned users are already looking for a "permanent fix" to this issue across the Google Support Forum, but they seem to have returned empty-handed.
It is a surprise that even when this offering from the Silicon Valley giants is scaling new heights daily, they still don't find it helpful enough to incorporate this feature into their core structure.
With that said, I prefer to take the incognito browsing approach. This is because deleting cookies and data requires manually typing the username and password across every site.
Likewise, these sites would now take longer to load (since there are no cache files). On that note, we conclude this guide. Do let us know in the comments which method you ultimately went for.
Lastly, if you've any thoughts or feedback on How to Stop Autofill in Chrome URL Search Bar, then feel free to drop in below comment box. You can also report the outdated information.