A Virtual Private Network allows you to create a safe and secure connection to a foreign server belonging to any other region or country. For example, living in the United States, you could switch to a server in Germany.
But what are the benefits of doing so? Well, there are a plethora of perks associated with it.
To begin with, your IP address wouldn't be the actual one; instead, Opera would mask it to a place where the VPN is currently connected (which, in this case, would be Germany).
As a result, it would translate to an anonymous and safer online browsing experience. Likewise, you would also be able to access geo-restricted content and websites.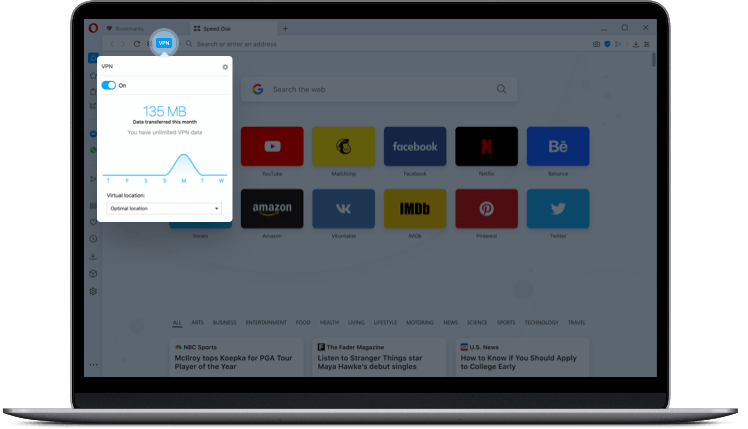 Well, the benefits of a VPN are plenty, but to make full use of them identical, you might have to download and install this as an application software onto your PC. Likewise, most of them require you to shell out some bucks to use them.
However, the Opera browser has efficiently dealt with both of these scenarios. It comes with a free built-in VPN that gives out unlimited VPN data. And in this guide, we will inform you of the instructions to use this free VPN service in Opera Browser's PC version. So without further ado, let's get started.
Enable Opera VPN for browsing
The built-in Opera browser's VPN works seamlessly and doesn't require money. You can enable or disable the VPN per your needs. But I recommend keeping it enabled for privacy and data security.
Here are the steps to enable the free VPN service:
Launch the Opera browser on a computer.
Click on Settings situated at the left menu bar.

Scroll to the bottom, and click on the Advanced section.
Go to the VPN section, and turn on the toggle next to Enable VPN.

That's it. You have successfully enabled the Opera VPN.
Furthermore, you would have noticed two more options: Bypass VPN for default search engines and Connect to VPN when starting the browser. Let's try and understand both of them.
Bypass VPN for default search engines
Your search engine (Google, Bing, etc.) will bypass the VPN connection by enabling the first option. As a result, it will only show results tailor-made for your location. It is recommended that you keep this option enabled. Here's the reasoning  behind the same:
Suppose you are currently staying in New York but have connected to a Tokyo server. If you perform a query search like "Best Hotels nearby," it would display the results of the Tokyo location rather than your actual one, which you would definitely want to avoid.
So to get more refined and filtered search results specific to your location, you should consider turning this feature on.
Connect to VPN when starting the browser
This option will automatically enable the VPN when you launch your browser. By default, this feature has been disabled, and I prefer to keep it that way. It's better to have more granular control over a setting rather than always keeping it enabled.
Moreover, it might also result in a faster bootup time for Opera since it would have to load one less functionality.
Tweak Opera's VPN Settings
Now that we have enabled the VPN, let's check out the steps to customize it per our needs.
Here are the steps to customize the Opera VPN settings:
Click on the VPN icon located in the address bar.
It will open the VPN information and settings page. The page will show you the total data transfer this month.
Click on the Virtual location drop-down to change the proxy location.
It's default set to Optimal location.
Select any Virtual location to make a new region connection.

Moreover, as and when you change the server, its associated IP Address will also change accordingly, which you can keep track of from the bottom of that menu.
Turn Off Opera VPN
Once you are done using this VPN, click on the VPN icon at the left of the address bar and disable the toggle that says VPN Disconnected. Doing so will turn off the VPN connection.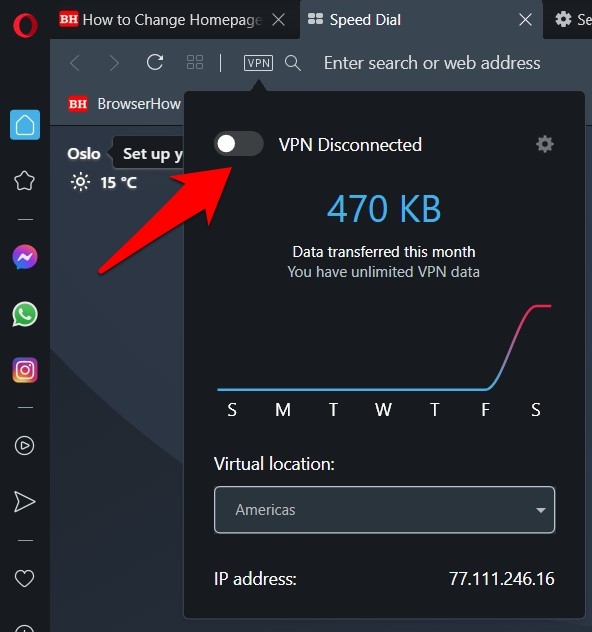 However, you would continue to see the VPN icon, and it's just that it would be greyed out. So if you wish to remove this trace, you must go to Settings and disable the VPN option.
Launch the Opera app on a computer.
Click on Settings situated at the left menu bar.

Scroll to the bottom, and click on the Advanced section.
Go to the VPN section, and turn off the toggle next to Enable VPN.

That's it. You have successfully disabled the Opera VPN. It will also remove the VPN icon from the address bar.
Bottom Line
So this was all from this guide on how to use the Opera VPN on your PC. Virtual Private Networks are now becoming an integral part of the daily browsing experience for many users.
However, the efforts required to set it up and the fact that they are usually costlier were two primary reasons why some users were reluctant to try it.
But now that Opera has addressed both these concerns, we might soon see more people jumping over to this browser, even if it is just to try out its free VPN service.
What are your views on the same? Would you prefer standalone VPN software, or would the browser's built-in one be sufficient to checkmark your requirements?
Lastly, if you've any thoughts or feedback on How to use Opera Free VPN Service on Computer, then feel free to drop in below comment box. You can also report the outdated information.