Caching of data happens behind the scenes when you are online, but this process is critical. Cached data is information saved on your computer or device when you visit a website.
Cached data improves your online experience by improving overall site loading speed. Cached data is images, files, scripts, etc., that are useful for the website to look clean and visually appealing.
For example, someone who logs into your device can know what websites you have visited and your activities on these websites by inspecting your cached data. Thus, you can view and manage the cached data on your browser since it is a safe practice.
Follow along to learn how to view cached data and storage space on the browser. Accessing the list of browser data and cookies will become simple for you.
The Brave browser offers a practical way to delete your browser history and many other cache items. It displays a list of all site data that have been cached. The webpage URL identifies it. Deleting browser data, particularly cache data, assists in the resolution of numerous web page difficulties.
View Cache and Storage
To view cache and storage space on Brave browser, you must access the site and shield settings of the browser. The data will be displayed systematically for your understanding. Here are the steps to view cache and storage space:
Launch the Brave browser on the computer.
Click on the More menu and select the Settings option.

Switch to the Privacy and security tab in the left panel.

Select Cookies and other site data to expand.
It will open the Cookies and site data page.
Click on the See all cookies and site data option to view details.

It will display all the sites and respective cache data occupied.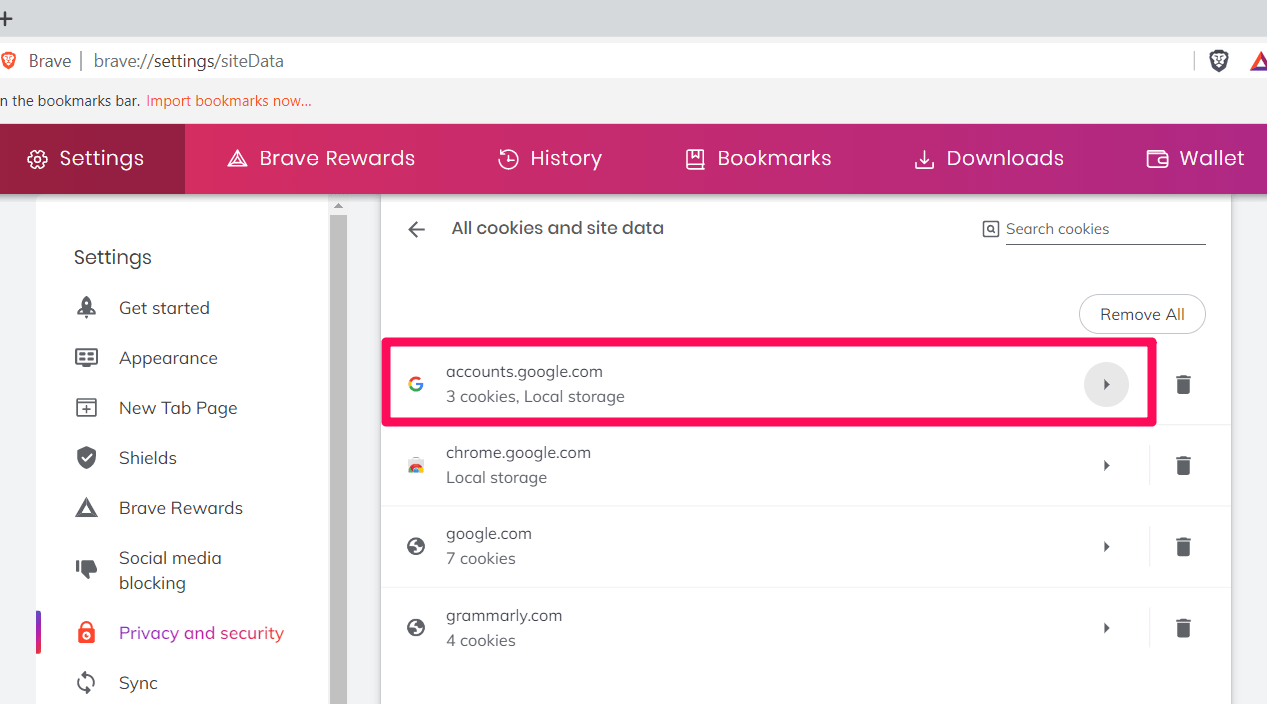 You can click the arrow button beside an item on the list to see more details. You can see the details in the screenshot below, like local storage.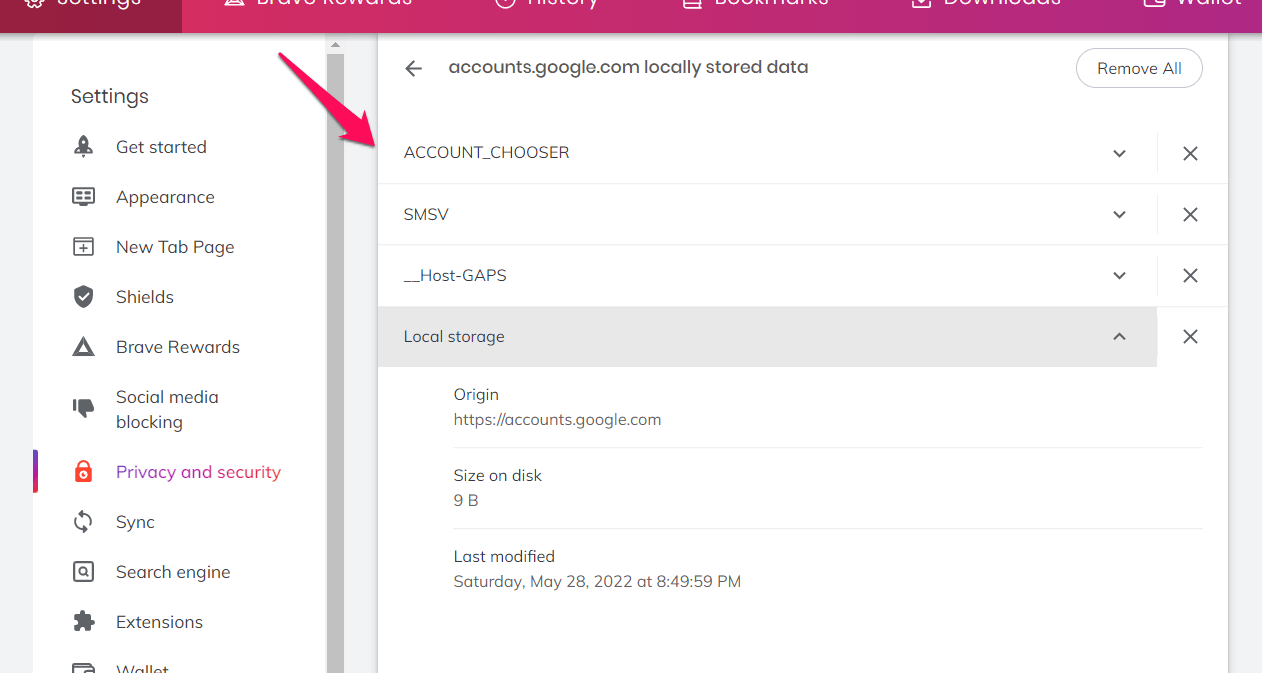 You can also click on the trash can to delete that item. Or, you can click on the Remove all button at the top of the page to get rid of all data.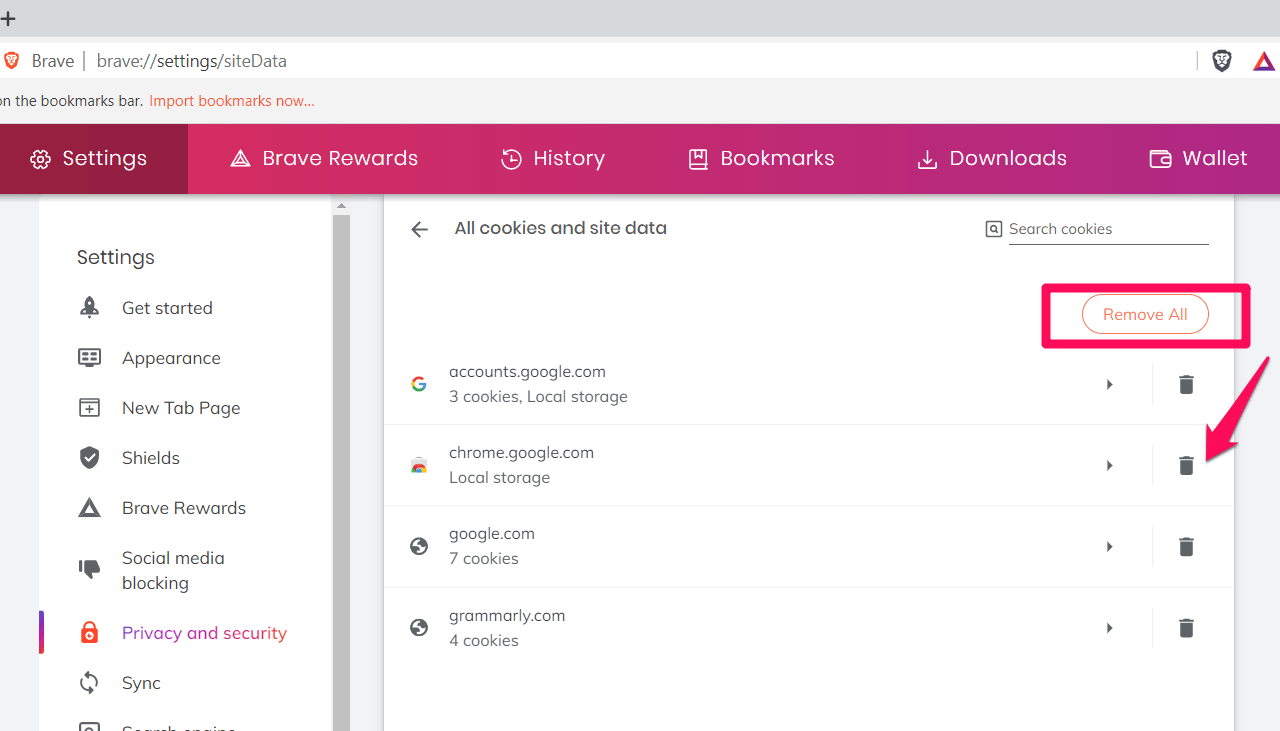 Close the tab once you are done.
Bottom Line
You should view and manage the cache and storage space on your browser for multiple reasons. Clearing cached data can help solve issues you sometimes face when browsing a website, like Error 404, the site not loading correctly, etc. Or you can view cache and storage space to understand better which website has stored what data.
The browser cache saves elements from websites you visit in local storage. This helps pages load more quickly. But the cache must be cleared regularly. Browsing the internet leads to accumulating a lot of cached data that can affect the performance of your device.
But if you want to be selective about which data you want to eliminate, you can do so by going through the list of cached data and deleting the ones you do not need.
I hope you understand how you can view and delete cached data and storage space on Brave browser, to help you optimize the performance of your computer. I recommend viewing the list of cache data and managing it at regular intervals.
Lastly, if you've any thoughts or feedback on How to View Cache and Storage Space on Brave browser, then feel free to drop in below comment box. You can also report the outdated information.