Chrome iOS is a very secure browser for iPhone and iPad devices. It automatically warns you about any malicious or phishing websites. But there are cases when it is essential to know about site information before proceeding further.
Checking site information with Chrome iOS is easy and instant. Since logging into a malicious or phishing site can cause tremendous damage, it is better to take precautions now rather than regretting later. You must know how to check or view site information and settings in Chrome iOS.
So let's move ahead and learn how to view the site security information on the Chrome app on iOS.
View Site Information
Chrome iOS is in the beta stage and periodically adds extra features. But thankfully, we can quickly check site information and view security certificates for any website. However, you may not set website settings. But having the site information and viewing the security certificate is more than enough.
The site contains valuable security information such as SSL certificate data and if the site uses encryption to send data over the internet. It is essential to check these details, especially if you make any online payment via prepaid or credit card.
The site information in Chrome iOS helps you better understand the security implementation level on a website. It also gives you an idea of whether the website is fake. Hence, one should know how to view a website certificate on iPhone. To view the website certificate on iPhone:
Open Chrome App on iPhone.
Open any website of your choice.
Tap on the More menu in the bottom right corner of the screen.

Select the Site Information option to see the required details.
A new pop-up will open, showing you details regarding the websites. It includes whether or not the sites are using an SSL certificate and which authority is responsible for these certificates.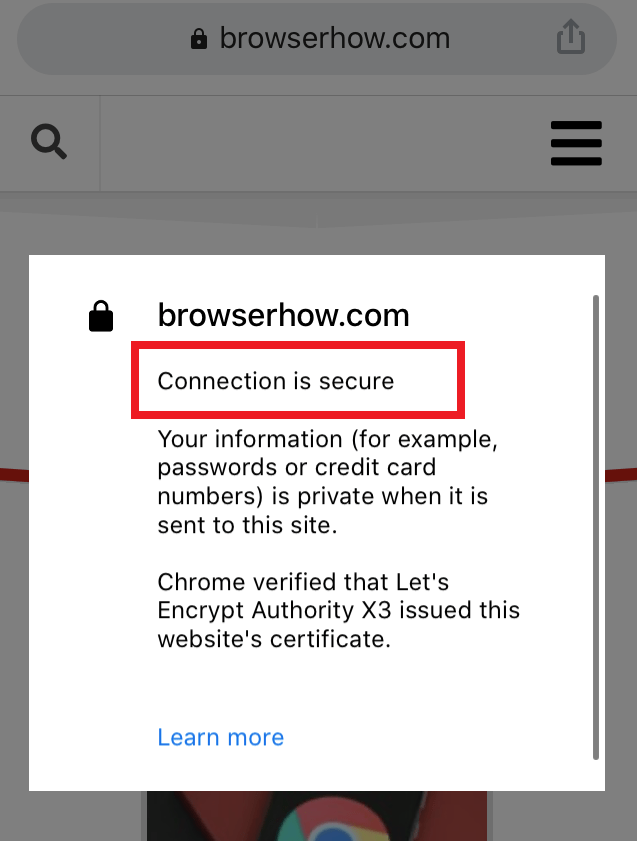 Though this information is not practical most of the time, it just gives us an optimistic hope that the website connection is secure and encrypted.
Bottom Line
Site Information in Chrome iOS help you verify and identify various websites' authenticity and security precautions. In the digital era, where online scams are increasing, it is important to check site information and view security certificates when using any website. As many websites are conducting various scams, it is better to take the necessary precautions.
The site information tab will provide security information about the website. Additionally, it helps you from falling prey to fraudulent transactions and phishing or scamming websites.
I hope Developers of Chrome App for iOS will allow options for site settings shortly, so we can set personalized settings for each site we use. However, until then, we only have the option to view the website certificates on iPhone.
What do you think about this feature? And do you miss the site settings feature that allows you to customize the site-specific settings in the Chrome browser app on iOS?
Lastly, if you've any thoughts or feedback on How to View Website Security Information in Chrome iPhone, then feel free to drop in below comment box. You can also report the outdated information.