If multiple Google Chrome Processes on Task Manager are causing you problems and slowing down your device, you can dive into Windows Task Manager and End unwanted tasks. You can apply some Chrome fixes like re-configuring Chrome Launcher and killing the idle Chrome processes. Each process also represents the browser extensions.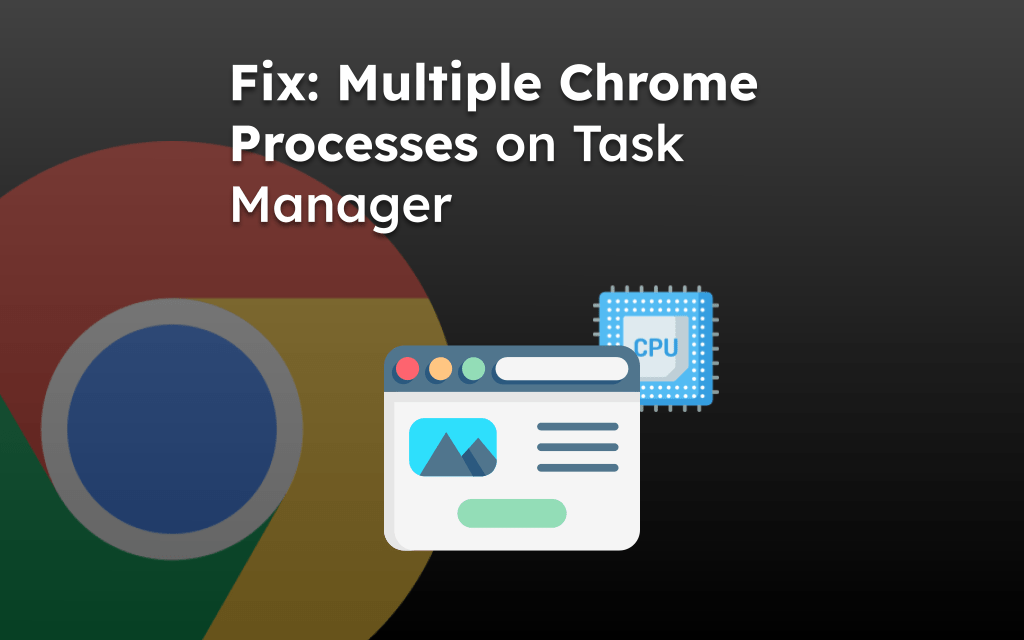 Accounting for more than 80% of the total internet traffic, Google Chrome continues to be one of the most preferred web browsers for the majority. It is, of course, convenient, fast, and reliable for any internet surfer. However, the fact that it performs well ultimately sucks up a load of juice from your device.
This claim will be truthfully evident if you look at your task manager when multiple tabs on Chrome are opened and running.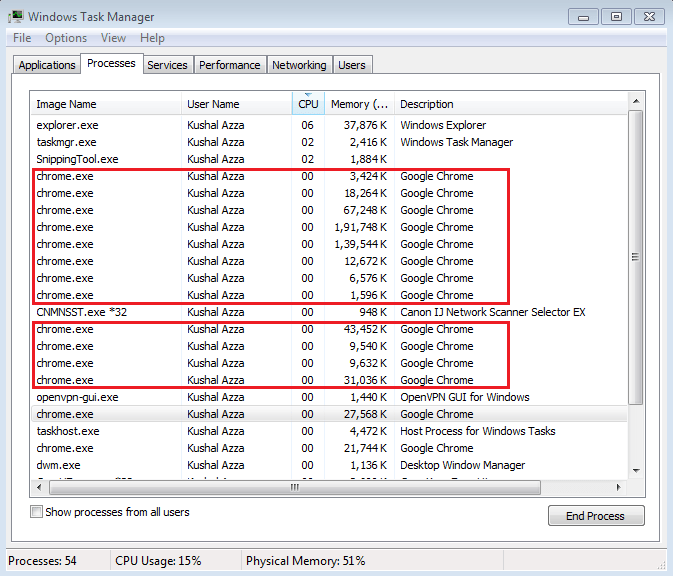 The case I'm talking about here is torn from my experience a few days back when I saw Google Chrome running multiple processes for each tab I had opened.
To be more specific, Chrome, by default, is configured to run different processes for each that's opened and running. So background activities, extensions, and such associated with a tab on Chrome will all be displayed differently.
In short, Chrome displays all sorts of activities differently and in multiple numbers rather than a big one. This eliminates a lot of complications for a user and will prove pretty helpful in some cases. We'll dig deeper into this further in this article.
With the basics out of the way, all you have to know is that there are two ways of dealing with this issue. If you're facing no other problem and want to display all processes under a single name, then we can re-configure this setting of Google Chrome.
On the other hand, if this is causing you problems and slowing down your device, you can dive into Chrome's task manager and eliminate specific unwanted tasks.
Without bragging further regarding this matter, I'll quickly take us to the core of this article. So here's everything you can do if you're worried about this situation with Chrome.
On this page, you can find and jump to:
Reconfigure Chrome Launcher
As I already mentioned, Chrome, by default, is configured to run different processes for each open tab in the browser. So we can first reconfigure Chrome to run a single extensive process for the tabs.
Right-click on the Google Chrome shortcut in Desktop for menu options.
If you don't already, please create a Chrome shortcut link.
Choose the Properties menu.

Switch to the Shortcut tab under Chrome properties.

Add the following command at the end of the text field within the Target:

--process-per-site

Hit on the
button and then to save the changes.
This method will configure Chrome to run a single process for the open tabs. This eliminates Chrome from crowding your task manager, so please remember that this doesn't affect the tabs or programs in any way.
Eliminate the Idle Chrome Processes
This method can be used to conserve resources in case you find that the processes by Chrome are slowing down your system. This can be done using Chrome's built-in task manager. Here are the steps to end idle or less useful Chrome processes:
Launch the Chrome browser and then open a new tab.
Key press
this will bring up the built-in task manager of Chrome
+ keyboard shortcut.
Select the idle process that you wish to terminate.
Hit the

button at the bottom of the window.
When applying this method, please remember that ending a process will close the associated tab. So make sure you're not eliminating the processes that you need.
Bottom Line
The sole reason that Chrome is configured to run a different process for everything in a tab is nothing to be worried about. However, if you need relief for your mind, then you can apply the first method of re-configuring the task manager of Google Chrome.
In addition, you'll find the second method to be a pretty helpful fix if the Chrome processes are all crowded over to slow down your system.
When thinking about it, that's a pretty cool feature for those using a system powered by basic hardware. Such devices slow down often; I don't like that!
However, that covers everything you need to know about the different processes with which Google Chrome crowds your task manager. I hope that was informative and helpful on some level.
Lastly, if you've any thoughts or feedback, then feel free to drop in below comment box. You can also report the outdated information.