There are a lot of factors that can eventually make Google Chrome slow and deteriorate page loading. We're stuck with one question: Why is Google Chrome so slow?
Some of the common problems which users face when using the Chrome browser are:
Lags while searching in the search bar and switching between tabs.
YouTube keeps buffering and displays white space.
The web page is prolonged to render fully.
Frequent receiving Aw snap! Error while displaying the web pages.
In this article, I've mentioned all the tips and techniques to fix my Chrome browser lags and improve the web page loading speed.
Note: These tips will help with Chrome's web browsing speed and improve the chrome browser lags and slowness, whether switching between tabs or launching Chrome on PC or macOS.
These are some of the reasons which can make the web page loading too slow in Chrome:
Disruptive internet connection.
Background apps and digital downloads.
Software and program updates.
Limited local storage and hardware support.
Inflicting Chrome extensions.
We need to ensure that we do not have any problems that can cause Chrome to become unresponsive and eventually start lagging.
Update Google Chrome to the latest
It's essential to keep the Chrome browser updated to the latest version. If you are running the latest stable version of Chrome, then consider half of the problem is already solved.
Generally, the latest software releases have performance improvements and bug fixes. If you're running the older version of Chrome, there are high chances for any security or program bugs that affect the performance. It may cause Chrome to become unstable and impact page loading speed.
Launch Chrome browser on the computer.
Click on More for options and settings.
Hover and navigate to Help > About Google Chrome.

Google Chrome will automatically check the latest official builds.
If any new version is available, Chrome will update and ask to relaunch once the update is completed.
Navigate to Help > About Google Chrome section until you see the message "Google Chrome is up to date".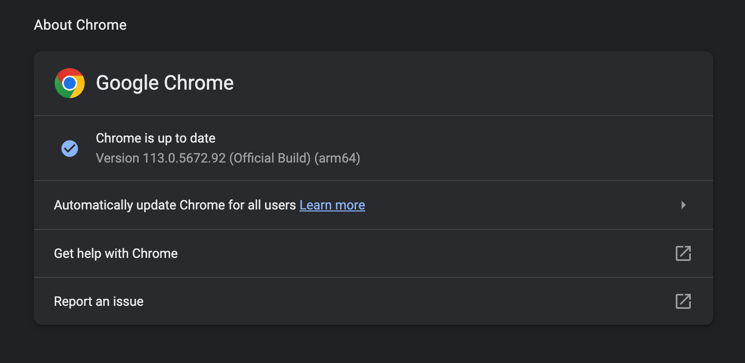 We have now successfully updated Google Chrome. Test if this has improved the browser's page loading speed.
Enabling Memory Saver
The Chrome browser has a Memory Saver feature that typically hibernates the inactive tabs and uses the memory resources for active tabs or even other system applications. You can enable the memory saver from the Performance tab by following these steps:
Launch the Chrome browser app.
Click on More for the menu list, and select the Settings menu.
Switch to the Performance tab from the left pane.

Enable the toggle button to turn on the Memory Saver feature.

It will significantly improve the overall Chrome performance and avoid sluggishness.
Disable Chrome Extensions and Blockers
There is a high possibility of any extension inflicting the network connection and page loading. I wrote an article detailing the page loading issue because of an extension.
Disable all the extensions and check if the loading issue persists. You can temporarily disable the Chrome extensions from settings. Follow these steps to disable or remove the Chrome extension:
Launch Chrome Browser on the computer
Open Chrome Settings from the More menu list.

Select the Extensions tab from the left sidebar on the Settings page.
OR you can also visit the

chrome://extensions/

in your Chrome browser.
Switch the toggle button against each extension to deactivate it.

Relaunch your Chrome browser.
Now test the page loading speed. If you see any improvement, extensions are probably the culprit for causing the slowing of the browser. It will also answer why Chrome is so slow.
Toggle the switch to turn ON each extension one by one to test if any specific is causing an issue. Most of the time, the ad blockers and site blocker extensions are blocking resources which causes a slow page loading issue.
Defer Apps and Software Updates
The typical macOS and Windows OS updates are in a few GBs, which can use up all the network data speed even if software program updates like Microsoft Office or Final Cut Pro are also bulky in size and may cause Google Chrome to slow.
In this case, disable the updates temporarily until you need good bandwidth for browsing. You can defer the updates overnight so your work is not hampered in the daytime.
Just check the network monitor to understand where the bandwidth is used.
For Windows OS, you can check the Task Manager > Network Utilization.
For macOS, you can check the Activity Monitor > Network.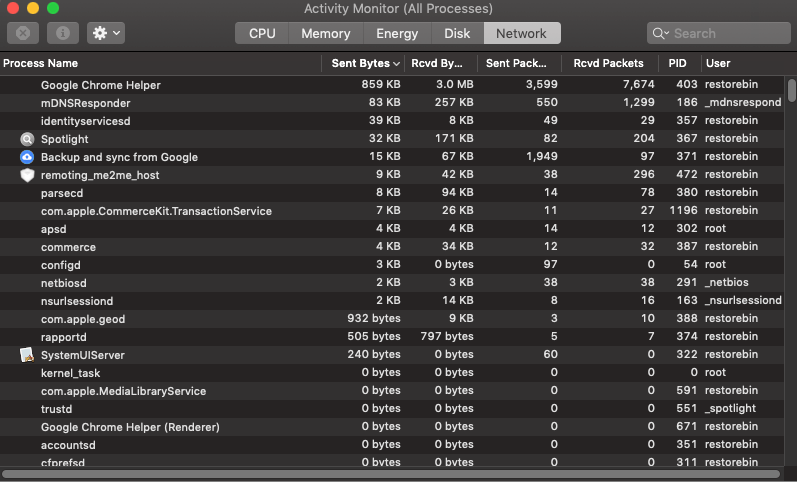 If any ongoing updates or programs use most bytes and network packs, pause it temporarily and enjoy good speed on your Chrome for browsing.
Clear Cache and Memory Storage
It is the first and fundamental thing every Chrome browser user would suggest to you. And, of course, this works at times, but not every time. Browser caching is a technique for improving the browsing speed of a frequently visited site.
Unless your Chrome is heavily loaded with obsolete cache and storage, removing waste is a good idea to improve Chrome's speed.
Follow these steps to clear cache and memory storage from Chrome:
Launch your Chrome browser.
Hit on More for options, and select Settings from the list.
Lookup for the Clear browsing data option; you can even use the search bar within the Settings page.
Open Clear browsing data and switch to the Advanced tab.

From the Time Range dropdown, select All Time.
Select the checkboxes against — Browsing history, Download history, Cookies and other site data, Cached images and files, Site settings, and Hosted app data.


Do not

select the Passwords and other sign-in data and Auto-fill form data option unless you want to delete these data completely.
Finally, hit on
command button.
It will clear all your local Chrome browser's cache data and storage memory. Quit and restart the browser to test the Chrome responsiveness and web page loading speed.
Note: Clearing cache and cookies storage will sign out all the accounts on your browser. You may need to re-login again.
Upgrade the Storage and Hardware Support
Let me share my personal experience here.
I have a Windows PC running on the HDD (the good old mechanical hard disk) with 8 GB of RAM. Whenever I used to start my Windows PC or even open any application, it would take a lot of time. Imagine the startup time of 28 seconds!!
I checked the Task Manager for performance; I encountered disk utilization as 100% and considered upgrading the HDD to SSD (Solid State Drive) storage. It was expensive but worth upgrading the hardware. After the hardware upgrade booting time dropped to 4 seconds. Heavy software programs and even the Chrome browser are launched in a snap.
I still use the old HDD as an external hard disk and backup if anything goes wrong with Windows 10 OS. Watch this video tutorial about migrating Windows OS from HDD to SSD.
Apart from migrating to SSD, we also need to consider the storage space, which plays an equal role in running the browser. If you do not have enough space in Macintosh HD or C:\Drive in Windows, Chrome, or any program will misbehave and respond slowly to all the requests.
Upgrading the hardware should be last on your list. But, as I said, it's worth it. I'm enjoying the Chrome browser on my Windows PC.
Improve Slow Chrome browser
Here are a few other tips that are worth mentioning to improve the Chrome loading speed:
Run through Anti-virus and Anti-malware scans.
In Windows, you can run the Cleaner app.
Check your ISP fluctuations and network problem, if any.
Verify if the downgraded version on Google Chrome works.
Reinstall the browser on your Machine to notice any changes.
Toggle "Use hardware acceleration when available" under Chrome> Settings > Advanced > System to check which mode is better, either OFF or ON.

Turn off Experimental QUIC Protocol by navigating to

chrome://flags

, search for QUIC, and disable the Chrome Flag from the dropdown.

You can download Chrome Canary for the unstable version of Google Chrome built for developers; however, the updates are frequent and nightly.
Update Operating System to the latest version.
Alternatives to Google Chrome
Here are a few notable alternatives for the Google Chrome web browser.
Mozilla Firefox (my preference)
Microsoft Edge (it's Chromium-based, just like Google Chrome)
Opera Browser
Apple Safari (only available for MacOS)
Bottom Line
I find these techniques effective in every case. I have Macbook Air, and these tips to improve Google Chrome browsing slowness work in macOS.
It helped me be more effective and efficient at all times. I could also find the question: Why is Google Chrome so slow?
FAQs
How to solve the problem of Google Chrome running Slow?
You can try several fixes to solve Chrome's running slow problem, such as updating to the latest Chrome version, Clearing cache, Disable extensions and blockers, or you can also try updating your hardware and software.
Why is the Chrome browser running Slow?
There might be several issues behind Chrome running slow such as pending Chrome updates, interrupted internet connection, limited local storage, inflicting extensions, etc.
How to Clear the Cache in Google Chrome?
To clear the cache in Chrome, hit the three dots in the top right corner and click on settings. Now, look for precise browsing data and open it. In the advanced option, check the box per your preferences and tap on Clear data.
Why is Google Chrome running so slow?
There can be several reasons for Chrome's slowness, such as excessive extensions, outdated browser versions, cache and cookies buildup, or system resource issues.
How do I fix my slow Google Chrome browser?
To improve Chrome's performance, you can try clearing browser data, disabling unnecessary extensions, updating Chrome to the latest version, and ensuring your system has enough resources.
Why is my Google Chrome suddenly slow?
A sudden slowdown in Chrome could be due to recent updates or changes in your system. Clearing the cache and turning off new extensions might help resolve the issue.
Why is Google Chrome lagging and taking too long to load?
Chrome's lags and slow loading times can occur because of heavy browsing data or a lack of free RAM. Try closing unused tabs and clearing the cache to alleviate the problem.
How to address the issue of Google Chrome being slow on my laptop?
Slow performance on a laptop might be due to limited hardware resources. You can optimize Chrome by reducing the number of open tabs and running fewer resource-intensive extensions.
Is there a way to fix Google Chrome's sluggishness on Windows 10 or 11?
Yes, you can enhance Chrome's speed on Windows PC by disabling unnecessary startup programs, updating graphics drivers, and keeping the OS up to date.
Why is my Google Chrome so laggy after a recent update?
A recent update might have introduced new features or changes that impact performance. You can try troubleshooting by disabling specific features or extensions that could be causing the lag. Or you can downgrade to the previous version if needed.
Lastly, if you've any thoughts or feedback on Google Chrome is Slow: How to Speed Up the Browser, then feel free to drop in below comment box. You can also report the outdated information.