Most websites offer content and information for free; they earn the monetary benefit by placing an advertisement unit. While the ads are meant to be non-intrusive, few sites misuse them to increase their earning potential, resulting in a disturbed user experience. That's when the ad blocking or blocker extensions come in handy.
Google Chrome has a built-in ad block feature, but it blocks only intrusive or misleading ads. However, Chrome AdBlock has add-ons in its web store that you can install and turn off all the advertisements. These ad blockers also block video ads, interstitial ads, and display banner ads.
Extensions even offer the option to customize the ad-blocking feature to allow or disallow the ads on a site. Hence, you can check the same for individual offerings.
First, let's learn how to install the extensions on Google Chrome so that you can choose the ad-blocking extensions that suit your needs.
How to Install AdBlock Extension on Chrome
Installing an extension (adblocker or another domain) is accessible in Chrome. Follow the given steps to install an AdBlock Extension in Chrome:
Click on the desired extension's download link, which we have provided at the end of their description.
You will be redirected to its download page.
Click on the Add to Chrome button.

Finally, hit the Add Extension option in the popup that appears.
That's it. You have successfully added your favorite AdBlock Chrome extension.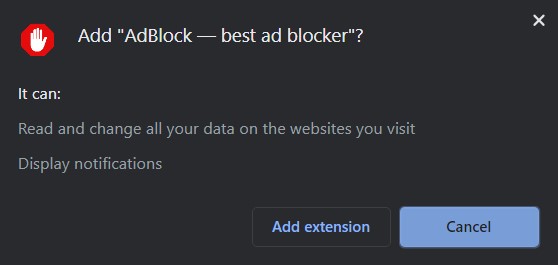 Let's now check out the list of Ad blockers for Chrome browsers. You may note that most of these extensions are available for your favorite browser.
You can also see our post on disabling adblocker for a site when using any of the mentioned extensions.
Ad Block
Whenever one thinks of an ad blocker, this is the first one. Well, not just because of its naming similarity but because it has established itself as one of the best ad blockers. There haven't been any issues or performance drops since its inception (which has been pretty long). Just install it and leave the rest up to him. It will automatically block all the ads, whether it's static ads or even video ads.
Similarly, it works on static web pages and efficiently blocks ads on all video streaming services, like YouTube. That's not all. It also gives you a pretty handy option for customizing your ad experience.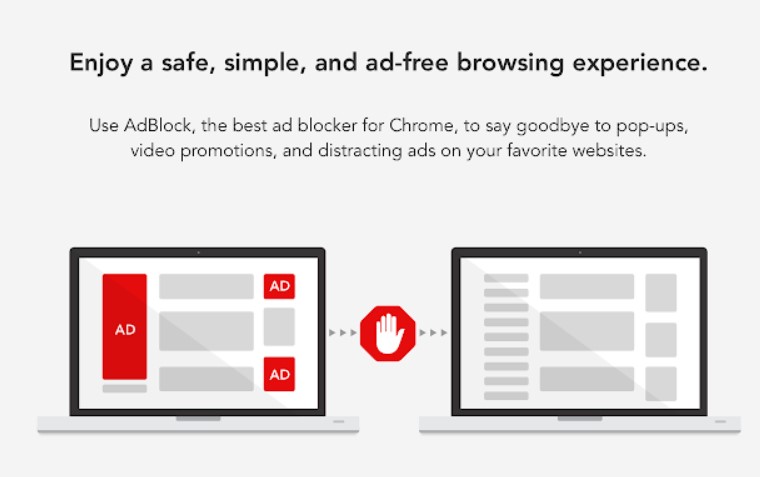 For example, you could tick and untick the types of ads you wish to view or leave them untouched to block all the ads. It also allows blocking those social media links that have now become a norm on most websites. Part of the Acceptable Ads program allows you to display curated and personalized ads (if you consent).
Features of Ad Block extensions:
Support any site by adding it to Adblock's allowlist.
Receives regular updates.
It gives the option to allow some curated and personalized ads to be displayed.
It gives you a pretty handy option for customizing your ad experience.
Furthermore, if you wish to support any site, add it to Adblock's allowlist. The best part about this extension is that it regularly receives updates, which is crucial considering how new malicious ads are coming up now and then.
However, with Ad-Block, you will experience the apparent browser performance slowdown if you are used to multi-tab browsing.
Adblock Plus
To clarify, it isn't an upgraded version of the former. Both entities have similar objectives: to provide users with a clean, ad-free experience. Among the earliest ones to reach this domain, the software is robust.
For starters, the extension does a pretty handy job blocking all ads. By ads, we mean every type of ad, including static, banner, video, and popups. But this is something that AdBlock also offers, so why go for this?
One reason for this extension could be that it has among the easiest interfaces, making it pretty easy to change or tweak ad settings per your requirement.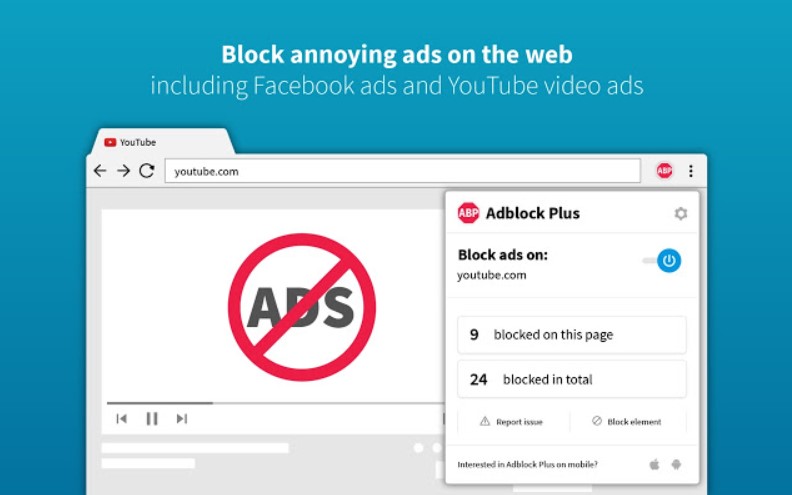 This includes adding your favorite sites to the allowlist and letting the extension display ads on them. You could also make it display non-intrusive and personalized ads based on your online activity. As you might have guessed, AdBlock Plus also belongs to the Acceptable Ads initiative, allowing you to support some content developers.
Features of AdBlock Plus:
It is easy to install and even easier to use.
The interface for settings is well-designed, allowing easy navigation and use.
Adblock Plus is a community-driven, open-source application that keeps getting updated regularly.
It is free of cost.
With that said, in its default state, the extension will block all the ads, so if you aren't interested in this initiative, install this extension and let it do the rest of the work. But Adblock Plus has marked certain advertisements as safe and does not block the rest.
uBlock Origin
Another of the power players in this domain of AdBlock chrome extension is uBlock. It can carry out its job in a rather impressive manner. Not only does it block all kinds of ads, but it also shows you the complete stats of how many ads it has blocked up to now and for the day.
Talking ad blocking, popup ads, full-screen ads, video, and text ads are dealt with quite effectively by uBlock Origin.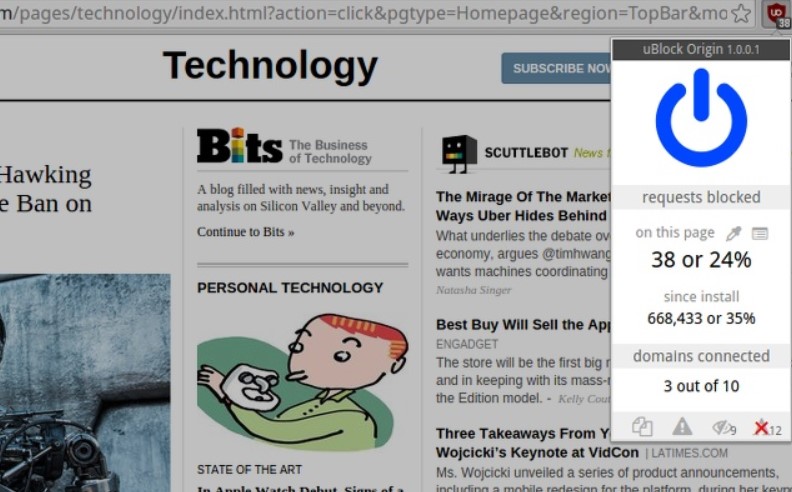 Likewise, allowing your favorite sites is also possible in this application. However, if these default filters don't meet your requirements, you could create and set up predefined rules.
Features of uBlock Origin:
It also offers filters for adware and malware.
It enables you to block strange videos and creepy tracking on your system, if any.
It helps the website load content faster since it does not require running ads.
Block all popups, ads, and trackers and Browse.
So, if you are looking for an extension that blocks all kinds of pesky ads and gives you complete data about the same, uBlock Origin is the name to remember.
Ghostery
This one is slightly different from all the others on this list. While it began as an effective tool for blocking malware and web trackers, it has become a full-grown extension. But what makes it unique from others is the kind of customization that it has to offer.
Once you start using it, the application will list all types of ads, blockers, and trackers that a webpage has. It is left up to your discretion as to which components should be blocked and which shouldn't.
Apart from that, the usual allowlist option is also there, but it's not used much because you could easily do the same when you define the adblocking rules for the concerned site.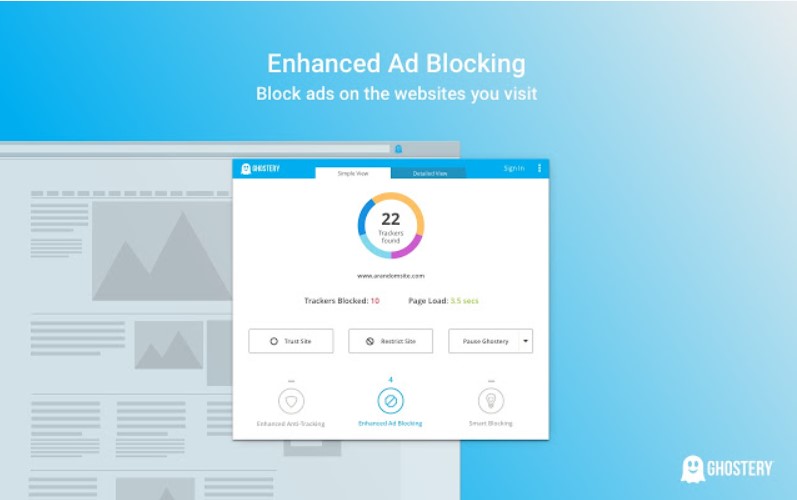 However, some people hate and generally ditch this Chrome extension for something else because of its Do It Yourself component. You could install it with other extensions and let the application take care of the rest. But with Ghostery, you must first get some background knowledge regarding how things work.
Features of Ghostery:
Supports Adblocker and disables advertisements, teasers, and popups.
Limiting trackers launch on websites that determine which processes can and cannot be blocked.
Features a Pause button that you can choose to stop ad blocking for 30 minutes, 1 hour, or one day.
Loading speed optimization.
With that said most people continue to use this ad-blocker to this day because it lets the user control and tweak the ads as per their requirements.
Although it's completely free to try out, if you are to throw in a few bucks ($2/month), premium features are waiting for you in the form of tons of new themes and detailed stats about each web page (including the type and number of trackers and ads blocked). Also, it cannot apply its filters.
AdGuard
AdGuard has managed to keep a healthy name for itself in this domain. It does a decent job blocking all ads, including popups, audio, and video auto-playable ads. It can also block ads on social media sites like Facebook and video streaming sites like YouTube.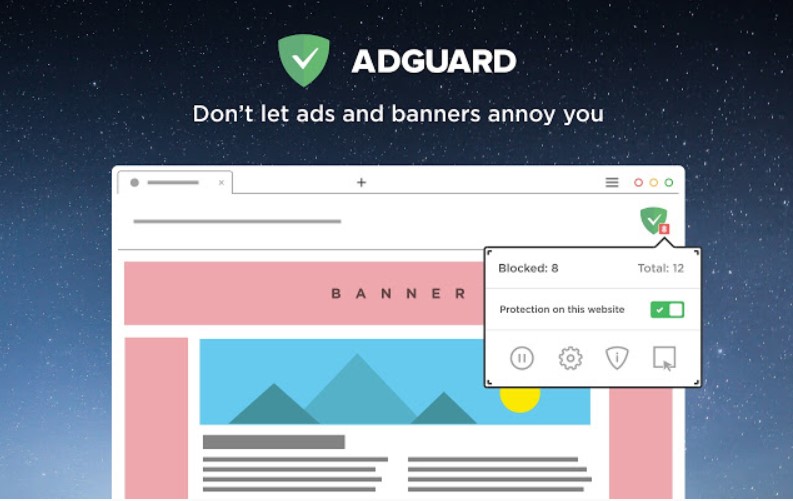 Coming to the non-ad category, it claims to deal with many different types of malware, trackers, and warnings in case it detects any malicious programs or software being installed. It promises to provide a rich and clean user experience to everyone out there.
Features of AdGuard:
It deals with many different types of malware, trackers, and warnings.
Provides a rich and clean user experience.
Able to block ads on social media sites and video streaming sites.
On the downside, there have been some complaints that it constantly sends out reminders to purchase its premium version (which ranges from $29.88 – $129.99), which may be a little bit of an annoyance to some users. Apart from this little caveat, everything seems to be well and good.
AdBlocker Ultimate
The next on our list of best adblocker Chrome extensions is AdBlocker Ultimate. It stands at its promise of delivering an ad-free experience and does so in style.
To begin with, it claims to end all kinds of trackers, whether harmful or just for data collection purposes, malware, adware, and other scripts that might conflict with the usability factor.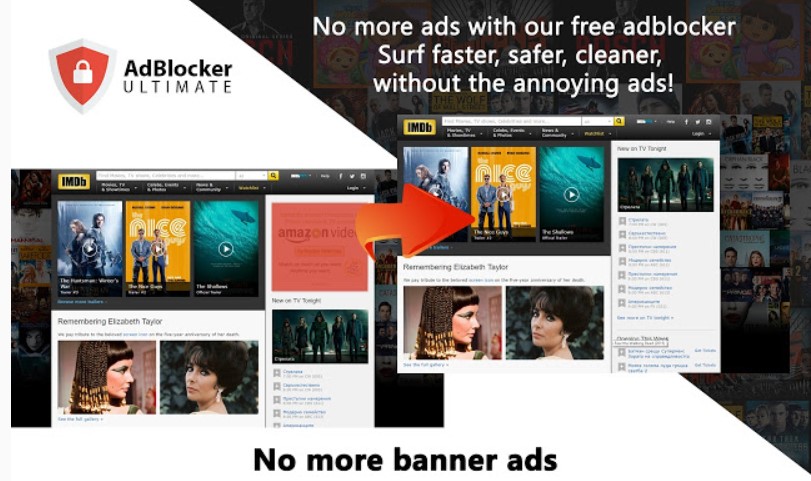 Features of AdBlocker Ultimate:
It is entirely open-source.
Put an end to all kinds of trackers.
Delivers an ad-free experience and does so in style.
Eliminates data collection purposes, malware, adware, and other scripts that might conflict with the usability factor.
Still, one shouldn't take away something it excels in, blocking nearly all ads. After all, more than 1 million downloads and a 4.8-star rating speaks volume for themselves. Furthermore, it is open-source, meaning anyone could check its underlying structure and codebase. But due to this reason itself, it is somewhat slow in receiving regular updates.
Poper Blocker
As evident from its name, this Chrome extension can block all kinds of ads, yet its primary target of attention is those popup and banner ads that cover a significant chunk of your screen.
Well, the trackers, adware, and malware aren't spared either. While it continues to do this job, it also offers a pretty handy interface with all kinds of stats, including the number and types of ads a particular web page displays.
Strange as it may sound, it is mainly known as the best compliment app for ad-blockers. Whatever ads or malware sneak through your primary blocker, Poper Blocker will quickly deal with them. Don't get us wrong, it could still be used as your stand-alone ad blocker and works well in that aspect.
Features of Poper Blocker:
Blocks all kinds of ads, popups, and banner ads.
Offers a pretty handy interface.
Shows stats, including the number and types of ads a particular web page displays.
It can be used as a stand-alone ad blocker.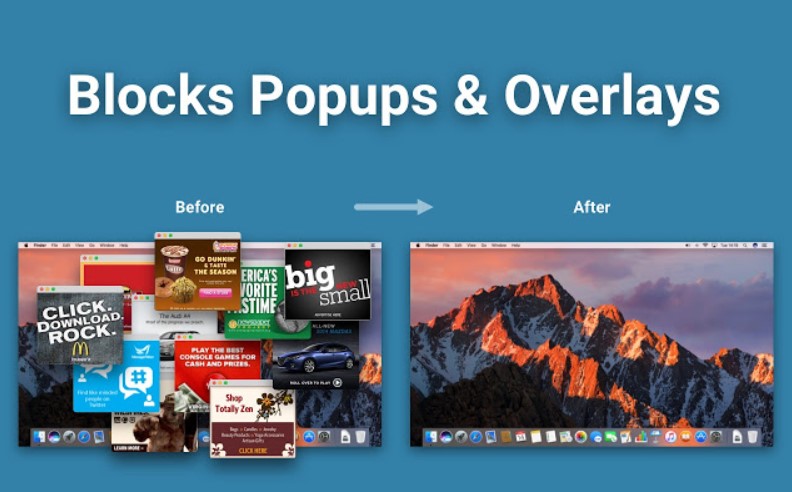 Furthermore, it is known to consume less memory, which will be quite a boon for many users, considering how notorious Chrome is as a memory hogger.
Fair AdBlocker
Part of the Acceptable Ads program allows everyone to treat ads as per their liking. For example, you could make it display some non-intrusive and personalized ads.
This way, it will help the content publishers get their fair trade of reward, and you will only get ads that are curated as per your online activities and, at the same time, won't interfere with standard website components. However, you can still block all the ads, including the trackers and harmful malware, if you choose.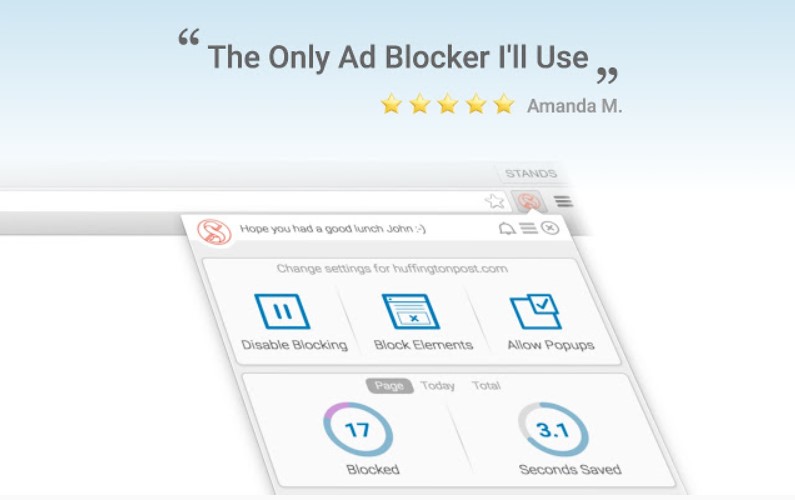 Furthermore, it allows you to allow your favorite sites, giving you complete control over which sites to block ads.
Features of Fair AdBlocker:
It provides the option to allow your favorite sites.
Control over the sites that have to be blocked.
Blocks all the ads, including the trackers and harmful malware.
With that said, by default, Fair Ad blocker might allow these non-intrusive ads. So, if you want a completely ad-free experience, you might have to tweak its settings a bit after making it a part of the browser.
Winscribe
This is perhaps the most underrated Adblock extension on this list. Not only does it block all kinds of ads and trackers, but it has also incorporated a useful VPN. One usually doesn't see this with such types of applications. So, an ad blocker combined with an ability to map your physical location, well, what more could one ask for?
For the unaware, the VPN allows you to browse privately without tracking your "actual" location. Likewise, you can also access geo-restricted content with ease. Then there's also social blocking that blocks all the ads across all your social media platforms.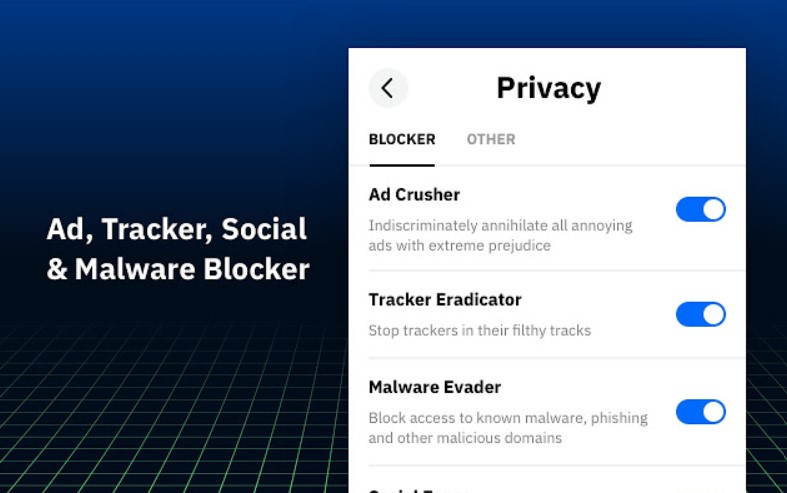 Apart from that, there's also Location API Spoofing, WebRTC blocking, Timezone Spoofing, Notification blocking, User-Agent Spoofing, and Cookie Monitoring feature.
Features of Winscribe:
Block all kinds of ads and trackers.
It incorporated a pretty useful VPN within itself.
Access geo-restricted content with ease.
Features such as Location API Spoofing, WebRTC blocking, and Timezone Spoofing.
On that note, while ad-blocking functionality is free for life, the VPN gives you 10 GB of data per month that you could work on, whereas the paid plan gives you unlimited data and access to servers of over 62 countries.
Easy Ad Blocker
Although not many people know about it, it's still quite a decent ad blocker. You are blocking all kinds of ads, including video ads, banners, full-screen ads, crypto miners, popups, and phishing websites. At the same time, all these help speed up your navigation and save time.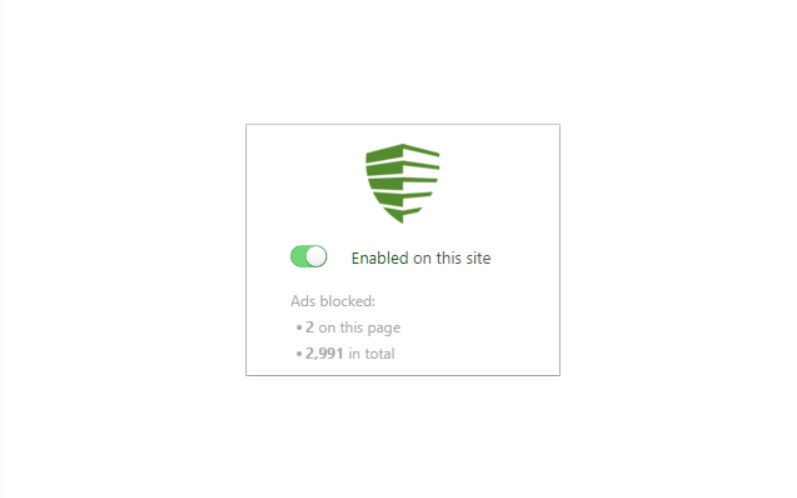 Features of Easy Ad Blocker:
It is a lightweight plugin.
Blocked ads include video ads, banners, full-screen ads, crypto miners, popups, and phishing websites.
It speeds up your navigation.
Furthermore, being a lightweight plugin (around 1MB) further adds to its benefits. Although it doesn't hold any extra functionalities that it could boast of, its sole purpose is to block intrusive ads, and it excels in that with flying colors.
Bottom Line
Each Chrome browser's ad-blocking extension mentioned has unique features and one or two caveats. It ultimately boils down to your preference, whether you want to try out a relatively newer player in the market or go for the tried and tested formula.
You can try and test the ad blocker extensions that fit your needs. As mentioned, these extensions offer complete customization to allow or disallow ad blocking for specific sites and pages. You can make the changes according to your needs.
FAQs
What are the best Chrome adblocker extensions for blocking ads effectively?
When it comes to the best ad-blocking extensions for Chrome, there are a few top contenders that offer robust ad-blocking capabilities. Some popular options include Adblock Plus, uBlock Origin, and AdGuard.
Which ad-blocking extensions for Google Chrome provide customizable features?
If you're looking for customizable ad-blocking extensions for Chrome, uBlock Origin is an excellent choice. It allows you to tailor your ad-blocking preferences, giving you more control over the ads you want to block.
I'm tired of YouTube ads. Can adblocker extensions help with video platforms?
Many adblocking extensions, such as Adblock Plus and uBlock Origin, can effectively block ads on platforms like YouTube. They'll enhance your viewing experience by minimizing interruptions from video ads.
Can you recommend the most popular Chrome ad blocker extensions?
A few of the most popular Chrome adblocker extensions include Adblock Plus, uBlock Origin, AdGuard, and Ghostery. These extensions have gained a reputation for effectively blocking ads across websites.
Lastly, if you've any thoughts or feedback on 10+ Best Ad Block Extensions for Chrome browser, then feel free to drop in below comment box. You can also report the outdated information.