Technically it isn't possible to uninstall the system app like Safari browser from iPhone or iPad. However, we can hide the Safari app from App Library list using the Content and Privacy Restriction menu under Phone Settings. Visit the Screen Time menu under General Settings and disable the toggle for the Safari under Allowed App section to turn off.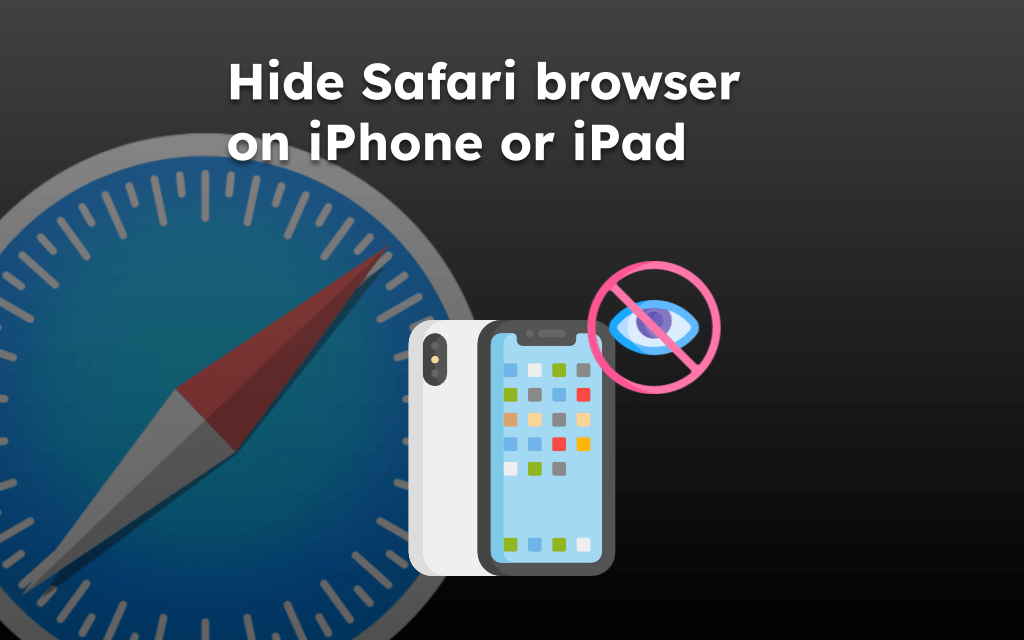 Safari app is the default browser for the Apple ecosystem. While it does its job decently and beholds many valuable functionalities, it isn't the only one out there.
So if you plan to switch to another browser but don't wish to uninstall Safari completely, there's a handy way out. You could easily hide this app so that it (or any of its processes) doesn't cause any hindrance.
All this is made possible thanks to the iPhone's Content & Privacy Restriction. Moreover, apart from the usage above, this feature could also be helpful for parents. They could use it if they wish to restrict their children's internet usage.
These are just some of the benefits where it could prove to be a handy utility; there could be many more. So without any further ado, let's now check out the steps to use this feature and disable Safari on iPhone and iPad devices.
On this page, you can find and jump to:
Disable Safari on iPhone/iPad (iOS 12+)
The Safari browser is a system app that doesn't get uninstalled, just like Google Chrome for Android. However, we can disable the app and stop all the running processes using the Content & Privacy Restriction option in iOS.
Head over to the Settings app on your device.
Go to the Screen Time option menu.
Tap to enable Turn on Screen Time.
If this is the first time you have enabled it, you might get an information screen.
Read the instructions, and hit the
command button.
Now tap on Use Screen Time Password.
It will now ask for a four-digit passcode. Create a strong one and then retype it to confirm it. Remember it, as it could come in handy later on.
Go to the Content & Privacy Restriction menu.

Now enable the toggle for Content & Privacy Restrictions.
Select the Allowed Apps menu section.
Please scroll to the Safari app and turn off its toggle.

That's it. Safari will now be hidden from your device. You can check your iPhone or iPad for the Safari app.
Disable Safari on iOS 11 and earlier
If you are using an older phone that runs on iOS 11 and earlier versions, then you can follow these steps to disable Safari.
Launch the Settings menu on your device.
Head over to the General section, and select the Restrictions menu.

Tap on the Enable Restrictions option.

Create a passcode, and re-enter to confirm.

Disable the toggle next to Safari from ALLOW section.

This will restrict the Safari browser and allow other apps that are enabled. You can check if the Safari app has been disabled from your iOS device.
Bottom Line
So this was all from this guide on disabling Safari on your iPhone or iPad. We have shared the iOS/iPad 11 or lower steps and the 12 and above versions.
If you wish to revert this decision and re-access Safari at any point, head over to the Content & Privacy Restriction, verify your identity via the Passcode, and enable the toggle next to Safari.
Unrestricted access to the online world is never a safe option, especially for children. In this regard, this feature will help adults stop their children's online browsing activities.
What do you think of this feature to restrict the Safari browser on your device? You can similarly block any app instead of Safari.
Lastly, if you've any thoughts or feedback, then feel free to drop in below comment box. You can also report the outdated information.