When our ISP is down, or we are traveling with intermittent connectivity. Keeping a copy of the website page we want to refer to or read offline for easy access is always good.
The offline files or webpages give the flexibility of working without the internet and the ability to share the files with other devices over WiFi or Bluetooth. Offline downloaded Chrome Computer pages also help me save time and utilize it.
Similarly, you can also have a copy of the webpage offline. All you need is to save the webpage to your local drive, and Google Chrome will automatically download and create a folder structure with all files and images needed.
Save Webpage Offline
The offline pages are stored in a local drive within the folder structure along with the .HTML file format, which you can quickly open on a Chrome computer. And before that, you have to save the website offline to access it later.
Here are the steps to download and save a webpage for offline access:
Launch Google Chrome on the computer.
Click on More for more options and a menu.
Hover on the More Tools menu from the options.
Select the Save Page As… option from the list.
Choose the desired location on your machine, either Downloads or Desktop, wherever you want to save.

This will download the webpage copy and save it as HTML and all supported files. You can also save and download a page by right-clicking in the website window and selecting the similar option "Save As…" from the quick menu.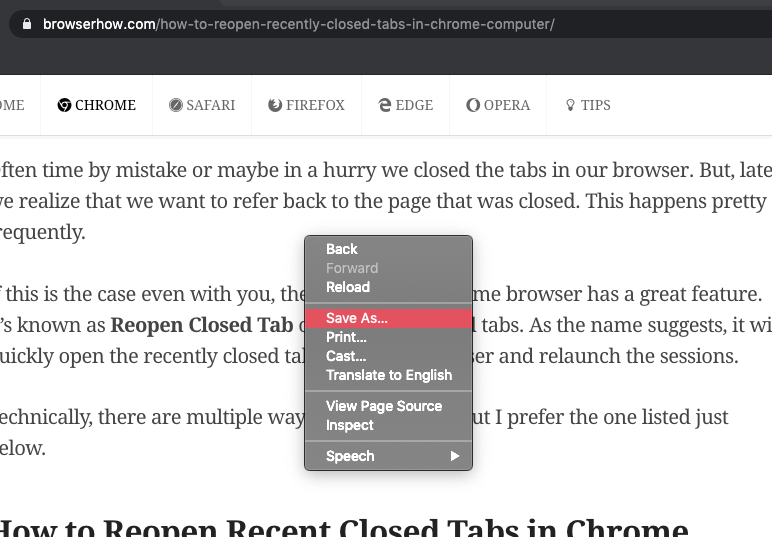 When you disconnect your internet and open the webpage, it will automatically load without any network connection. All the supported files and folders will be organized at the desired location within our system. The Chrome offline pages are an effective way to utilize your time when traveling.
Bottom Line
You can easily save websites offline on your computer using the above technique. You can zip the folder and send it to any colleague over email or drive path. You can save and share the offline webpage using WiFi or Bluetooth if you do not have a network.
You can use the Chrome browser to open any offline .html page on your computer.
Similarly, you can also download and open the offline pages in the Chrome Android browser. This can help you access and read the content without an internet connection.
Do you use the offline download and reading feature on a Chrome computer? Alternatively, you can use the print as PDF feature in Chrome browser to save offline site content.
Lastly, if you've any thoughts or feedback on How to Download Pages for Offline Access in Chrome Computer, then feel free to drop in below comment box. You can also report the outdated information.