Most of the time, we close the tabs in our browser by mistake or in a hurry. But, later, we realize we want to refer back to the closed page. This happens pretty frequently and may create problems.
If this is the case with you, the Microsoft Edge browser has a great feature. It's known as Reopen Closed Tab or Recently Closed tabs. As the name suggests, it will quickly open the recently closed tab within the browser and relaunch the sessions.
The recently closed tabs depend on the browsing history to recover the secure websites. Hence, technically it's not possible to recover the tabs closed in private browsing mode.
There are multiple ways to achieve open previous closed sites, but I prefer the one listed just below.
Reopen Recent Closed Tabs
If you want to reopen recently closed tabs, the Edge browser offers the option with just one click. I've listed two ways below that can help reopen recently closed tabs.
Here are the steps on how to reopen recently closed tabs:
Launch Microsoft Edge on the computer.
Click on More for the options menu.
Hover on the History menu from the options.
Select the Website under the Recently Closed option from the list.

This will reopen the recently closed tab in the Edge browser on the computer.
There is an alternative way to reopen recently closed tabs, which is more accessible. However, you won't be able to see the tab list. Insteamustneed to repeat launching recently closed tabs one after the other to find the desired one.
Launch the Edge browser on the computer.
Right-click in the blank Tabs bar.
Select the option Reopen Closed Tab.
Repeat the Reopen Closed Tab action until you find the desired tab.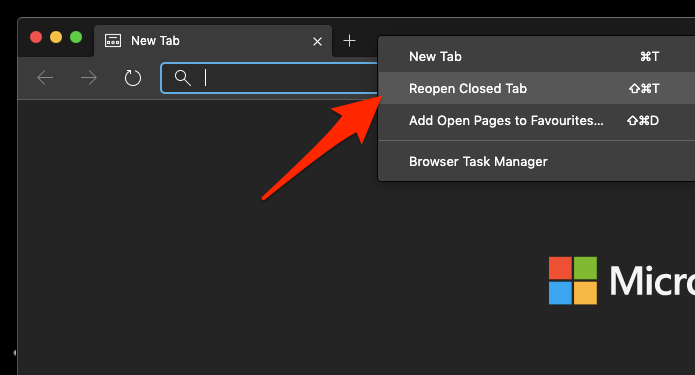 This is easier when you reopen the previously closed tab; however, the earlier method should be preferred if you want to select from the list.
Another alternative is using the browsing History tab from the More menu to reopen the closed tabs.
Bottom Line
The recently closed tab is a built-in feature allowing accidentally closed sites to reopen. If you've mistakenly closed the Edge browser, the recently closed tabs will work to reopen.
One can also use keyboard shortcuts to reopen tabs. On the other hand, we can use the History tab to recover tabs older than recently closed.
Similarly, you can reopen recently closed tabs in Edge browser on Android. You can even open recently closed tabs under the browser history section.
The reopening recently closed tab is a beneficial feature. How often do you use this feature to open closed tabs?
Lastly, if you've any thoughts or feedback on How to Reopen Recently Closed Tabs in Edge Computer, then feel free to drop in below comment box. You can also report the outdated information.